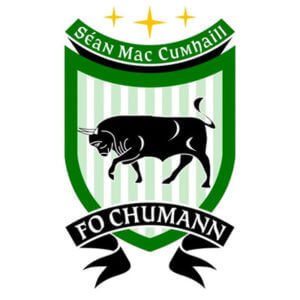 Ainm an Chlub: CLG Cill Chartha
Dathanna an Chlub/Club Colours: Gorm agus Ór
Alternative Colours: Ór agus Gorm
Club Ground: Pairc an Tamhnaigh
Pairc Shean MhicCumhaill map courtesy of GAAPitchLocator.net
Latest Notes – Sean MacCumhaills
Dinner Dance:
Our Dinner Dance and Award Presentation takes place in the Club House on the 1st of February 2020. Tickets are priced at a €15. Anyone looking for tickets can contact Eugene on 086 609 8801 or Terry on 086 609 5347.
Match Stewards + Donegal Games:
Many thanks to everyone who gave up their time on Saturday to help with the smooth running of the game in Mac Cumhaill Park. Again, another big attendance and the event passed off smoothly without incident. Hard luck to the footballers who had to settle for a draw after a late goal and hard luck to the hurlers on Sunday who lost to Armagh in Letterkenny.
Donegal House Draw:
Anyone looking for a ticket for the Donegal GAA Win a House in Dublin draw can contact Eddie Walsh on 086 319 7622.
Operation Transformation – Ireland Light's Up:
For the third week in a row we had over 200 people take to the banks of the River Finn and walk between 7.00pm and 9.00pm. The weather has been throwing everything at us the last few weeks but again it did not prove a deterrent to the 209 people who registered and took part. With Donegal preparing for their opening NFL Game against Mayo on Saturday at Mac Cumhaill Park, there was quite a buzz around the place. We were delighted that Donegal Captain Michael Murphy, who is always so gracious with his time, spoke to some of the younger members of our club who were eager to meet him and Michael encouraged everyone to Get Up, Get Out and Get Active! We're hoping as many as possible will turn out and help support this initiative between these hours and as a direct result improve your own fitness with a nice relaxed walk about the new walkway which will take in the banks of the River Finn. Tell all your friends and make the experience as enjoyable as you can! After your walk have a cup of tea or coffee on us with your friends! We want everyone to come and join for Ireland Lights Up 2020!
Sean Mac Cumhaills Underage Boot Swap:
Attention parents of all underage players: If you have a pair of outgrown football boots that are too good to be thrown away, then why not exchange them for another pair? Kids out grow their boots so quickly that they are often hardly worn so why not recycle your used football boots for another pair? Sean Mac Cumhaills are starting a Boot Swap whereby parents can donate outgrown boots which are clean and in good condition to the club and the club will then make the boots available to another child. In return, you can find a pair in the next size for your child. The more pairs of boots we receive, the more children we can benefit. Boots can be left in with Raymond on any week day between 5.30 – 8.00pm.
Bingo:
The Bingo takes place in the Villa Rose Hotel on Sunday night with an 8.30pm start. The Snowball jackpot is €5,100 on 45 numbers or less. All are very welcome.
Lotto:
There was no winner of this week's lotto. Lotto numbers were 8, 13, 14 and 20. There was no match three winners so three envelopes were pulled out: Nora Gallagher, Pete Byrne and Bernie Doherty who receive €30 each. Next week's lotto is €5,700.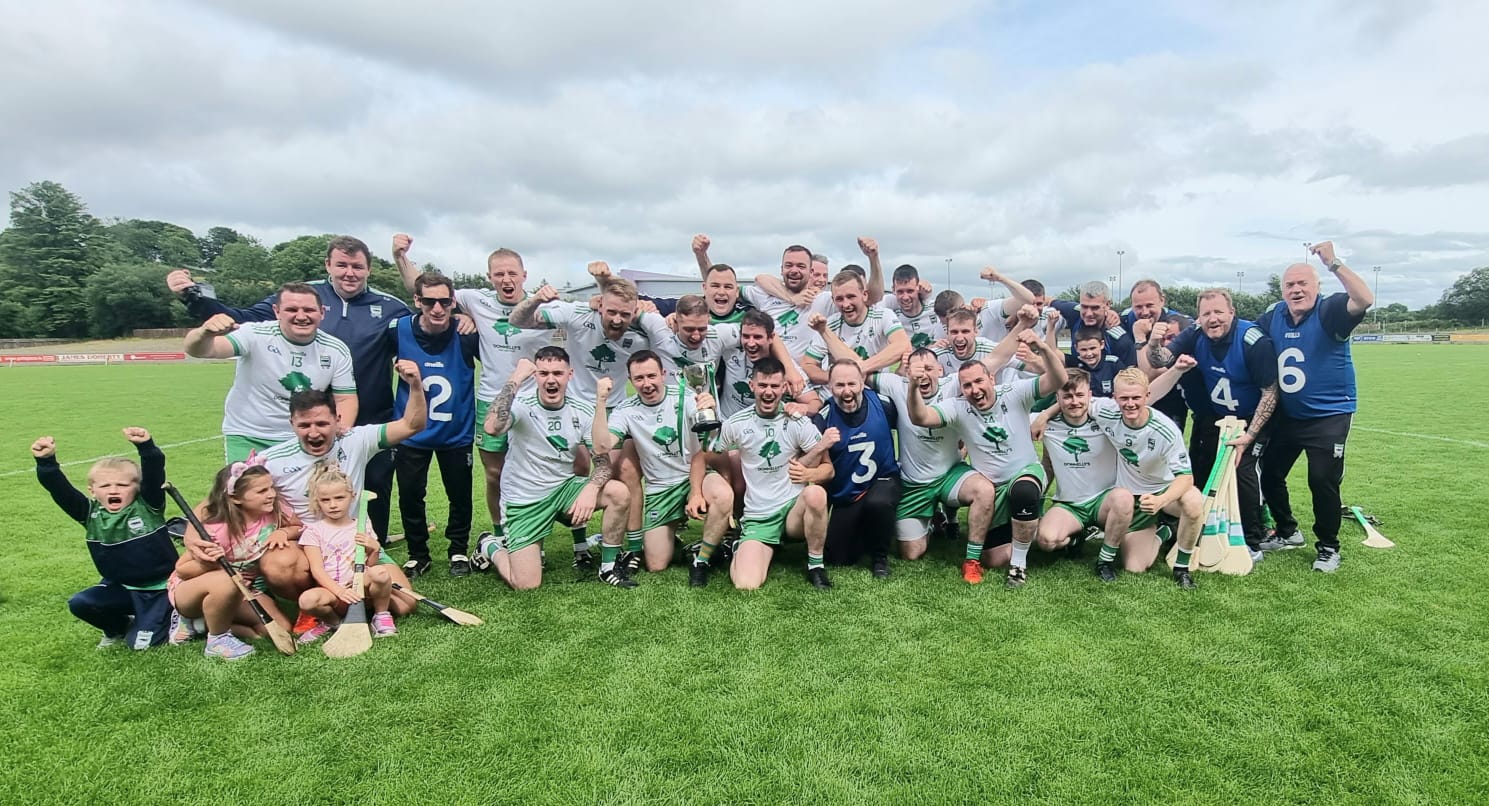 Club review of the decade 2010-19
We have enjoyed successes in hurling, football and handball over the last 10 years at both minor and senior level and continue to develop our facilities. Promotion back to Division 1 after a 13 year absence in 2018 – the same year we contested a Senior Football Championship semi-final for the first time in 14 years injected much needed belief back into the players and club.
Our Under-21s won the "B" Championship in 2017.  In 2010 we won the Junior B Championship and the League going unbeaten all year and added Reserve Division 2 titles in 2011, 2016 and 2018. The club has participated in the Senior Football Championship since our return to this level in 2010. Martin O'Reilly became our first clubman to win an All-Ireland Senior Football Medal and also has 3 Ulster SFC Medals and Oisin Gallen won an Ulster SFC and National League Division 2 in 2019.
In 2010 we won our first ever Senior Hurling Championship and an Ulster Hurling League. In 2015 we won an Ulster Táin League and Under-16 League and Championship.  In 2016 we added a second Senior Hurling Championship and reached the Ulster Junior Hurling Club Championship Final but narrowly lost. We have enjoyed strong representation at inter-county level with players earning All-Star awards on victorious Lory Meagher (2011) and Nicky Rackard (2013 + 2018) and All-Ireland winning Under-21 teams.
In Handball, Avril Mc Namee has won Ulster, National and International titles in her beloved sport of Handball.
Seán Mac Cumhaill Park continues to be a fortress for Donegal. The Donegal Senior Footballers were unbeaten in 22 league and Senior Championship games from 2010 until 2018. In 2013 work was carried out which brought capacity up to 18,000 again allowing Mac Cumhaill Park to cater for the big games including Ulster SFC Clashes and All-Ireland Super-8 games. We also hosted an Ulster Junior Hurling Final in 2017. In 2010 we opened our Astro-Turf pitch and carried out resurfacing work at the front of the main pitch in 2013 and in 2019 we resurfaced the car parking area and also upgraded the surrounding areas in various ways.
We have upgraded our training pitch floodlights and opened a Riverside walk around the grounds and along the banks of the River Finn and repainted the clubhouse.
AN CLOCHÁN LIATH – SENIOR BOARD
| Oifigeach/Officer | Ainm/Name | E-mail Address | Fón/Telephone |
| --- | --- | --- | --- |
| Cathaoirleach | PJ McGowan | | |
| Runaí | Daren Collins | Secretary.SeanMacCumhaills.donegal@gaa.ie | 085 7715269 |
| Cisteoir | Eugene Gallagher | eugenegallagher@outlook.ie | 086 6098801 |
| Oifigeach Caidreamh Poiblí | Christopher Doherty | Pro.SeanMacCumhaills.donegal@gaa.ie | 086 0823762 |
| Oifigeach Oiliúna | Terry Reilly | Terry.Reilly00@gmail.com | 087 9818212 |
| Oifigeach Coimirce Leanaí | Tracey Floys | TFloyd@Live.ie | 086 1943647 |
| Oifigeach Club Sláinte | Shane McNulty | Crainnteforrestry1@gmail.com | 086 8108465 |
| Oifigeach Cultúr | Barry Dowds | BarryDowds@gmail.com | 087 2269446 |
| Ball an Bhord Contae 1 | Kevin McCormack | MaryKevinMcCormack@gmail.com | 085 3576752 |
| Ball an Bhord Contae 2 | Noel Doherty | Noeldoc007@gmail.com | 086 602 8868 |
Oifigeach/Officer
Ainm/Name
E-mail Address
Fón/Telephone
Cathaoirleach
Mark Cannon
markccannon@yahoo.co.uk
087 9182877
Runaí
Peter Byrne
smcpeterbyrne@gmail.com
087 3950487
Oifigeach Caidreamh Poiblí
Chris Doherty
Pro.SeanMacCumhaills.donegal@gaa.ie
086 0823762
Regional Board Delegate
Noel Doherty
Peter Byrne
Noeldoc007@gmail.com
smcpeterbyrne@gmail.com
086 6028868
087 395 0487
Faoi 7
Tracy Floyd
tfloyd@live.ie
086 194 3647
Faoi 9
Eamonn Gilligan
gilliganeamonn@yahoo.co.uk
087 919 1562
Faoi 11
Mark Cannon
markccannon@yahoo.co.uk
087 918 2877
Faoi 13
Peter Byrne
smcpeterbyrne@gmail.com
087 395 0487
Faoi 14
Martin McLoughlin
martin@cherrymore.ie
087 639 3309
Faoi 15
Bernard McGeehan
Martin McLoughlin
Bernard.mcgeehan@zurich.com
martin@cherrymore.ie
086 388 1376
087 639 3309
Faoi 17
Alan Martin
Pat McNulty
Themartins5000@gmail.com
patmcnulty@live.ie
086 172 3899
087 907 8062
| 1ST TWELVE | | 2ND FIFTEEN | |
| --- | --- | --- | --- |
| 1 Marty Reilly | 7 Joel Bradley-Walsh | 1 Padhraic Patton | 9 Gary Dunnion |
| 2 Steven Reilly | 8 Pat McNulty | 2 Rory Mulligan | 10 Aaron Kelly |
| 3 Gary Wilson | 9 Eoin Gallen | 3 Andrew McCloskey | 11 Joe Boyle |
| 4 Gavin Gallagher | 10 Luke Gavigan | 4 Christopher Gallagher | 12 Jamie Keegan |
| 5 Oisin Gallen | 11 Christopher Breen | 5 Chris Gallen | 13 Simon McDevitt |
| 6 Mark O'Sullivan | 12 Cian Mulligan | 6 Aaron Gillooley | 14 Brian Lafferty |
| | | 7 Stephen Mulligan | 15 Martin Gallagher |
| | | 8 Chad McSorley | |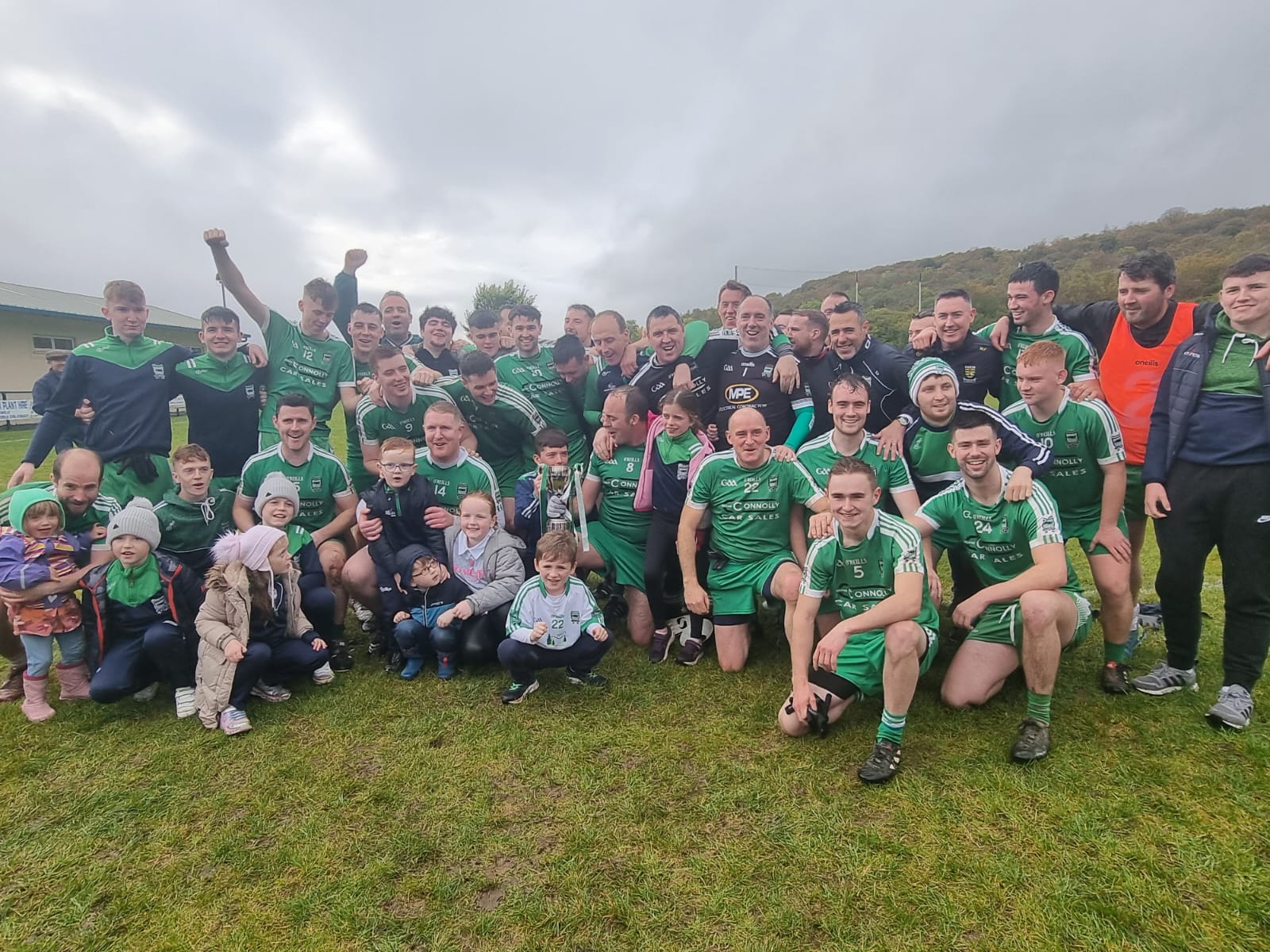 The Club Year 2019
Oisin "Farrah" Gallen broke into the Senior Donegal Football panel this year and lifted his first Ulster Title and the Division 2 title and in the quarter-finals stage of the All-Ireland scored a goal and a point on home turf in Mac Cumhaill Park. We also had a good mix of success on the Hurling and Football fronts at minor level.
We returned to Division 1 after 14 years. Despite a brave challenge we were relegated but remain hopeful of a speedy return. Our reserve side did well finishing in third position in the league. Both teams exited the Senior Championship at the group stage and our Third Team footballers contested the Senior C Championship final but lost. Our Under-21's made it to the "A" Championship Quarter-Final.  The club had three players (Barry Dowds, Mark Cannon and Shaun Boyce) on the Donegal Team that won the All-Ireland Masters in 2019. Martin O'Reilly and Oisin Gallen represented Donegal at senior level this year.
Our senior hurlers continue to promote and contest the latter stages of the Senior Championship reaching the Semi-Final. Adding a number of younger players into the ranks this year will hopefully prove fruitful going forward. With the great work being done at underage level we can only get stronger in the years to come. We continue to have excellent representation on the Donegal Senior Hurling panel and also at management level.
Our U-13 boys finished the year as Division 2B County Champions. Despite a bad start to the League, we reached the Northern Board Final where we were beaten in the end by a strong Gaoth Dobhair side. The U-14 boys made it to both the Northern Board and County Championship Final. Losing to Glenswilly in the Northern Final. Both teams would meet again in the Championship Semi-Final and Mac Cumhaills emerged on the right side this time around winning a fantastic game by a point but lost to Four Masters by a single score in the final.
Fielding ladies teams at all age groups there was excellent participation across the grades. This year our U-16 Girls made it to the Division 4 County Final but were unlucky on the day.
The club continues to make great strides in the development of hurling. This year we had great success winning U-12 League and making the final, U-13s Winning the North West League and the U-14 Hurlers winning League Plate. Our U-12 hurlers won the League unbeaten. In the Championship final they were unlucky to lose to Burt.  Our U-14 hurlers had to put in a storming second half performance to beat Letterkenny Gaels in the U14 Plate Final.
The quiz team in both Scór na nÓg and senior Scór got to county finals. In the Scór na nÓg solo singing Aoife Curran got to county final. In senior Scór solo singing, Andrea Long got to the county final and has represented the club singing the National Anthem at different games in Mac Cumhaill Park, for both Donegal and Club Senior Football Championship.
We hosted our first Community, Health, Wellbeing and Youth Forum in February. This event highlighted that Physical and Mental Health are linked and there was something for everyone from Physical Activity, Mindfulness and Mental Health, Financial Wellbeing and much more. The RSA were also present with their car crash simulator and interactive learning tools.
We held a safeTALK training programme that prepares participants to recognize and engage with people who may be having thoughts of suicide and to connect them to suicide first aid resources. We also held 3 very successful Hands for Life CPR courses supported by ESB Networks, which offered CPR training. We also continued our highly successful Annual Family Fun Day in August.
2019 Roll of Honour:
U-11 Boys Football – Won Northern Board Division 2
U-12 Boys Football – Won Division 2 Northern Board Final
U-13 Boys Football – Won Division 2B Championship, Northern Board Finalists
U-14 Boys Football – Division 1 Northern Board and Championship Finalists
U-12 Hurlers – Won U-12 League, A Championship Finalists
U-13 Hurlers – Won North-West League Division 3
U-14 Hurlers – Won U-14 League Plate