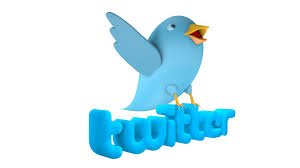 2020 (and 2019) Senior Donegal Champions
Davy Brennan Memorial Park map courtesy of GAAPitchLocator.net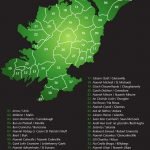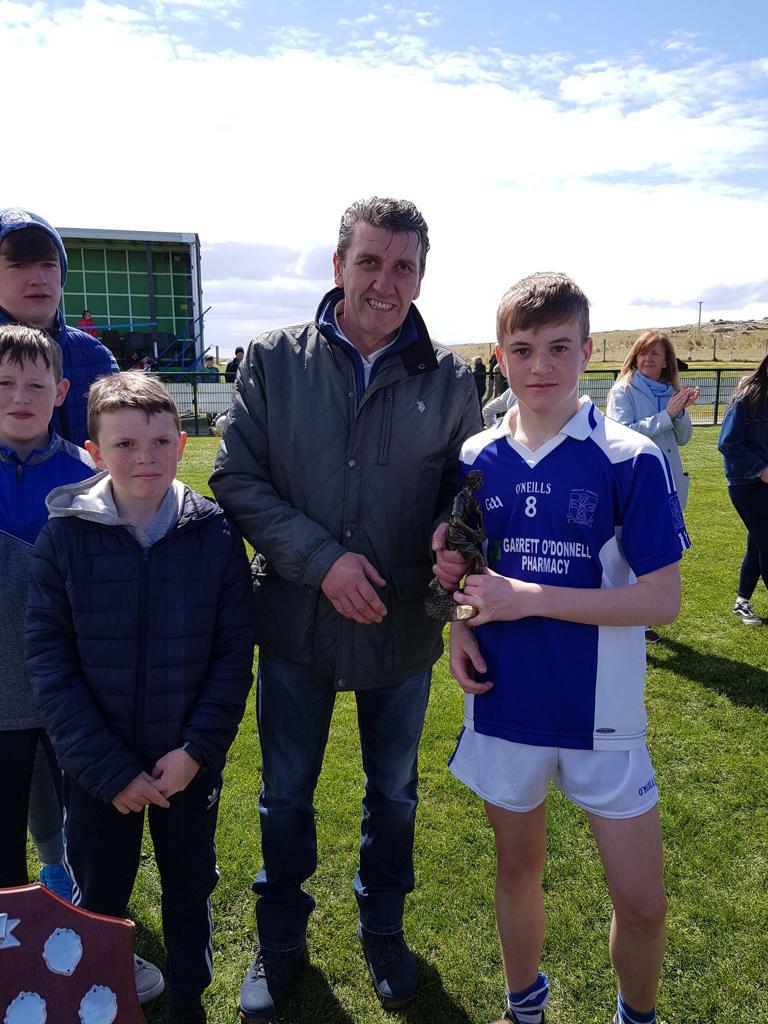 Comortas Faoi 14 Naomh Conaill Captain
Latest Notes – Naomh Conaill
There was no winner of this weeks Gaa lotto, The numbers drawn out were 01-07-11-20 and the 2x€50 went to Poggy O Dnnell, Mill Road and Connie Mc Kelvey, Fintown . Next weeks Jackpot is €3,100
Naomh Conaill club 200 draw took place on Tuesday the 41st October and the winners were as follows €500 Mia Rodgers,Stonepark, 5x€100 Pj Campbell, Ard Patrick, Gerry Byrne Ard Patrick,Anthony Thompson Jnr Ard Mc Gill, John Block Molloy Mully, Claire Keeney Stonepark.  Congratulations to all the winners and draw number 4 will be Tuesday 5th Nov.
Naomh Conaill Gaa are hosting a Breakfast morning on Saturday 19th October from 10am – 12noon in the Glenties Day Care Centre. Come along and sample the atmosphere and meet the players on the day before the county final. Adult €10, U16 €5.
Good Luck to All of Naomh Conaill Senior Team and Management in this years County Final V Gaoth Dobhair on Sunday 20th October in Ballybofey.
Well done to Robert, Emily, Ethan, Amy, Jack and Natalie on the victory over Ardara in the TG4 program Go Gasta.
Naomh Conaill Minor Board are hosting once again after last years success Naomh Conaill's Got talent in the Market Hall on Friday the 18th of October @7pm. Admission €5 adult and children free. Open to all primary and secondary school children up to 17 years of age. All acts welcome.To Enter contact Owen Mc Geehan (0862506653), Robert Farrell (0879347180), Linda Kennedy (0868504432).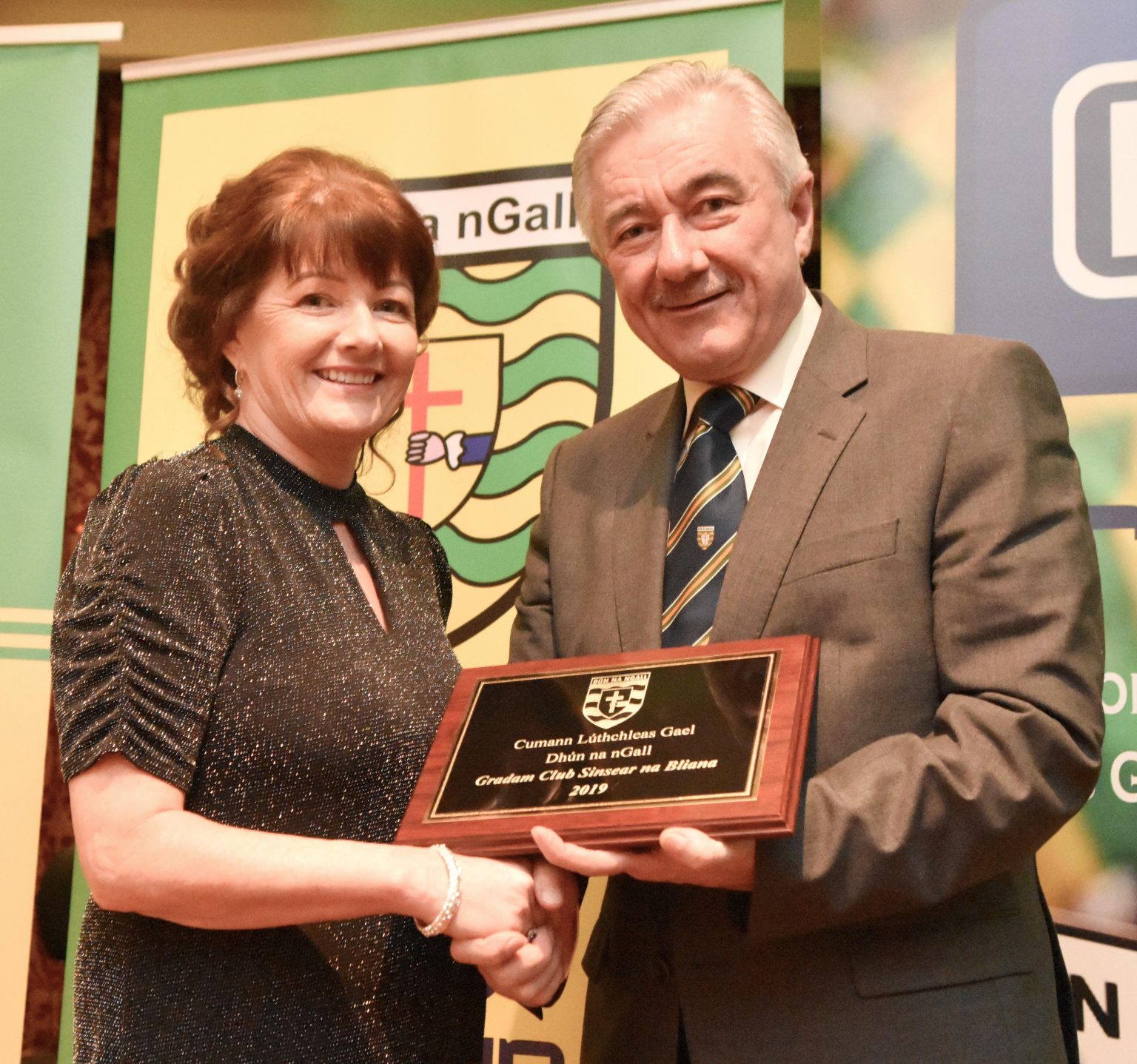 Club of the Year 2019 – Caroline Breslin, Rúnai, accepts the award from Mick McGrath, Cathairleach, CLG Dhún na nGall
The Club Year – 2019
2019 will go down as a memorable year for Naomh Conaill, with the club winning a fourth Donegal SFC title and Ciaran Thompson was player of the championship and a worthy recipient of Gradam Shéamuis Mhic Géidigh The year will also be remembered for the long and hard work everyone has put in from the U6s right up to senior level and all involved with the club's ladies teams. The club had success at senior level and Naomh Conaill was well represented at county level from senior, U20 to minor and in all development teams.
A last minute point from John O'Malley eventually took the Dr Maguire through Fintown to Glenties following a marathon sequence against reigning Donegal and Ulster SFC holders Gaoth Dobhair. Martin Regan's team came through against the side from Magheragallon in the second replay on an 0-8 to 0-7 scoreline. Beforehand there had been two nail-biting draws, 0-8 to 0-8 initially and then a 1-11 to 0-14 second time out. There were three wins from three in the group stages, with successes over Dungloe at Rosses Park, either side of home victories against Killybegs and Sean MacCumhaill's. At the time of writing, after defeating Cavan's Castlerahan and Monaghan champions, Clontibret O'Neills, Naomh Conaill paly Down's Kilcoo in the Ulster Final on December 1st.
Wins in the quarter-finals over Glenfin and then St Eunan's in the semi-final meant a third final in a row.  Following the disappointments against Kilcar in 2017 and then Gaoth Dobhair a year later, 2019 provided us with our opportunity to avenge that 0-17 to 1-7 defeat. There followed three brilliant games of football that had both sets of supporters and neutrals on the edge of their seats.  The commitment and courage shown by both sets of players will long live in the memory of those fortunate enough to have attended those games. A fantastic late point from O'Malley was enough to see us over the line and we were champions once again.
A strong league campaign meant the team finished in third place in Division 1 of the All-County Football League.
The league campaign was a successful one, winning most our games and performing consistently throughout. With the league drawing to a close our attention turned to the group stages of the championship. We opened with a tough draw against Killybegs followed with back-to-back wins against Sean McCumhaills and Dungloe, meaning we topped our group. We overcame Gaoth Dobhair in the quarter final and were paired against Kilcar in the semi-final, coming up just short after a very tough game. The u21s, managed by Johnny McLoone, reached the Division 1 County final but lost out to St Eunans.
U6's This year was about teaching our future stars the fundamentals of the game. Large numbers availed of the great knowledge of the game and great strides have been made and great friendships forged.
U8's This age group have made great progress and this year was no exception. Playing in a new league format they played some lovely football. Success was had in Ardara at the Thomas Maguire Tournament with the team bringing home some silverware.
u10's Following on from 2018's  successful year, this team played some great football. They were grouped in a very tough league they played out some great games.
U11's. Our A and B teams teams competed in The Willie Rodgers Memorial Tournament in Ballyshannon. In a great display of teamwork, the A team came away with the top prize and the B team were narrowly defeated in their Cup Final.
U12's After a slow start they quickly found their feet and registered some great victories in a very tough and competitive group. They qualified for the County Finals Day and silverware was taken home by both A and B teams.
U13's After a tough start the team turned things around and quickly found their feet. The Regional Final was contested with Four Masters, but the result didn't go our way. The team quickly regrouped and put in a great display and progressed to the semi-finals. Next up was Four Masters and in a very tight contest we just came up short and lost by a single score.
U14's The Gaeltacht title was secured by victory against Glenswilly. An impressive League campaign followed and the team remained unbeaten. Divisional honours were secured and this was quickly followed by another trophy in the form of the County League. After a long tough season, they just came up short in the County semi-final.
U16's Working with a small panel this was always going to be a tough season, but the team had two great victories in the Championship against Robert Emmets and Naomh Ultan. What could of been achieved with a fully fit panel to choose from?
Minors: A League play-off secured against Killybegs and a County League semi-final against Gaoth Dobhair has still to be played. A tightly contested Championship semi-final against Gaoth Dobhair was lost.
2019 Roll of Honour
Donegal senior county champions
U14 County Gaeltacht
U14 League and Divisional
U11 Willie Rodgers Memorial Cup
Ainm an Chlub: CLG Naomh Conaill
Dathanna an Chlub/Club Colours: Blue and White
Alternative Colours: White and Blue
Club Ground: Davy Brennan Memorial Park
Naomh Conaill – Senior Board
| Oifigeach/Officer | Ainm/Name | Seoladh/Address | Fón/Telephone |
| --- | --- | --- | --- |
| Cathaoirleach | David Kelch | kelchdavid@yahoo.com | 087 9220494 |
| Rúnaí | Vincent Cranley | secretary.glenties.donegal@gaa.ie | 087 1770243 |
| Cisteoir | Patrick McGuigan | naomhconailltreasurer@gmail.com | 086 8609431 |
| Oifigeach Caidreamh Poiblí | Eunan McGlinchey | pro.glenties.donegal@gaa.ie | 087 2221023 |
| Oifigeach Oiliúna | Leo McLoone | Leomcloone.av@donegalvec.ie | 086 1660355 |
| Oifigeach Coimirce Leanaí | Amanda McGuigan | childrensofficer.glenties.donegal@gaa.ie | 086 4057032 |
| Oifigeach Club Sláinte | Linda Kennedy | linda.kennedy@lyit.ie | 086 8504432 |
| Oifigeach Cultúr | Owen McGeehan | owenmcgeehan7@gmail.com | 86 2506653 |
| Ball an Bhord Contae: 1 | Owen McGeehan | owenmcgeehan7@gmail.com | 086 2506653 |
| Ball an Bhord Contae: 2 | David Kelch | kelchdavid@yahoo.com | 087 9220494 |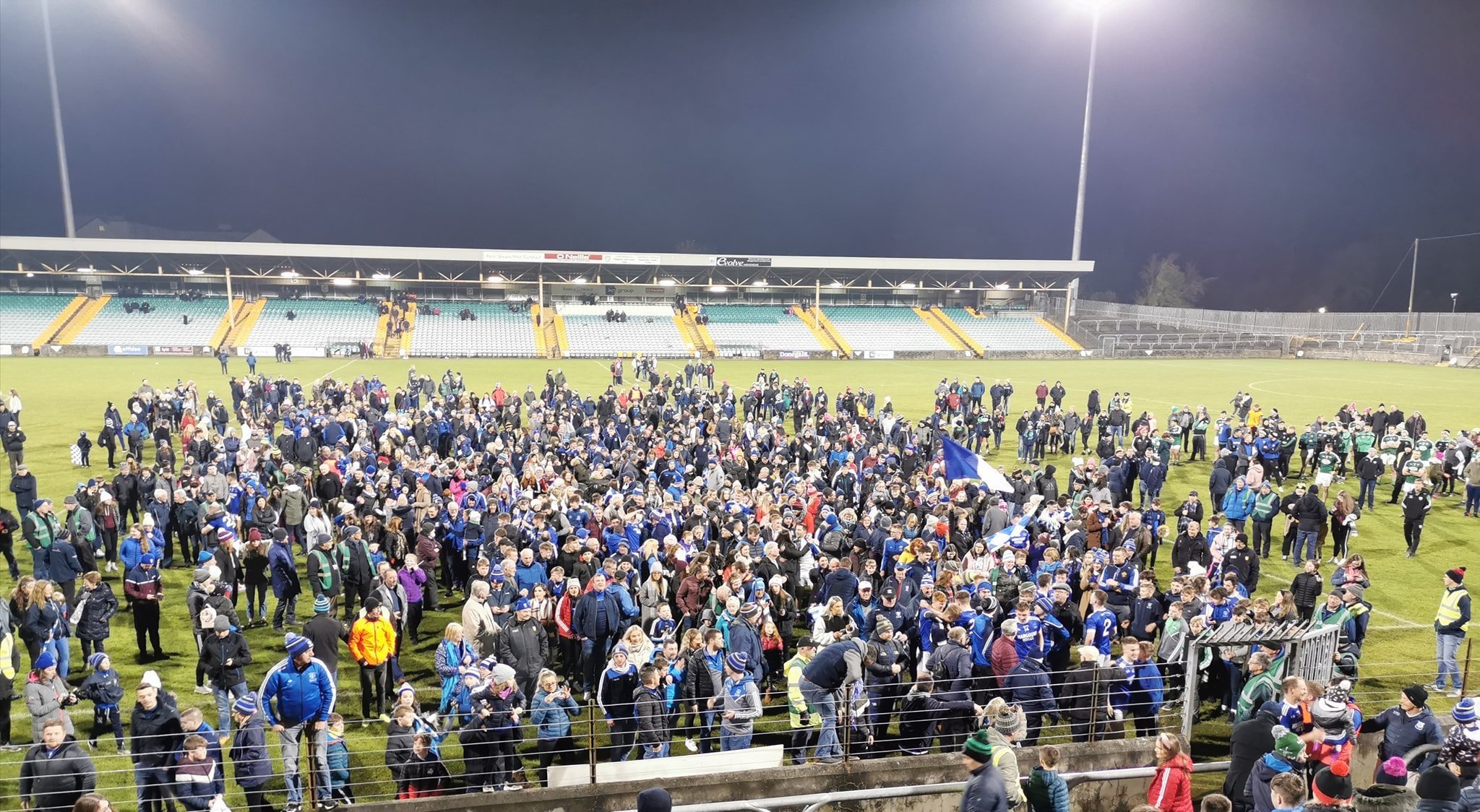 Naomh Conaill – Bord na nÓg
Oifigeach/Officer
Ainm/Name
E-Seoladh nó Seoladh/Address
Fón/Telephone

Cathaoirleach
Robert Farrell
robfar73@hotmail.com
087 934 7180
Rúnaí
Lisa Coughlan
minorboardsecretarynaomhconail@gmail.com
087 224 4230
Oifigeach Caidreamh Poiblí
Eunan McGlinchey
pro.glenties.donegal@gaa.ie
087 2221023
Toscairí an Bhoird Réigiúnaigh
Robert Farrell
Lisa Coughlan
robfar73@hotmail.com
minorboardsecretarynaomhconail@gmail.com
087 934 7180
087 224 4230
Faoi-8
Stephen McDermott
Martin Boylan
stephenmc81@gmail.com
martin.boylan@hotmail.com
martin.boylan@hotmail.com
086 169 6940
086 882 7335
Faoi-10
Mark Bonner
Shaun McLoone
Shaun Boyce
Markbonner1@hotmail.com
seanmcloone1@gmail.coo
Seanmcloone1@gmail.com
Boycey@yahoo.com
086 883 3957
086 302 6719
086 342 7210
Faoi-12
Hugh Campbell
Robert Farrell
hughcampbell70@gmail.com
robfar73@hotmail.com
086 379 6956
087 934 7180
Faoi-14
Gerard O'Donnell
gerryjack@hotmail.com
087 413 9699
Faoi-16
Paul Molloy
paulmolloy253@gmail.com
087 764 6761
Faoi-18
James Plumber Boyle
Jboyleplumber@gmail.com
087 281 4006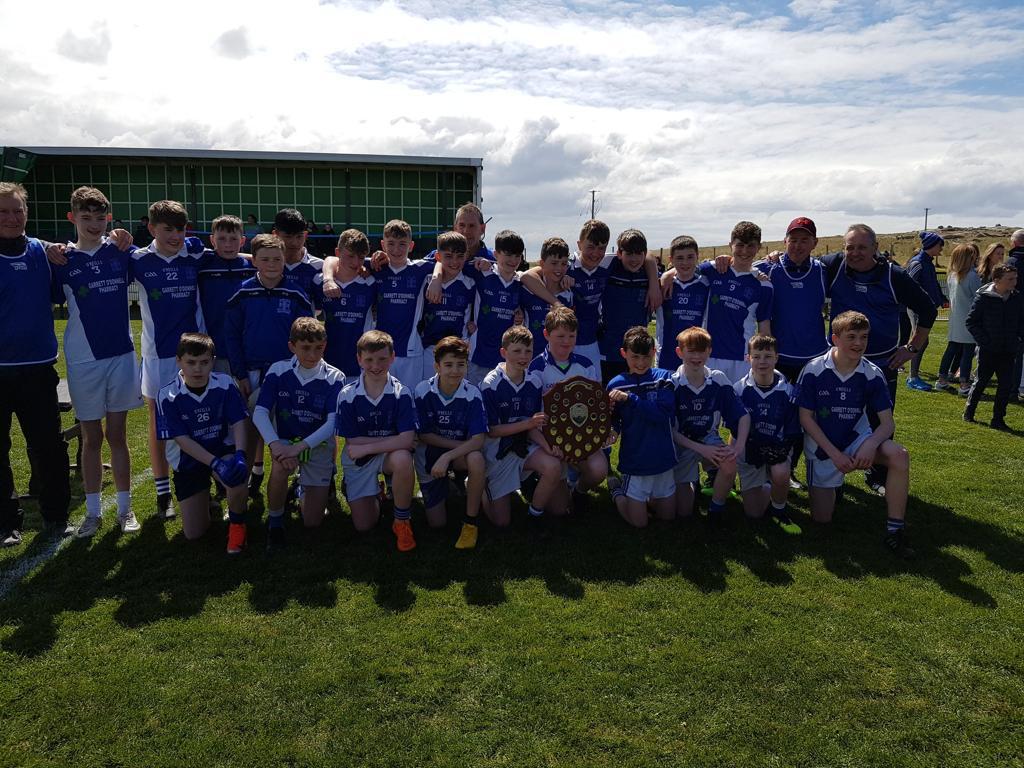 Comórtas Faoi 14 Naomh Conail
Club Review of the Decade – 2010-19
Entering 2010, Naomh Conaill still had fresh memories of their first and only Donegal SFC title, won in 2005 following a replayed victory over St Eunan's. Since the turn of the decade, Naomh Conaill has had a great run, winning three senior championships, one All-County Football League Division 1, an U21 crown, one minor championship, one minor league with regional and divisional titles, a Comórtas Peile Dun Na nGall Sinsir and two Comortas Peile Na hEireann.
In 2010, Naomh Conaill overcame Killybegs 1-15 to 0-8 to win the Dr Maguire for the second time and went on to reach an Ulster final that year losing out to Crossmaglen Rangers – it was a first appearance from a Donegal team at the provincial showpiece since Killybegs lost to Castleblaney Faughs back in 1991. The U21s took a county title to finish off that year.
On to 2012 when Naomh Conaill won the All-County Football League and another U21 title that year. Donegal won the All-Ireland SFC that September and Naomh Conaill was well represented then with Marty Boyle, Dermot Molloy, Leo McLoone, Anthony Thompson all players and Jim Mc Guinness as manager. Joe McCloskey  was kitman and Dr Charlie Mc Manus overseeing the work of the medics.
In, 2015 Naomh Conaill won another senior county title – this time with a narrow win over St Eunan's – and the County Gaeltacht and All-Ireland Gaeltacht hosted by Ardara, with the national final having been deferred to October because of a June Bank Holiday weekend washout.
2016 started of the year with our minors doing a clean sweep winning the league – both regional and divisional – and also County Championship. The seniors won back to back All Ireland Gaeltachts – this time from Co Cork. In 2019 Naomh Conaill took their fourth Donegal SFC crown after a three-match marathon against Gaoth Dobhair.