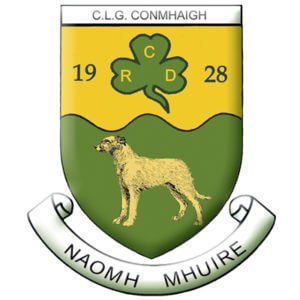 Ainm an Chlub: CLG Cill Chartha
Dathanna an Chlub/Club Colours: Green and Gold / Glas agus Ómra
Alternative Colours: Ór agus Gorm
Club Ground:Páirc Naomh Mhuire, Conmhaigh
St Mary's GAA club was formed in 1928. The founder members were Tommy McNamee, Paddy McPeake, Jim McCarrick, Joe O'Donnell, William O'Keefe, Arthur and Wille McGlinchey and Paddy Hoey. It started from a seven-a-side tournament in Raphoe. Convoy entered a team and then decided to form a club. The first meeting was held behind the old chapel wall as there was no hall available, Tommy McNamee was the first Secretary/Treasurer and after about six months Paddy Hoey took over these positions.
To raise funds the club decided to run a whist drive and Toal Shiels, who lived in the corner house and owned what was known as "The Bandplace" (the room where the old AOH Band used to practice) was where the first ever whist drive was held in the area. Toal Shiels made the tables for it ouy of tea-chest lids. The players contributed to the cost of travelling to matches on a Sunday. The first field Convoy ever played in belonged to the late Francie Gallagher up in the Heatherly Hill. They spent some time there and then changed to the field belonging to Mary Ann McKelvey, down the lane to where the McKelveys lived. The club had a field from Andy McNamee at Ballyboe. They played there for a few years from 1948 and then returned to Jerry McCafferty's field about 1953. Subsequently they moved three times – to a field at Maguire's pub in Killyknure, then Phonsie Kelly's field at Heatherly Hill and in later years they moved to Terence McKinley's field in Figard. Jerry or Jim McCafferty always provided a field for the club as well.
From the outset the club concentrated on underage players and many of them played senior football at an early age, as young as 14 in some cases – the likes of the late Eddie Toner, known as Big Eddie, James O'Donnell, the Harkins, the Gallaghers and Willie Sweeney. The Club's first success was in 1939/40 when they won the Junior Championship two years in succession. In 1943 they went to the Senior final but lost to Ballyshannon. At that time the club had some Killygordon players – Sarsh McLoughlin, Peter McGowan and Kevin Gallen. Six weeks after the County final Convoy beat Ballyshannon by a point in the Democrat Cup in a gale force wind. They played Down Strands in the final in Drumboe and in the same year lost to the 17th Battallion in the Feis Cup final.
No success came Convoy's way again until 1963 when they won the Junior championship and the League, moving to the Senior Grade in 1964. In 1995 Convoy won the Junior championship, defeating Robert Emmets in the final in Ballybofey. In the intervening years the club had much success with their under-age players winning the u-14 Championship two years in succession – 1969 and 1970, an u-14B title in 1990, u-12B in 1991 and 1993 and reaching the finals of the u-14B and u-21B in 1993.
From very modest beginnings the club now have their own playing ground and club house. They also had the honour of one of the club founders – the late Paddy Hoey, being elected chairman of the County Board in 1969/70 and in 1977 the club had two of its members elected as county officers – Charlie Kavanagh as secretary and Danny Harkin as Treasurer.
Following Junior Adult championship glory in 1995 Convoy were promoted to Div 3 in 1996, remaining there for two years before being relegated. The club played played Division 4 football for 19 years and eventually got promotion to Division 3 for the 2018 season.
2005 was a busy year for the club winning the Junior A championship defeating our near neighbours Naomh Pádraig Lifford in the final in MacCumhaill Park. This was also the year St Mary's Convoy opened their refurbished sand based pitch, in May. Donegal played Mayo at the official opening which was performed by Peter Quinn, a former President of the GAA. We also had a very successful draw that year to help part pay for same. In the following years our facilities were used by Donegal teams for training purposes from minor to senior level. In 2011 we installed flood lighting on our main pitch and as a consequence of this we have hosted many high profile games. A part of an episode of the TV programme the Toughest Trade featuring the Welsh rugby player Shane Williams was filmed there in January 2017
In 2012, St Mary's Convoy won both the County Minor Division 2 and the Under 21B County championships. For a number of years Convoy had problems fielding a Reserve team but thankfully for the last number of years there has been considerable success at this level winning the Reserve Div 4 league on four occasions between 2013 and 2017. Convoy also won the Division 3 reserve league at their first attempt in 2018. There was also success at this level in the Reserve B championship in 2017. Convoy have competed in and on some occasions have achieved success in competitions at other under age levels. We have had a number of players who have represented at all age groups.
In 2008 the Ladies section of our club was formed and this has gone from strength to strength. They won the Junior Championship in 2010 followed by success in the Intermediate grade the following year. Convoy currently have Ladie's teams competing at all grades. Again we have had a number of players who have represented at all age groups. We have had the privilege of hosting the Donegal Ladies senior final on a number of occasions. Gaelic for mothers and others was set up in 2010 with local mums and ladies who train training once a week. They take part in the Ulster blitz and the All Ireland blitz in Dublin once a year and a few local friendly games throughout the year
St Mary's Convoy have had good  committees down the years who have worked very hard to keep theirr club running successfully with good nights at Strictly Come Dancing, Fight Nights etc. All good fun and lucrative as well. In the last 3 years St Mary's have done very well in the National Draw being the top sellers in the Country for this year 2019 and joint top last year.
St Mary's Convoy is a vibrant club who hope to expand both on and off the playing fields in the years ahead.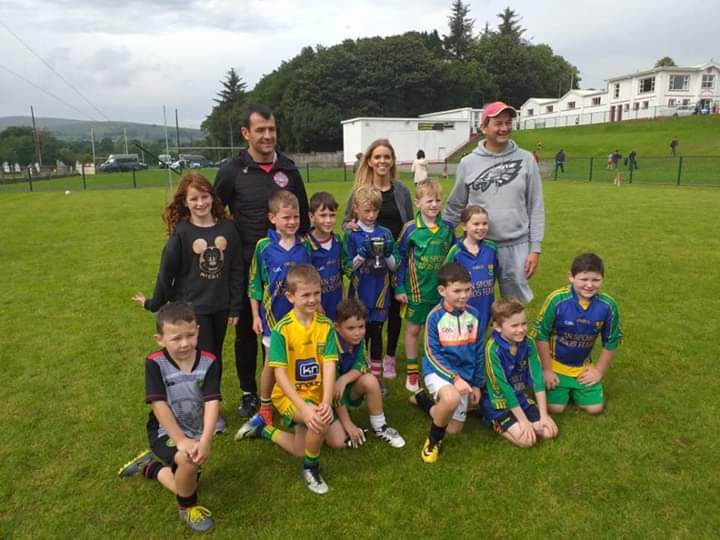 St Mary's Convoy – U8 blitz winners in Glenfin
The Club Year 2019
St Mary's Senior men had a very good league campaign winning promotion to Division 2 on the last day of season. This will be a great opportunity for lads to play and test themselves at higher level. The championship finished with another semi-final defeat, to eventual winners Buncrana. The Reserves competed very well in Division 3 league and championship with a lot of minors making their debuts and getting good experience playing adult football for future years to come. Clubman Patrick Dolan represented the club at U 20 county level
For the senior ladies in St Mary's, the 2019 season was a historic one, with the team managing to go through the league campaign unbeaten and securing a place in the top tier of ladies football in Donegal for the first time in the club's history. In the league final, played in Donegal Town, their elevation to the top flight looked very much in peril as they trailed a strong Killybegs team by eight points shortly after half time. However, this team, that have shown great reserves of both courage and skill all year, dug deep and managed to score the last twelve points in a pulsating contest to ease the nerves of the many supporters that travelled to cheer them on. The scenes of joy at the final whistle were testament to what this victory meant to the team and the efforts they had put in all year. Congratulation to all the girls and we look forward to watching the team complete in Division one next year.
St Marys had a busy year again with a host of teams from nursery right up to minor in both boys and girls teams .Our underage teams consisted of three groups Murphy,Mc Hugh and Guthrie and were looked after by an excellent group of coaches on a Friday afternoon.This group of children then took part in various competitions at U8, U9 & U10 age groups throughout the summer and our U8 group went on to win the blitz in Glenfin.The children from our six schools in the Parish also took part in Schools days' Blitzes held at the pitch during the year
Our U12,13,14,16 & Minors had Girls and Boys teams and took part in leagues and championship competitions with our U-12 mixed team competing in two finals but just lost out to St Eunans on both occasions.Our U-13 boys were unbeaten and went on to win the NB Div 3 league and our U 14 boys had a tough league campaign but went on to win the Div 3 Shield. This year our U16 boys team finished mid-table in the league and were beaten in the Div 3 championship semi final. Our Minor boys team also finished mid-table in the league In the Div 2 championship they topped their group but unfortunately after a poor first half performance in the quarter final of the championship they lost out to a good Kilcar side.
Pauric Gordon and Niall Sweeney were on the County U-15 Development squad. Mark Gordon and Oran Patterson represented the club on the U-16 County squad and Matthew Coyle and Connell Mc Dermott were in the County U-17 squad. We also had a number of girls on County and Development squads – Ellie Barron (Minors), Codie Walsh (U-15), Sinead Deasley, Sarah Conaghan & Rhea Aherne (U-13).
St Marys Health and Wellbeing Committee, has had a positive and learning journey since its inception. Chairperson of the Committee Patrick Gildea said " It was a pleasure to work with the committee bringing more understanding and knowledge to club members and the wider community. The club is now known as a NO smoking club and has introduced concussion training, opened up conversations around mental health, bringing SAFETALK which is so valuable in helping people understand how to deal with individuals with suicidal intentions, CPR Education for the wider community involving other sporting clubs, schools and organisations; highlighting healthy eating for kids after games and encouraging certain pieces of sports equipment and knowledge. These are some improvements and support which possibly may not have come about without the setup of the health and wellbeing committee's in clubs. Giving people within the club a chance to play their part off the pitch.
2019 Roll of Honour:
Senior mens: Promotion to Div 2
Senior Ladies winners of Div 2 league and promotion to Div 1
U8 Blitz winners
U 13 boys winners of Div 3 NB League
U 14 Boys winners of Div 3 Shield
AN CLOCHÁN LIATH – SENIOR BOARD
Oifigeach/Officer
Ainm/Name
E-mail Address
Fón/Telephone
Cathaoirleach
Mark McCarron
Chairperson.naomhmhuireConvoy.Donegal@gaa.ie
086 2858044
Runaí
Oliver Prunty
naomhmhuireConvoy.Donegal@gaa.ie
087 9090376
Cisteoir
Helena Prunty
John Lynch
Helena.Prunty94@gmail.com
JohnLynch280580@yahoo,ie
085 1030004
087 6106357
Oifigeach Caidreamh Poiblí
Mairead Browne
MaireadBrowne@ymail.com
Oifigeach Oiliúna
Mark McCarron
Chairperson.naomhmhuireConvoy.Donegal@gaa.ie
086 2858044
Oifigeach Coimirce Leanaí
Breid Ann McHugh
Breidann_1999@yahoo.com
087 7727038
Oifigeach Club Sláinte
Raymond McNamee
Raymond.Mc.N@hotmail.com
087 9177622
Oifigeach Cultúr
Aoife McGinley
AoifeMcG@hotmail.com
086 0518606
Ball an Bhord Contae 1
Oliver Prunty
Oliver.prunty@gmail.com
087 9090376
Ball an Bhord Contae 2
Liam O'Keefe
Jokeefe64@yahoo.co.uk
086 0381644
Oifigeach/Officer
Ainm/Name
E-mail Address
Fón/Telephone
Cathaoirleach
Mark McCarron
Chairperson.naomhmhuireConvoy.Donegal@gaa.ie
086 2858044
Runaí
Oliver Prunty
naomhmhuireConvoy.Donegal@gaa.ie
087 9090376
Oifigeach Caidreamh Poiblí
Mairead Browne
Maireadbrowne@ymail.com
087 2140060
Regional Board Delegates
Mark Mc Carron
Chairperson.naomhmhuireconvoy.donegal@gaa.ie
086 2858044
Faoi 7
Enda Bonnar
Enda.bonner@gmail.com
087 6615295
Faoi 9
Breid Ann Mc Hugh
Mark Mc Carron
Breidann_1999@yahoo.com
Chairperson.naomhmhuireconvoy.donegal@gaa.ie
087 7727038
086 2858044
Faoi 11
Stephen Friel
Stephen@frielconsulting.com
087 6374431
Faoi-13
Sinead Breen
Sineadjbreen@gmail.com
085 2811351
Faoi 15
Oliver Prunty
Oliver.prunty@gmail.com
087 9090376
Faoi 17
Michael Patton
Oliver Prunty
Michaelpatton8@gmail.com
Oliver.prunty@gmail.com
087 7823614
087 9090376
| 1ST TWELVE | | | |
| --- | --- | --- | --- |
| 1 JOHN DOHERTY | 4 RAYMOND MCNAMEE | 7 PAUL LYNCH | 10 RONAN DONNELLAN |
| 2 LIAM MAILEY | 5 PATRICK MAILEY | 8 JAMES KEE | 11 BRYAN MCNAMEE |
| 3 PATRICK DOLAN | 6 MARTIN MCNAMEE | 9 EMMET MCNULTY | 12 SEAN SWEENEY |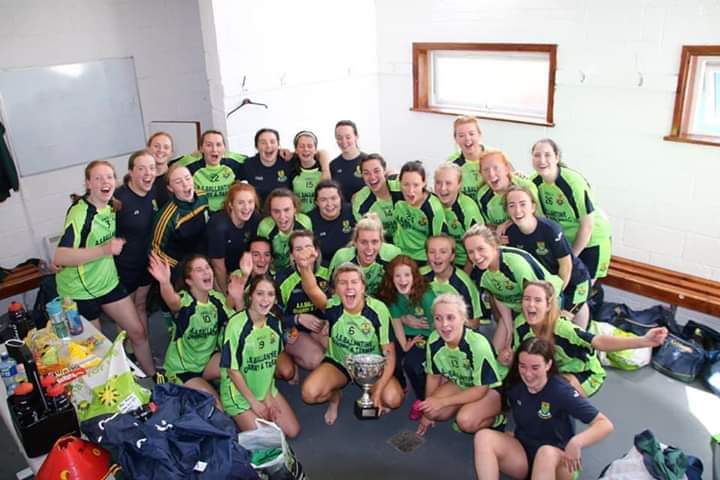 Naomh Mhuire, Conmhaigh Senior Ladies – Division 2 winners and promoted to Division 1
Latest Club Notes
Club lotto 11-6-19 Countries drawn
MN,LK,MH,AM
1 matched 3
Michael  & Daniel
Fanad Gaels
Nx weeks Jp €4550
Training continues for all teams out as normal
Check Fb for details
G4M&0 train wed at 8.30 new players are always welcome
Well done to the Senior and reserves on thier wins at the weekend over N.Ultan
Ladies had no game
U 16 girls games are due to start soon Can all players attend training
Can anyone that has a Guess the score sheet return it this week or by Friday at the latest to Laurence or any committee member
Congratulations
 to the Donegal ladies on reaching the Ulster final
Best wishes to the Donegal Menin the Ulster final
Anyone wishing to purchase a car sticker to support Donegal  County teams Contact Sinead €10
Best wishes to any of our own club players involved with County this weekend
Good luck to you all .
Club review of the decade 2010-19
The decade just finishing has been a very busy and enjoyable period in the history of St Mary's GAA club Convoy. In 2010 in only their second year in existence our Senior ladies won the Junior Championship title and the club also started the first G4M&O Team and it is still going strong. In 2011 the ladies continued with their success of the previous year and won the Intermediate Championship and we officially turned on our new €150,000 floodlights hosting an Ulster Minor League match with Donegal at home to Fermanagh.
In 2012 we won the Division 2 Minor and U21 championships. That year we also held a very lucrative and enjoyable Strictly Come Dancing event. 2014 saw us hosting La Na gClubanna along with all other clubs in the country. That year we also held a Fight night as our main fundraiser for the year. 2016 was the year that saw our club's Health & Well-being committee making great strides and we became one of the first clubs in the country to ask patrons not to smoke at our grounds We became 'Proud Sponsors of Fresh Air'.
2017 We hosted a match that was part of an episode of the TV series the Toughest Trade featuring the Welsh rugby wizard Shane Williams and his new teammates, our neighbours Glenswilly. On one of the worst nights of the year, weather wise, our facilities of club pitch and floodlights looked very well on national TV.  On the playing fields that year we won the U21 Division 3 championship, the Junior B championship and maybe our biggest achievement that year was promotion to Division 3 of the All county league after spending 22 years in the basement Division that is Division 4. 2018 saw us erecting our new digital scoreboard.
2019 was another good year as we won promotion to Division 2 of the All County men's league and our Senior Ladies won the Division 2 league title and were promoted to Division 1 for the first time in the clubs history In 2017, 2018 & 2019 we did very well in the National Fund raising draw being the best/joint best sellers in the country Unfortunately the decade also saw us losing many of our members and former members to bereavement. One of these was outstanding club man Liam McConalogue who had been the heartbeat of all good things in the club for along number of years. The decade just passing was a very busy and in the most part enjoyable one for us. Let us hope the next one will be something similar.