Bookings opened on Monday for Kellogg's 2022 GAA Cúl Camps. Seven clubs are already fully booked with nine still having places to fill. In all, the dropdown menu lists 35 clubs and for just over half of them there are no camps loaded yet. In these cases the message below displays.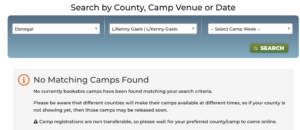 In most instances this is down to delays in clubs finalising and uploading details rather than a camp not being run. Given the strong demand for places parents should check the boking page regularly or better sill inquire at their local club.
The Camps in Donegal kick off on Monday, June 27th. Booking for Donegal's camps is at:
https://www.kelloggsculcamps.gaa.ie/booking/online/?utm_source=website&utm_medium=navigation&utm_campaign=culcamps2022&utm_content=desktopnav
And the list of camps can be found at:
https://www.kelloggsculcamps.gaa.ie/booking/
CAMPS ARE FOR BOYS AND GIRLS AGED 6 TO 13. The cost is €75 for 1st. child; €60 for 2nd child; €50 for 3rd and subsequent children. It is also possible to book a second camp for your child, without the gear and bag, at a reduced rate. Payment is possible using credit/debit cards and a confirmation email will be sent to confirm your booking.
Activities are player-centred with a Games Based approach and a strong emphasis on personal development and well-being. Activities are also organised in an age-appropriate manner with a view to:
– Optimising learning
– Enhancing friendships
– Improving physical & psychological wellbeing
– Promote school and club links
One reason for some camp bookings filling so quickly is a shortage of coaches and some may be able to expand capacity if additional coaches become available. Any qualified coaches interested please see the link to earlier an earlier weblog or get in touch with local organisers as per the PDF below.
https://donegalgaa.ie/apply-now-to-be-a-cul-camp-coach/
The list of all Donegal camps is on the PDF below:
Donegal GAA Summer Cúl Camp Programme 2022