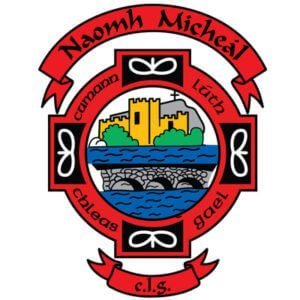 Ainm an Chlub: Naomh Micheál
Dathanna an Chlub/Club Colours: Bán agus Dearg / White and Red
Alternative Colours: Bán / White
Club Ground: An Droichead, Dun Fionnchaidh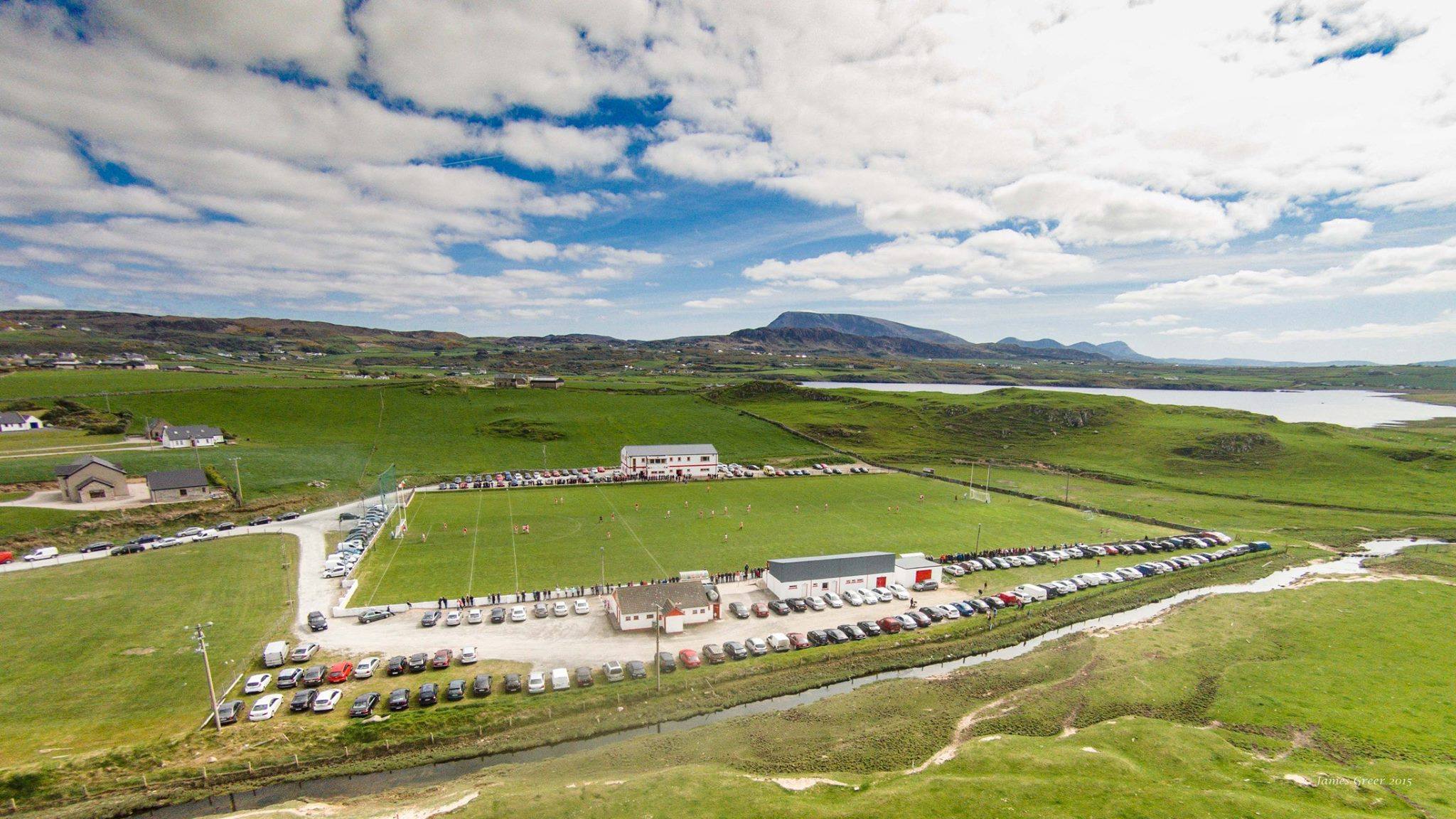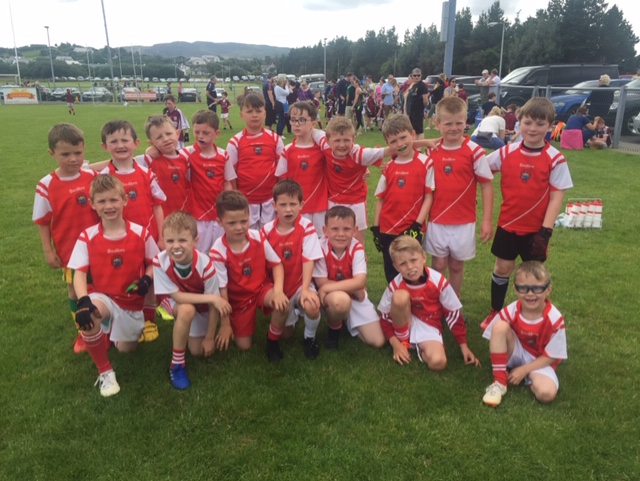 St Michaels Notes
Michael Murphy Senior Championships
Both teams bowed out of the Donegal Senior and Reserve Championships on Saturday last with defeats to St. Eunans and Gweedore respectively.
Hard luck to the seniors and thank you to their joint management team of Cathal Sweeney and Raymond McLaughlin and the entire Backroom Team for all their hard work all year.
The seniors lost to reigning champions St. Eunans in Glenties on Saturday afternoon losing on a scoreline of St. Eunans 2-15 St. Michael's 0-5 to bring their season to an end.
St Michael's scorers: Daniel McLaughlin 0-3, 3f; Carlos O'Reilly 0-1; Michael Langan 0-1
St Michael's: Oisin Cannon; Stephen Doak, Liam Paul Ferry, Antoin McFadden; Hugh O'Donnell, Kyle McGarvey, Michael Gallagher; Martin Breslin, Michael Langan; Carlos O'Reilly, Colin McFadden, Daniel McLaughlin; Patrick McGinley, Martin McElhinney, Oisin Langan. Subs: Andrew Kelly for Breslin (36), Michael McGinley for A McFadden (40), Edward O'Reilly for Gallagher (47).
The Reserves battled hard in yesterdays in their quarter final before losing by a seven point margin.. Hard luck to players and manger Danny Ferry, Cathal McConnell. Manus Friel and John Flynn who put in such a lot of work all season.
There was no Jackpot winner in the St. Michael's Mini Lotto on Sunday evening last. The numbers drawn were: 4,6,8,13,16,18.  The Match 5 winners were Charlie O'Donnell Log Cabin, Mary Ward Massinass and Bernard McGinley Umerafad who won €35 each.  This week's Jackpot will be €8300.
Lotto Tickets are on sale in the usual outlets and also online from Clubforce at the following link: up until 6pm on any Sunday evening. https://play.clubforce.com/play_newa.asp?ll_id=911#Anchor. €2 and €5 quick pick tickets are now available online as well.
The €200 on the House on Game 9 at The St. Michael's Bingo on Sunday night last was won by Frances Griffin. the €100 House on Game 5 was won by Mary McFadden, €30 on the line was won by Francie Logue.
Anyone who has any trouble accessing a book should contact Ann Marie Kelly or Suzi Roarty and we will sort you out.
Books can also still be bought online from Clubforce at the following link before 1pm on Sundays: https://member.clubforce.com/memberships_cart_m.asp?LL_ID=911&intMF_ID=8029&fbclid=IwAR2FZhWtkmD9PCvTqBes8IS4kXgPkhhCa-lZ6VtdN_TGdKhjVcCVB1Ki9QQ#Anchor.
Naomh Micheál – SENIOR BOARD
Oifigeach/Officer
Ainm/Name
E-mail Address
Fón/Telephone
Cathaoirleach
Liam McElhinney
liammcelhinney@hotmail.com
086 8611097
Runaí
Ann Marie Kelly
secretary.stmichaels.donegal@gaa.ie
087 9454107
Cisteoir
Suzi Roarty
treasurer.stmichaels.donegal@gaa.ie
087 2849214
Oifigeach Caidreamh Poiblí
Moses O hAlcoirn
Moses.alcorn2@gmail.com
086 8832129
Oifigeach Oiliúna
Paul Sweeney
paulsweeney@live.ie
086 8397247
Oifigeach Coimirce Leanaí
Colette Alcorn
cmcg27@hotmail.com
085 1398321
Oifigeach Sláinte agus Folláine
Elaine McDaid
Peter Sweeney
emacdaid@gmail.com
peter.sweeney112@gmail.com
086 4045442
Oifigeach Cultúr
Natalie mcGeever
n.mcgeever1@hotmail.com
083 3440255
Ball an Bhord Contae 1
Ann Marie Kelly
secretary.stmichaels.donegal@gaa.ie
087 9454107
Ball an Bhord Contae 2
Liam McElhinney
liammcelhinney@hotmail.com
086 8611097
| Oifigeach/Officer | Ainm/Name | E-mail Address | Fón/Telephone |
| --- | --- | --- | --- |
| Cathaoirleach | Collette Alcorn | cmcg27@hotmail.com | 085 1398321 |
| Runaí | Maura McHugh | StMichaelsMinorBoard@Hotmail.com | 087 2601778 |
| OCP | Maura McHugh | stmichaelsminorboard@hotmail.com | 087 2601778 |
| Regional Board Delegates | Danny Martin Lafferty | donalbug@yahoo.com | 087 6471415 |
| Faoi 5 | Danny Langan | langandanny@yahoo.com | 087 7588724 |
| Faoi 7 | Cornelius Sweeney | cornelius.sweeney25@gmail.com | 086 1039218 |
| Faoi 9 | Colm Anthony McFadden | colmamcfadden@hotmail.com | 087 6728170 |
| Faoi 11 | Martin McElhinney | martinmcelhinney88@gmail.com | 087 6768239 |
| Faoi 13 and 14 | Paul Sweeney | paulsweeney@live.ie | 086 8397247 |
| Faoi 15 | Hugh Doyle | hughdoyle75@gmail.com | 086 4472068 |
| Faoi 17 | Stephen Doak | stephenjdoak@gmail.com | 085 7463527 |
| | | | |
| --- | --- | --- | --- |
| 1 Oisin Cannon | 4 Oisin Langan | 7 Martin McElhinney | 10 Carlos O'Reilly |
| 2 Liam Paul Ferry | 5 Antoin McFadden | 8 Colin McFadden | 11 Jamie Hunter |
| 3 Colm McFadden | 6 Stephen Doak | 9 Michael Langan | 12 Hugh O'Donnell |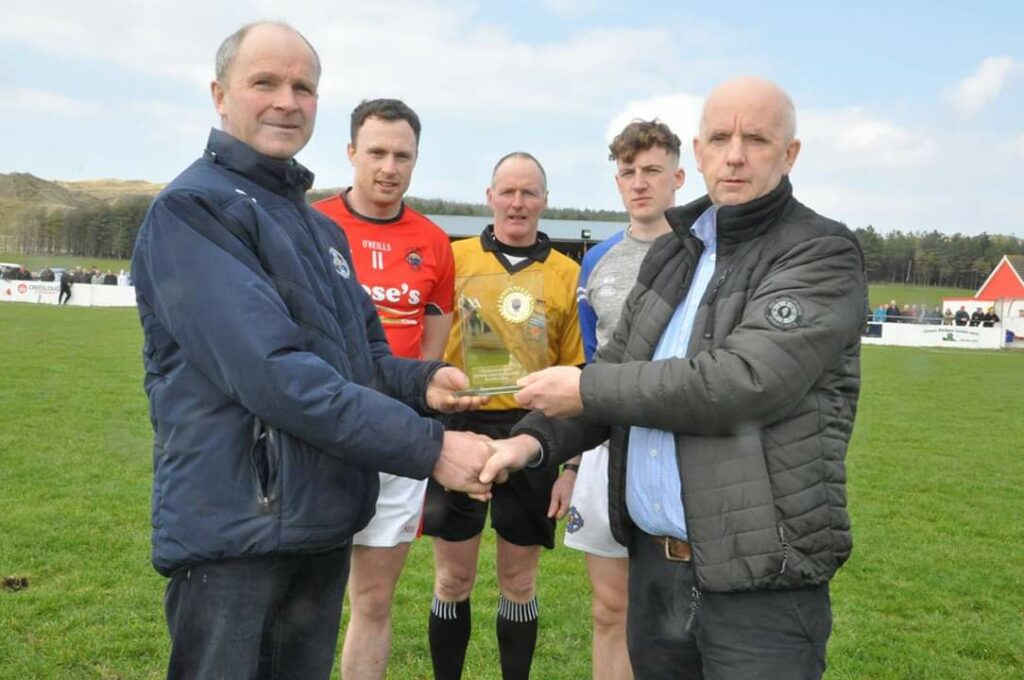 GLG Naomh Micheál Chairperson, Liam McElhinney, presentation to CLG Cloich Cheann Fhaola April 7, 2019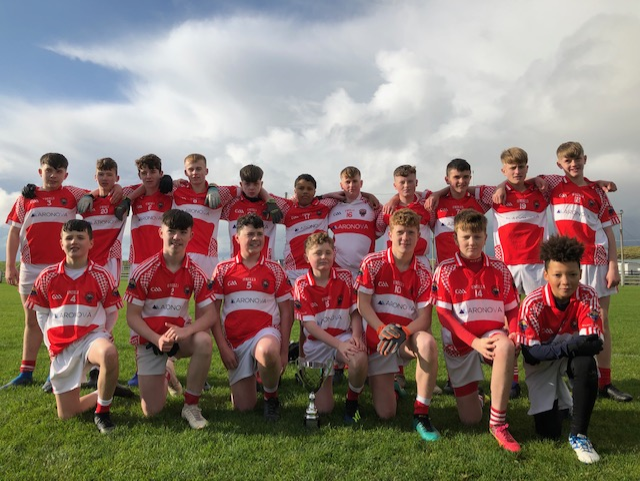 The Club Year - 2019
The grounds continue to be a credit to Development Officers Cairns Witherow and Shaun Langan and the workers on the Community Employment and RSS Schemes. The club continues to play an active part in the local community and the pitch at the Bridge also continues to be used as an emergency helipad for the Irish Coastguard 118 Helicopter.
On the field our season got off to a losing start when we were defeated by Glenswilly in the Senior Gaeltacht Championship. The Reserves also lost in the first round of the Junior Gaeltacht Championship to Naomh Conaill. We retained our All  County League Division 1 status thanks to a strong end to the season. We got off to a slow start in the league but finshed well to comfortably retain our status.
The Reserves also had a good campaign in the league finishing well in their section.
In the Senior Championship were were drawn alongside Ardara, Gaoth Dobhair and St. Eunans in the Group of Death. We recorded a very good victory in Ardara in the first match but were defeated narrowly by the reigning County and Ulster Champions Gaoth Dobhair in our second match setting up a winner take all fixture with St. Eunans in our last group game. Despite putting on a very good performance a last minute point for St. Eunans saw us exit the championshp at the group stage. The Reserves won their first match in Ardara before losing to Gaoth Dobhair and St. Eunans to also bow out of the championship. Our Under 21's were defeated by Killybegs in the first round of the Under 21B Championship.
Bridget Gallagher a St. Michael's Clubperson, who plays with Termon Ladies, was nominated for an All Star Award and the club are proud of this and congratulate Bridget.
2019 also seen the passing of three men associated with the club; Brian McLaughlin a former Chairman and Manager of the club, Aiden Durning a former Development Officer and Bernard McFadden a former player and supporter of the club.  The club extends deepest sympathy to all the families involved and all club members who have suffered bereavements this year.
Our Club lotto continues to go very well and the club is very grateful to the sponsors of the lotto and the players who support it on a weekly basis and also the Bingo session in Creeslough every Sunday night. The club would also like to thank all their sponsors for their continuing support, its very much appreciated. St. Michael's also took part in Scor Sinseair this year. We also congratulate all the players who have represented the club at county level this year.
Club review of the decade 2010-19
This
has been a very exciting decade in the history of St. Michael's.  Our new Clubhouse was completed at the Bridge and is a great asset to the club. Also continued development continues with the park and grounds in great condition.  On the field of play we reached our first senior County final losing narrowly to Glenswilly.  We also won our first All County League Division 1 Title and also our first Senior County Gaeltacht Title.
There were also county underage titles for our Under 16's and 14's. Undoubtedly one of the proudest moments came in the 2012 All Ireland All Ireland Final in Croke Park when Christy Toye, Colm McFadden, Martin McElhinney, Antoin McFadden, Pater Witherow and Daniel McLaughlin were in Jim McGuinness's panel that lifted the Sam Maguire Cup for the second time in our history.  The scenes before and after that final will live long in the memory. Colm McFadden also picked up the Club's first All Star in 2012.  Colm McFadden, Christy Toye, Martin McElhinney were also on the 2014 team that was beaten by Kerry.  As mentioned already, Brian McLaughlin picked up an All Ireland Masters Title this year and this was another highlight of the decade.
There have been many highs for St. Michael's over the past decade and with new talent continuing to be unearthed we can look forward with confidence to the next 10 years at the Bridge.
Brian McLaughlin An Appreciation
2019 saw the passing of a great GAA Stalwart and St. Michael's Clubman Brian McLaughlin. Brian was a familiar face at St. Michael's and Donegal Matches over the years and an outstanding member and supporter of St. Michael's and all its activities serving as an administrator and manager over the last 30 years. Brian got involved in St. Michael's in the late eighties. He took over the Chair of the club in the early nineties and was proud to be the chairman for Donegal's first All-Ireland in 1992. He got involved with Michael McColgan as trainer of St Michael's in 1996 when they won the Donegal Junior Gaeltacht and were All-Ireland runners-up on a memorable day in Cork. They also won the County Gaeltacht in 1999. In 2000 he helped the team reach the Donegal Intermediate final and get promoted to Division 2 - a big step in St. Michaël's progression.
He heavily invested in coaching underage teams during a very successful period for the club in the Noughties. Brian had a huge passion for the club and would be a regular attending all games from all ages be it friendlies, league or championship games. He loved being at The Bridge watching ttraining and showing support in any way he could. His face will be a huge miss to the club. His presence was invaluable and he was respected by all. He was extremely proud when in 2011 St. Michael's reached the senior county final after many years competing at junior & intermediate level.
Brian drove the bus on behalf of Martin Coyle to trainings & games for Donegal development squads. He showed a great passion for the county. He would have attended over 20 all-Ireland finals and many more Ulster finals - GAA was his life. He had the bragging rights in the house in 2012 when Donegal won their 2nd All-Ireland over Mayo (Patricia being a Mayo woman). Brian was a loving husband to Patricia and father to his 2 sons (Brian who successfully captained Donegal to All Ireland Vocational success in 1985 and represented Donegal at Minor, Under 21 and Senior Level & Raymond who also represented the club at county level and grandson Ryan won an Ulster minor championship with Donegal in 2016).  He would surely have been proud to see his son Brian winning an All Ireland Masters Title with Donegal earlier this year.
Brian was a quiet man but was great with people always showing great affection to people and helping people in any way he could. He never cared for the limelight preferring to be away from the praise. The club extends deepest sympathy to Brian's wife Patricia, sons Brian and Partner, Raymond, grandson Ryan, Sisters Ann and her husband John Doherty and family in Derryreel, Josephine Grier and family Carrigart, nieces and nephews and cousins and to the entire family circle.