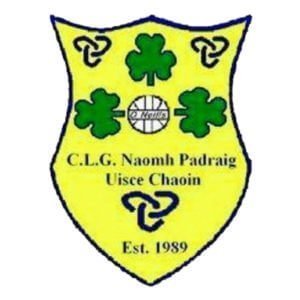 Ainm an Chlub: Naomh Padraig, Uisce Chaoin, Magh
Dathanna an Chlub/Club Colours: Navy with Yellow trim
Alternative Colours: Royal Blue, White with Yellow trim
Club Ground:Ture, Muff
The Club Year 2019
A momentous year for the club as we marked our 30th Anniversary with the building of a second pitch in Ture, the naming of our grounds in honour of Maurice McMenamin a former player, and our stand in honour of Sean Lynch one of our founder members, two club members who made a great contribution to our community here on the banks of the Foyle. Steady progress on the pitch at all levels, both senior and underage, and a particular growth in ladies' football and camogie, is all down to the hard work of all our volunteer coaches, managers and players. In particular the club would like to thank Billy Costello for all his work and dedication as Manager of the Senior Football team over the past two years and to wish him, Mary, and the family well for the future.
The Senior Footballers had a marked improvement this year over recent seasons. They competed well in the league and despite a number of unfortunate injuries to key players ended the year on 16 points and a fifth place finish. In the Junior Championship they got to quarter-final stage and were narrowly beaten.
Like many rural clubs we struggled at times to pull a full panel together but despite this we managed to meet all our fixtures. Training is particularly difficult with so many young men working away from home or attending third level in Dublin or Galway etc. At the end of the season our hard working and dedicated manager, Billy Costello retired. Along with coaches Neil Toye and Martin Mailey, assisted by Darren Roberts and Howard Clarke, the management team can take credit for bringing the best out of a panel of seasoned veterans and many younger lads coming up from Minor. The foundations have been laid by Billy and his team for a very strong panel going forward and we thank him for all the hours and dedication which he has given to the Senior Footballers over the past two years. At going to press the club are in the process of identifying a new management team for 2020. The club also took part in the Donegal U21 competition, exiting by one point at semi final stage. Many thanks to all of the players who made themselves available, all of whom played either Senior or Minor this year as well as U21. Finally the club would like to congratulate Dermot McColgan and Mícheal Canning who played on the Donegal Masters All Ireland Winning Team this year, bringing honour to their county, club, and families. Maith sibh go leir!
In 2020 Naomh Padraig Uisce Chaoin will field a Senior Ladies Football team for the first time and we look forward to welcoming teams in these competitions to Maurice McMenamin Park in Ture.
Naomh Padraig had another very successful year at under-age – over 170 primary school children took part in Cúl Camp in July. A dedicated group of coaches led by Aaron Gallagher have trained U6s and U8s every evening since February and brought the youngest members to a number of blitz' throughout the year.
The U9 Girls, managed by Louise McCloskey and Peter McLaughlin, worked hard all year and made the final in Burt but were narrowly beaten. The U11 Girls also had a very encouraging year with good numbers attending training and matches, many thanks to Bernadette McKinney and Sinead McColgan for managing this team. The U13 Girls had a great year in 2019 reaching the semi-final. Mary Costello and Breeda are due great credit for all the work they have put in. Joanne McColgan led a great U14 campaign this year and the girls worked hard both on and off the pitch to fundraise for a trip to Coatbridge GAA in Glasgow. Bernadette McKinney also managed the U16 and Minor Ladies this year to great effect, and the result is the club is looking forward to fielding a Senior Ladies team in 2020.
The U9 boys got great numbers for training and matches this year and had a great day out at the Finals Day, many thanks to Eunan Keaveny for all his work with these boys. Brendan McKinney and Cathal Grant worked hard with the U10 and U11 boys this year and the result was a great win on Finals Days in Carndonagh and at Maurice McMenamin Park in Ture. The U13s reached an Inishowen Final and look good for the future. Daniel McCauley managed these teams. Kevin Lynch managed our U14s who also enjoyed good success this year. Many of this team our now playing for Colaistí Inis Eoghain. Damian McIntyre managed the U16s this year who again did well with a number of key players making the county panel. The Minor boys put in a good year but will be disappointed they did not reach the high standard they set for themselves in previous years.
The club continues to promote Culture through Scór and Scór na nÓg agus tri ranganna gaelige sa chlub i rith na mbliana. Míle buíochas do Eileen agus Seosamh MacLachalainn faoin sár obair a dheannan said ar son Scór agus an teanga. In particular we are proud of club member and U16 footballer Cormac McColgan who won Gold at Feis Ceol na hEireann for Piano Accordion.
Health and Wellness officer Marty Mailey has overseen the opening of a gym at Maurice McMenamin Park and all senior players are now encouraged to make use of the facilities. Michael McMenamin ran a number of Defibrilator and Child Protections courses this year also. Our major achievement this year was to declare Naomh Padraig Uisce Chaoin as a fully No Smoking club and all patrons and visitors are asked not to light up on our grounds. Naomh Pádraig also led the way in becoming the first club in Donegal to new GAA Club Development Plan.
Brief History of Hurling in Dungloe
Dungloe GAA club was founded in 1923 and they have won seven Donegal Senior football championships with the last championship won in 1958. Other significant accomplishments the winning of the intermediate football championships in 1978, as part of Rosses Rovers and 1986 as Dungloe. In addition, Dungloe won a junior B championship in 1983. In the Comortas Peile Na Gaeltachta the club won a Junior all Ireland title in 1986 and a Senior title in 2001. The club has also produced many players who have represented Donegal at all levels including two players who were awarded all-stars Tony Boyle in 1992 and Adrian Sweeney in 2003.
In recent years the club has broadened its sporting endeavours to include hurling, ladies' football & in 2021 our first camogie team fielded at U12 and u14 levels with the intention to play at U16 and perhaps senior level depending on player availability in 2022. Hurling having been established almost 14 years ago in the club has now started to show the fruits of the hard work with our Junior Hurling team playing today. The club is proud to have players now coming through to represent the county at Senior and underage levels
Dungloe won their way to their first county hurling final in 2014, being an u14 div 2 final , and in 14,15,16 won three successive titles at u14 . During this time, we competed in two national Feile and made lifelong friends with clubs such as south liberties of limerick. Our teams then competed in 2 successive div 1 U16 and 2 div 1 minor finals over the next 4 years and in addition the last u21 div 1 final played in 2019.
Camogie flourished this year with our u14s reaching the div 2 county final also in their very first year with a Dungloe representative being part of the the u14 county squad reaching the ulster final.
Our local secondary school the RCS won a colleges ulster title in 2016 and our local national schools have all competed in Cumann Na mBunscoil competitions with Roshine national school also winning the Letterkenny large schools competition on two occasions. We have a rising number of coaches mentors and helpers, a lot of whom have recently completed foundation hurling courses and a healthy hurling and camogie committee within the club
So overall we have momentum with dedicated players, parents, committees, schools, and club supporting the growth of all its 4 codes
Naomh Pádraig Uisce Chaoin – Senior Board
| Oifigeach/Officer | Ainm/Name | E-mail Address | Fón/Telephone |
| --- | --- | --- | --- |
| Cathaoirleach | Peter Mullan | chairperson.muff.donegal@gaa.ie | 087 252 1441 |
| Runaí | Ciaran McMeanmain | secretary.muff.donegal@gaa.ie Carry Road, Muff | 087 7963559 |
| Cisteoir | Michael McMenamin | Treasurer.muff.donegal@gaa.ie | 087 2448200 |
| Oifigeach Caidreamh Poiblí | Fearghal O Boyle | fearghaloboyle@hotmail.com | 087 6330639 |
| Oifigeach Oiliúna | Neil Toye | neiltoye@yahoo.ie | 086 385 5855 |
| Oifigeach Coimirce Leanaí | Peter Mullan | childrensofficer.muff.donegal@gaa.ie | 087 2521441 |
| Oifigeach Sláinte gus Folláine | TBC | | |
| Oifigeach Cultúr | TBC | | |
| Ball an Bhord Contae 1 | Michael McMenamin | michaelmcmenamingaa@yahoo.ie | 087 2448200 |
| Ball an Bhord Contae 2 | Patrick Keaveney | patrickkeaveney@hotmail.com | 0861702088 |
| Oifigeach/Officer | Ainm/Name | E-mail Address | Fón/Telephone |
| --- | --- | --- | --- |
| Cathaoirleach / Chair | Peter Mullan | chairperson.muff.donegal@gaa.ie | 087 252 1441 |
| Runaí | Ciaran McMeanmain | Secretary.muff.donegal@gaa.ie | 086 202 7534 |
| Oifigeach Caidreamh Poiblí / PRO | Michael McMenamin | Treasurer.muff.donegal@gaa.ie | 087 2448200 |
| U7 & U9 | Dermot Keaveney | dermotkeaveney@hotmail.com | 086 0563832 |
| U9 & U7 | Michael McMenamin | michaelmcmenamingaa@yahoo.ie | 087 2448200 |
| U13 | Diarmuid Lynch | diarmaidlynch@gmail.com | 0044 7921500293 |
| U15 | Peter McLaughlin | info@donegalsigns.com | 087 9282222 |
| U17 | Karol Lynch | karollynch59@gmail.com | 087 2172069 |
| GIRLS | | | |
| --- | --- | --- | --- |
| U9 | Paul Kearney | plkearney@zeusinc.com | 087 991 1460 |
| U11 and U12 | Louise Quigley | louisedohertyquigley@gmail.com | 087 973 8374 |
| U14 | Johanne McColgan | johannemccolgan@gmail.com | 087 796 2024 |
| U16 | Mary Costello | marycavanagh@hotmail.com | 087 962 2055 |
| Minors and Seniors | Bernie McKinney | bebekin90@yahoo.com | 087 948 7717 |
| Camogie U8 – u16 | Chris English | chrispatrickenglish@gmail.com | 0044 7711133316 |
| 1ST TWELVE | | | |
| --- | --- | --- | --- |
| 1 Dermot Keaveney | 4 Enda McColgan | 7 Ultan Doherty | 10 Aaron McColgan |
| 2 James Curran | 5 Ryan McColgan | 8 Eoin Mullan | 11 Jason McCallion |
| 3 Caolan McColgan | 6 Jonathan Toye | 9 Drew McKinney | 12 Joseph McCauley |
Paddy Mullan Michael McMenamin and Aodh-Mairtín OFearraig at the launch of Naomh Padraig Uisce Chaoin GAA Development Plan
Club review of the decade 2010-19
Naomh Padraig has come a long way in ten years. Over this period the number of young boys and girls playing our games has more than doubled, Naomh Padraig teams have dominated underage football in Inishowen and have been competing very strongly at County level. Our members are now regularly selected on underage county panels and with Colaistí Inis Eoghain. Camogie has started at the club and within a very few years a strong core of camógs have developed.
We completed a new stand the Sean Lynch Memorial Stand at our grounds in Ture, and we have just completed building a new training pitch that will be the foundation for even greater progress in football and camogie in years to come. A new gym has also been opened and equipped. Our ground is now officially Páirc Muiris MacMenamin and we have declared ourselves to be a totally non-smoking club.
Cillian Doyle – u-12 Skills winner
Naomh Padraig Uisce Chaoin, Magh
Role of honour
Divisiion 1 u-13 Girls County Championship