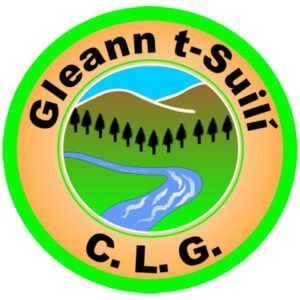 Ainm an Chlub: Gleann tSúilí
Dathanna an Chlub/Club Colours: Green, White and Gold
Alternative Colours: White and Green
Club Ground: _Páirc Naomh Columba, Glenswilly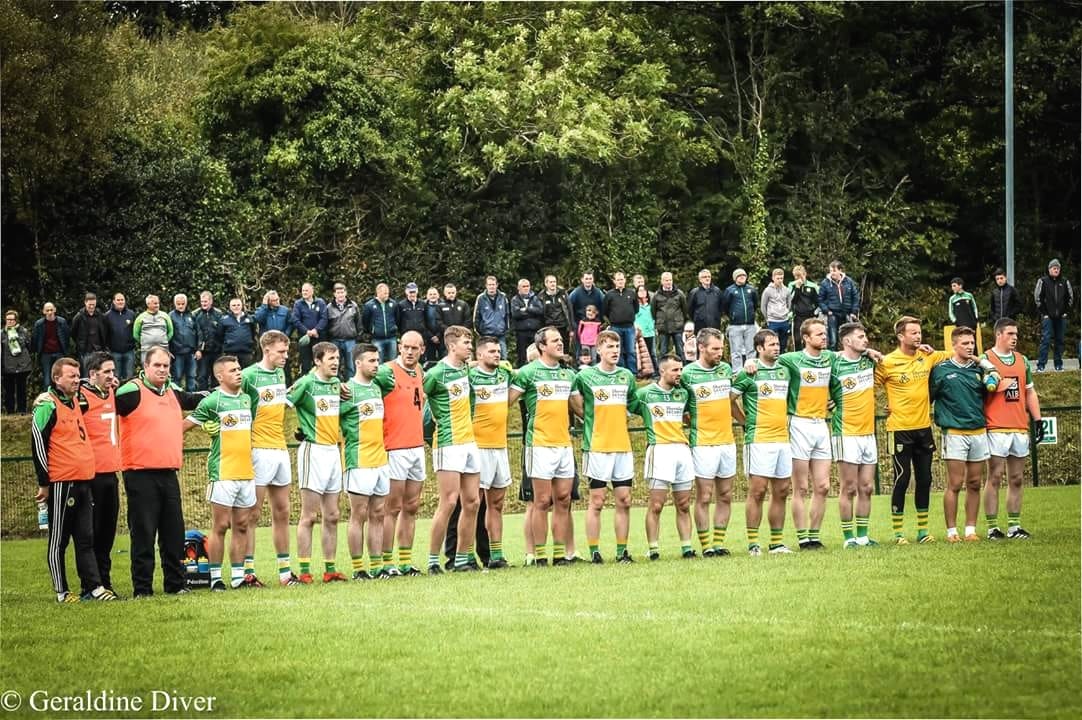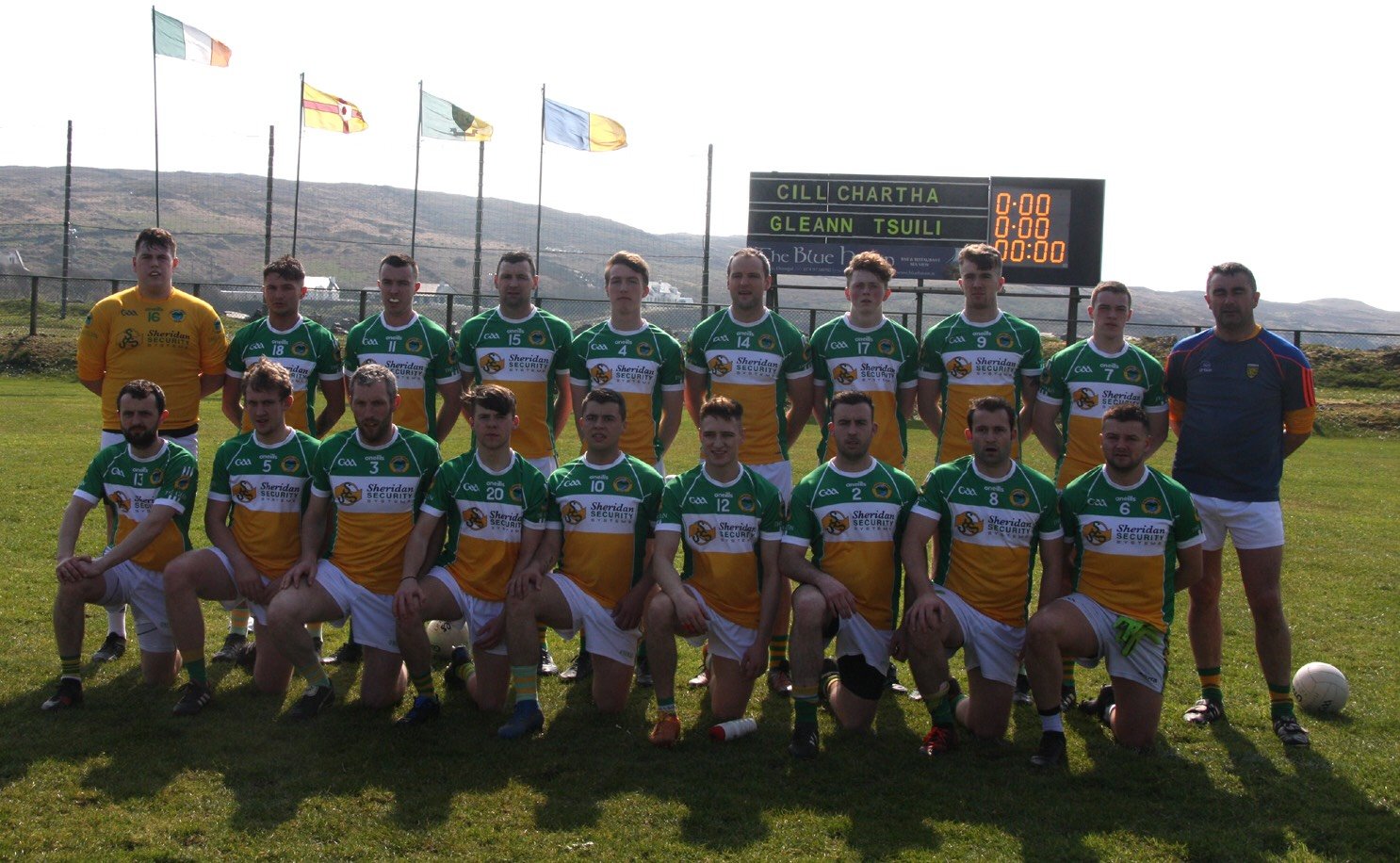 The Club Year – 2019
We elected a new committee this year and without a doubt they've been working hard to keep the club running. It was a year of very mixed emotions in Glenswilly GAA on and off the field. We've had great success at underage level and the development of young players has been a key ingredient to this success. Michael Murphy has brought home another All Star and we had 2 Master All Ireland winners, John McFadden and Charlie Bonner. The highlight of the year was our Minor team winning the Go Power Energy Division 2 Minor League.
The senior men had a mixed league campaign and finished the season mid table. However, the team were always comfortable in the league and a lot of players got opportunities in the senior team.The Seniors exoted the championship at the Group stage with a draw in Glenfin, a disappointing loss at home to Four Masters before victory at home to Milford.
In April Gary McDaid started a Pre-school nursery (Under 5/6) which is mainly about getting the kids exercise and having fun. The 29 boys and girls travelled to blitzes in Termon and St Eunans. Our U8s and U10s had another busy year travelling to blitz as far as Meath. Our U9s beat Termon in the Shield final, U10s where winners up in Meath and won the Laurence McGinty cup. Our U12s performed very well this year and took both U11 and U12 Go Games trophies home in July. Young Mandy Kelly delivered a man of the match display to captain the U14 boys, beating Sean Mac Cumhaills in the Northern Board U14 League Final. Less than a week after he buried his father Manus Kelly emotions ran high on the day and Mandy led the way to take the Silverware back to the Glen in his father's honour. They also won the Northern Comórtas Peile against Glenfin in April. The U16s competed well in a very tough division this year and were winners up in the Division 2B championship final losing out to Glenfin. Eddie Crawford, Pauric Bonner and Paddy McGinty took charge of the minor boys in 2019. After beating a well fancied Ardara team away and a strong Kilcar team in the semi-finals the ran out two point winners against Malin leading to great celebrations as the Diivision 2 Minor Championship trophy was presented to joint captains Sean Gallagher & Conor McGinty.
The senior ladies where unlucky to be knocked out at the group stages of the championship. There were girl's teams from U10 to minors. The U11 girls won the Inishowen League, the minor girls played in the Division 4 final against Naomh Columba and the rest of the team played excellently thought out the year.
2019 saw the 50th anniversary of Scór and CLG Gleann tSuilí were represented in Scór na nÓg in Solo Singing, Leiriú and Trath na gCeist. Orlagh McLean represented the club very well in Solo Singing while the Leiriú group comprising of Orlagh McLean, Aoife Devine, Leah Mullen, Caitlin McAteer and Orlaith Maguire went on to represent Donegal in Ulster. The topical piece written by Aoife Godfrey addressed the ever increasing issue of suicide in Ireland and evoked many emotions for the audiences across the province. This young group also took part in a special concert in An Grianán Theatre in September for the 50th anninversary. Karen Duddy took part in Solo Singing in Scór Sinsear and reached the County Final.
Glenswilly GAA ran a number of successful initiatives with Jigsaw Donegal "Understanding Youth Mental Health", Foroige "Drug & Alcohol Education programmes" and Gambling Awareness & Prevention workshops held in the Clubhouse. During the Annual 5K Run the club hosted a Health Screening initiative and provided first aid during the event. Club members also attended the TILDA "How to Age Well" Launch in LYIT by Donegal GAA. Juvenile and Adult club members also attended the comprehensive and informative "Youth Matters Conference" held in LYIT in October.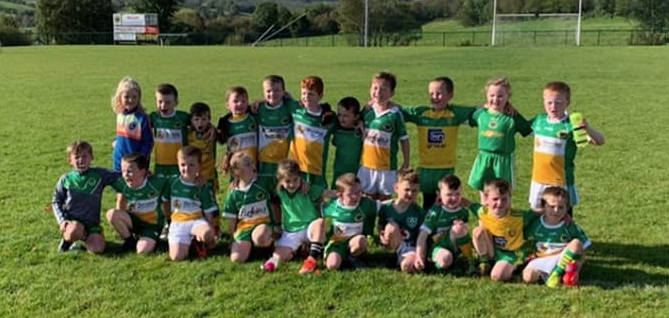 2019 Roll of Honours
Michael Murphy 2019 All Star winner and Captaining Donegal to another Ulster title
Masters All Ireland Winners John McFadden and Charlie Bonner
Minor Boys: Division 2 Minor League winners
Boys U14: Northern Board U-14 league winners and Northern Comórtas Peile U14 winners
Girls U11: Inishowen League winners
U9 Boys/Girls: Shield Winners
Gleann tSúilí – Senior Board
Oifigeach/Officer
Ainm/Name
E-mail Address
Fón/Telephone
Cathaoirleach
Patsy Gallagher
patsy@gallagherbrennan.ie
086 8058429
Runaí
Sharon McGinty
secretary.glenswilly.donegal@gaa.ie
086 3629737
Cisteoir
Declan Doherty
declan.doherty@welfare.ie
086 6058989
Oifigeach Caidreamh Poiblí
Pauline Carbery
pro.glenswilly.donegal@gaa.ie
pcarb@hotmail.com
083 8243208
Oifigeach Oiliúna
Lee Gildea
Leegildea80@gmail.com
086 6059117
Oifigeach Coimirce Leanaí
Noel Scott
Whistlebear01@gmail.com
086 8848462
Oifigeach Club Sláinte
Donnacha Gallagher
Donnachagallagher@gmail.com
086 2949662
Oifigeach Cultúr
TBC
Ball an Bhord Contae 1
Patsy Gallagher
patsy@gallagherbrennan.ie
086 8058429
Ball an Bhord Contae 2
Gerard McGenra
Gerardmcgrenra@gmail.com
086 2245846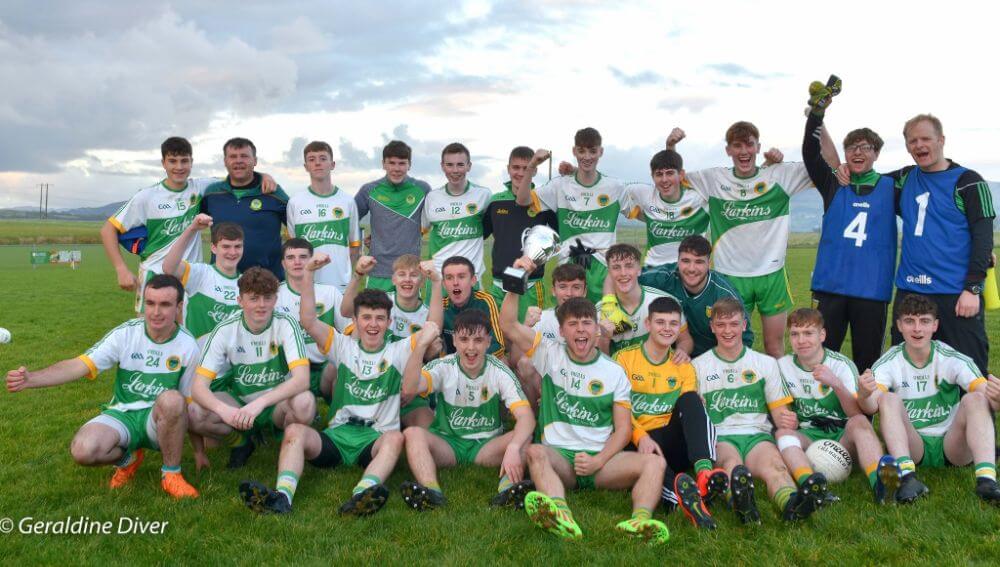 Bord na nÓg – Gleann tSúilí
| Oifigeach/Officer | Ainm/Name | E-mail Address | Fón/Telephone |
| --- | --- | --- | --- |
| Cathaoirleach | Naoise Enright | - | 086 3838689 |
| Runaí | Paul Daly | - | 087 4104052 |
| Oifigeach Caidreamh Poiblí | Aisling McDaid | pro.glenswilly.donegal@gaa.ie | 086 1612681 |
| Toscairí an Bhoird Réigiúnaigh | - | - | - |
| Faoi-8 | Ciaran Gallagher | - | 086 3089497 |
| Faoi-10 | Gerard McGenra | - | 086 2245846 |
| Faoi-12 | Paddy Devine | - | 087 2237724 |
| Faoi-13 | Hugh McLean | - | 086 6002116 |
| Faoi-14 | Lee Gildea | - | 086 6059117 |
| Faoi-15 Óg Sport agus 16 | Martin Glackin | - | 086 6008322 |
| Faoi-18 | Eddie Crawford | ruairidearg@yahoo.co.uk | 086 8167305 |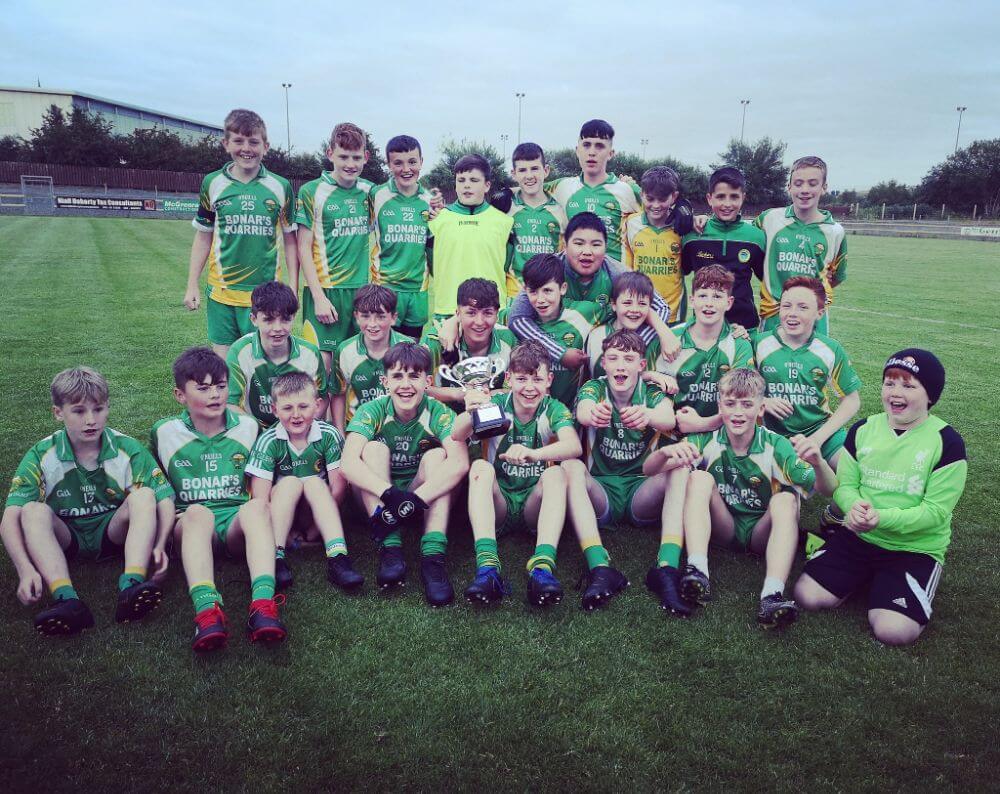 A Decade of Dreams – 2010-19
Without a doubt we have given the people of Donegal the team of the decade reaching four Senior championship finals. We've won senior C (2016, 2017) and senior B (2015) championships. In 2011 captain Gary McFadden lifted the Dr Maguire cup for the first time in the club's history after beating St Michaels in the final. Two years later James Pat McDaid captained the team to their second Dr Maguire cup and progressed to the Ulster Final in which we were narrowly defeated by Ballinderry. Once again in 2016 the team made it to the county final as underdogs to a much fancied unbeatable Kilcar team. Gary McFadden lifted the Doctor Maguire with Michael Murphy and the Glen men playing the best performance of their lives on the day. Managers Michael Canning and Gary McDaid played a massive role and were brains of the operation behind the 3 time Senior Championship winners.
In 2012 Captain Michael Murphy lifted the Sam Maguire with fellow club men Big Neil Gallagher and Gary McFadden. The same year Neil and Michael took home 2 All Star awards. In 2014 they guided Donegal to another All Ireland final and both players received All Stars for their displays on the pitch. 2019 seen Michael lead Donegal to a 5th Ulster title and into the super 8s. The big Glenswilly man took home another well-deserved All-Star. Big Neil retired from Inter County football in 2017. Michael Murphy went on to captain the Ireland international rules team in 2013 and 2014. He then took part in the Toughest Trade in 2017 and Glenswilly GAA welcomed Welsh Rugby Star Shane Williams to the club as both stars traded places. Michael went to Clermont Auvergne in France to play rugby while Shane played Gaelic football with Glenswilly.
Our Ladies Board have had success also, winners of the Junior B championship 2017. Our Scór team has represented the club and Donegal in Ulster and All Ireland finals. We introduced a new Underage pathway structure to our teams in 2014 delivered by Ger O Connor from Dublin GAA. In 2013 we hosted the 2013 All-Ireland series launch, held following confirmation of the four provincial winners. Since 2010 our membership has doubled and our club has becoming one of the best known senior clubs in Ireland.
We would like to remember our club members who have passed to their eternal rest and played a huge roll in this club and we pay a special tribute to our late club presidents Finbar Glackin and Jim Gallagher and U14's coach, third team player and 3 time Donegal International Rally winner Manus Kelly. Our priority moving forward is to maintain our senior status by developing our underage players, develop new training ground facilities and winning more championships.