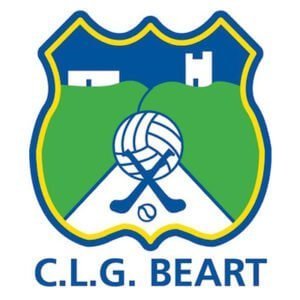 Ainm an Chlub: Beart C.L.G.
Dathanna an Chlub/Club Colours: Blue and Yellow
Club Ground: Hibernian Park, Burt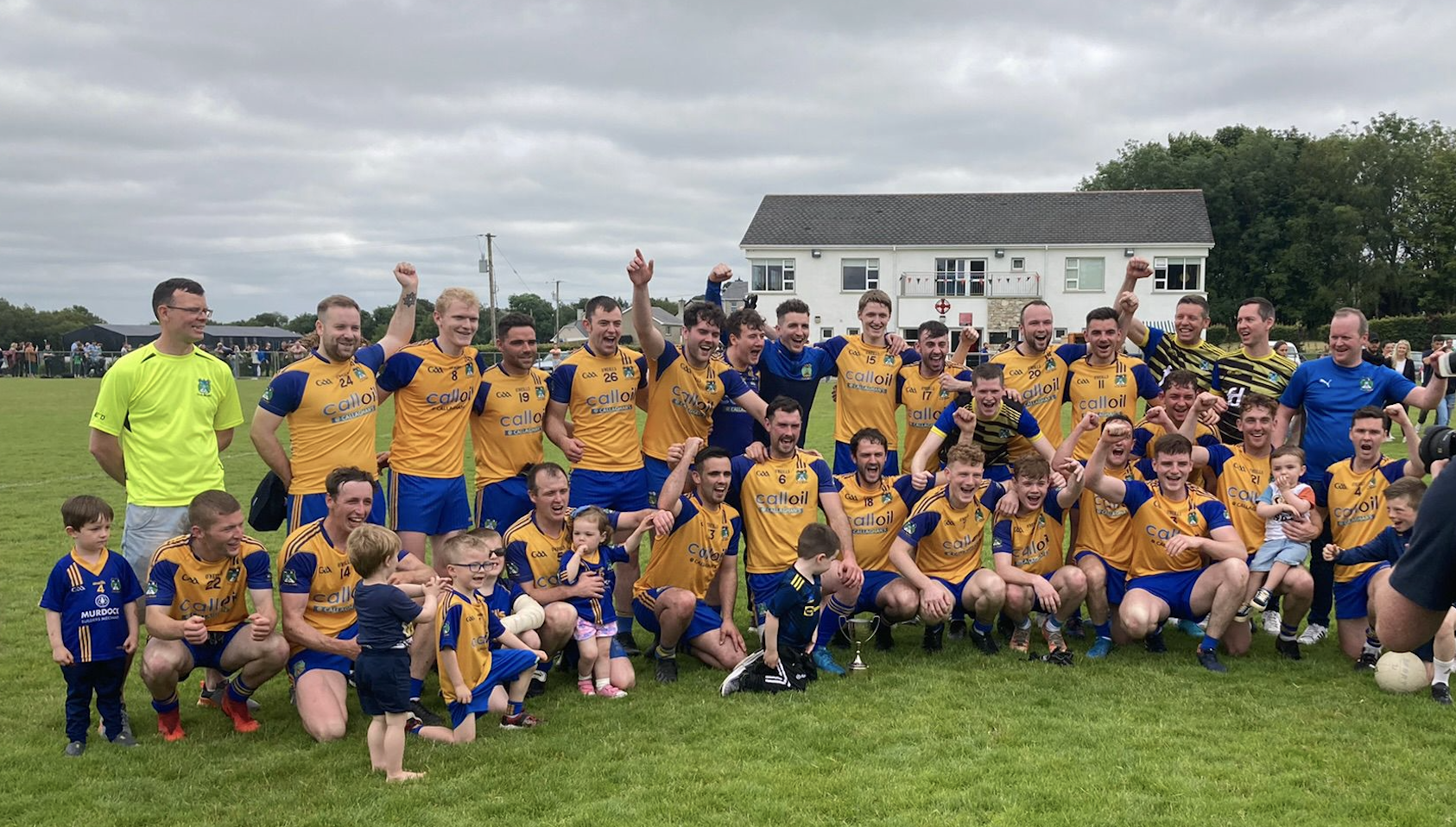 AN BEART – Divison 3B Champions 2022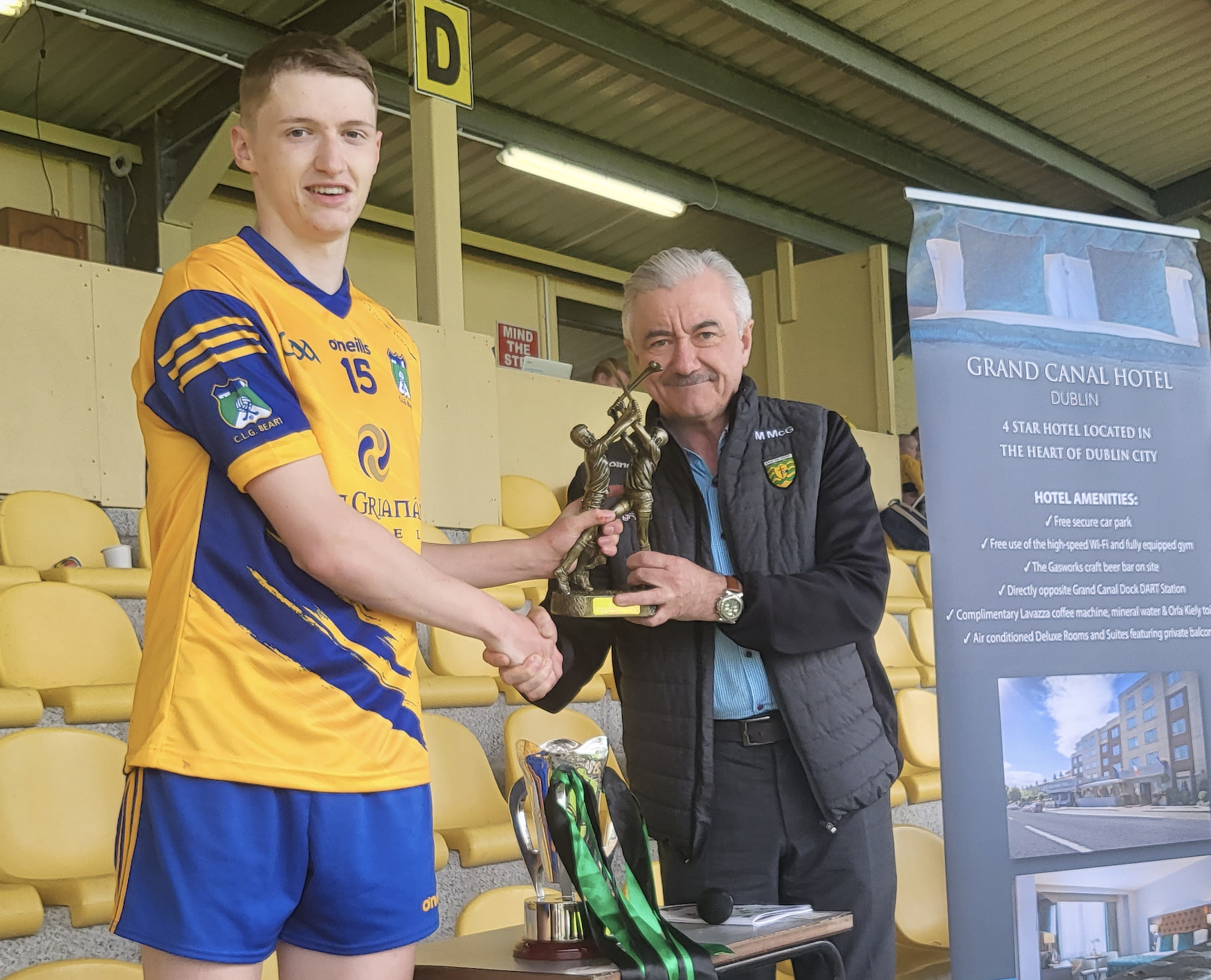 MotM 2022 senior hurling Final - Liam McKinney
The Club Year – 2019
It was another busy year at Hibernian Park with the club fielding teams from U8 to adult in four codes – football and hurley for the boys, camogie and football for the girls. Our second pitch is nearing completion – it will open next year – and this summer we were grateful to local farmer Charlie Doherty for opening up 'The Hurley Field' to allow some of our teams to train. Charlie's field was one on which Burt teams played in the 1920s and and 30s.
On the playing front titles were won by several under-age teams, most notably the U12 hurlers who won the Donegal A Go Games final and the U14 footballers who won the county Division 2A championship. The U21 camógs won their county final, while we also enjoyed camogie success at U16 and U14 levels. Our girls footballers competed strongly in Inishowen competitions and won a series of finals.
At adult level, our young football team surprised us all by spending most of the year at the top of Division 3 but unfortunately let promotion slip from their grasp. Spring, summer and fall was the trajectory of our senior footballers' season. Manager Stephen Davenport gave youth its fling and we got off to a phenomenal unbeaten start in Division 3 of the league, winning five and drawing two. But as spring turned to summer we started dropping points. Still, promotion was in our own hands and with five games remaining we needed just single win to earn a place in Division 2 next year. It wasn't for the want of effort, but we couldn't get a win high up nor low down and fell to fourth overall in the league table, a point shy of promotion. The poor run of form continued into the Intermediate championship with defeats to Fanad, Naomh Columba and Naomh Colmcille. With back-to-back championship relegations staring us in the face, Ronan McLaughlin and Shaun Murphy took over the management and the team ground out a 0-9 to 0-6 victory over Naomh Ultan in the relegation play-off and preserve our place in the Intermediate championship. But many of those senior players were on board when we won the U21C football championship in October.
Our hurlers had a difficult year and failed to reach the knockout stages of the Donegal championship. County commitments left us shorthanded in the Donegal hurling league and with so little hurling under our belts we were undercooked come championship and failed to win any of the group games. None of this can be laid at the door of our manager, it's rather the culmination of retirements, emigration and several barren years at under-age. The work to restore our senior hurling fortunes is under way, but it will take time.
In October, our U21 camogie team, managed by Claire McDermott, defeated St Eunan's to win the Donegal championship. We've not adult ladies football team yet, but are working our way towards it with a new Gaelic4Mothers squad and plenty of young talent coming through.
We staged a highly entertaining play, Doolally's Wedding, in March raising money for the club and local charities. In August we hosted a couple of very successful under-age tournaments in football and hurling, the hurling to mark the retirement of local schoolteacher Colm Davis. The club continues to compete in Scór na nÓg with young performers who have several years ahead of them. We've also hosted successful county Scór na nÓg semi-finals in Burt Hall.
The club received a Bronze award from Glór na Gael under the Joe McDonagh programme for our promotion of Gaeilge in our club and wider community.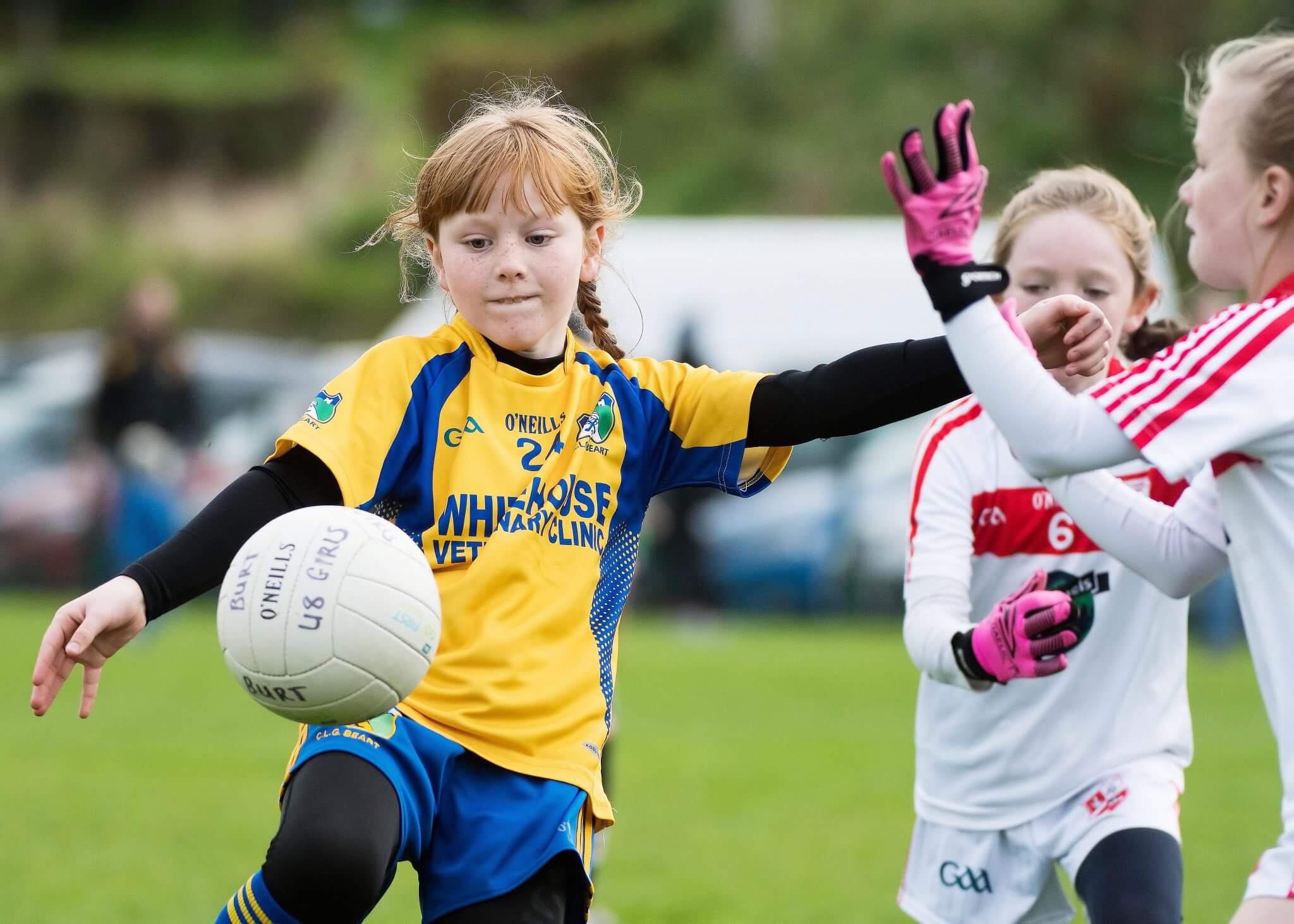 Action from the game between Burt and Naomh Colmcille. Photo Evan Logan
Roll of honour 2022
Michael Murphy Sports U21B Football Championship winners
McGlynn's Restaurant Division 3A League Champions
McGlynn's Restaurant Division 3B League Champions
Grand Canal Hotel Senior Hurling Finalists
Oifigeach/Officer
Ainm/Name
E-mail Address
Fón/Telephone
Cathaoirleach
Donal Walker
chairperson.burt.donegal@gaa.ie
086 6686550
Runaí
Catriona Sweeney
Secretary.burt.donegal@gaa.ie
0044 7736126855
Cisteoir
Brian Kelly
Treasurer.burt.donegal@gaa.ie
0044 78121422027
Oifigeach Caidreamh Poiblí
Damien Dowds
pro.burt.donegal@gaa.ie
087 7811072
Oifigeach Oiliúna
Damien Dowds
dowdsie@gmail.com
087 7811072
Oifigeach Coimirce Leanaí
Ann Bradley
childrensofficer.burt.donegal@gaa.ie
086 1663394
Oifigeach Club Sláinte
Catriona Sweeney
Secretary.burt.donegal@gaa.ie
0044 7736126855
Oifigeach Cultúr
Manus O'Domhnaill
manusjodonnell@hotmail.com
Gollan Lodge, Fahan
0861084267
Ball an Bhord Contae 1
Sean McHugh
Sean_mchugh@msn.com
086 2600253
Ball an Bhord Contae 2
Donal Walker
chairperson.burt.donegal@gaa.ie
086 6686550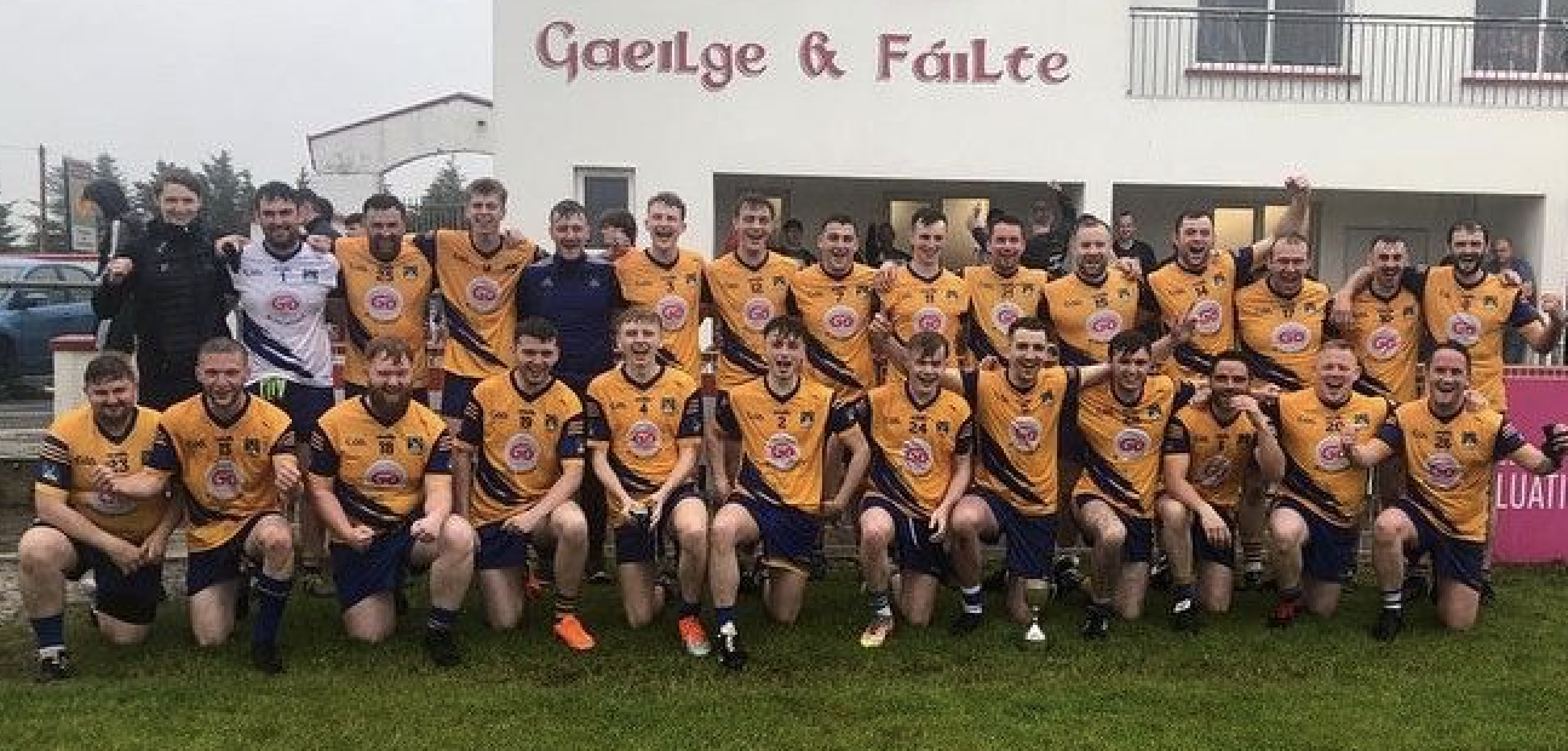 Burt - McGlynn Restaurant Division 3 Champions 2022
OIFIGEACH/
OFFICER
Ainm/Name
E-SEOLADH NÓ SEOLADH/
ADDRESS
Fón/Telephone
Cathaoirleach
Darren Farnan
darrenfarnan@gmail.com
0044 7788126693
Runaí
Clare Clarke
wilson_clare@hotmail.com
0044 7598699833
Coaching Officers
Damian Dowds
dowdsie@gmail.com
087 7811072
Faoi 6
Rory Grant
rory_g17@hotmail.co.uk
087 776 3668
U7
Emmett Dowds
-
086 1683 824
U9
Ciaran Muckian
Ciaranmuckian@googlemail.com
085 8756 369
U11
Damian Dowds
dowdsie@gmail.com
087 7811072
U13
Darren Farnan
darrenfarnan@gmail.com
0044 7788126693
U15
Donal Walker
donaljwalker@gmail.com
086 6686550
U17
Gerald Gallagher
Geraldgallagher923@yahoo.com
087 4316 318
OIFIGEACH/
OFFICER
Ainm/Name
E-SEOLADH NÓ SEOLADH/
ADDRESS
Fón/Telephone
U8 and U14
Catriona Sweeney
Secretary.burt.donegal@gaa.ie
0044 7736126855
U10
Joanne McKinney
j.mck21@yahoo.com
0044 780 383 5494
U12
Oonagh Murphy
086 327 4103
U16 and Minors
Kieran Toner
ktoner@hotmail.com
087 6088 339
OIFIGEACH/
OFFICER
Ainm/Name
E-SEOLADH NÓ SEOLADH/
ADDRESS
Fón/Telephone
U9
Mark McGavigan
086 603 5352
U11
Andrew Wallace
087 759 9710
U13
Paul Johnston
087 919 2714
U15
Manus O'Donnell
manusjodonnell@hotmail.com
086 108 4267
U17
Fergal Grant
086 355 9573
OIFIGEACH/
OFFICER
Ainm/Name
E-SEOLADH NÓ SEOLADH/
ADDRESS
Fón/Telephone
U8 and U10
Anne Bradley
owlannebradley@gmail.com
086 166 3394
U12
Beth Duffy
086 442 7397
U14 and U16
Marie Gill
mariegill28@gmail.com
086 193 9821
Minors
Claire McDermott
clairemcdermott3@eircom.net
087 638 0153
| 1ST FIFTEEN | | |
| --- | --- | --- |
| 1 Darren Ó Gallchóir | 6 Criostoir Mac Diarmada | 11 Marc Mac Giolla Ceannaigh |
| 2 Stiofain Mac Giolla Easpaig | 7 Ronan Mac Diarmada | 12 Tomás Ó'Dochartaigh |
| 3 Stiofain Ó Domhnaill | 8 Enda Mac Diarmada | 13 Miheál Ó'Dochartaigh |
| 4 Pól Mac Aoidh | 9 Denver Ó Ceallaigh | 14 Sean Mac Aoidh |
| 5 Marc Mac Giolla Comhaill | 10 Oisin Ó Ceallaigh | 15 Dara O'Grianna |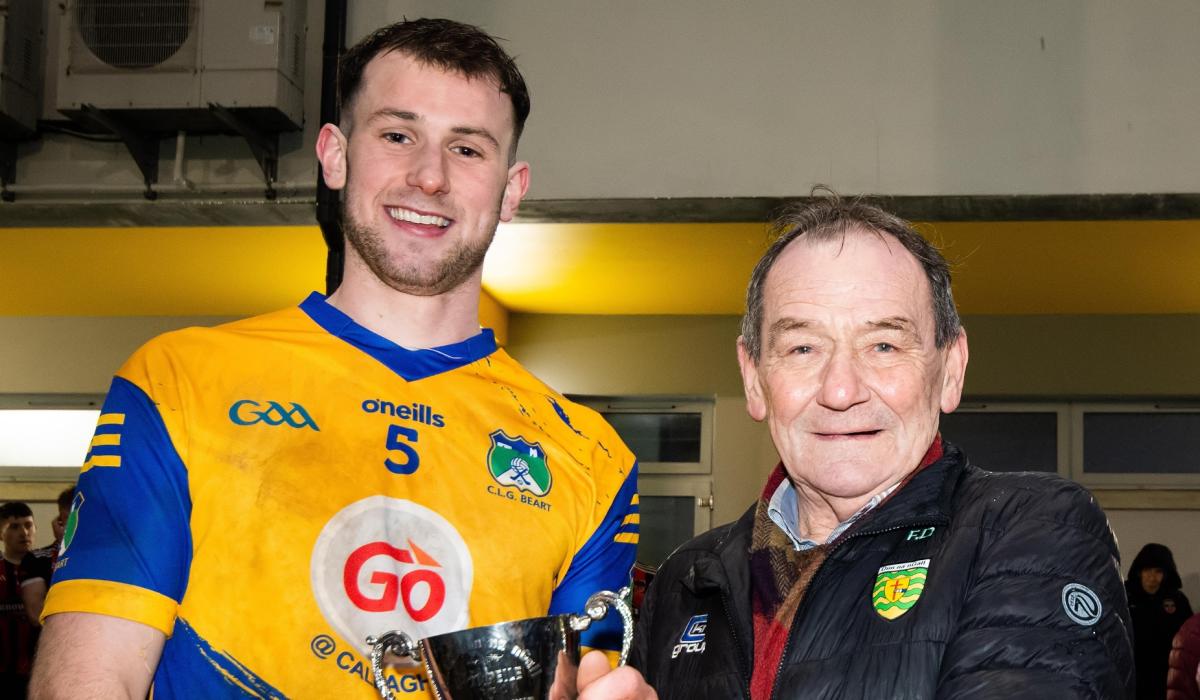 Burt U21C Winning Captain Conor O'Donnell with Frankie Doherty
Review of the decade 2010-19
On the playing field CLG An Bheart's senior hurlers had a very good decade. We won six senior hurling championships, including five-in-a-row from 2011-15, and our most recent title came in 2018. We added another provincial title too, beating Antrim's Creggan Kickhams by 2-10 to 0-13 in the 2011 Ulster Junior Club Hurling Championship final.
Our footballers had their most successful period ever. We entered the decade without ever having won a Donegal championship, and exited it having won both Junior A championship in 2011 and the Intermediate championship in 2016. And we wrapped up the 2010s by winning the Donegal U21C championship in November 2019, defeating Naomh Colmcille in the final.
At underage, we are fielding more teams than ever, and have introduced camogie and girls football alongside hurling and boys football. In 2019, we fielded 37 teams across the grades in the four codes, from U8 to adults, and we are very grateful for the work of so many coaches coaches, and indeed parents of children, in providing such a great outlet for the young men and women in the parish of Burt, Inch and Fahan. We're always looking for more coaches, right enough.
We have upgraded our facilities at Hibernian Park throughout the 2010s, extending and more doubling the size of our clubhouse to give us four dressing rooms, a large function room, referees rooms, a small weights room and a meeting room.
Our training field has been extended and redeveloped, and from the summer of 2020 we will have, for the first time, two full size sand carpet pitches to play and train on. Our infamous 'banken' was removed in 2018 to build a new car park and we've also built an impressive new ball wall where members of all ages can hone their striking, catching, and kicking skills.
The club has had a smattering of players on county football teams at under-age level right up to U21 over the past decade.
We've also been well represented on Donegal hurling squads from under-age to senior throughout the period. Indeed, Burt men have been at the helm of the Donegal senior team throughout the decade, with Andrew Wallace guiding them to the Lory Meagher title in 2011, Ray Durack in charge when Donegal won the Nicky Rackard Cup in 2013 and current county manager Mickey McCann the bainisteoir for the 2018 Rackard Cup success.