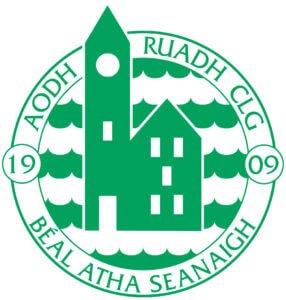 Ainm an Chlub: Aodh Ruadh, Béal Atha Seanaigh
Dathanna an Chlub/Club Colours: Bán agus Glas, White and Green
Alternative Colours: Glas agus Bán, Green & White
Club Ground: Fr Tierney Park
Aodh Ruadh – Club History
Aodh Ruadh Club was founded on Sunday, 24th October 1909 after a public meeting inspired by a call from the local branch of the Gaelic League: "to consider the advisability of having some Irish games started in the town". The admission fee to the games was fixed at one shilling and a membership fee of one penny per week was levied.
The first hurling and football practices took place in the 'Workhouse Meadow', now known as Munday's Field. Capitalising on the local talent available and particularly on an established hurling tradition, the club since its inception has met with significant success in both hurling and football.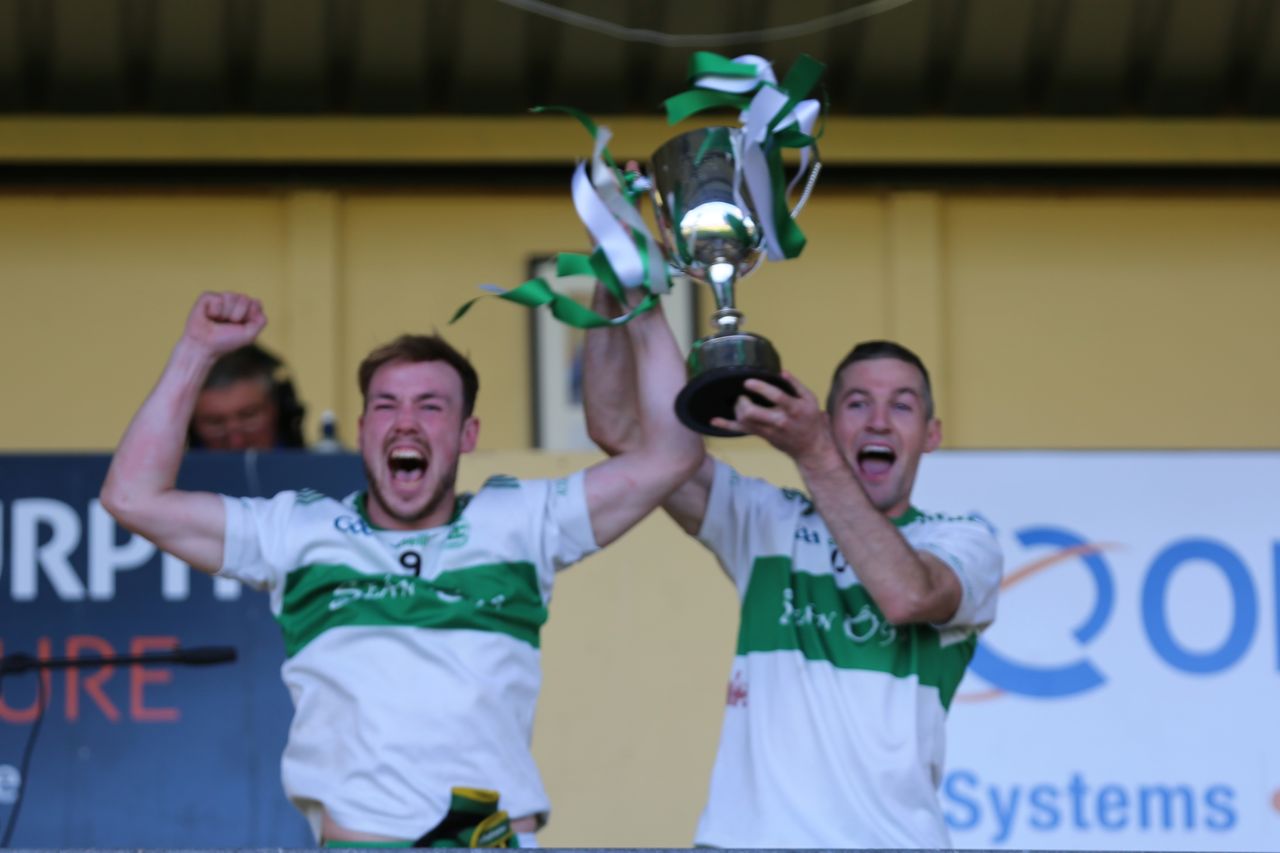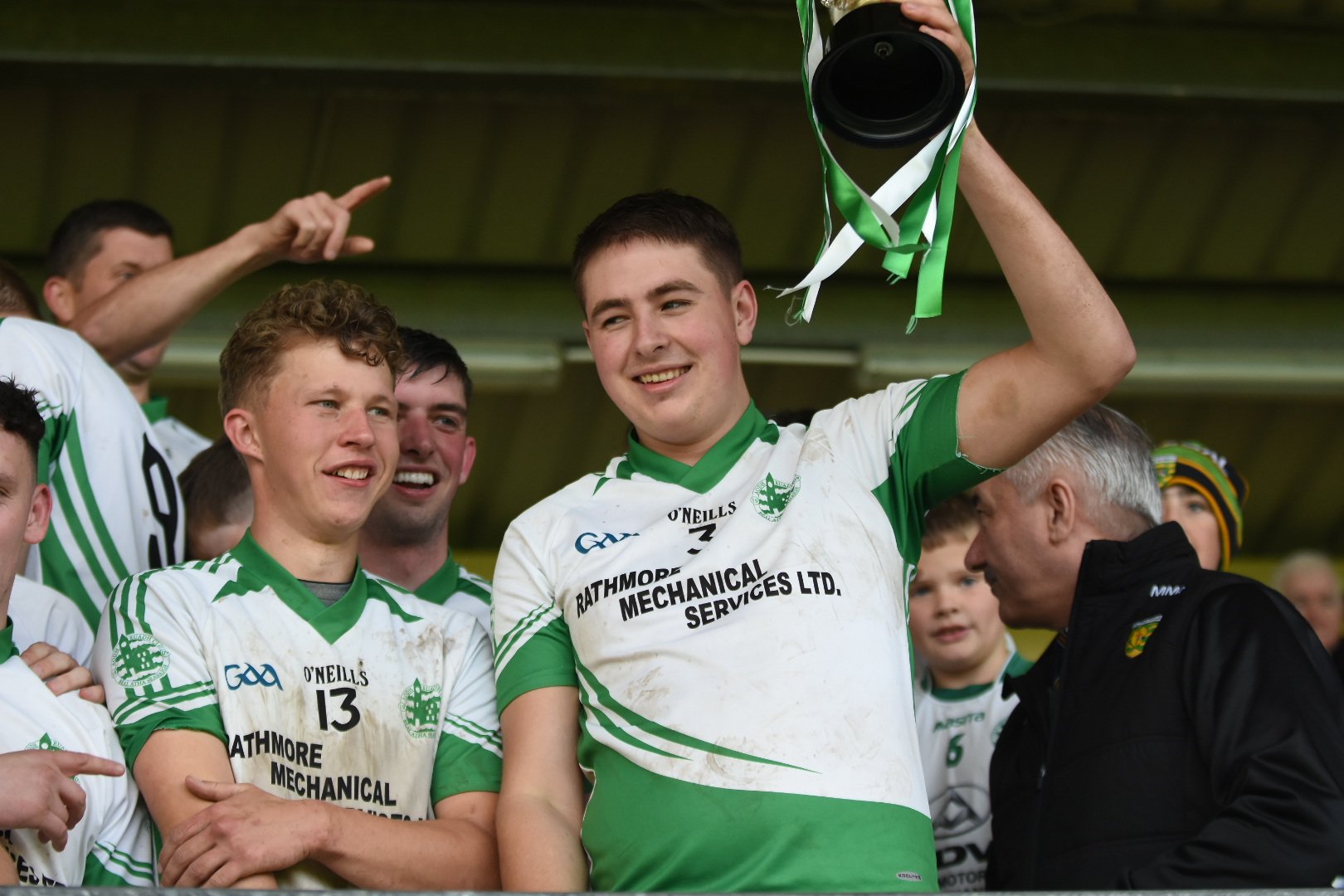 Aodh Ruadh Junior Hurling Champions 2019
Football
Club AGM
The Aodh Ruadh AGM took place in its traditional venue of Aras Aoidh Ruaidh for the first time since 2019 on Sunday afternoon. Almost 40 members attended as we looked back on a successful 2022, crowned by our senior ladies footballers' league and championship double, and made plans for the coming season. Detailed reports were submitted by all sub-committees and these were followed by an address from club chairman William Doogan. Reflecting on a very busy season, he thanked all those who had played a role in steering the club successfully through another hectic season on and off the pitch. The Chairman's report and Lisa McTernan's Secretary's report can be viewed now on aodhruadh.org.
With no motions up for consideration, the AGM then proceeded to the election of officers with the following posts being filled. Patrons: Father Ó Fearrai and Canon McGroarty; President: Owen Roe O'Neill; Vice Presidents: Peter Conlon, PJ Buggy, John Magee, Michael McLoone and John Murphy; Chairman: William Doogan; Vice-Chairman: Diarmaid Keon; Secretary: Lisa McTernan; Assistant Secretary: Paul Gillespie; Treasurer: Sabrina Brosnan; Assistant Treasurer: Liam Hassett; PRO: John Hughes; Oifigeach na Gaeilge: Paddy Kelly and Eamonn Martin Maguire; Substitute County Board Delegate: John Travers; Health and Well-being Officer: Maura Gallagher; Child Protection Officer: Josephine McNulty. Coaching Officers: Packie McGrath and Brian Gillespie. Congratulations and best wishes to all those who have taken up a post for 2023.
Football 
Aodh Ruadh's under 21s are in action in the B quarter-finals this Saturday when they take on Gaeil Fhánada. The action throws-in at 1pm at the Red Hugh's grounds in Killygordon. It would be great to see a good travelling support down at the Crossroads to get behind the lads.
The Bakery Cup got underway last Wednesday under the lights of Páirc Aoidh Ruaidh. It was a great night of football as Corey Sheridan's team got the better of Eoghan Gallagher's to win the first semi-final. In the second semi-final Gareth Brennan's team just nudged out Joe Gibbions team by a single point in a mighty tussle. It was no bother either for the younger lads who got their chance to shine, with Alfie McGowan, Daniel McLoone, Ciaran McGuinness all catching the eye and getting on the score board. The finals will be played this Sunday at Páirc Aodh Ruadh. First up will be the Shield final with Joe's team facing Eoghan's outfit, followed by the Bakery cup final where Corey's side will face Gareth's lads. Times will be communicated through the team WhatsApp groups.
Congrats Ciaran!
Congratulations to our senior Ladies coach Ciaran Smith who has been appointed coach of the senior Donegal Ladies team. Best of luck in the season ahead.
Question time in Seán Óg's
On Thursday 15th December Seán Óg's will be staging a quiz night. Peter Gallagher will be quiz master on the evening and the questions start flying at 9pm. The proceeds from this fun night will go towards the purchase of a new pitch lining machine for the Aodh Ruadh playing facilities. There'll be loads of prizes up for grabs on the night, including four rather fetching Donegal GAA tops for the winners.
Santa Party
A date for your festive diaries! On Sunday, 18th December, Aodh Ruadh ladies host a Santa Party in Dorrian's Imperial Hotel. There will be a live DJ, plenty of fun and games, a free selection box for each child and, of course, the chance to meet big man himself, Santa Claus! The event will run from 3pm to 6pm and tickets, priced €12, are available now from Klubfunder.com.
Suim agat sa Ghaeilge?  
Interested in using your own level of Irish in a relaxed, enjoyable conversation group? Aodh Ruadh GAA Club invite you to GAEILGE DO GACH DUINE. Join us in Owen Roe's, Ballyshannon where we will meet every Tuesday for six weeks commencing Tuesday 15th November from 8.30pm to 9.45pm. All levels of Irish are welcome to join in, speak, listen, or just do whatever you are comfortable with. This event is free of charge. Bain triail as, beidh fáilte romhat.
Ballyshannon Bingo  
Well done to last week's bingo winners. Maggie McGarrigle scooped the 50/50 jackpot. The snowball went unclaimed so rolls to €600 for our next bingo. The house winners were Regina Ayres, Fiona Murphy, Mary Reynolds, Lesley Lynch, Linda Breen, Christina Cox and Jude Concannon. Meanwhile Vincent Keown, Rosaleen Breen and Mary Cleary were house and line winners! The other cash winners on the lines were Mairead McCormack, Marian McDermott (twice!) Claire White, Tracey Ayres (twice!), Jack Hughes, Patricia O'Reilly, Marian Deacon and Kathleen McGee. Please note: We are moving our Bingo to Tuesday nights for the winter time, commencing Tuesday 6th December at the earlier time of 8.30pm. There is no bingo this Friday night. As always, we thank our loyal bingo players for their continued support and look forward to the new night with past and present players. We'll play for over €2,300, both online and in person. Online players can buy their books up to 4.30pm on Tuesday 6th December at Klubfunder.com, while players coming to the Abbey Centre can buy their books at the box office. It would be great to get a good crowd in for this bingo so please spread the word and bring along a friend!
Aodh Ruadh lotto    
There was no winner of the Aodh Ruadh Lotto jackpot of €8,700. The winning numbers drawn were 1, 5, 6, 12, 13 and 15. In the lucky dip prizes of €20 were won by PJ Buggy, Barry Travers, Catherine McKee, Una Bonner and Seán Óg. The next draw is for a jackpot of €8,800 on Sunday at 8.30pm in Pat's Bar. Lotto tickets are available in Kernan's Spar and Pearse O'Neill's. You can play also play the lotto online. Log onto klubfunder.com and then search for and select Aodh Ruadh Ballyshannon. Users can now avail of the auto-renew option to play the same line every week until they decide to stop when they pay using Stripe. If you're not in, you can't win! 
The lotto team for McCosker's Centra on Saturday is: SENIOR HURLERS. 
~~~~~~~~~~~~~~~~~~~~~~~~~~~
~~~~~~~~~~~~~~~~~~~~~~~~~~~ 
John Hughes, PRO, Aodh Ruadh GAA, Ballyshannon, County Donegal.
Eoin Ó hAodha, OCP, Aodh Ruadh CLG, Béal Átha Seanaigh, Contae Dhún na nGall.
H: 071-9852843 
M: 087-6431805 
Hurling
It was honours even on Friday evening in Páirc Aoidh Ruaidh after a closely fought contest between Aodh Ruadh and Burt. The Ernesiders had trailed for much of the second half, but a brilliant solo goal by Aaron Cullen with time almost up raised a big cheer from the home support and thrust his side into a one-point lead. Burt had made good use of the game's final play though and hit a levelling point to leave the final score reading Aodh Ruadh 3-11 Burt 2-14. Ballyshannon had got off to a great start with a goal from Aaron Cullen helping the side to a six-point lead at one stage. Aaron Neilan also raised a green flag as Aodh Ruadh held a slim 2-6 to 1-7 half-time advantage. Burt enjoyed the preponderance of possession in the second half and used it well to forge what looked like it would be a winning position. That was until Aaron Cullen came charging through the Burt cover and lashed to be back of the net. As it turned out Burt had the last say and, on the balance of play, a draw was probably the fair result. We have a gallery of pictures from the game live now on aodhruadh.org. The senior hurlers have a break from competitive action this week.
Our under 17s face Dungloe this Thursday away from home. Best of luck to the team and management. Well done to Mickey Doogan, Cian McDonald, Tommy Clyne and Matthew Tierney, who all lined out for Donegal in their win in the Celtic Challenge quarter-final against Cavan. Best of luck to all the Donegal panel, and mentors in the semi-final against Kildare.
The under 15s were in action in the Táin Og league Monday evening in Páirc Aodh Ruadh. The final whistle saw the lads celebrating a convincing win against Éire Óg Carrickmore. A strong first-half performance from Aodh Ruadh meant the homesters went in at the break leading by 2-9 to 1-4. All 28 players got game-time and there were some excellent performances from goalkeeper right through to the full forward line. Our backs worked hard and executed some great hooks and blocks in a great display of defending. The midfield lads worked their socks off, giving the forwards plenty of good ball to work with, while not neglecting to help out the backs too. The Aodh Ruadh forwards took some great scores throughout the game with some really well worked moves up through the lines too. As the second-half went on Ballyshannon continued to make the most their scoring opportunities and went on to win out on a scoreline of 4-15 to 3-3. The lads played magnificently and could be really proud of their performance.
Our under 13s were due to play Carndonagh in the Convoy Centre of Excellence, but due to the combination of a school tour and confirmation rehearsal, this game has been postponed. This Thursday they take on Setanta in the Donegal League, and follow this up with a meeting against our neighbours Erne Gaels in the Táin Og league on Monday evening.
Training continues every Sunday morning for our younger ages groups. Anyone looking to join up and take part can contact John Larkin on 086-1076883.
Ladies
The next round of adult league games takes place this coming Sunday. The Division 2 team will be taking on Saint Naul's, while the Division 3 team with be facing off against Dungloe, with both games away fixtures.
The under 16s return to action this week with a league clash with Four Masters on Thursday evening.
Our under 14s played a challenge game on Tuesday last in Donegal Town against Four Masters. Four Masters dominated the first half and really rattled the visitors. The girls looked rocked at half time, but after half time talks with management produced more of a team performance in the second half. There was just a point in it with five minutes to go, unfortunately Four Masters raided for two late goals and it wasn't to be for the girls. There were some top scores from Laoise Foy, Katie McGowan and Katie McCaffrey. Emma O'Donnell was spectacular in the middle of the field while Molly Begley, Rebecca Downey and Aodhbha O'Donnell were in great form in the defence. Under 14 training continues on Tuesday evening at 7pm at the Coláiste Cholmcille school pitch. Training also on Friday evening at 6pm at Páirc Aoidh Ruaidh.
The under 13s made the trip to Dungloe on Friday evening, but unfortunately it was to be a fruitless one. Ballyshannon were down a few key players, while a number of others were playing their second game of the day, having lined out with Coláiste Cholmcille earlier in the afternoon. Their opponents were extremely physical and dominated the first half. At half-time the team gathered themselves and over the course of the second half played their hearts out. In the end though Dungloe had already done enough to secure the points, despite the best efforts of the Aodh Ruadh girls. The team's next assignment is in Páirc Aoidh Ruaidh this Thursday at 6pm against Bundoran. Players are to be at the changing rooms for 5.20pm sharp.
This Tuesday the under 12 girls have a challenge against Grange at 7pm at Coláiste. Players should be at the pitch for 6.15pm. Remember to bring gum shields and water. Training continues on Thursday from 5.30pm to 6.30pm.
Training commences for our under 8 and under 6 girls this Tuesday at the pitch in Coláiste Cholmcille. The session runs from 5pm to 6pm and all are welcome, bring a friend!
Big Ballyshannon Bingo news!
We're really looking forward to our Bingo returning to the Abbey Centre this Friday night after more than two years away. We will be running a hybrid game of online and in person bingo, with the online bingo called from the Abbey Centre stage. Bingo will start at 9pm for the summer months. Online players can buy their books as normal on Klubfunder.com. Doors open at 8pm and players can buy on the night or purchase in advance on Klubfunder. We're delighted to be welcoming all our players back! Spread the word and bring a friend!
Aodh Ruadh lotto
There was no winner of the Aodh Ruadh Lotto jackpot of €5,800. The winning numbers drawn were 4, 5, 6, 12, 15 and 18. In the lucky dip prizes of €25 were won by William Doogan, Jim Ferguson and Vivienne McCabe. The next draw is for a jackpot of €5,900 on Sunday at 9pm in Pat's Bar. Lotto tickets are available in Kernan's Spar and Pearse O'Neill's. You can play also play the lotto online. Log onto klubfunder.com and then search for and select Aodh Ruadh Ballyshannon. Users can now avail of the auto-renew option to play the same line every week until they decide to stop when they pay using Stripe. If you're not in, you can't win!
The lotto team for McCosker's Centra on Saturday is: RESERVE FOOTBALLERS.

John Hughes, PRO, Aodh Ruadh GAA, Ballyshannon, County Donegal.
Eoin Ó hAodha, OCP, Aodh Ruadh CLG, Béal Átha Seanaigh, Contae Dhún na nGall.
H: 071-9852843
M: 087-6431805
Club review of the decade 2010-19
2009 saw Aodh Ruadh celebrating their centenary year. In terms of senior football it has been a tale of fall and rise. Aodh Ruadh were relegated to Division 3 in 2010. A cruel blow for a club which has been one of the county's bluebloods from its earliest days. Much of the decade was spent fruitlessly attempting to climb out the third tier. Assiduous work at underage saw the club win the minor league in 2012 and an under 21 B title in 2013. Then, in 2016, the culmination of that underage talent and determined management saw the club finally earn promotion. We immediately followed that up with a return to the topflight for the first time in a decade in 2017. We won the league title in 2016 and 2017. Intermediate Reserve championships in 2011 and 2012 indicated strength in depth too.
We are a proud dual club and won the county senior league title in 2013 and junior championship titles in 2010 and 2019. Minor A championships in 2012 and 2013 were just the highlight of 13 underage county titles the club won in the past decade.
Ladies football has developed apace in the club. We won the intermediate championship in 2010, but there is great excitement about the young players coming through. An under 16 A county title captured this year was the first ever won by the club and with the teams coming behind this group every bit as competitive there is great hope for the future.
Infrastructural development has continued steadily. Páirc Aoidh Ruaidh had developed from a rude field in 2007 to an excellent facility with two Prunty pitches, hurling wall, fitness trail, toilets and parking. Meanwhile Father Tierney Park has been augmented by concrete terracing and the pitch is now set for its first full overhaul since it was laid in 1954.
AODH RUADH – SENIOR BOARD
Oifigeach/Officer
Ainm/Name
E-mail Address
Fón/Telephone
Cathaoirleach
William Doogan
william@mcmspirits.com
087 2799855
Runaí
Lisa NicThiarnán
secretary.aodhruadh.donegal@gaa.ie
086 1061456
Cisteoir
Sabrina Brosnan
treasurer.aodhruadh.donegal@gaa.ie
086 8241297
Oifigeach Caidreamh Poiblí
John Hughes
pro.aodhruadh.donegal@gaa.ie
087 6431805
Oifigeach Oiliúna
Brian Gillespie
Packie McGrath
b.g.gillespie@outlook.com
packiemcgrath@hotmail.com
083 0466699
087 9794696
Oifigeach Coimirce Leanaí
Paul Touhy
childrensofficer.aodhruadh.donegal@gaa.ie
086 0763358
Oifigeach Club Sláinte
Maura Gallagher
MauraGallagher1@hotmail.com
086 3840099
Oifigeach Cultúr
Eamonn Martin Maguire
eamonnmartinmaguire@gmail.com
087 4100863
Ball an Bhord Contae 1
William Doogan
william@mcmspirits.com
087 2799855
Ball an Bhord Contae 2
Diarmuid Keon
DK@DKProperties.ie
086 8047415
,
Minor Board – BORD NA NÓG
Cathaoirleach
Lisa Nic Thiarnan
Secretary.aodhruadh.donegal@gaa.ie
085 1061456
Rúnaí
Brian Gillespie
aodhruadhbordnaong@gmail.com
083 0466699
Oifigeach Caidreamh Poiblí
John Hughes
Pro.aodhruadh.donegal@gaa.ie
087 6431805
Regional Board Delegates
Lisa Mc Ternan
Brian Gillespie
Secretary.aodhruadh.donegal@gaa.ie
odhruadhbordnaong@gmail.com
085 1061456
083 0466699
Faoi 7
Philip O'Reilly
086 895 5141
Faoi 9
Barry Travers
barrytravers@hotmail.com
086 192 7823
Faoi-11
Packie Mc Grath
packiemcgrath@hotmail.com
087 979 4696
Faoi 13
Damian Conlon
conlondamian@gmail.com
087 275 0986
Faoi 15
Paul Gillespie
pgillespie@bwg.ie
086 043 0045
Faoi 17
David O'Donnell
davemojoodonnell@gmail.com
087 797 2101
| 1st Twelve | | 2nd Fifteen | |
| --- | --- | --- | --- |
| 1 Conor Patton | 7 Kyle Murray | 1 Mark McGlynn | 9 Senan Rooney |
| 2 Colm Kely | 8 Oisin Rooney | 2 Ryan Granaghan | 10 Calum O'Halloran |
| 3 Jason Granaghan | 9 Eamonn McGrath | 3 Diarmuid McInerney | 11 Aaron Cullen |
| 4 Eddie Lynch | 10 Michael McKenna | 4 Donagh McIntyre | 12 Pater Boyle |
| 5 Nathan Boyle | 11 Cian Rooney | 5 Johnny Gallagher | 13 Cathal Kelly |
| 6 Darren Drummond | 12 Shane McGrath | 6 Cian Dolan | 14 Gary Carty |
| | | 7 Ryan McKenna | 15 Matt Gillespie |
| | | 8 Niall Murray | |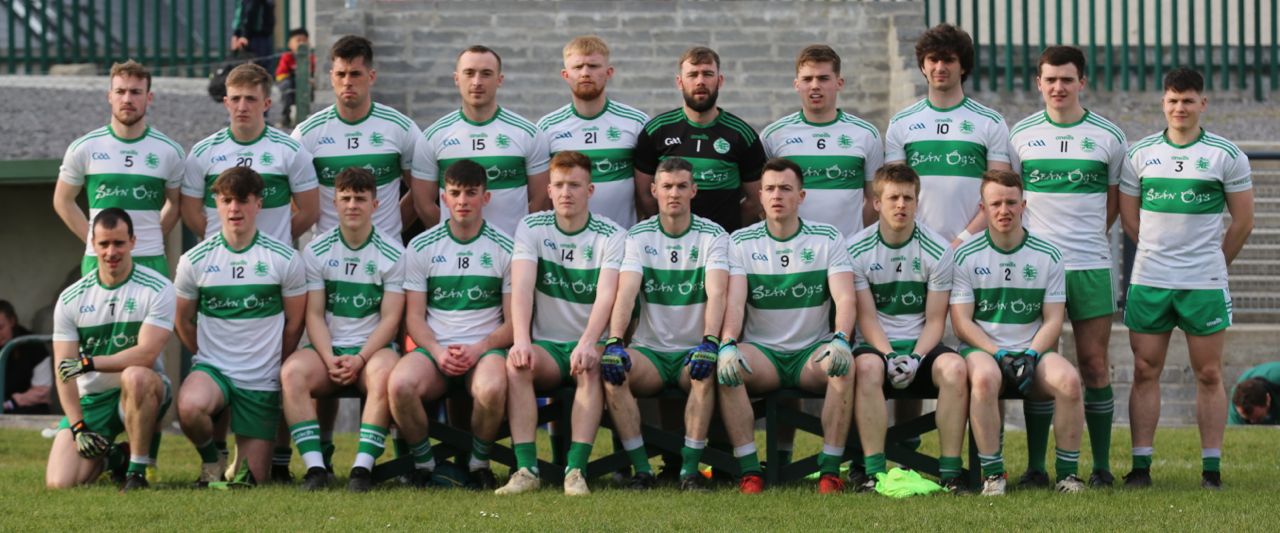 Aodh Ruadh Senior Team April 2019
Review of the Year 2019
One of the highlights of the Aodh Ruadh year has to be the Senior Hurlers winning the Junior County Final. Another hightlight for the club was the running of our fundraiser The OsKaRs. This fundraiser was a huge success and this was due to the hard working OsKaRs committee and the dedicated people who gave four months of commitment making 7 ten minute films.
2019 was a very busy year within the club. Across all codes, we fielded from U6 to Minor level and had a very high number of underage members. For the first time in a few years, we also fielded at adult level in football, ladies football and hurling. We began the year playng host to Donegal v Kildare in the National Football League in Fr Tierney park. Both our pitches seen a record high number of competitve games being played throughout the season.
Aodh Ruadh once again held their annual Easter Camp and Summer Camp which as always proved to be very successful. In May the Aodh Ruadh club presented a night at The OsKaRS in The Great Northern Hotel with almot 700 people in attendance. We bring 2019 to an end with our underage presentation night on Saturday 26th October and our annual Dinner Dance on December 6th.
Ladies: Our senior ladies returned to playing as Aodh Ruadh this year and had good numbers from the start. The ladies committee within Aodh Ruadh continue to do fantastic work to be able to field at all levels in ladies football.
Footballers: This year our senior footballers were joint managed by Barry Ward and Philip O'Reilly. The league came down to the wire and we were unlucky to not gain promotion to Division One. Straight into Championship, we reached the semi finals where we were beaten in the semi final replay by Cloughaneely.
Hurlers: After having no senior hurling team in the club for a number of years, the executive was approached by a player who wanted to look at getting a team together. So after electing a senior hurling committee and John Rooney to take on the management, a team was put together. The team had a very succesful and competitive year playing at Junior level and the hard work of all involved paid off on 31st August when they brough the Junior Championship Trophy back to Ballyshannon.
Footballers: 2019 was another very good year for Aodh Ruadh Bord na nŌg. Large numbers attended at every age group throughout the year, averageing 30 players per age group from U6 – U12's. Our U15's travelled to the regional Og sport's day coming out winners on the day. Our U16's reached the County semi final where they were beaten by a very strong Gaoth Dobhair team. We continue to host a number of blitzes annually, including the Mick Shannon and the Willie Rodgers Tournaments.
Hurling: Underage hurling has gone from strenght to strenght in the club, with us now having teams from U6 right up to minor level. At U16 level, Aodh Ruadh won the league and at U14 level, the hurlers were County Champions as well as being County Feile winners, with players on both these teams also being involved in the Ulster Og Sport win.
Ladies: For the 2nd year in a row we have been able to independantly field ladies teams from U6 up to minor, with large numbers attending all age groups throughout the year. We had success with the U16 girls winning the Couny final and also just last Sunday, the minor girls winning Aodh Ruadh's first ever Minor County Title.
2019 Roll of Honour
Senior Hurlers – Junior County Champions
U14 Hurlers – County Feile Winners & County Championship winners
U16 Hurlers – League Winners & Ulster Og Title
U14 Footballers – Div 1A Shield Winners
U15 Footballers – Regional Og Sport Winners
U16 Girls – County Champions
U18 Girls – County Champions