Fixtures Sat July 23rd   
The final six games of Marley.ie will be played Saturday evening, July 23, with promotion up for grabs between Downings Milford and Sean MacCumhaills – two of the three will play Division 1 football next year with one automatically promoted after the final whistle blows on Saturday night. The other two entering a playoff. Malin are already promoted.
At the bottom, St Nauls will play in Division 3 in 2023 with Moville hoping a home win against Convoy will lift them out of the automatic relegation places, although if Red Hughs beat Fanad Gaels in Killygordon they will still face the drop. 
Marley.ie Division 2 – Remaining Fixtures
Sun Jul 23, Connolly Park, Malainn v Milford, 19:30, Trevor Maloney
Sat Jul 23, Páirc na Rosann, An Clochán Liath v  Gaeil Leitir Ceannain, 19:30, Robbie O'Donnell
Sat Jul 23, Páirc Sheáin Mhic Chumhaill, Sean Mac Cumhaill v S Nauls, 19:30, Val Murray
Sat Jul 23, Páirc Aodh Ria, Red Hughs v Gaeil Fhánadá, Cancelled
Sat Jul 23, The Scarvey, Bun Cranncha v Downings, 19:30, Sean McDaid
Sat Jul 23, Páirc na Carraige, Bun an Phobail v St Mary's Convoy, 19:30, Ryan Walsh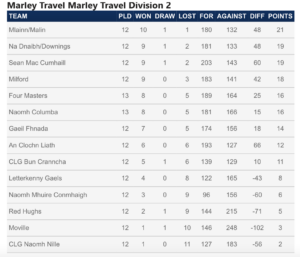 In Division 2B three teams – Dungloe, Sean MacCumhaill and Four Masters – are in contention for the Reserve final spots
.
Marley.ie Division 2B – Remaining Fixtures
Sat Jul 16, Páirc na nGael, Naomh Columba v Na Ceithre Maistír, 19:30, Eugene McHale
Sun Jul 23, Connolly Park, Malainn v Milford, Cancelled
Sat Jul 23, Páirc na Rosann, An Clochán Liath v  Gaeil Leitir Ceannain, 18:00, Connie Doherty
Sat Jul 23, Páirc Sheáin Mhic Chumhaill, Sean Mac Cumhaill v St Nauls, Cancelled
Sat Jul 23, Páirc Aodh Ria, Red Hughs v Gaeil Fhánadá, Cancelled
Sat Jul 23, The Scarvey, Bun Cranncha v Downings, 18:00, Martin McKinley