Donegal GAA – Minor Hurling 2023.
An army marches on its stomach, as the old saying goes. Adie Gaffey's Minor hurlers have had a busy training schedule leading up to and during this years' Celtic Challenge. And keeping these lads fed is no mean feat.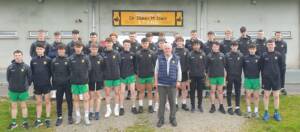 Jimmy McGlynn, pictured here with the squad at the training session on Saturday morning at O'Donnell Park in Letterkenny, is the man that feeds those stomachs to ensure the lads are fit to march. "Anyone with active teenagers in the house will know they take a lot of feeding" says McGlynn. "There are thirty lads coming in hungry after a 2 hour training session and woe betide any one that gets in their way", laughs Jimmy. "It's important that parents and guardians know that the whole welfare of the lads is our concern while we have them in our care and that includes diet and feeding and we are very lucky to have Jimmy look after those needs when we are at training and matches," adds Gaffey.
Next up for the Donegal Minor Hurlers is the must win quarter final challenge of neighbor'sDerry next weekend. And Jimmy will be there to feed the lads over the next week as the training sessions intensify in the lead up to the game and on the day.
Quarter Final (Winner on the Day, if necessary)
O'Donnell Park, Letterkenny 14:00 Donegal V Derry
Ref: S Mullan (Tyrone)
Follow Donegal Hurling Óg on Facebook for updates on the game.  Good luck boys!