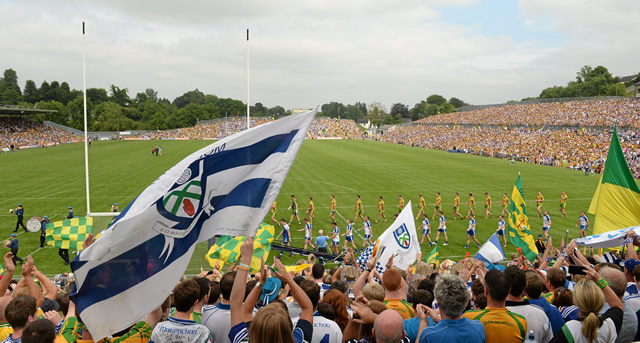 Ulster GAA are delighted to announce that ticket prices for the 2014 Ulster GAA Championships have been frozen for the 5th year in a row.
The Ulster Senior Football Championship will throw in on Sunday 18th May with the eagerly anticipated clash of Tyrone and Down in Healy Park, Omagh. This game will be followed by Derry v Donegal (Sunday 25th May), Fermanagh v Antrim (Sunday 1st June) and Armagh v Cavan (Sunday 8th June).
Interest in this year's championship is already extremely high and it is anticipated that demand in many cases will exceed supply. For this reason, we would urge patrons to purchase their tickets well in advance of match day throw-in to avoid disappointment.
Tickets for all first round Ulster Football Championship games are now available to purchase from County Board offices*, gaa.tickets.ie and selected SuperValu / Centra stores.
* Please check with County Boards for arrangements regarding the allocation of their tickets.
Once again, Under 16's will be able to access non all-ticket games free of charge when accompanied with an adult, and there are also concessionary rates for students and senior citizens. Anyone wishing to apply for a disabled pass should do so on a match-by-match basis through their County Secretary.
Commenting on the announcement of the ticket prices, Ulster GAA President Martin McAviney said:
"The Ulster GAA Championships are the highlight in the Province's sporting calendar and we are delighted to announce that ticket prices have been frozen for the fifth year running. We have listened to feedback from our supporters and have reacted by maintaining our pricing structure, increasing access to tickets and improving the overall match day experience.
"A key element of the Ulster Championship is the family friendly atmosphere and experience, and we are very proud that we can continue to offer free admission to Under 16's for non all-ticket games, as well as concessionary rates for students and senior citizens so the Ulster Championships remain the best value games in the GAA calendar.
"We are looking forward to another colourful, exciting, entertaining summer of Ulster Championship action… Nothing Beats Being There!"
Ulster GAA Senior Football Championship 2014 Fixtures
Preliminary Round
Sunday 18th May – Tír Eoghain v An Dún at Healy Park (All-Ticket Game)
Quarter Finals
Sunday 25th May – Doire v Dún na nGall at Celtic Park (All-Ticket Game)
Sunday 1st June – Fear Manach v Aontroim at Brewster Park
Sunday 8th June – Ard Mhacha v An Cabhán at Athletic Grounds (All-Ticket Game)
Sunday 15th June – Muineachán v Tír Eoghain / An Dún
Semi Finals
Sunday 22nd June – Doire / Dún na nGall v Fear Manach / Aontroim
Saturday 28th June – Ard Mhacha / An Cabhán v Muineachán / Tír Eoghain / An Dún
Final
Sunday 20th July
Ulster GAA Senior Football Championship 2014 Ticket Prices
Terrace
Adult €15/£13
Student/Senior Citizen €10/£9
U16's (all-ticket games) €5/£5
U16's (non all-ticket games) FREE
Stand (Covered/Uncovered)
Adult €25/£20
Senior Citizen €15/£13
Juvenile (all-ticket games) €5/£5
Juvenile (non all-ticket games) FREE
—
Ulster GAA Senior Hurling Championship 2014 Fixtures
Quarter Finals – Sunday 15th June
An Dún v Dún na nGall
Doire v Ard Mhacha
Semi Final – Sunday 29th June
An Dún / Dún na nGall v Doire / Ard Mhacha
Final – Sunday 13th July
Aontroim v Semi Final Winner
Ulster GAA Senior Hurling Championship 2014 Ticket Prices
General Admission
Adult €15/£13
Student/Senior Citizen €10/£9
U16's FREE
—
SuperValu / Centra Stores Selling Match Tickets
ANTRIM
SuperValu Belfast – Dairyfarm Centre Antrim
ARMAGH
Centra Crossmaglen Armagh
SuperValu Lurgan Armagh
CAVAN
SuperValu Cavan Cavan
SuperValu Virginia Cavan
Centra Belturbet Cavan
Centra Kingscourt Cavan
DERRY
SuperValu Shantallow Derry
SuperValu Derry – Waterloo Place Derry
DONEGAL
Centra Ardara Donegal
SuperValu Buncrana Donegal
SuperValu Dunglore Donegal
SuperValu Bundoran Donegal
SuperValu Ballybofey Donegal
SuperValu Carndonagh Donegal
SuperValu Donegal Donegal
SuperValu Killybegs Donegal
Centra Letterkenny Donegal
Centra Carrigart Donegal
Centra Falcarragh Donegal
Centra Letterkenny Donegal
Centra Ballyshannon Donegal
Sweeney Todd's Donegal
DOWN
SuperValu Downpatrick Down
SuperValu Newry Down
FERMANAGH
SuperValu Lisnaskea Fermanagh
SuperValu Newtownbutler Fermanagh
MONAGHAN
Centra Emyvale Monaghan
Centra Castleblayney Monaghan
Centra Ballybay Monaghan
SuperValu Carrickmacross Monaghan
SuperValu Monaghan Monaghan
SuperValu Clones Monaghan
Centra Coolshannagh Monaghan
Centra Scottstown Monaghan
TYRONE
SuperValu Coalisland Tyrone
SuperValue Strabane Tyrone
—
For all information relating to the 2014 Ulster GAA Championships view www.ulster.gaa.ie/ulsterchampionship2014