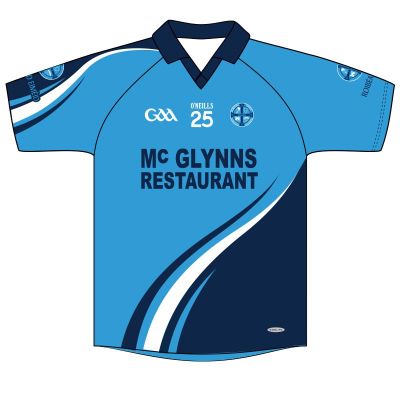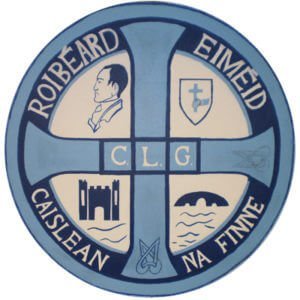 Ainm an Chlub: CLG Cill Chartha
Dathanna an Chlub/Club Colours: Gorm agus Dúghorm / Blue and Navy Blue
Alternative Colours: Gorm agus Spéirgorm / blue and Light Navy
Club Ground:Pairc Eimeid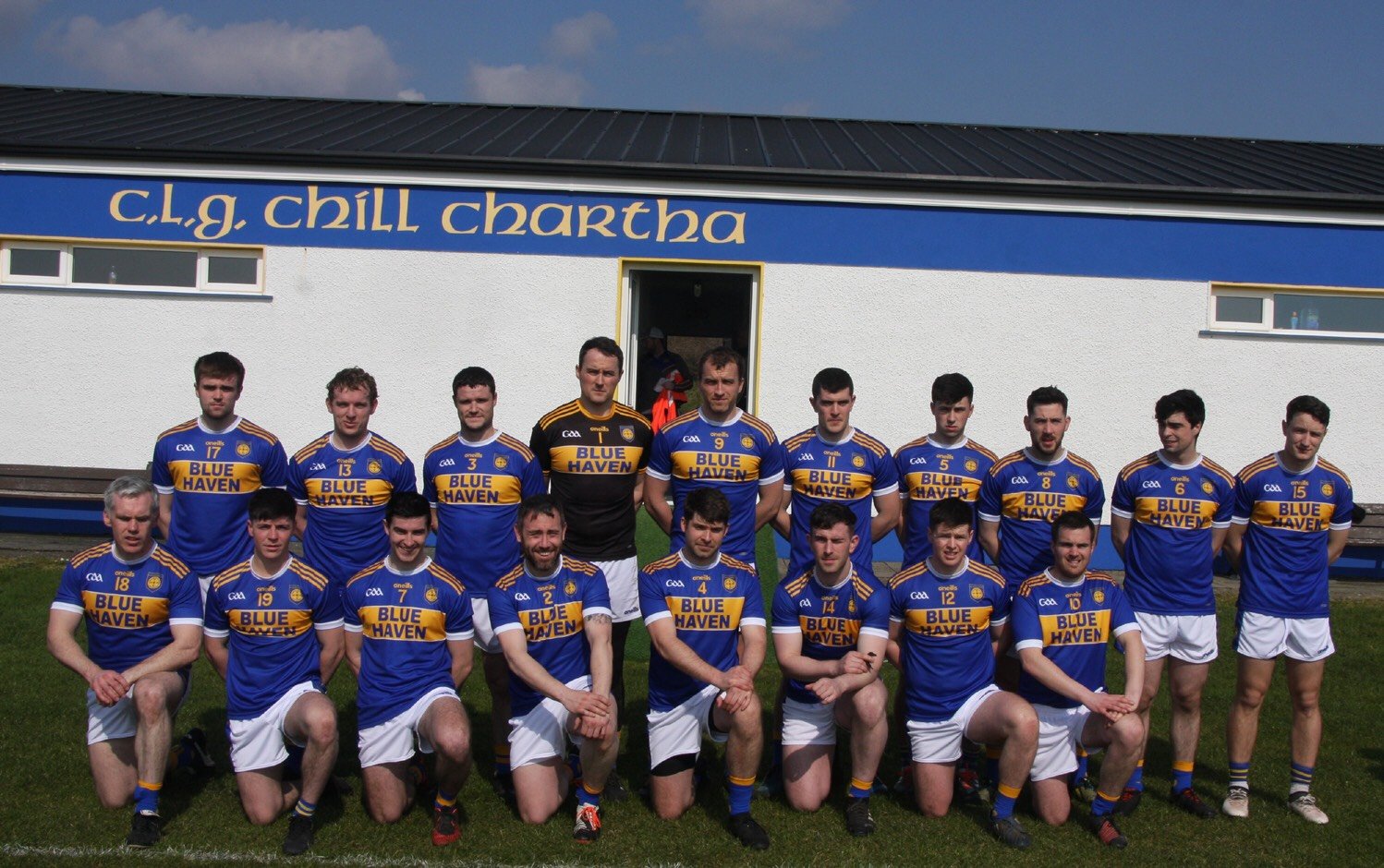 Cill Chartha – Aibréan 2019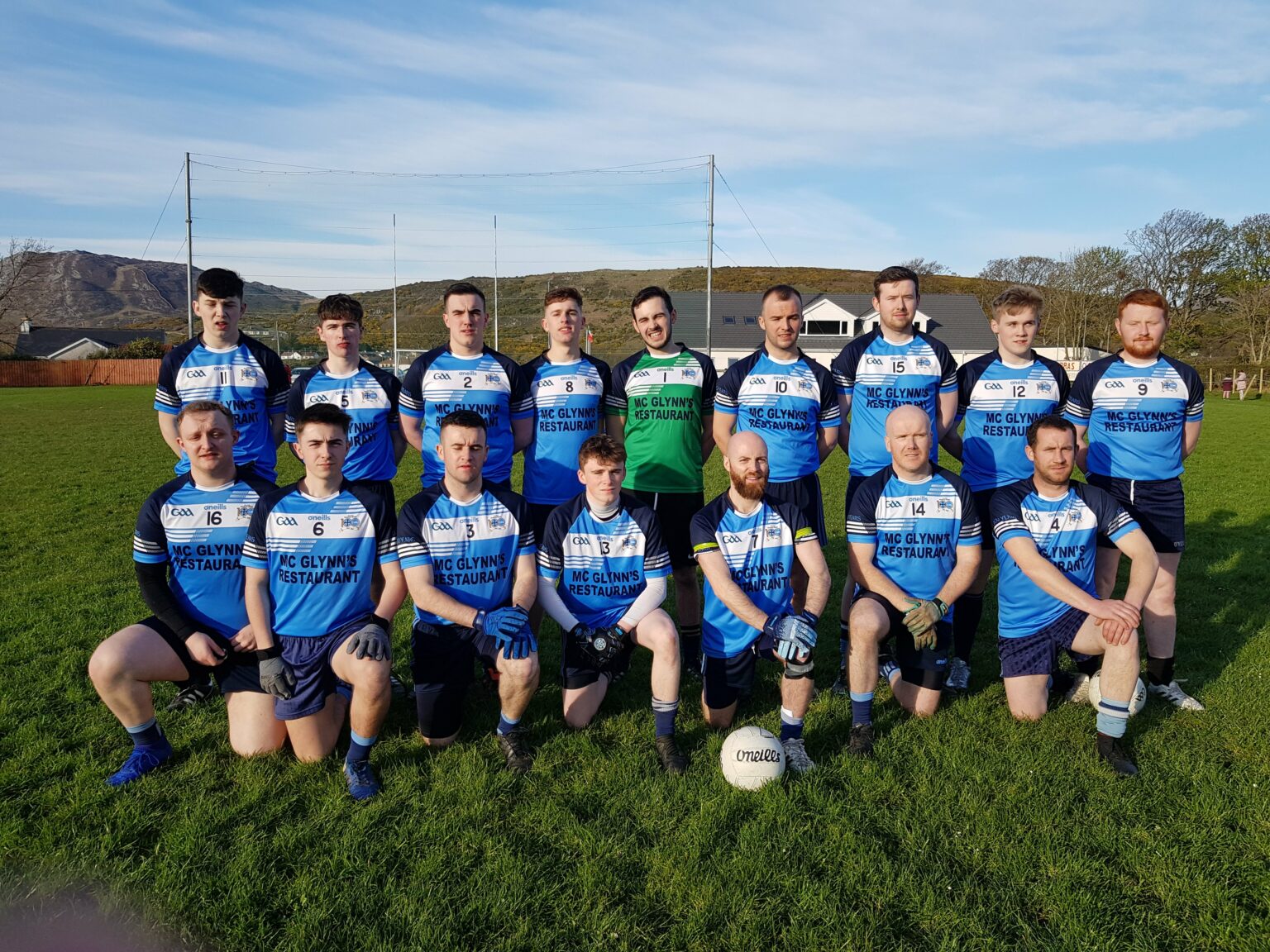 The Club Year 2019
Senior manager for 2019 was Aaron McDaid, helped by Colm Gallagher, Michael McMenamin and Gerry Rushe. 2019 was going to be a massive year, and huge learning curve for our adult team, as we were on a rebuilding mission and welcoming a new batch of young footballers into our Senior ranks. We had a panel of around 20+ players for the season and about 13 were getting their first taste of senior football alongside experienced players like Marcus Curran, John Doherty, Mark Lafferty, Kieran Brennan, Paddy and Brian Dooher to help them adjust to the step up to Adult football. The lads found the early part of the season hard but the potential was there to see with Corrie Lee Bogan, Rory & Conor Dalton, Paul Farrell, Gavin Friel, Reece Gallagher, Eoin McMenamin, Niall Quinn, Kevin McColgan & Nicky Scott.
We had some great performances against the stronger teams at home especially against Moville & Urris who were promotion hopefuls and a couple of great victories over near neighbours Lifford and also Muff. The championship was also very tough with Convoy, newly promoted to Division 2, and a championship favouritein our group. The lads put in some fantastic performances the future is bright – with time and hard work this team will move on to bigger and better things.
Our U21's with the management team of Dean McBrearty & Brian Dooher, lead by Mark Lafferty, mostly consisted of 13 Senior Players. They played Naomh Ultan in their opening game of the championship which they won by 2 points after being 8 points down. In the semi final we were defeated by Naomh Colmcille which was again another tight affair and if we had of taken our chances would of surely won. With the exception of one player all of the panel are underage next season and another batch will move on to the Adult panel. With everyone's support and shoulder behind the wheel we can be successful.
The under 6's, 8's and 10's train every Saturday morning throughout the year and their development over the year has been fantastic with the great help of their fantastic coaches Peter McDaid, Gary Lawerence, Chris McMonagle, Gareth Devenny, Martin McMenamin and Gavin Friel. Robert Emmet's U12s, coached by Dean McBrearty & Gerry Farry started training in February with almost 30-35 boys and girls participating throughout the year . We started 2019 with a few training matches against Derry and Tyrone Clubs which set us up well for the year ahead as we had a very young group of players with majority underage next year again . The league campaign was competitive and all children got equal playing time. The year's pinnacle was a trip to the Newry Mitchell's tournament were 28 children travelled and enjoyed the day out playing against clubs from different counties. 2019 for the Under 16's was a stop start year from starting the league 5 weeks early to breaking for exams midway through the season.  This group is mainly made up of 2004's & 2003's, but complemented by some excellent 2005 players and even a young man born in 2006. Many thanks to all coaches that helped out throughout the year and our team sponsors.
Robert Emmets continue to develop the cultural element of the club with both young and senior members taking part in Scór. In Scór na nÓg we had entries in all categories except dancing, with our ballad group taking the county title. In Scór Sinsear we had solo singing, recitation and quiz while the ballad group also took the county title going on to represent Donegal in the Ulster final. Music lessons are continuing weekly where there's the opportunity to learn banjo, fiddle, guitar, tin whistle, both button and key accordion and singing. The club wishes to acknowledge the huge effort by Helen Mc Menamin in bringing all this together and we're hoping for further success in the future.
2019 Roll of Honour:                  Scór na nÓg: Ballad group County Champions
Scór Sinsear: Ballad group County Champions
Under 16 Division 1 shield
Brief History of Hurling in Dungloe
Dungloe GAA club was founded in 1923 and they have won seven Donegal Senior football championships with the last championship won in 1958. Other significant accomplishments the winning of the intermediate football championships in 1978, as part of Rosses Rovers and 1986 as Dungloe. In addition, Dungloe won a junior B championship in 1983. In the Comortas Peile Na Gaeltachta the club won a Junior all Ireland title in 1986 and a Senior title in 2001. The club has also produced many players who have represented Donegal at all levels including two players who were awarded all-stars Tony Boyle in 1992 and Adrian Sweeney in 2003.
In recent years the club has broadened its sporting endeavours to include hurling, ladies' football & in 2021 our first camogie team fielded at U12 and u14 levels with the intention to play at U16 and perhaps senior level depending on player availability in 2022. Hurling having been established almost 14 years ago in the club has now started to show the fruits of the hard work with our Junior Hurling team playing today. The club is proud to have players now coming through to represent the county at Senior and underage levels
Dungloe won their way to their first county hurling final in 2014, being an u14 div 2 final , and in 14,15,16 won three successive titles at u14 . During this time, we competed in two national Feile and made lifelong friends with clubs such as south liberties of limerick. Our teams then competed in 2 successive div 1 U16 and 2 div 1 minor finals over the next 4 years and in addition the last u21 div 1 final played in 2019.
Camogie flourished this year with our u14s reaching the div 2 county final also in their very first year with a Dungloe representative being part of the the u14 county squad reaching the ulster final.
Our local secondary school the RCS won a colleges ulster title in 2016 and our local national schools have all competed in Cumann Na mBunscoil competitions with Roshine national school also winning the Letterkenny large schools competition on two occasions. We have a rising number of coaches mentors and helpers, a lot of whom have recently completed foundation hurling courses and a healthy hurling and camogie committee within the club
So overall we have momentum with dedicated players, parents, committees, schools, and club supporting the growth of all its 4 codes
AN CLOCHÁN LIATH – SENIOR BOARD
| Oifigeach/Officer | Ainm/Name | E-mail Address | Fón/Telephone |
| --- | --- | --- | --- |
| Cathaoirleach | John Doherty | john_d_79@yahoo.com | 087 682 5967 |
| Runaí | Mick Flynn | Secretary.robertemmetts.donegal@gaa.ie | 087 2596785 |
| Cisteoir | Gary Dohery | | 085 7564718 |
| Oifigeach Caidreamh Poiblí | John Doherty | john_d_79@yahoo.com | |
| Oifigeach Oiliúna | | | |
| Oifigeach Coimirce Leanaí | Dominic Mc Glinchey | | 086 6093146 |
| Oifigeach Club Sláinte | | | |
| Oifigeach Cultúr | Sean Killen | | 087 9108401 |
| Ball an Bhord Contae 1 | Gerry Rush | | 087 7939031 |
| Ball an Bhord Contae 2 | Camillus Mulcahy | | 086 1694494 |
| 1ST TWELVE | | | |
| --- | --- | --- | --- |
| 1 RONAN KENNEYY | 4 BRIAN LAFFERTY | 7 MARCUS CURRAN | 10 CIARAN DALTON |
| 2 ORAN FARRELL | 5 REECE GALLAGHER | 8 CONOR MCGETTIGAN | 11 PAUL FARRELL |
| 3 JORDAN TOURISH | 6 BRIAN DOOHER | 9 MARK LAFFERTY | 12 DANIEL DALTON |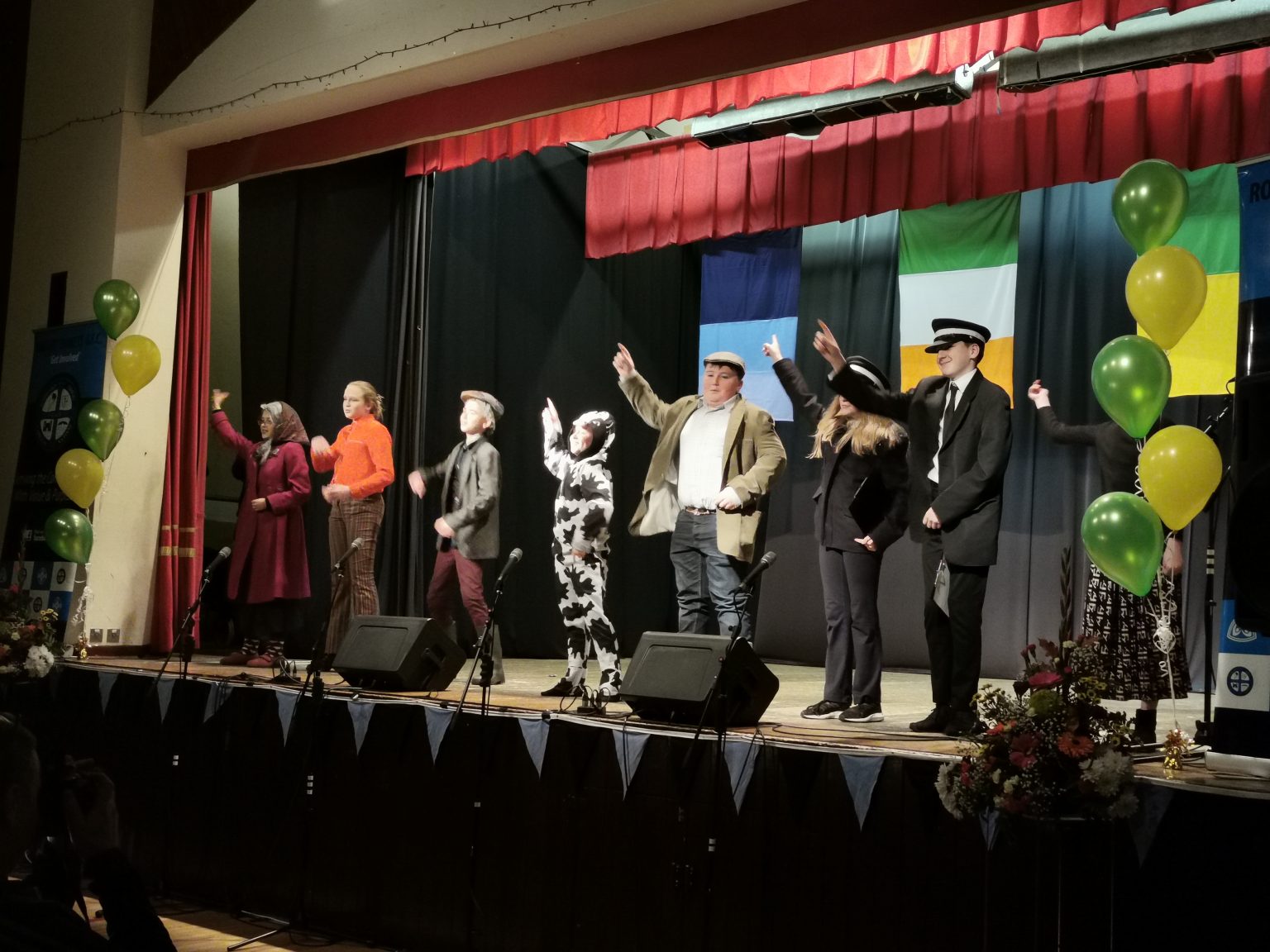 The Club Year – 2019
The biggest highlight to take place for our club during the last decade was in 2018 when the club celebrated it's centenary. This was a huge year with many events taking place throughout 2018. We wanted it to be a community event and get everyone involved as much as possible. Robert Emmets showcased the values, the history, the community and the people that have kept our club going for 100 years. In March 2018 we held a very successful Irish night showcasing our Scór agus Culture. We had a 5k family run in April. We ran a hugely successful Sean T Carlin/Sandy Harper football tournament in June and thanks to all the clubs who accepted our invitation to take part.
The club then held our centenary weekend which without doubt was a fantastic conclusion to the celebration of 100 years. The last weekend in October will be remembered as one of the best in Robert Emmets history, where we had our centenary quiz night in McBrides Bar, our centenary bingo, our family fun day and opening of our new training pitch by County player Frank McGlynn, our Irish trad and photographs into the past night held in McGlynns, our centenary mass on the Sunday followed by our over 40's game. The Club's centenary Banquet was in Jacksons Hotel with special guests Neil Gallagher and county board chairman Mick McGrath. Charlie Collins was MC and interviewed club members where we remembered the ones who have since departed us but made our club what it is today, the people who continue that legacy, the antedotes told with laughter and tears filling the room. The weekend finished in Tinneys Bar with reruns of old matches on the big screen with a trad session in the background.We thank everyone in our club and community for making it such an incredible year.
Other highlights were the successes of our underage teams bringing home titles in 2018 – u14 div 2 league & championship winners. Ulster feile winners. U16 div3 championship winners, 2017- u14 div 1 shield winners, 2016- Peter Duffy (A) tournament winners (Strabane), 2015- u12 league 2 winners. Pan European shield winners (Dublin tournament) Peter Duffy (A) tournament runners up (Strabane), 2014 and under 10's unbeaten all season.