It was a good weekend for Cloich Cheann Fhaola, Realt na Mara and St Michaels in Round 12 of the Brian McCormick League as all three are now guaranteed Division 1 football next season. Termon and already relegated and will be joined by two of Ardara, Glenswilly and Killybegs. St Michael's 1-11 to 1-10 victory in Páirc na nGael ensured Cloughaneely's nine points were sufficient for their survival without them kicking a ball. It also guaranteed safety for Realt an Mara, but playing simultaneously they could not depend on a St Michaels' victory and their draw with Aodh Ruadh moved them well clear on ten points.
St Eunans finished their league campaign this evening in the last match of the weekend with a defeat in Glenties that secured Naomh Conaill their place in the Division 1 and leaves the Letterkenny side out of contention. Kilcar's win over Killybegs put them in a strong position to contest the Division 1 final while draws for both Glenfin and Aodh Ruadh narrowed the Ballyshannon side's chance of making the top two and ended Glenfin's slim chances of league success.
Brian McCormick Sports Division 1 League
Sat, 2 Jul, The Burn Road, An Tearmainn 1-13 Gleann Fhinne 1-13
Sat, 2 Jul, Towney, Cill Chartha 3-17 Na Cealla Beaga 1-7
Sun, 3 Jul, Páirc Naomh Columba, Gleann tSúilí 1-10 St Michaels 1-11
Sun, 3 Jul, Davy Brennan Memorial Park, Naomh Conaill 1-11 Naomh Adhamhnáin 1-8
Sun, 3 Jul, Gaelic Park, Realt na Mara 3-8 Aodh Ruadh 0-17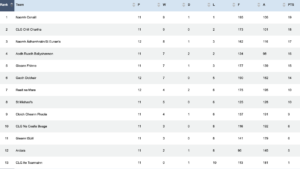 The last full round of the Brian McCormick Division 1 League is next Saturday evening. At the top of the table a win for Kilcar in Glenfin puts them in the final against Naomh Conaill. Defeat accompanied by a win for Aodh Ruadh against Termon sees the former in the final by virtue of their win in Towney earlier in the campaign. At the other end of the table the key game is Glenswilly's visit to Ardara with the winners into a play-off against Na Cealla Beaga and the losers automatically relegated. Killybegs have recorded wins over Ardara and Glenswilly so while they will be in the bottom four they are guaranteed another day out in a playoff regardless of their result against Cloughaneely.
Brian McCormick Sports Division 1 League – Round 13
Sat, 9 Jul, Pearse Memorial Park, Ard an Ratha v Gleann tSúilí, 19:00
Sat, 9 Jul, The Bridge, Naomh Micheál v Naomh Conaill, 19:00
Sat, 9 Jul, Father Tierney Park, Aodh Ruadh Beal Átha Seanaigh v Termon, 19:00
Sat, 9 Jul, Páirc Taobhoige, Gleann Fhinne v Cill Chartha, 19:00
Sat, 9 Jul, Eamonn Byrne Memorial Park, Na Cealla Beaga v Cloich Cheann Fhaola, 19:00
Brian McCormick Sports Division 1B Reserve League – Round 12
Sat, 2 Jul, The Burn Road, An Tearmainn 0-13 Gleann Fhinne 3-10
Sat, 2 Jul, Towney, Cill Chartha 2-13 Na Cealla Beaga 0-7
Sun, 3 Jul, Páirc Naomh Columba, Gleann tSúilí v St Michaels POSTPONED
Sun, 3 Jul, Davy Brennan Memorial Park, Naomh Conaill 2-8 Naomh Adhamhnáin 2-10