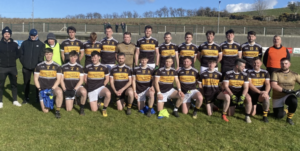 Gaelic Park map courtesy of GAAPitchLocator.net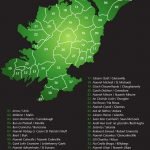 Stair – Realt na Mara
St Patrick's GAA club, now Realt na Mara, was established in 1915. Football and hurling in Bundoran, preceded this – references to hurling games on Tullan Strand in the 1840s mention the fine backdrop of cliffs provided an ideal vantage point for spectators. Bundoran Sinn Fein won the second Donegal Hurling championship in 1907, the first was won by Burt Hibernians in 1906. They also won the third and fourth hurling championships although these were played in 1919 and 1922. Football dominated in the town thereafter and now there are no hurling teams in Bundoran, although some younger members play with Aodh Ruadh. From time to time, but not consistently, Realt na Mara take part in the Scór Soisear. Handball, once popular in the town fell by the wayside and the old handball alley below American House was totally destroyed in 2017 during new sewage works construction despite calls to have the alley reconstructed.
The town's footballers have the distinction of winning the County's first football championship, the 1919 title, after a three match marathon with Killygordon, with the third and decisive match played in March 1920 in the Brandywell. Since then Bundoran won senior championships in 1934 and 1979 and were part of the vaunted St Joseph's team, with Ballyshannon, that 7 senior and 3 Ulster championships in the 1960s and 1970s. St Joseph's also won an unofficial pilot All-Ireland club championship in 1968. Bundoran have a kack for getting in early (but not often L) – winning the first Intermediate championship in 1977, and again in 2010 and 2015. In 2019 the senior team play in Brian McCormack Division 1, promoted in 2018 winning the Division 2 League en route. In addition to Senior and Reserve squads and an u-21 team at adult level, Realt na Mara caters for children age 5 – 17 with underage football for boys and girls at u-6, u-8 and u-10s and boys teams at u-12, u-13, u-14, Óg Sport, u-16, and u-17. Older girls play for our sister Bundoran LGFA who run six ladies squads.
Realt na Mara is proud to serve the community of Bundoran and its environs and is indebted to its officials, mentors, managers, members, sponsors and other supporters. Finally, great work is also done at schools level in St Macartan's NS and in Magh Ene College to promote Gaelic games and the values represented by the GAA.
Realt na Mara – Aibréan 2019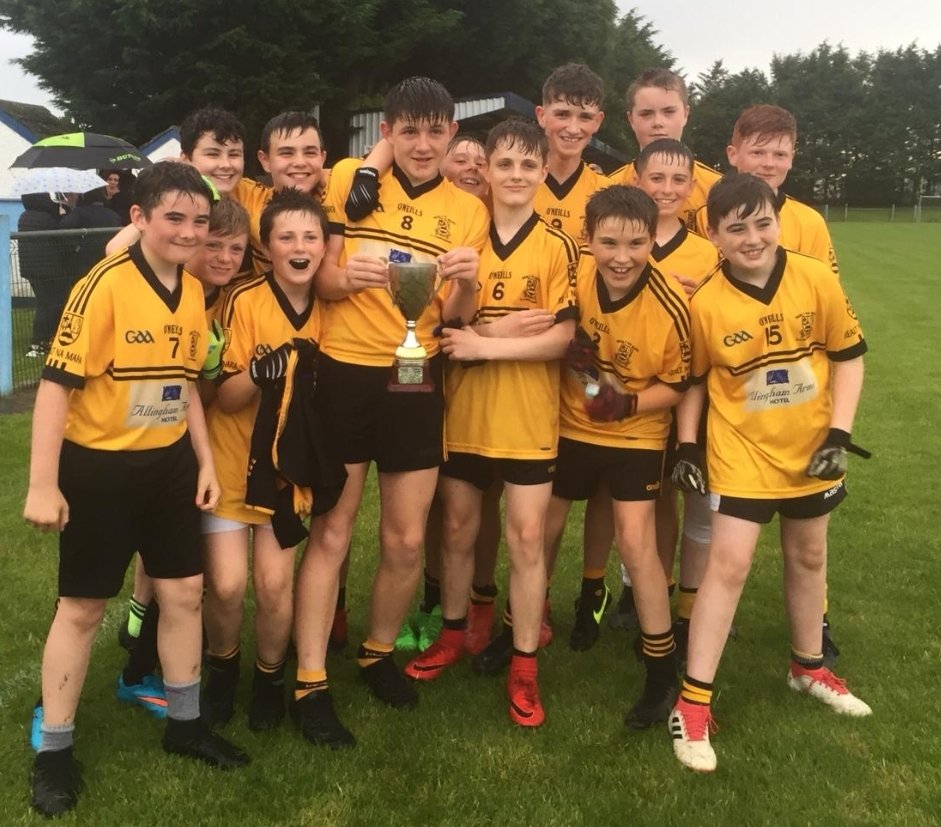 Club review of the decade 2010-19
A decade  of progress for the black and amber – the last tenyears have seen consistent progress both on and off the field for the Seasiders. Our  Senior team have made steady progress in the latter part of the decade having played Division One league football for 3 of the past 4 years and in 2019 they finished 5th our highest league position in over 30 years. County Intermediate championships were won in 2010 and 2015 with victorys over Cloughaneely and Naomh Colmcille respectively. In 2015 we also reached the Ulster Club Intermediate Final losing out to Loughinisland from Co Down in Owenbeg. We have also reached the Quarter Finals of the Senior Championship for the past 3 years and only lost out in extra time against current Ulster club Champions Gaoth Dobhair after a memorable encounter in 2019.
Great work is being done by many coaches at Underage level within the club and several notable Championships have been won at lower grades during the past decade. No doubt the most successful story of the past ten years from a club point of view has been the success of our Underage Girls teams with Co titles becoming a near annual occurrence.The contribution of club players Jamie and Paul Brennan to Donegal's recent success has been a source of great pride to everyone in Realt na Mara. Another notable achievement was the GPA Lifetime Achievement awarded to club legend Brian McEniff in August 2017 and he was honoured again in 2019 as a Donegal legend. Off the field of play the opening of our new stand in 2018 was a most welcome addition to Gaelic Park. It is hoped that in the near future, with the help of the many hard working volunteers within our small club's facilities will be enhanced even further. Realt Abu !!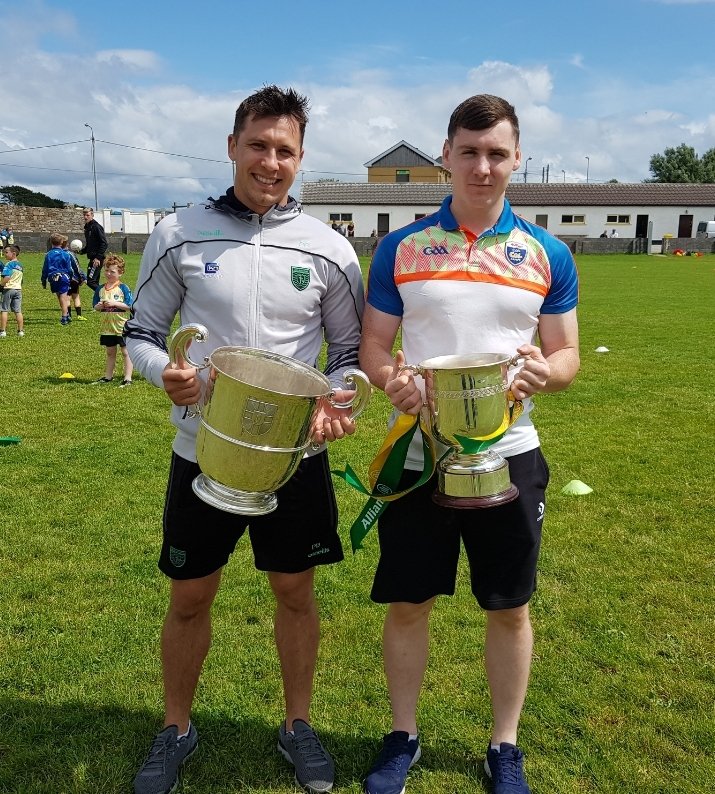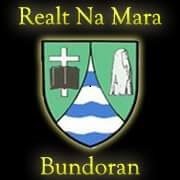 Ainm an Chlub: Realt na Mara BunDobhrain
Dathanna an Chlub/Club Colours: Black/Amber
Alternative Colours: Red / Black
Club Ground: Gaelic Park
Realt na Mara – Senior Board
Oifigeach/Officer
Ainm/Name
Seoladh/Address
Fón/Telephone

Cathaoirleach
Brian McEniff
brian@bmceniffhotels.com
1 Railway road Bundoran
087 2244432
Rúnaí
Geraldine Walsh
secretary.bundoran.donegal@gaa.ie
083 1353339
Cisteoir
Willie Doherty
bdoherty@bddesigns.ie
086 600972
Oifigeach Caidreamh Poiblí
Noel Carr
pro.bundoran.donegal@gaa.ie
087 7851531
Oifigeach Oiliúna
Barry McGowan
bazmullet@hotmail.co.uk
086 224 3271
Oifigeach Coimirce Leanaí
Noel Carr
buscarr69@gmail.com
087 7851531
Oifigeach Slainte agus Follaine
TBC
Oifigeach Cultúr
John Campbell
johnjcampbell@gmail.com
087 2851113
Ball an Bhord Contae: 1
Ryan Walsh
10 Gaelic Park
083 8941583
Ball an Bhord Contae: 2
Pat Walsh
patgaawalsh@hotmail.com
087 9142748
Realt na Mara – Bord na nÓg
Oifigeach/Officer
Ainm/Name
E-Seoladh nó Seoladh/Address
Fón/Telephone

Cathaoirleach
James Keaney
Keaneyboy@hotmail.com
086 3062093
Rúnaí
Geraldine Foy
gerf007@yahoo.co.uk
087 9902054
Oifigeach Caidreamh Poiblí
Noel Carr
pro.bundoran.donegal@gaa.ie
087 7851531
Toscairí an Bhoird Réigiúnaigh
Geraldine Foy
Siobhan Govorov
gerf007@yahoo.co.uk
Siobhan.mceniff@gmail.com
087 9902054
086 6046415
Faoi-6
Raymond Daly
086 8146219
Faoi-8
Tommy Hourihane
tommyhourihane@yahoo.ie
086 8146219
Faoi-10
Shane O'Donnell
087 0652025
Faoi-12
Shane McGowan
shanemcgowan19908@gmail.com
086 3672957
Faoi-14
David Smyth
Davidsmyth79@gmail.com
087 3510944
Faoi-16
Eamonn Barrett
086 8202729
Faoi-18
Barry McGowan
Eamonn Barrett
bazmullet@hotmail.co.uk
086 2243271
086 8202729
Latest Realt na Mara NotesClub Notes 31/01
Bunotto Results
There was no winner of this weeks Realt na Mara Bunotto Jackpot. The winning numbers were  1  6  9  11  18. The  Lucky  Dip €50 winners were  Terence McShea Ballyshannon Analie Tizon Dublin .Next week's jackpot will be a fantastic €3150  The Bunotto can now be played online and we encourage as many members to please do so.We thank everyone for their continued support of our Bunotto each week.
Bord na nOg
Indoor training has commenced for several  of our underage teams in the Magh Ene Hall .Our U5s begin their training on Thurs next at 6pm.Please note that one parent or guardian must remain for the duration of the session. The U7s  train on Mondays 6 -7
U9s train on Wednesday 6 – 7 and the U11s train also on Wednesdays from 7 – 8.The U15s are also Training on Wed at 6.30pm.Outdoor training has also started for our U17 squad.. It is also important that all players attending training pay their membership for the incoming year.
Bord  na nOg are organising a bus to travel down to Ballybofey to support the Donegal team against Monaghan on the 13th of March in the National League.
This is for parents and kids who want to make it a day out to support our county team.
Kids must be accompanied by an adult the bus will cost €10 per adult and ,registered kids can  go free !!
The cost of entry into the game is not included and must be bought separately but all kids under 16 will be admitted free into the game.All details for the link to book is on our FB page.
Ladies
Well done to Niamh Barrett and her Donegal U14  Squad on two great wins against Derry and Tyrone last Saturday in Cookstown.Training continues on Tues & Thurs @7pm for all age groups
There is a €2  charge to cover the  hire of the Magh Ene hall
 Membership is now due please register on the foireann website or contact Hannah Doherty for further details.
After last years amazing response we are asking that you again get behind our ladies effort to support The Lidl Plus LGFA Club Rewards Scheme . Help to raise up to €20,000 for your local club by following these 4 easy steps🏐
1. Download/Open the Lidl Plus app and follow the prompts on screen
2. Select Bundoran LGFA
3. Spend over €30 in store and scan your Lidl Plus card to earn a stamp (over €60 = 2 stamps, over €90 = 3 stamps, etc.)
4. Collect 6 stamps and submit your completed card by Sunday, March 27th
 All support more than welcome.
The annual Presentation night has now been rescheduled to take place in the Community Centre on Friday March 11th at 7.30 pm.
Club Membership
Club Membership is now due for the forthcoming 2022  season.The cost of membership is  as follows   Adult Player  €60   Adult   Non Player  €50  Juvenile   Age 7  – 17  €40  U5  €25  Family Membership   1/2  Adults  and any amount of children in intermediate family   €150   Membership can be paid via the Clubforce app or by contacting club registrar Tommy  Hourihane.
National Draw Tickets
Tickets for the 2022 National GAA Draw are now on sale .The tickets are €10 with all monies raised going directly back into the club.Tickets are available from Club Treasurer William Doherty. As an incentive to all sellers €10 will be refunded on your club membership for every book sold.
Anyone wishing to get matters included in the club notes could they please email them to the club PRO by Sunday night to 
pro.bundoran.donegal@gaa.ie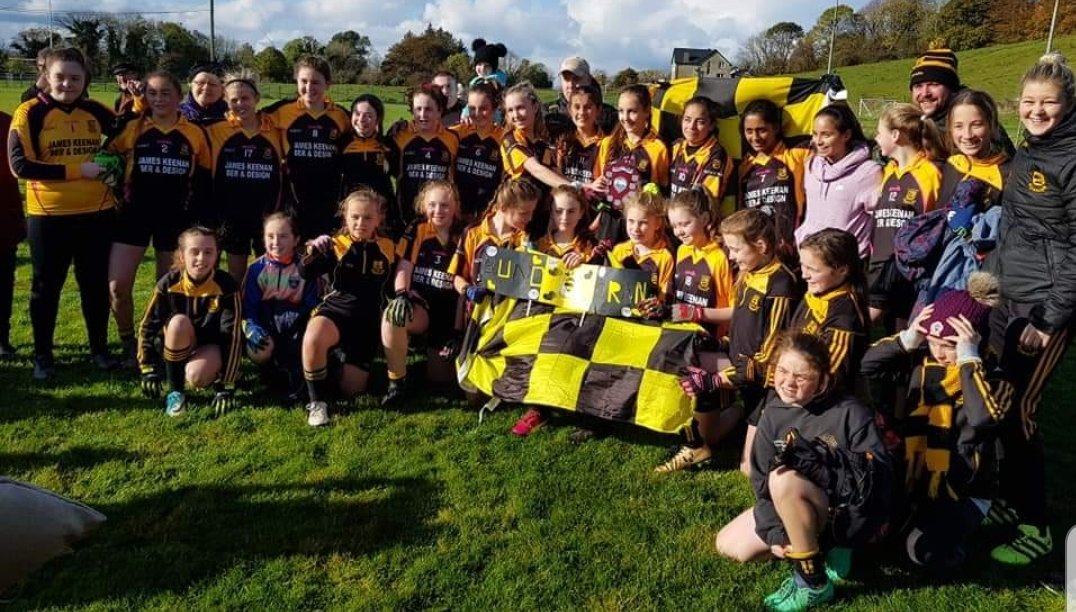 The Club Year 2019
In general 2019 was another busy year for CLG Realt na Mara. Clubmen Jamie and Paul Brennan winning back to back Ulster Championships and Underage Co titles for our U14 and U16 Boys and U13 Girls being the standout moments. At Senior level we finished 5th in League Division 1 and lost out after extra time to reigning Ulster Champions Gaoth Dobhair in a memorable Championship quarterfinal.
Niall Dunne's very young Senior team consolidated their status in Div 1 and gave the Ulster Club Champions the fright of their lives in the Championship. In Boys Underage it was disappointing that due to lack of numbers we didn't field a minor team this year but still trojan work is being done at all other grades by many coaches.One major positive is the increase in girls participating in Gaelic games and much credit for this  must go to Hannah Doherty for her tireless work with all the various underage girls teams.Financially the club is on a sound footing with the debt on our new stand well in hand.But much hard work will still need to be done if we wish to improve the facilities in Gaelic Park. Once again huge credit must go to Brian McEniff and Michael McMahon for their continued commitment to the organisation of our main source of income our Bunotto. Thank you also to all our local businesses who contribute to the financial running of our club especially Supervalu our main Senior team sponsors. Also credit to clubman John McEniff who is doing great work in his first year as the Co PRO.
2019 proved to be a very encouraging year for our Senior  Squad when they  recorded their highest league finish in over 30 years. An excellent start to the campaign saw them pick up 3 wins from their first 4 matches. However 4 successive defeats – to Kilcar  St Michael's St Eunans and Gaoth Dobhair – focused the minds again before a good away win over Cloughaneely settled the ship at the midway point. Two home defeats was followed by another victory over Cloughaneely. Then a double header of weekend action against St Michael's and Glenswilly saw  a zero return and things didn't get any better on a long trek to Magheragallon. Credit must go to the lads though as they finished the campaign strongly with excellent wins over Milford, Naomh Conaill and McCumhaills. In the Championship we defeated Termon and Malin on the road but lost out on our own home patch to Kilcar in the round robin format. In a repeat of the previous year we drew Gaoth Dobhair in the Quarter finals.In a Lazarus  like performance we came from 8 points down with 10 minutes to go to bring the game to extra time. Unfortunately, a strong showing by the Gaeltacht men in the first period of extra time left our lads on the wrong side of a three point margin. The Senior Reserve team battled hard throughout the year showing great commitment and credit to Bosco Moohan and all the lads for their efforts. Our U21s have qualified for the Co Semi Final of the B Championship.
Probably the most welcome development in our club in 2018 was the formation of the Super 6s to facilitate the introduction of Gaelic games to the youngest members of our community. Bundoran has a very small catchment area and many of the familys who now reside here would not be from traditional GAA backgrounds therefore it was critical that a new approach be taken and under the guidance of James Keaney and his fellow mentors Raymie  Daly Dermot Fearon Diarmuid McCaughey Tommy Hourihane Pauric Gallagher Kenny Ward Emmet O Doherty James McKee Dessie McNamara Siobhan Keaney and Elaine Granaghan this is what has happened.The U8s and U10s had another enjoyable years football where they trained and competed in numerous Blitzes throughout Donegal. Huge thanks to their coaches and mentors Shane O Donnell Johnny Boyle Daragh Hoey Sean McIntyre Richard Gillespie Paul Carr Johnny Keenan Trazie Smyth  David Smyth  Frank Conaghan Brian McHugh and CJ McManus.The U12s and U13s also competed well in their competitions under the watchful eye of their mentors Cody Granaghan Micheal O Hehir CJ McManus and Aoibheann Granaghan.Our U14s had a very successful year winning the Division 3 Co Title in August  defeating Naomh Padraig/Robert Emmetts in the final. Credit to Eamon Barrett Timmy Govorov and Niall Carr for all their hard work.Our U16s also competed well in their respective league and championship fixtures  winning a Division 3 SMB League title with Barry  McGowan Stephen Mulrooney Joey McNulty and Ashley Mulhern doing an excellent job at the helm. Unfortunately due to lack of numbers we were unable to field at minor level.
It was another very productive year for girls football at underage.Teams were fielded at U10 U12 U13 U14 U16 and minor level.Great work was done with the girls aged from 10 upwards this year.The U12s with their mentors  produced some excellent  football and improved game after game.Pride of place this year must go to our U13 and U14 Squads who both reached Co Finals with the U13s claiming the silverware over St Nauls in the Div 3 Final and the U14s losing out to Killybegs in the Div 2 Final.Both teams were a credit to their mentors Dessie McNamara Hannah Doherty Shane McGrath Packie Corr and our club  with excellent performances on both occasions.The club also fielded at U16 and minor level but struggled towards the end of both competitions due to lack of numbers. It was unfortunately a similar story at Senior level with the club fielding an adult team for the first time in 6 years.Credit to Hannah and Diarmaid Doherty and Liam Gilmartin for their work with the team.
Another very successful Culcamp organised by camp co ordinator Noel Carr was held in July. Over 180 children took part in a week of expert coaching under the watchful eye of head coach and former Co star Brian Roper and his coaches.The club also had representation at Co level with the aforementioned Paul and Jamie Brennan at Senior level Cain McEniff  at U21 and Matthew San Pedro at U14.The Ladies were represented by Katie Carty at U13 and Nicole Gallagher at U15 level
2019 Roll of Honour:
Boys U14 Co Div 3 Winners
Boys U16 Div 3 SMB Winners
Girls U13 Co Div 3 Winners
Girls U14 Div 2 Runners Up.