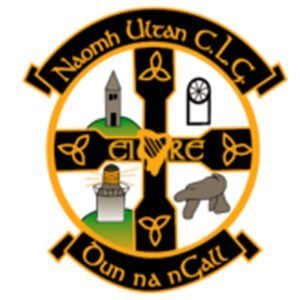 Ainm an Chlub: Naomh Ultan
Dathanna an Chlub/Club Colours: Glas agus Bán / Green and White
Alternative Colours: 
Club Ground: Páirc Gearóid Ó'Gallachóir
Founded in 1974 playing in the Intermediate Championship & Division 3 league.
Dunkineely, Co. Donegal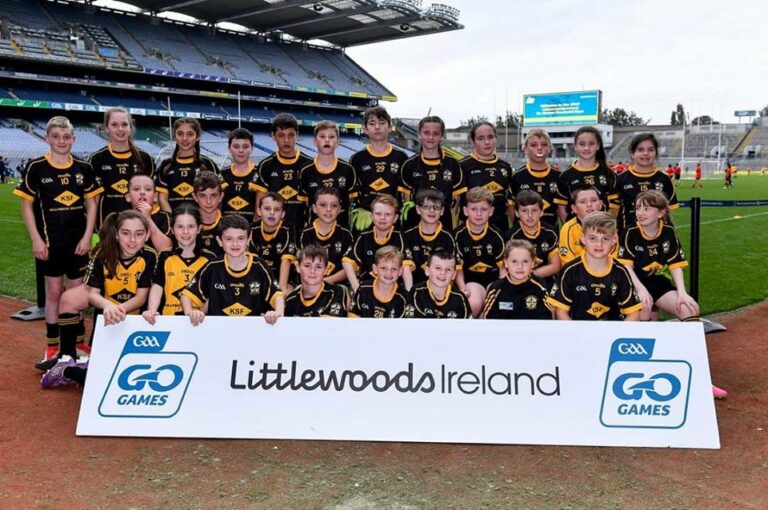 The Club Year – 2019
The U-16 team took pride of place for 2019 as they were crowned both County Division 2 League and Championship winners.  A great double for this bunch of players under their Manager John Boyle (Turf).  They defeated Red Hughes in Mac Cumhaill Park to win the Championship and in Tir Conaill Park they overcame Ardara in the Co. League Final on a score line of 0-15 to 1-3. Another great highlight for this team was their performance against Robert Emmets in the Championship – played in Dunkineely this was a tough match in which there was some great football played by both sides. A late point from corner back Brian McHugh secured a draw for Naomh Ultan. Score Naomh Ultan 2-17, Robert Emmets 4-11. Team & Scorers: Caoimhin O Neill, Tiernan Boyle, Odhran Boyle, Brian Mc Hugh (0-1), Barry Murray, Jack Boyle, Darragh Gallagher, Luke Gallagher (1-8), Jamie Cunningham, Matthew Huntley (0-2), Jamie Kelly, Aaron O Shea (0-2), Kyle Mc Geoghan (0-3), Tomas O Buachalla (1-1), Pauric Cunningham, Jack Hegarty, Thomas Gallagher, Cathal Byrne. This team finished off a successful year by winning the Annual Seamus Car Trophy which is played ever year against St. Nauls, Final Score Naomh Ultan 1-14, St Nauls 2-7 – Luke Gallagher amassed a total of 94 points during the U-16 campaign.
The club fielded both a Senior and Reserve team in all the County League.  The Reserve team under the manager Peter McFarlane did well to field in most of their matches, even though a total of 28 reserve players were eligible to play getting 15 on match days was a struggle at times, this due to Senior call-ups and the 17 years of age playing rule.
The Senior team, despite being relegated on the head to head rule, competed well all year under manager Liam Kennedy. Injuries, emigration and home points dropped notably draws against Convoy & Malin and one point defeats to Naomh Colmcille & Fanad leaving a dog fight at the bottom of the table.  There were good victories also especially Red Hughes (away) and Naomh Brid (home & away).  Despite a poor championship the team regrouped to defeat Burt in our Intermediate Relegation play off in Magheragallon. It was great to see Alan Lyons & James Byrne back in action after ACL operations.  Tá suil again go mbeidh an foireann seo arais aris in Roinn 3 an bhliain seo chugainn. The club entered a U-21 team in the Championship for the first time in a number of years.
The Club are in the progress of building a training pitch on their grounds at Dunkineely, work is due to commence when the weather is favourable. The Club run a successful community bingo in the clubhouse and have also run under age disco's not to mention the weekly active age meetings.
Special mention to Club Referee Anthony Mc Callig who is doing sterling work in a thankless job. Also to Aaron Kyles who was appointed the County Coaching & Games Development Manager and Elaine Steel who is the current secretary of the Southern Minor Board.
The U-8 players under Patrick White competed well in the various bliltz's organised as did the U1-10's who were managed by Martin Cunningham. The U-12's under Cathal Lowther found the going tough due to a shortage of numbers but completed their fixtures list. The highlight of the year for this team was being picked to play in Croke Park U-12's Activity Day back in September an enjoyable day for the children and parents.  Well done to Keelan Reynolds who represented the Club in the U-12 Skills Competition in Ballybofey. The Club could not field a U-13 team this year and the U-14 team under Dermot Alvey manged to field 13 a side in the league but had to forfeit in the Championship as 15 a side was mission impossible.
The minor team manger Donal Murrin had a fairly strong team to work with this year. They defeated Naomh Brid/Pettigo before losing out narrowly to Naomh Mhuire (1-9 to 1-11) and Fanad Gaels (0-12 to 1-11) in the championship. Team and Scorers v Fanad Gaels – Caoimhin O Neill, Christopher Boyle, Lee Byrne, Jared Harvey, Dylan Henry, Jack Boyle, Marc Hutchinson, Seanie O Shea (0-3), Luke Gallagher (0-6), Johnathan Bach (0-1), Kyle Breslin, Cole Quigley (0-1), Donal O Buachalla (0-1) Aaron O Shea, Sub Jamie Kelly.
The Ladies football teams are doing well after two years in the competition.  They compete at U-14 & U-12 level and have completed all fixtures under manager Cathal Lowther, even thought the travelling distance for some matches is massive.
Club Review of the Decade 2010-19
The Club won their first Junior A Championship Title since 1936 in 2015 defeating Red Hughes after a replay.
CARNDONAGH – SENIOR BOARD
| Oifigeach/Officer | Ainm/Name | Seoladh/Address | Fón/Telephone |
| --- | --- | --- | --- |
| Cathaoirleach | Colm O Sheibhleainn | chairman.naomhultandunkineely.donegal@gaa.ie | 087 905 2122 |
| Rúnaí | Ross Carr | secretary.naomhultandunkinneely.donegal@gaa.ie | 085 2634486 |
| Cisteoir | Donna Ui Chuireain | treasurer.naomhultanduinkineely.donegal@gaa.ie | 087 967 5299 |
| Oifigeach Caidreamh Poiblí | Daniel McGlynn | pro.naomhultandunkineely.donegal@gaa.ie | 087 2603066 |
| Oifigeach Oiliúna | Dermot McGlynn | dermotmcglynn1999@gmail.com | 087 294 7740 |
| Oifigeach Coimirce Leanaí | Fionnuala McHugh | childrensofficer.naomhultandunkineely.donegal@gaa.ie | 087 698 6257 |
| Oifigeach Health & Wellbeing | Peter McFarlane | Info.mcf@gmail.com | 086 8646709 |
| Oifigeach Cultúr | Caoimhin O Domhnaill | | 087 9644019 |
| Ball an Bhord Contae: 1 | Danny Byrne | chairman.naomhultandunkineely.donegal@gaa.ie | 087 6421425 |
| Ball an Bhord Contae: 2 | Ross Mac Giolla Cearra | secretary.naomhultandunkineely.donegal@gaa.ie | 085 263 4486 |
| Oifigeach/Officer | Ainm/Name | E-mail Address | Fón/Telephone |
| --- | --- | --- | --- |
| Cathaoirleach | Peter McFarlane | Incp.mcf@gmail.com | 086 8646709 |
| Runaí | Joanne Reynolds | Secretary.naomhultanbordnanog@gmail.com | 087 0569753 |
| OCP | Daniel McGlynn | pro.naomhultandunkineely.donegal@gaa.ie | 087 2603066 |
| Regional Board Delegate | Lorcan McGinley | Lorcanmcg@gmail.com | 087 6960593 |
| Faoi 7 | Peter McFarlane | info.mcf@gmail.com | 086 8646709 |
| Faoi 9 | Aiden Duddy | aidenDuddy15@hotmail.com | 087 6486709 |
| Faoi 11 | Gerard Boyle | Gerardboylework@gmail.com | 085 1208265 |
| Faoi 13 | Emmet McHugh | fionnualamchugh@donegaletb.ie | 087 2702187 |
| Faoi 15 | Gerard Ellison | Kmchugh2006@yahoo.ie | 086 8381073 |
| Faoi 17 | Not applicable | | |
| | | | |
| --- | --- | --- | --- |
| 1 Ailein O'Laighin | 4 Diarmuid O'Gallier | 7 Aran MacShuile | 10 Donall O'Gallachobhair |
| 2 Cian O'Cinneide | 5 Sioradan O'Uaiteri | 8 Darragh O'Mhuireain | 11 Sean De Faoite |
| 3 Seosamh Alvey | 6 Padraig De Faoite | 9 Seosamh O'Bheirne | 12 Peadar Alvey |