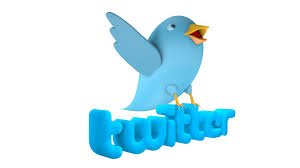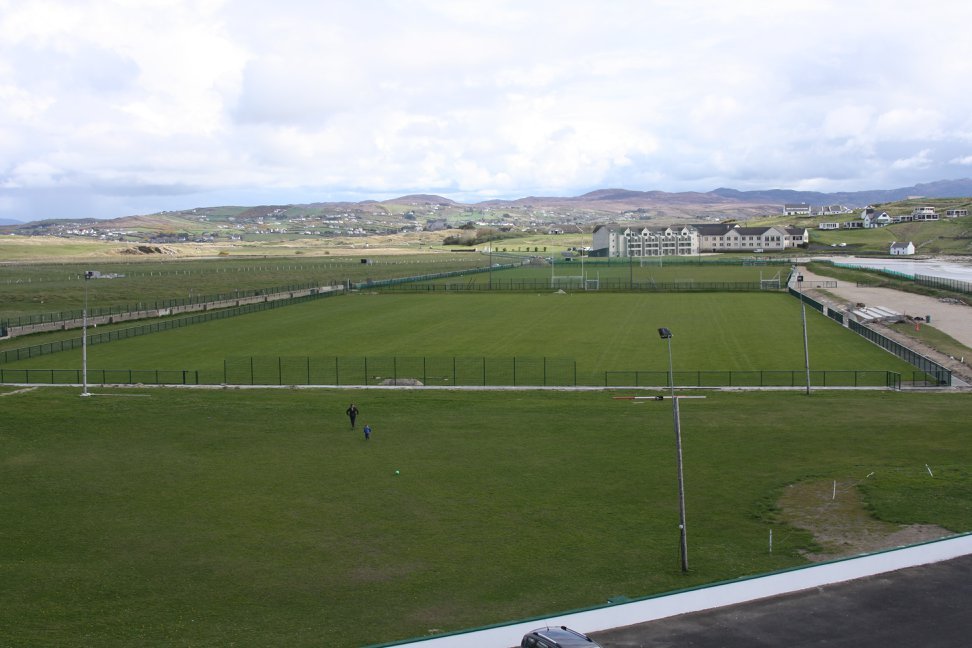 Pairc na nDunaibh map courtesy of GAAPitchLocator.net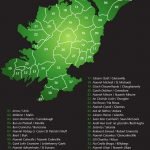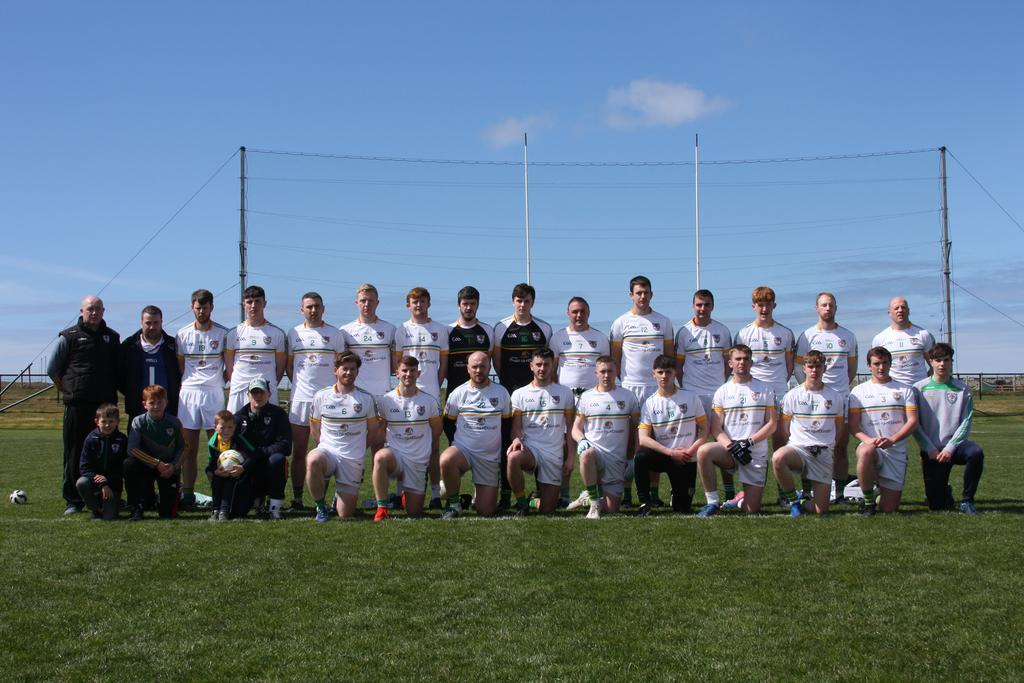 The Club Year – 2019
2019 was a very positive year for the Na Dunaibh senior footballers on many fronts. After gaining promotion to Division 3 in 2018 the overall goal was to maintain our Division 3 status while bringing through a crop of promising young players.  But right from the start of our Division 3 campaign we established our Na Dunaibh home pitch as a fortress without losing a single league game at home for the whole season. There were some wonderful evenings when our new stand was packed to watch some very entertaining football played in the fantastic facilities that the club are in the process of developing.  But the team also showed resilience and determination to go away and pick up some very hard won matches to finish the season as champions of Division 3. In addition to capturing the Division 3 title the senior team also won the Donegal Junior Gaeltacht and travelled all the way to An Gaeltacht in Co Kerry where they retained their All Ireland Gaeltacht championship title in fantastic style.  As with the tides, there are ups and downs and the year ended on a low ebb when the team were demoted to Junior Championship status.
Our senior ladies continue to go from strenght to strength They began the year losing a keenly contested Intermediate Gaeltacht semi-final to the eventual winners, Naomh Muire, Iochtár na Rosann. They also had a successful Division 3 league campaign, winning all mathces but losing our to Ardara by three points in the final. Nevertheless, the season ended on a high note and some well deserved silverware with victory in the Junior B championship, defeating CLG Chill Chartha in the final. The squad looks forward to continued progress in 2020.
Although na Dunaibh did not have a lot of silverware to show for it, 2019 was overall a very positive season for our underage teams, especially with the girls' teams. The green was alive almost every evening with multiple teams training and the numbers for our teams are generally continuing to grow, which is a significant challenge for a club with small numbers, and with the involvement of more current players in our coaching systems we see a very positive future for the club.
The minor boys competed at Division 1 level and our Under 16 boys qualified for the Division 2B semi final which unfortunately they lost. The under 14s qualified for the Division 3B final in which they won a nail-biter against Letterkenny Gaels in a game that came down to the last minute of extra time in what was a very entertaining game. Great work continues at Under 12, 10, 8 and 6 level which we hope will lay the foundation for success in the future.
Rinne foireann na nDúnaibh and turas fada go Corca Dhuibhne, Co Chiarraí, i mbliana áit a bhain muid Comórtas Peil na Gaeltachta Soiseár don dara bhliain as a chéile. Sa cluiche leath ceannais chas muid ar Cill Chomáin agus le ghaoth mhór igcuid seolta na nDúnaibh sa chéad leath ní raibh ann ag leath ama na cuig phointe. Sa dara leath seo a d'imir na Dúnaibh an pheil ab fhearr a d'imir siad don deireadh seachtaine; thug siad sárthaispeántas agus chríochnaigh siad an cluiche agus ceithre phointe idir na foirne.
Sa cluiche Ceannais bhain na Dúnaibh úsaid mhait as comhar na gaoithe agus bhí siad sé Phointe 'un tosaigh ag Leath Am. D'eirigh leis na Dúnaibh sé phointe eile a chur ar chlár na scoranna sa dara leath ru a d'fhág an scór ag deireadh Na Dunaibh 2-12, Béal Atha an Ghaorthaidh 1-4.
Ba mhor an lúchair, ríméad agus mórtas cine a léirigh peileadóirí agus bunadh na nDúnaibh i ndiadh an chluiche. Ritheann an chumamm campa scileanna peil tri spoirt agus spraoi go h-iomlán frí an teanga Gaeladh rud a chuireann an cumann béim mhór ann.
In response to an issue that appears to be affecting all clubs across the country, the club sponsored and encouraged the attendance of all their under age players over the age of 12 from both boys and girls. The course was presented by Foroige and focused on providing more information on the challenges that our youth will face with both alcohol and drugs and the feedback from both parents and players was very positive.
2019 Roll of Honour:
Senior Men Footballers: Division Three League champions & All Ireland Junior Gealtacht champions
Senior Ladies Footballers: Junior B Championship winner
U14 Footballers: Division 3 Shield champions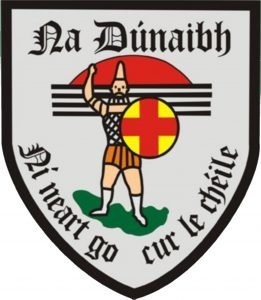 Ainm an Chlub: Na Dunaibh
Dathanna an Chlub/Club Colours: Glas agus Orga
Alternative Colours: Orga Glas agus Dubh
Club Ground: Pairc na nDunaibh
Na Dunaibh – Senior Board
Oifigeach/Officer
Ainm/Name
Seoladh/Address
Fón/Telephone

Cathaoirleach
Eoin O Broin
Chairperson.downings.donegal@gaa.ie Larganreagh, Na Dúnaibh
087 9672217
Rúnaí
Aodh Mac Laifeartaigh
Secretary.downings.donegal@gaa.ie
085 8507774
Cisteoir
Risteard O Coinniollach
richardconneely@hotmail.com
Umlach Carrig AirtCo Dhun na nGall
087 9201667
Oifigeach Caidreamh Poiblí
Aodh MacLaifeartaigh
Aodhmac01@gmail.com
085 2363825
Oifigeach Oiliúna
Oifigeach Coimirce Leanaí
Helena Mac Giolla Bhríde
helenamcbride64@gmail.com
086 3907731
Oifigeach Sláinte agus Folláine
Oifigeach Cultúr
Sean Mac Giolla Bhride
johnmhicirua@gmail.com
An Ghliob, Na Dunaibh
087 9804064
Ball an Bhord Contae: 1
Aodh Mac Laifeartaigh
Secretary.downings.donegal@gaa.ie
085 8507774
Ball an Bhord Contae: 2
Sean Mac Giolla Bhríde
johnmhicirua@gmail.com
074 915 5361
Oifigeach/Officer
Ainm/Name
E-Seoladh nó Seoladh/Address
Fón/Telephone

Cathaoirleach
Andy Connor
087 4196080
Rúnaí
Michael McBride
086 3907732
Oifigeach Caidreamh Poiblí
Hughie McClafferty
087 2363825
Toscairí an Bhoird Réigiúnaigh
Faoi-10
Michael McBride
086 3907732
Faoi-12
Peter Cullen
087 6253876
Faoi-14 and 15 Óg Sport
Johnny Connor
085 2425090
Faoi-16
Lorcan Connor
James Lee McBride
087 6878116
085 2079616
Faoi-18
Andy Connor
087 4196080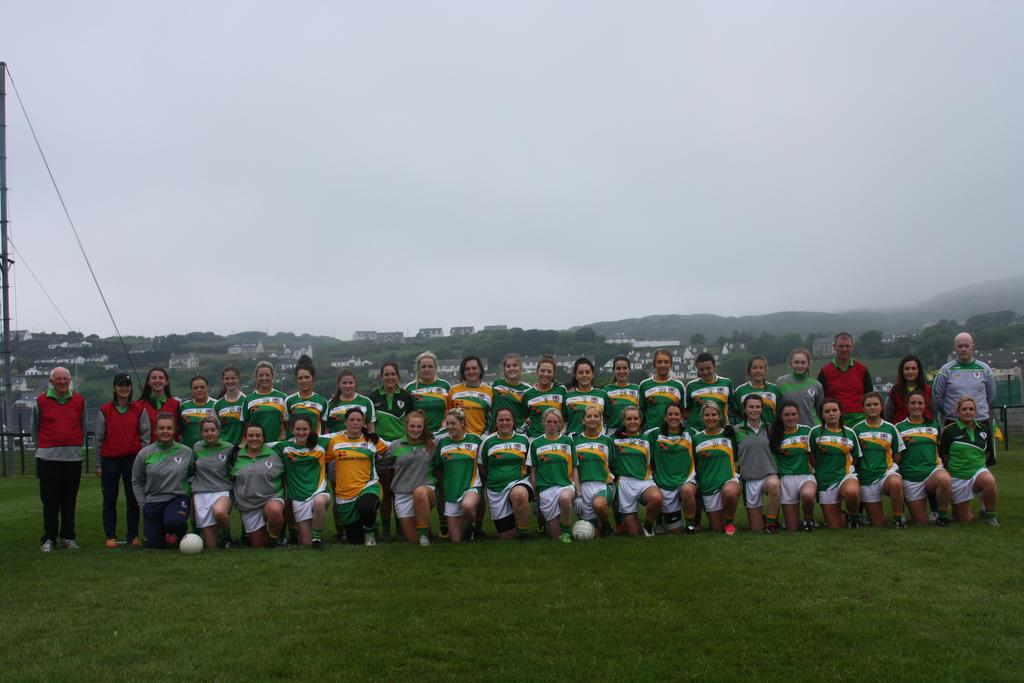 Downings Ladies Senior Team 2019
Review of the Decade – 2010-19
The last decade was not the most successful period for the club on the playing fields but has been notable for the significant effort that has been put in to developing our facilities – providing 2 top class playing pitches as well as a stand on our primary pitch, fencing and overall infrastructure that would be the envy of many senior clubs never mind a small rural club on the edge of the Atlantic. These facilities were showcased in the successful hosting of the All Ireland Gaeltacht finals in 2018 which highlighted all that is positive for the GAA and the local community.
On the playing fields the club have won two Junior County championships in 2012 & 2016 as well winning 3 All Ireland Gaeltacht Junior titles. On the ladies' front it was fantastic to see the ladies team reformed in 2017 and with the talent coming through at underage levels, we look forward to many successes on the field in the coming years. Also with the senior team winning promotion to Division 2 and all the work that is being put in at minor board level, the coming decade looks promising for Na Dunaibh. Unfortunately the decade ended on a low note off the field with the untimely passing of Paddy "Fenny" McBride who was ever present at the park but Paddy's memory remains strong within the club and we are sure he would be proud of all that was achieved in the last decade and look forward positively to the coming decade.