Intermediate A Championship Knockout Rounds
Final
TBC Na Dunaibh v Malin
Semi-finals
Sun Oct 1, Termon 1-7 Na Dunaibh 2-5
Sun Oct 1, Fanad Gaels Malin
Quarterfinals
Sun Sept 24, Na Dunaibh 2-10 Red Hughs 0-11
Sat Sept 23, Malin 2-9 Realt na Mara 0-10
Sun Sept 23, Naomh Columba 0-11 Termon 2-10
Sat Sept 23, Fanad Gaels 1-13 Buncrana 0-14
Relegation Final
Sat Oct 7, TBC Burt v Naomh Bríd, 1:30 pm
Relegation Semi-finals
Sun Sep 24, Naomh Muire Íochtar na Rosann 2-7 Burt 1-5
Sun Sep 24, Letterkenny Gaels 1-11 Naomh Bríd 0-5
Intermediate B Championship Knockout Rounds
Final
TBC Naomh Columba v Termon
Semi-finals
Sun Oct 1, Termon 0-16 Burt 3-5
Sun Oct 1, Naomh Columba 3-11 Buncrana 3-9
Quarterfinals
Sun Sept 24, Burt
Sat Sept 23, Naomh Columba 1-7 Malin 0-7
Sat Sept 23, Fanad Gaels 0-11 Buncrana 3-4
Sat Sept 23, Na Dunaibh 2-10 Red Hughs 0-11
Intermediate A Championship Round Robin Results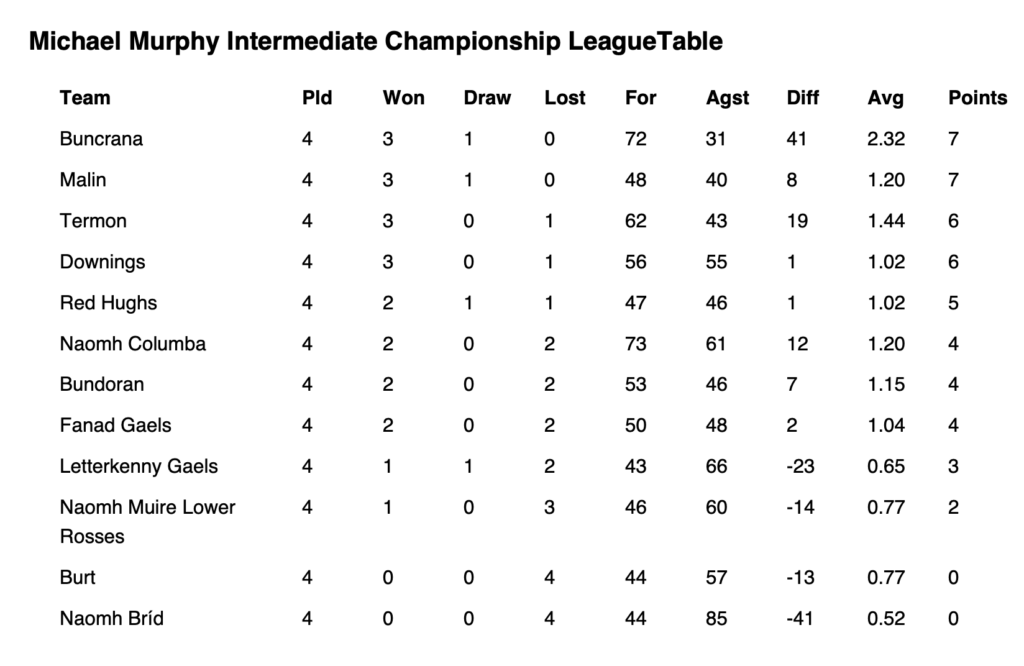 Sun Sep 10, Páirc na Gael, Naomh Columba 2-12 Na Dunaibh 3-10
Sun Sep 10, Pairc Uí Shiail, Gaeil Fhánadá 1-13 An Tearmann 0-14
Sun Sep 10, Gaelic Park, Realt na Mara 3-15 Naomh Brid 0-7
Group B – Round 4
Sun Sep 10, Páirc Aodh Rua, Aodh Rua Cul na gCuirridin 0-8 Malainn 0-10
Sun Sep 10, The Banks, Naomh Muire Íochtar na Rosann 0-10 Bun Cranncha 2-14
Sun Sep 10, Páirc na Gael, Gaeil Leitir Ceanainn 4-8 Beart 2-9
Group A – Round 3
Sat Sep 2, Páirc Naomh Bríd, Naomh Brid 3-13 Naomh Columba 7-12
Sun Sep 3, The Burn Road, An Tearmann 2-11 Realt na Mara 0-11
Sun Sep 3, Páirc Na Dunaibh, Na Dunaibh 1-13 Gaeil Fhánadá 0-13
Group B – Round 3
Sat Sep 2, Connolly Park, Malainn 2-11 Naomh Muire Íochtar na Rosann 2-8
Sun Sep 3, The Scarvey, Bun Cranncha 5-15 Gaeil Leitir Ceanainn 0-5
Sun Sep 3, Hibernian Park, Beart 1-10 Aodh Rua Cul na gCuirridin 1-11
Group A – Round 2
Sat Aug 26, The Burn Road, An Tearmann 2-8 Na Dunaibh 1-3
Sun Aug 27, Pairc Uí Shiail, Gaeil Fhánadá 0-10 Naomh Brid 0-4
Sun Aug 27, Gaelic Park, Realt na Mara 0-9 Naomh Columba 0-8
Group B – Round 2
Sun Aug 27, The Scarvey, Bun Cranncha 0-10 Malainn 1-7
Sun Aug 27, The Banks, Naomh Muire Íochtar na Rosann 0-10 Beart 1-6
Sat Aug 26, Páirc na Gael, Gaeil Leitir Ceanainn 1-7 Aodh Rua Cul na gCuirridin 0-10
Group A – Round 1
Sat Aug 19, Páirc Naomh Bríd, Naomh Brid 1-8 An Tearmann 2-12
Sat Aug 19, Páirc na Gael, Naomh Columba 2-8 Gaeil Fhánadá 1-8
Sun Aug 20, Páirc Na Dunaibh, Na Dunaibh 3-6 Realt na Mara 0-10
Group B – Round 1
Sat Aug 19, Hibernian Park, Beart 0-6 Bun Cranncha 1-9
Sat Aug 19, Páirc Aodh Rua, Aodh Rua Cul na gCuirridin 1-11 Naomh Muire Íochtar na Rosann 0-12
Sun Aug 20, Connolly Park, Malainn 0-11 Gaeil Leitir Ceanainn 0-3
Intermediate Reserve Championship Round Robin Results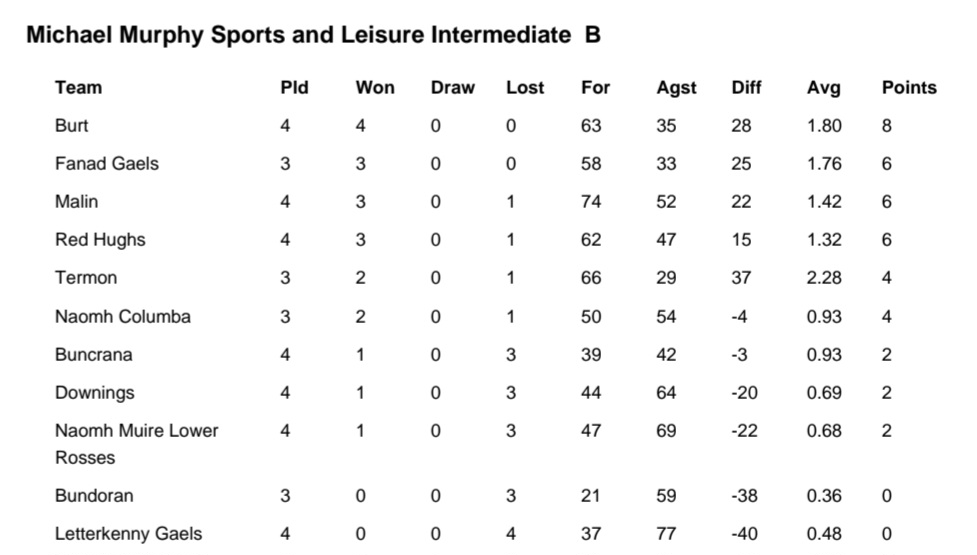 Group A – Catch-up
Sun Sep 16, Gaelic Park, Realt na Mara 0-8 Gleann Fhinne 1-13
Group A – Round 4
Sun Sep 10, Páirc na Gael, Naomh Columba 3-13 Na Dunaibh 0-11
Sun Sep 10, Pairc Uí Shiail, Gaeil Fhánadá 1-11 An Tearmann 0-10
Group B – Round 4
Sun Sep 10, Páirc Aodh Rua, Aodh Rua Cul na gCuirridin 1-10 Malainn 1-10
Sun Sep 10, The Banks, Naomh Muire Íochtar na Rosann 2-7 Bun Cranncha 2-6
Sun Sep 10, Páirc na Gael, Gaeil Leitir Ceanainn 3-5 Beart 2-18
Group A – Round 3
Sun Sep 3, The Burn Road, An Tearmann 4-17 Realt na Mara 1-3
Sun Sep 3, Páirc Na Dunaibh, Na Dunaibh 0-9 Gaeil Fhánadá 1-12
Group B – Round 3
Sat Sep 2, Connolly Park, Malainn 4-13 Naomh Muire Íochtar na Rosann 2-9
Sun Sep 3, The Scarvey, Bun Cranncha 3-10 Gaeil Leitir Ceanainn 0-6
Sun Sep 3, Hibernian Park, Beart 1-8 Aodh Rua Cul na gCuirridin 0-10
Group A – Round 2
Sat Aug 26, The Burn Road, An Tearmann 3-18 Na Dunaibh 2-3
Sun Aug 27, Gaelic Park, Realt na Mara 1-8 Naomh Columba 3-6
Group B – Round 2
Sun Aug 27, The Scarvey, Bun Cranncha 0-6 Malainn 1-9
Sun Aug 27, The Banks, Naomh Muire Íochtar na Rosann 2-3 Beart 3-8
Sat Aug 26, Páirc na Gael, Gaeil Leitir Ceanainn 1-8 Aodh Rua Cul na gCuirridin 1-9
Group A – Round 1
Sat Aug 19, Páirc na Gael, Naomh Columba 2-8 Gaeil Fhánadá 4-8
Sun Aug 20, Páirc Na Dunaibh, Na Dunaibh 2-9 Realt na Mara 1-1
Group B – Round 1
Sat Aug 19, Hibernian Park, Beart 1-8 Bun Cranncha 0-2
Sat Aug 19, Páirc Aodh Rua, Aodh Rua Cul na gCuirridin 2-9 Naomh Muire Íochtar na Rosann 2-4
Sun Aug 20, Connolly Park, Malainn 1-19 Gaeil Leitir Ceanainn 0-6
The knock-out phases are scheduled as follows:
quarterfinals, weekend of September 23rd/24th;
semi-finals, weekend of September 30th and October 1st; and,
final on October 15th.
The Ulster Intermediate championship quarterfinal for the Donegal champions will be on either November 11th or 12th. Should our representatives progress, the semi-finals are scheduled for November 24th and 25th and the Ulster Final will be on December 9th.