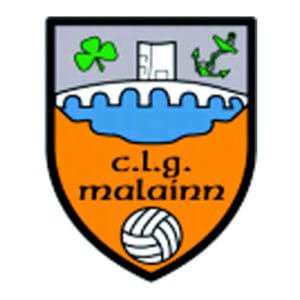 Ainm an Chlub: Malainn
Dathanna an Chlub/Club Colours: Dubh agus Ómra / Black and Amber
Alternative Colours: Bán agus Dubh / White and Black
Club Ground: Connolly Park, Malin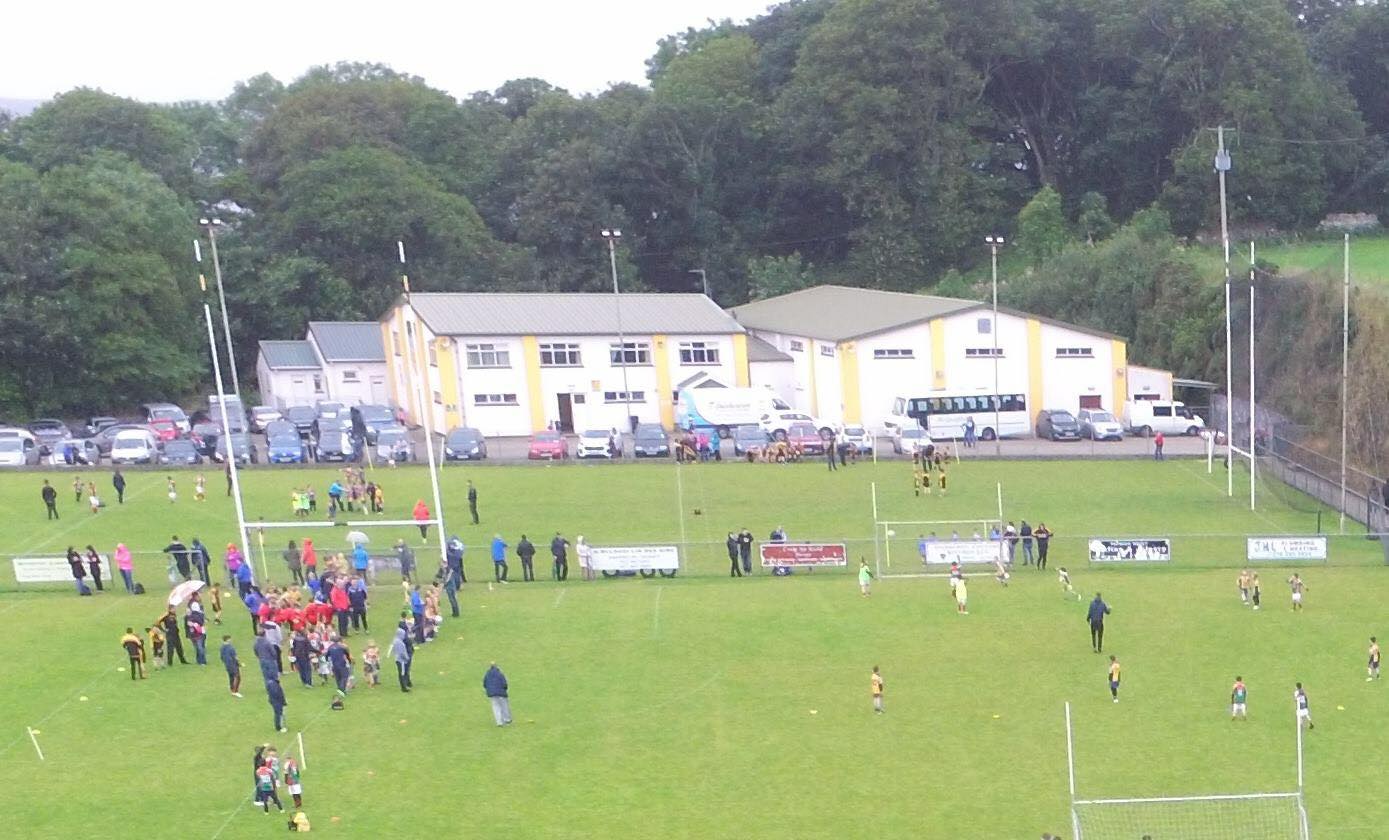 Latest Malin Notes
Adult Football
There was no All County League action for any of our adults sides over the weekend.
The reserve footballers kept up their impressive run of results in the Philadelphia Cup when coming away from Straid with a 1-12 to 1-2 victory over Urris.
This weekend the seniors and reserves return to league action when they travel to Dunfanaghy to take on St. Michaels. At this stage it looks as if it it's a Saturday evening throw in, but keep an eye on our social media for further details.
Underage Football
Massive game in prospect on Sunday when our Under 15 boys take on Aodh Rua in the Division 2 All County Final. The lads came through the Inishowen League and defeated Buncrana in a nail biting finale in the Inishowen Division 2 decider. Then accounted for Na Rossa in the quarter final and Buncrana in the semi final. Keep an eye on social media for more details in the coming days. We would appreciate as much support as possible for the lads in the final. Best of luck to all.
The Under 12 girls are at home to Burt on Wednesday at 7.00. On Saturday, the Under 14 girls travel to N. Colmcille, game throws in at 1.00.
On
Gaelic for Mothers N Others
Our Gaelic for Mothers and Others continues on Fridays, 8.30-9.30pm! All new faces
welcome, bring a friend, the more the merrier! No previous experience needed! Drop Anne
Marie Ballantyne a message if you've any questions!
Lotto
There was no winner of last week's lotto jackpot of €1100. The sequence drawn was 5-7-6-1-3-8-4-2. The winner of the €50 consolation prize was Patrick Mc Laughlin, (Rustard), Ballylannon with the sellers prize going to T and S McGeoghegan. As always, we would like to thank the local community for their continued support of our weekly lotto draw. Next week's jackpot stands at an impressive €1150. Envelopes are just €2 or 3 for €5 euro and are available in the following retail outlets, Boggs Butchers, McCleans Shop, Malin and Seaview Stores, Malin Head and also from our band of young eager sellers. Any of our club supporters who don't get a visit from a local lotto seller can play the club lotto from their phone or laptop. Here's the link to play https://play.clubforce.com/play_newa.asp?ll_id=2504#Anchor To get the best value we recommend playing 3 lines in one week for €5; however, you can still play 1 or two lines. Don't forget to select auto renew at checkout. This means the app will automatically enter you for each draw. The cut off point for online entries is 5.00 pm. Finally, a special word of thanks to the Club Lotto Sellers & all those who bought lottos and those who continue to support the Club.
Club Shop.
Opening times will be on Saturdays from 12.00 to 2.00 and from 11.15 to 2.00 on Sundays.
For any queries contact Susan on 086 7832242.
Save The Date
It might be worth marking the "27 of January 2024" in your calendar as we host our Annual Dinner Dance. This one should be a night not to be missed when we commemorate the 25th anniversary of our Junior Championship victory and Division 4 winning title win. So, if any of the squad is currently out of the county, you've plenty of time to get your flights booked,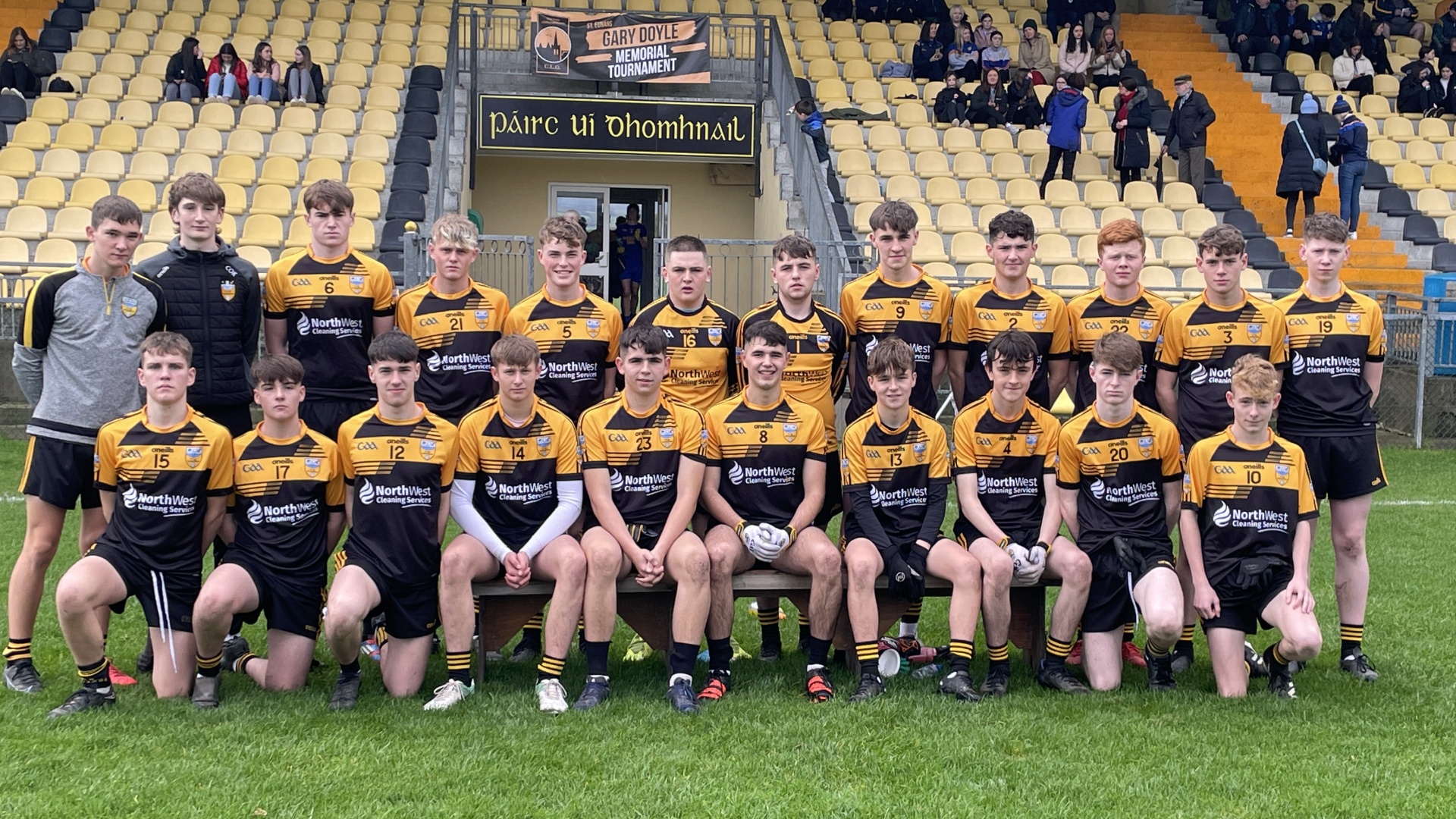 CLUB Review of the Decade 2010-19
The 3rd week of September in 2012 was a week which will live long in the memory of everyone and on that Sunday evening Declan Walsh became the first Malin player to win a Celtic Cross and on the Thursday evening the village was packed to capacity as we witnessed Declan carry the Sam Maguire Cup over the bridge much to the delight of the large crowd in attendance.
From that high, the club suffered one of its darkest days in its history on Feb 20th
2017, when news spread of the tragic death in a car accident of club member and Under 16 manager John McLaughlin (Rustard). John lost his life less than a mile from Connolly Park where he was making his way to take a training session with his young side. John's death left everyone in a state of shock, and somehow football didn't seem so important anymore. He was a hugely popular club member and the large amount of mourners from neighbouring clubs throughout the county was proof of the high esteem John was held in.
We undertook many fundraising drives in recent times to fit our fitness suite with state of the art equipment, which can only benefit the club and indeed the people of the parish in the future, and also ensure that our facilities are the envy of every club and organisation in the country.
While competing in the Senior Championship, we appeared in 2 county semi finals losing narrowly to Killybegs and Glenswilly and also were Division 2 champions in 2012. Our 14s were the toast of the club in 2017 when they clinched the Division 1A league title by defeating Gaoth Dobhair in the final.
Malainn – Senior Board 2023
| Oifigeach/Officer | Ainm/Name | E-mail Address | Fón/Telephone |
| --- | --- | --- | --- |
| Cathaoirleach | Pat McLaughlin (F) | patmclaughlinplumbing@live.ie | 087 2030115 |
| Runaí | Brendan Monagle | secretary.malin@gaa.ie Dunegard, Malin Head | 086 3777015 |
| Cisteoir | Margaret Raymond | donegalraymonds@gmail.com | 087 2352823 |
| Oifigeach Caidreamh Poiblí | Martin Doherty | pro.malin.donegal@gaa.ie Ballynahona, Glengad | 086 1585880 |
| Oifigeach Oiliúna | Kerry McLaughlin | KerryMcLaughlin3@hotmail.com | 086 1595015 |
| Oifigeach Coimirce Leanaí | Patricia McLaughlin | mcLaughlin.tricia@gmail.com | 085 8747799 |
| Oifigeach Slainte agus Folláine | TBC | | |
| Oifigeach Cultúr | | caoimhenishuibhne@gmail.com | 085 8386203 |
| Ball an Bhord Contae 1 | Pat McLaughlin (F) | patmclaughlinplumbing@live.ie | 087 2030115 |
| Ball an Bhord Contae 2 | Diarmuid Walsh | diarmuid.ias@gmail.com | 087 2851171 |
Oifigeach/Officer
Ainm/Name
E-mail Address
Fón/Telephone
Cathaoirleach
Terence McLaughlin
086 1740879
Runaí
Kerry McLaughlin
Kerrymclaughlin3@hotmail.com
086 159015
Oifigeach Caidreamh Poiblí
Martin Doherty
Pro.malin.donegal@gaa.ie
086 1585880
Coaching Officers
Danny Lafferty
Patricia McLaughlin

Paul Gallaggher

dannylafferty@eircom.net

childrensofficer.malin.donegal@gaa.ie

086 8988180085 8747799

0872259592

Faoi-7
Brendan Monagl
Secretary.malin.donegal@gaa.ie
Faoi-9
Aidan Gallagher
086 3796769
Faoi-11
Shaun McLaughlin
shaunandmandy@hotmail.com
086 8521166
Faoi-13
John McLaughlin
086 3858654
Faoi-15
Kevin McGeoghegan
Kevin.mcgeoghegan14@gmail.com
0044 777331404
Faoi 17
Paul Gallagher
paul@mdce.ie
087 2259592
CAILÍNI
Faoi 6
Fran Monagle
086 1740091
Faoi 8
Robert Porter
RobertPorter2000@gmail.com
086 007564
Faoi 10
Sharon McLaughlin

John McLaughlin

SharonMcLaughlin18@gmail.com
086 3547007

086 3858654

Faoi 12
Maria McLaughlin
Noel McLaughlin
MariaMcLaughlin30@yahoo.com

Noel46@live.co.uk

087 7763679
086 1527367
Faoi 14
Denise McCarron

Neil McGilloway

Denisemalin40@gmail.com
0863724378

086 8122155

Faoi 16
Danny Lafferty

Kerry McLaughlin

DannyLafferty@eircom.net

KerryMcLaughlin3@hotmail.com

086 8988180

0861595015

Faoi 16 agus 18
Mariah Doherty
MariahDoherty94@icloud.com
086 2405688
| 1ST TWELVE | | 2ND FIFTEEN | |
| --- | --- | --- | --- |
| 1 Kieron McColgan | 7 Matthew Byrne | 1 Stephen Farren9 | 086 1740091 |
| 2 Charles Byrne | 8 Ciaran Doherty | 2 Kieran o'Connor | 10 Dara o'Connor |
| 3 Damien Harkin | 9 John Gerard McLaughlin | 3 John McLaughlin | 11 Kieron McNicolas |
| 4 Gary Farren | 10 Josh Conlon | 4 Liam Gallagher | 12 Christopher Doherty |
| 5 Paul McLaughlin | 11 Sean o'Neill | 5 Conor Byrne | 13 Lee McDaid |
| 6 Christopher McLaughlin | 12 Connor McColgan | 6 Thomas McLaughlin | 14 Kealn White |
| | | 7 Paul Fisher | 15 Dan McDaid |
| | | 8 Gerard Green | |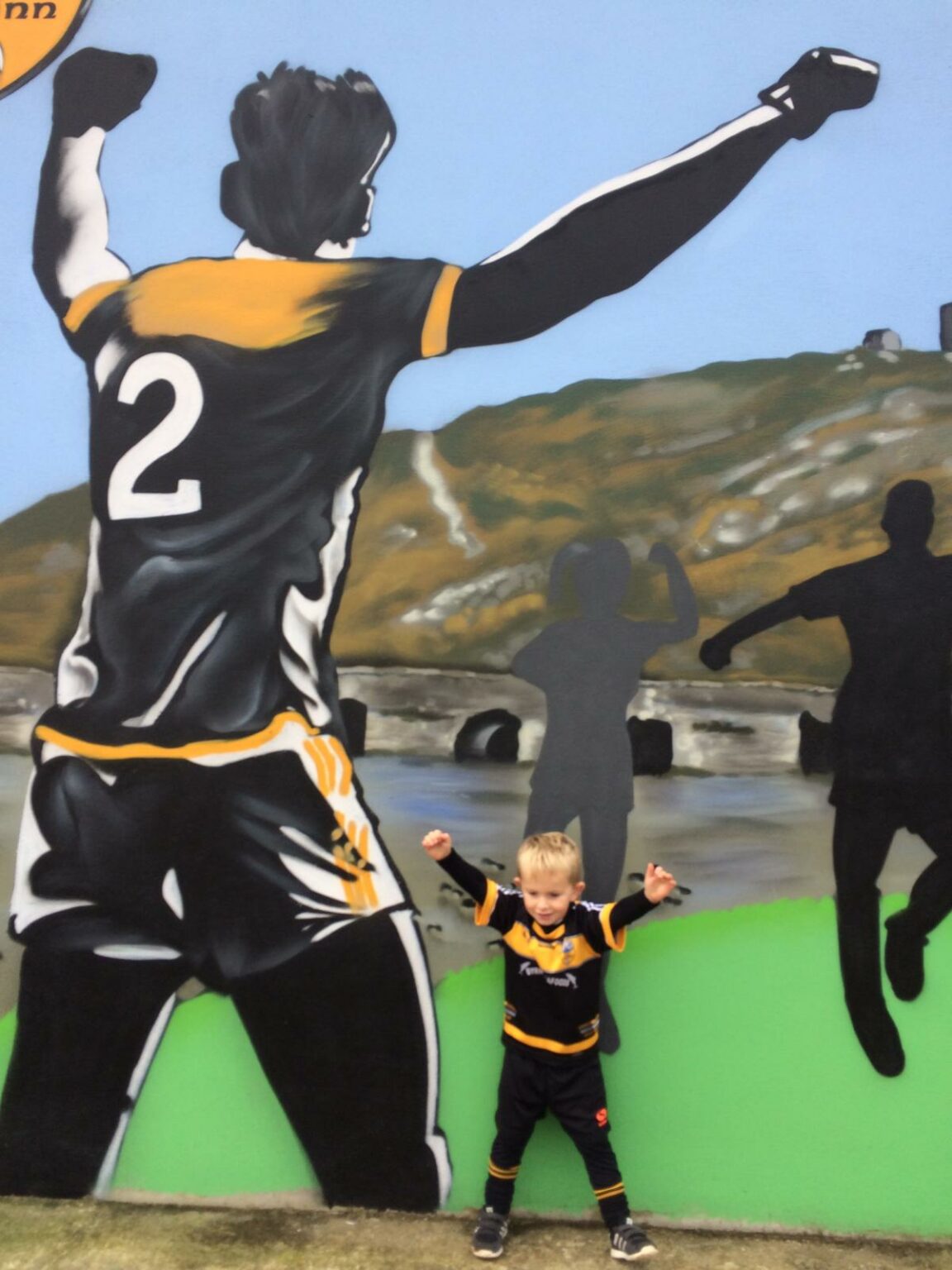 The CLUB YEAR 2019
Our club continues to make steady progress on and off the pitch. On the back of Donegal's recent success, the number of youngsters experiencing the fun and excitement of our national games continue to grow. We hosted many underage blitzs, parish leagues and camps to cater for our ever-increasing numbers. Our coaching academy is paying dividends with many youngsters gaining selection for various county panels; the highlight of the year was Aoife McColgan claiming her 3rd Ulster Senior title. We were also well represented in Colaisti Inis Eoghain squads. Another poignant event in 2019 was the unveiling of the club mural and Kicking Ball Wall in memory of John McLaughlin (Rustard) on the day of the annual 5km.
After suffering relegation on the final day of the previous season, we competed in Division 3 of the ACL. Despite a poor start Malin finished tied in 2nd place with Convoy on 22 points, but missed out on promotion on our head to head record, by a solitary point. In the SFC, we suffered a heavy defeat in our opening game in Kilcar. We fell to a 2nd defeat at home to Termon in a game which could have gone either way. In our final group game at home to Bundoran we produced a superb first half performance but the visitors experience told near the end and they overturned the defecit. In the relegation play-off games we paid the price for a slow start against Four Masters and despite racing into a 9-point lead against Ardara they foungt back and sent us to the Intermediate championship for 2020. The reserves performed admirably in their league and continue to provide younger players with the necessary experience before making the step up to the first team.
The Under 12 girls competed in the Inishowen and ACL, giving very good accounts of themselves in every outing. The Under 14 girls had a great season and qualified for the County final but lost out to Termon. Our under 16 girls didn't collect any silverware but produced some excellent football during the year.
The Under 8 boys had a great year, playing over 20 matches, with maximum turnout at all sessions and games. Thanks to all the coaches and parents who give their time so freely to assist. Our Under 10/11s had a successful year, competing in a large number of games in the Inishowen Go-Games along with blitzs in Ardara and Bellaghy. The Under 12s were a very committed bunch making some great improvements and were extremely competitive in all games. They lost out to Burt in the Inishowen Div 3 final. They competed in the Div 3 blitz in Convoy where our A and B sides collected silverware. The B side came from behind to defeat Convoy in their final, while the A side ousting St. Eunans in their decider.
The Under 14s has a great season going undefeated in the Inishowen league, before losing narrowly to Muff in the final. Undeterred, they went all the way to the Div 1A League final, overturning a 12-point defecit to defeat Termon in the semi, before losing out to N.Conaill. They also gave a good account of themselves in the championship and had an enjoyable day out at the Ulster final, played Scotstown on route. The Under 16s produced some excellent football throughout their Inishowen League campaign, culminating in victory over Muff in the B Final. In the County B competition, they appeared in the final, but unfortunately lost to St. Eunans. Our Minors lost out in the Inishowen semi against eventual winners Buncrana, and were beaten by just 2 points by Glenswilly in the Div 2 final.
As always our club were very active in the promotion of culture side of the GAA, where we participated in both Scor and Scor Sinsear and we were well represented in both codes. We are indebted to the likes of Grace McCarron and Mandy McLaughlin for their hard work behind the scenes ensuring that this side of the organisation continues to grow and prosper in the coming years and benefit future generations to come.
The health and well being committee for year was established in February and was launched in April when we organised a community night with local guests presenting their area of expertise to promote health and well-being. In August, we ran an informative, and very well received talk for our underage members along with their parents and coaches to cover social issues such as alcohol, drugs and mindfulness. Later in the year club officer Denise Mc Carron and some younger members from club attended the county youth matters conference in LYIT. We also ran a defibulator training and refresher course for members of our local community.
2019 ROLL OF HONOUR
UNDER 14 GIRLS County Division League Runners Up
UNDER 12 BOYS  Inishowen Div 3 Runners Up
County Div 3A Blitz Winners
County Div 3B Blitz Winners
UNDER 14 BOYS  Inishowen A Runners Up
County Div 1A League Runners Up
UNDER 16 BOYS  Inishowen B League Winners
County League B Runners Up
MINOR BOYS       County League Div 2 Runners Up
Role of honour
Divisiion 1 u-13 Girls County Championship