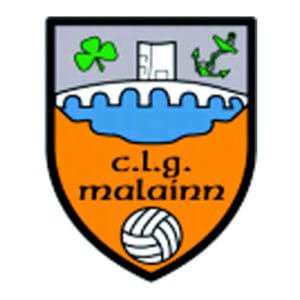 Ainm an Chlub: Malainn
Dathanna an Chlub/Club Colours: Dubh agus Omra
Alternative Colours: Dubh agus ban
Club Ground: Connolly Park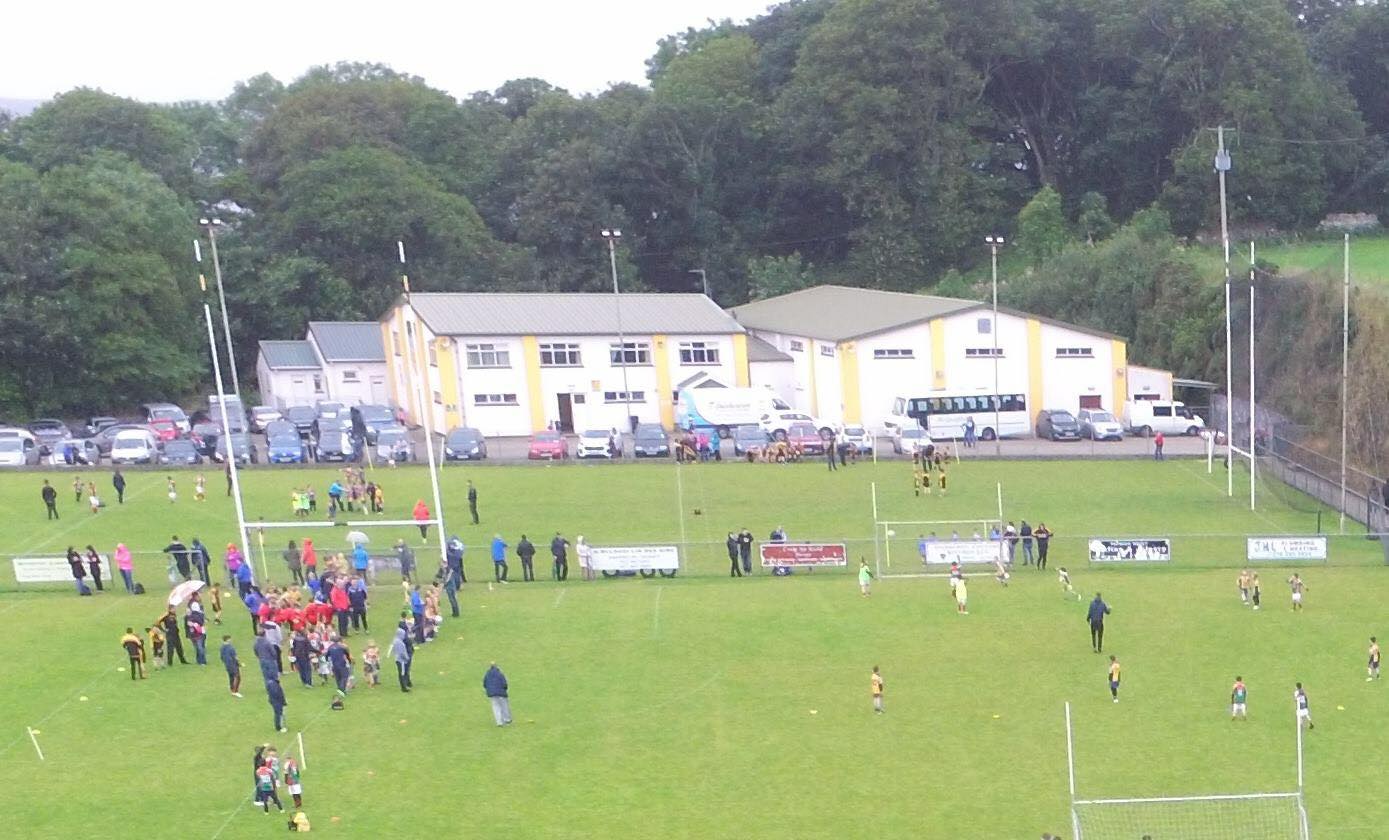 Latest Malin Notes
Dinner Dance
We would like to give a special word of thanks to the following businesses for their generous sponsorship of last weekends Presentation Dinner Dance.
Ballyliffen Lodge and Spa, J&C Gardening Culdaff, Craig na Hulla Design, Patrick Houten Contractor, Martin McLaughlin-Bus Hire, Malin Electrical, Farrens Bar Malin Head, Sean McLaughlin-Bus Hire, Valu Clean, Collette McClean Driving School, Stone Cliff, James Houghton Contractor, Inishowen Food Solutions, McCleans Bar, iMotors, Culkeeny Plant Sales, Pat McLaughlin Plumbing, Byrne Seafoods, Kevin McLaughlin-Dovea Genetics Ltd, Charlie Byrne Fitness
McLaughlin Brothers Carn, Inishowen Co-Op, Seaview Tavern, Tasty's Takeaway, Neal Dohertys Jewellers, Lafferty Shop, Fishermans Inn an Ballyliffen Townhouse.
Also congratulations to all the raffle winners on the night.
1 Years gym membership from Ballyliffen Lodge and Spa. – Darragh O Connor
1 Years membership GAA Club Gym from Charlie Byrne – Johnny Lafferty.
Ralph Lauren Romance Perfume – Kerry Mc Laughlin
4 Galway Crystal Wine Set Glasses– Fran Monagle
Paco Rabanne 1 Million Spray- Elaine Mc Laughlin
1 Years gym membership from Ballyliffen Lodge and Spa- Johnny Lafferty
€50 Voucher for Ballyliffen Townhouse – Mariah Doherty.
Looks like Johnny Lafferty is going to be one fit man by the end of 2022!!!
County News
It was a busy weekend for our underage girls, as Aishling O Neill was part of the under 16 side who lost out narrowly to Monaghan, while Sophie Murphy was involved with the minor side who met Tyrone.
Congratulations to Kieran O Kane who was selected as part of the Donegal Under
16 Development squad for the coming season. Well done Kieran.
Also, a special mention to Niamh Douglas who had the honour of singing Amhrán na bhFiann prior to throw in, at the Donegal v Tyrone National League clash in Mc Cumhaill Park on Saturday evening.
Adult Football
After the recent re structuring of the All County Leagues, our senior footballers will compete in the Division 2 this coming season, alongside Buncrana, Moville, Convoy, Fanad Gaels, Downings, St Nauls, Dungloe, Letterkenny Gaels, N. Columba, Mc Cumhaills, Red Hughs and Milford. The season gets underway with a home clash v Downings in the first weekend of April.
Underage Training
Fundamental training continues for our younger club members in Connolly Park on Sunday at 10 am. For many this may be their first ever introduction to our national games. Our coaches are fully Garda vetted and focus on the Fundamentals of Gaelic football in their coaching – Ability, Balance, Co-ordination which mainly includes lots of fun and games. New players are always welcome from Junior, Senior and 1st Classes. A great way for your child to build confidence and run off some energy. New members are always welcome. For more details contact Seana (086 897 9946) or Brendan (086 377 7015)
The Under 12 girls (children born in 2010/2011) are scheduled to meet every Monday indoors from 6.00 to 7.00 while the Under 11 girls are put through their paces from
6.30 to 7.30. All girls are asked to bring water and €2. The under 7 and under 9 girls commence training this coming Saturday, in the gym from 10-11, please bring a bottle of water and €2.
The under 16 and minor girls hold their training sessions from 7.30 to 9.00 every Monday and Friday.
Under 11 boys training will be held on Wednesdays from 6.00 to 7.15, while the under 15 boys training takes place at 4.30 on Saturdays.
Membership
Club membership is now open for the coming year. All memberships are available online on Foireann.ie. Just log in or set up your account for the membership you require. Youths membership is just €2 while adult membership is only €20. It is a requirement that all club coaches are registered members to cover insurance and child safeguarding. Also, should Donegal be involved in any all ticket encounters during the year, preference is given to all fully paid up members.
Land Request
In order to cater for our ever-growing numbers, we are looking to source land in the Malin parish or surrounding areas to develop a training ground. Anyone interested in selling or leasing land long term to the club are asked to contact club secretary Brendan Monagle on 086 3777015.
Every Step Counts Challenge
Massive thank you to all our members who took part in the Irish Life Health organised MyLife/GAA Every Step Counts Challenge, recently. The competition encourages clubs to get involved with their members to get some exercise & be in with a chance of winning prizes for the Club. This also coincided with the GAA's Ireland Lights Up initiative, which sees GAA Clubs lighting up their pitches to allow their community to utilise it for exercise. Connolly Park will be lit up every Monday night from 7pm to 8pm.
Sports Hall
Now that things are opened up again, all Room Bookings/Room Hire within the Clubhouse including the upstairs Function Room, Meeting Room plus the Indoor Sports Hall must be made through Susan Byrne on (086) 783 2242.
Club Shop
The Club shop will be open on Sundays only from 11-15 to 2.00 for the months of January and February. For any queries contact Susan on 086 7832242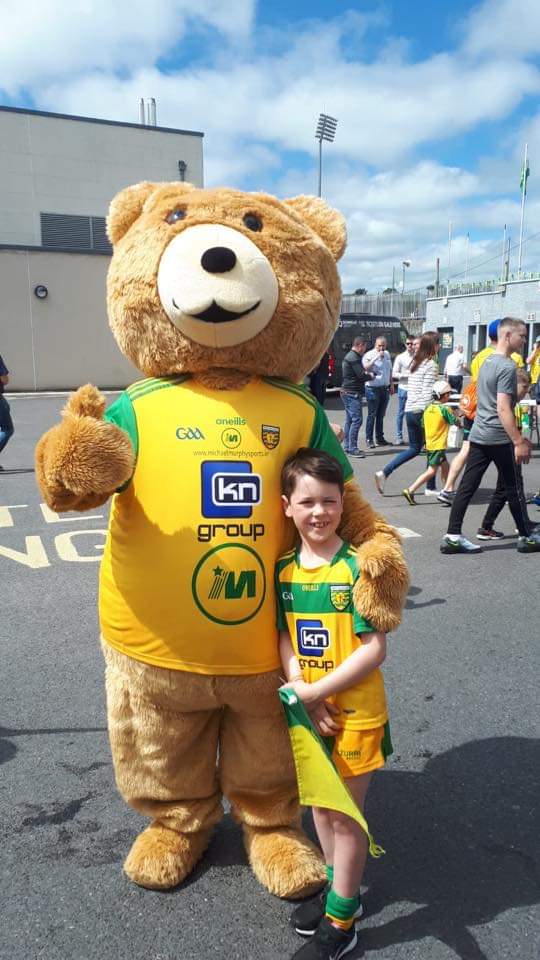 CLUB Review of the Decade 2010-19
The 3rd week of September in 2012 was a week which will live long in the memory of everyone and on that Sunday evening Declan Walsh became the first Malin player to win a Celtic Cross and on the Thursday evening the village was packed to capacity as we witnessed Declan carry the Sam Maguire Cup over the bridge much to the delight of the large crowd in attendance.
From that high, the club suffered one of its darkest days in its history on Feb 20th
2017, when news spread of the tragic death in a car accident of club member and Under 16 manager John McLaughlin (Rustard). John lost his life less than a mile from Connolly Park where he was making his way to take a training session with his young side. John's death left everyone in a state of shock, and somehow football didn't seem so important anymore. He was a hugely popular club member and the large amount of mourners from neighbouring clubs throughout the county was proof of the high esteem John was held in.
We undertook many fundraising drives in recent times to fit our fitness suite with state of the art equipment, which can only benefit the club and indeed the people of the parish in the future, and also ensure that our facilities are the envy of every club and organisation in the country.
While competing in the Senior Championship, we appeared in 2 county semi finals losing narrowly to Killybegs and Glenswilly and also were Division 2 champions in 2012. Our 14s were the toast of the club in 2017 when they clinched the Division 1A league title by defeating Gaoth Dobhair in the final.
| | | | |
| --- | --- | --- | --- |
| Cathaoirleach | Pat McLaughlin (F) | patmclaughlinplumbing@live.ie Shantla, Glengad | 087 2030115 |
| Rúnaí | Brendan Monagle | secretary.malin@gaa.ie Dunegard, Malin Head | 086 3777015 |
| Cisteoir | John Byrne | byrneseafoods@hotmail.com Beaugh, Malin | 086 2507380 |
| Oifigeach Caidreamh Poiblí | Martin Doherty | pro.malin.donegal@gaa.ie Ballynahona, Glengad | 086 1585880 |
| Oifigeach Oiliúna | Kerry McLaughlin | KerryMcLaughlin3@hotmail.com | 086 1595015 |
| Oifigeach Coimirce Leanaí | Denis McGonagle | denismcgonagle@tiscali.co.uk Drumcorbit, Malin | 086 3688579 |
| Oifigeach Slainte agus Folláine | Denise McCarron | denisemalin40@gmail.com Drumcorbit, Malin | 086 3724378 |
| Oifigeach Cultúr | Mandy McLaughlin | shaunandmandy@hotmail.com Shantla, Glengad | 087 2882490 |
| Ball an Bhord Contae: 1 | Pat McLaughlin (F) | patmclaughlinplumbing@live.ie Shantla, Glengad | 087 2030115 |
| Ball an Bhord Contae: 2 | John Byrne | byrneseafoods@hotmail.com | 086 2507380 |
| | | | |
| --- | --- | --- | --- |
| Cathaoirleach | Terence McLaughlin | | 086 1740879 |
| Rúnaí | Kerry McLaughlin | | 086 159015 |
| Oifigeach Caidreamh Poiblí | Martin Doherty | Pro.malin.donegal@gaa.ie | 086 1585880 |
| Toscairí an Bhoird Réigiúnaigh | | | |
| Faoi-7 | Danny Lafferty | dannylafferty@eircom.net | 086 8988180 |
| Faoi-9 | Aidan Gallagher | | 086 3796769 |
| Faoi-11 | Shaun McLaughlin | | 086 8521166 |
| Faoi-13 | Kevin McGeoghegan | Kevin.mcgeoghegan14@gmail.com | 0044 777331404 |
| Faoi-15 | Pat McLaughlin | patmclaughlinplumbing@live.ie | 087 2030115 |
| Faoi-15 Óg Sport | Pat McLaughlin | patmclaughlinplumbing@live.ie | 087 2030115 |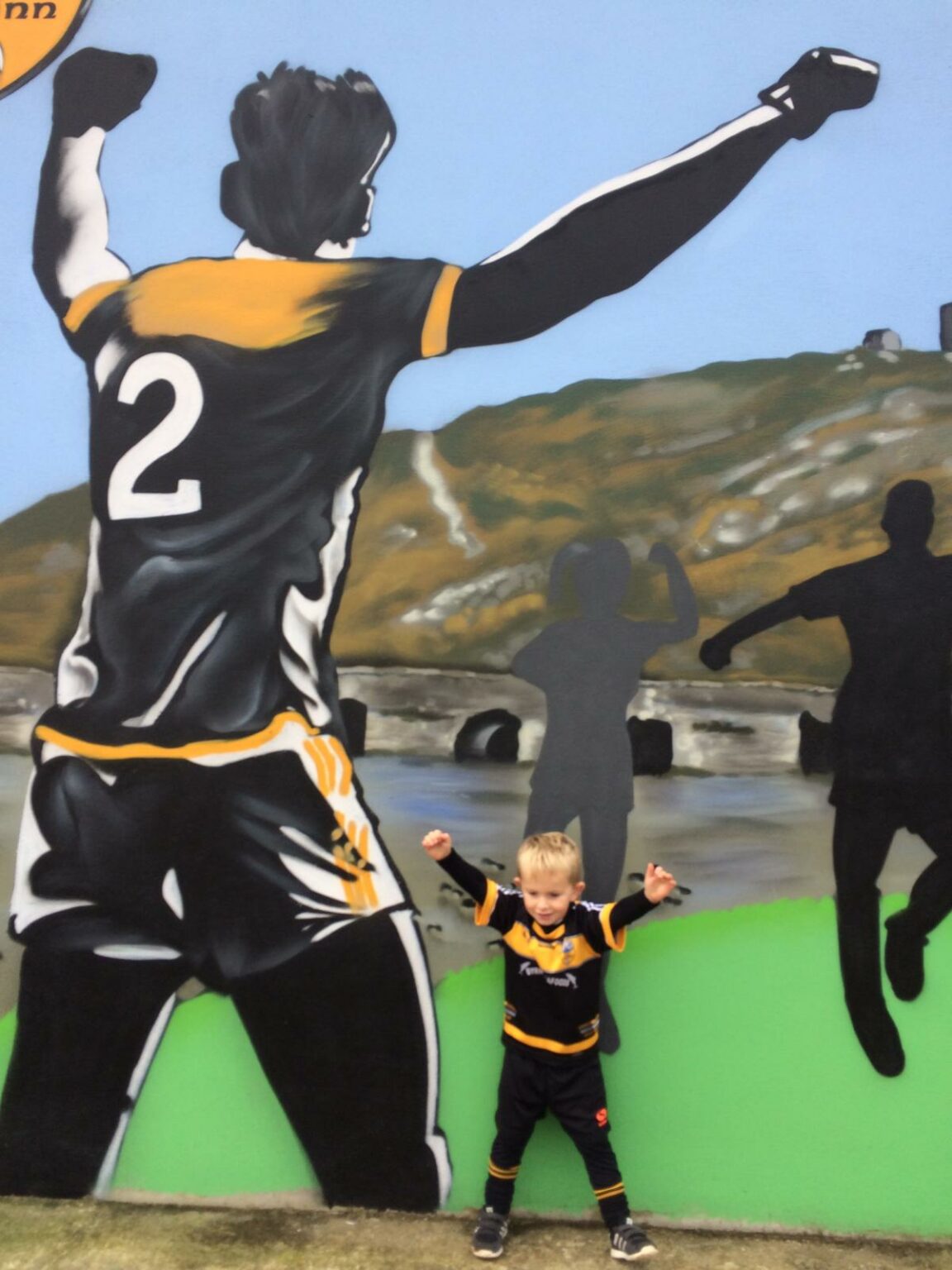 The CLUB YEAR 2019
Our club continues to make steady progress on and off the pitch. On the back of Donegal's recent success, the number of youngsters experiencing the fun and excitement of our national games continue to grow. We hosted many underage blitzs, parish leagues and camps to cater for our ever-increasing numbers. Our coaching academy is paying dividends with many youngsters gaining selection for various county panels; the highlight of the year was Aoife McColgan claiming her 3rd Ulster Senior title. We were also well represented in Colaisti Inis Eoghain squads. Another poignant event in 2019 was the unveiling of the club mural and Kicking Ball Wall in memory of John McLaughlin (Rustard) on the day of the annual 5km.
After suffering relegation on the final day of the previous season, we competed in Division 3 of the ACL. Despite a poor start Malin finished tied in 2nd place with Convoy on 22 points, but missed out on promotion on our head to head record, by a solitary point. In the SFC, we suffered a heavy defeat in our opening game in Kilcar. We fell to a 2nd defeat at home to Termon in a game which could have gone either way. In our final group game at home to Bundoran we produced a superb first half performance but the visitors experience told near the end and they overturned the defecit. In the relegation play-off games we paid the price for a slow start against Four Masters and despite racing into a 9-point lead against Ardara they foungt back and sent us to the Intermediate championship for 2020. The reserves performed admirably in their league and continue to provide younger players with the necessary experience before making the step up to the first team.
The Under 12 girls competed in the Inishowen and ACL, giving very good accounts of themselves in every outing. The Under 14 girls had a great season and qualified for the County final but lost out to Termon. Our under 16 girls didn't collect any silverware but produced some excellent football during the year.
The Under 8 boys had a great year, playing over 20 matches, with maximum turnout at all sessions and games. Thanks to all the coaches and parents who give their time so freely to assist. Our Under 10/11s had a successful year, competing in a large number of games in the Inishowen Go-Games along with blitzs in Ardara and Bellaghy. The Under 12s were a very committed bunch making some great improvements and were extremely competitive in all games. They lost out to Burt in the Inishowen Div 3 final. They competed in the Div 3 blitz in Convoy where our A and B sides collected silverware. The B side came from behind to defeat Convoy in their final, while the A side ousting St. Eunans in their decider.
The Under 14s has a great season going undefeated in the Inishowen league, before losing narrowly to Muff in the final. Undeterred, they went all the way to the Div 1A League final, overturning a 12-point defecit to defeat Termon in the semi, before losing out to N.Conaill. They also gave a good account of themselves in the championship and had an enjoyable day out at the Ulster final, played Scotstown on route. The Under 16s produced some excellent football throughout their Inishowen League campaign, culminating in victory over Muff in the B Final. In the County B competition, they appeared in the final, but unfortunately lost to St. Eunans. Our Minors lost out in the Inishowen semi against eventual winners Buncrana, and were beaten by just 2 points by Glenswilly in the Div 2 final.
As always our club were very active in the promotion of culture side of the GAA, where we participated in both Scor and Scor Sinsear and we were well represented in both codes. We are indebted to the likes of Grace McCarron and Mandy McLaughlin for their hard work behind the scenes ensuring that this side of the organisation continues to grow and prosper in the coming years and benefit future generations to come.
The health and well being committee for year was established in February and was launched in April when we organised a community night with local guests presenting their area of expertise to promote health and well-being. In August, we ran an informative, and very well received talk for our underage members along with their parents and coaches to cover social issues such as alcohol, drugs and mindfulness. Later in the year club officer Denise Mc Carron and some younger members from club attended the county youth matters conference in LYIT. We also ran a defibulator training and refresher course for members of our local community.
2019 ROLL OF HONOUR
UNDER 14 GIRLS County Division League Runners Up
UNDER 12 BOYS  Inishowen Div 3 Runners Up
County Div 3A Blitz Winners
County Div 3B Blitz Winners
UNDER 14 BOYS  Inishowen A Runners Up
County Div 1A League Runners Up
UNDER 16 BOYS  Inishowen B League Winners
County League B Runners Up
MINOR BOYS       County League Div 2 Runners Up
Role of honour
Divisiion 1 u-13 Girls County Championship