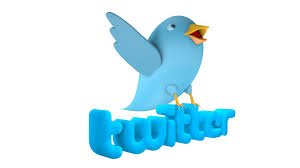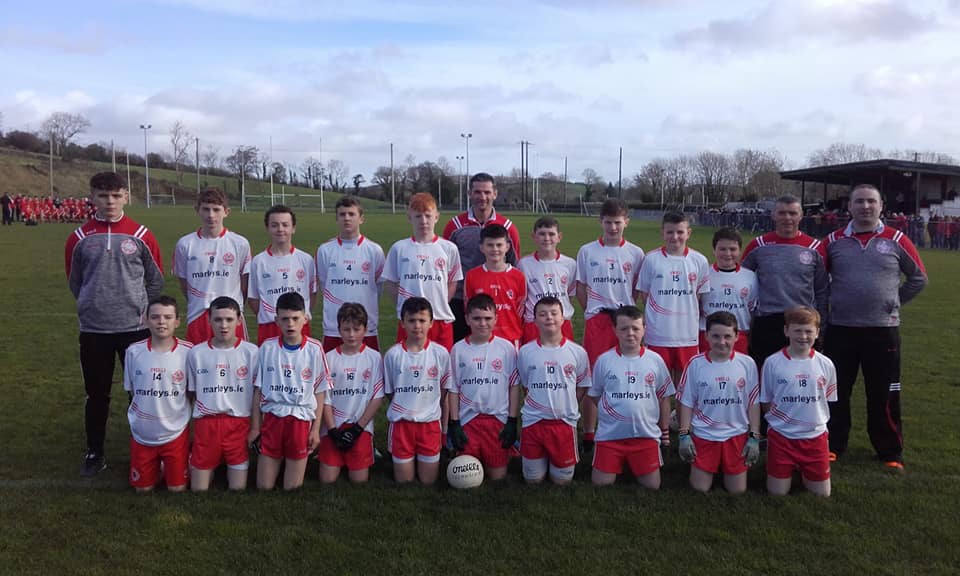 Pairc Taobhoige map courtesy of GAAPitchLocator.net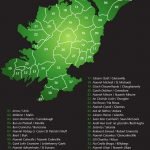 Latest Gleann Fhinne Notes
Lotto Lotto numbers for Tuesday 22nd February were 1-6-3-7-4-2-8-5 . Congratulations to Deirdre Ward who matched 3 numbers to win €60. The jackpot next week €2050.
Registration/Membership Details for 2022
An Foireann is now open for paying membership for 2022. Instructions on how to register and renew membership are up on the CLG Ghleann Fhinne Facebook page. There are also different membership options for families. For further information regarding membership please contact Joanne McKenna.
Comortas Peile Na Gaeltacht – Sinsear
An Clochán Liath 4-12 Gleann Fhinne 1-11
Our Seniors travelled to Rosses Park Dungloe on Sunday for their first competitive game of the Season in the Comortas Peile na Gaeltacht against An Clochán Liath. Both teams were hard to separate in the early exchanges with two Dungloe scores cancelled out by two Shaun Ward frees. Glenfin with the wind advantage pulled ahead through points from Ciaran Brady and Daniel McGlynn. Karl McGlynn got the crucial score of the half when he found himself at the end of a well worked move to bury home from close range. Two Dungloe scores and a Jason Morrow point would leave Glenfin up by 5 at half time. ACL 0-4 GF 1-6 HT.
Second half would prove difficult for Glenfin against the wind and Dungloe used this to their advantage hitting 0-5 with no reply. Dungloe looked the more confident outfit in the second half but Glenfin will rue missed opportunities however defended well to take the game to extra time. FT ACL 0-9 GF 1-6. Black card to Marley close to the end meant Glenfin would start extra time with 14 men. Shaun Ward and Jason Morrow got further scores however Dungloe pressed high with the man advantage and the pressure paid off when they hit the back of the net. Dungloe added their second goal shortly after and extended their lead out to four at the break. Dungloe started the second period as they finished the first and found the net again through strong running from the middle. Ross Marley and Shaun Ward got scores as Glenfin rallied to get back into the game but was too late as Dungloe scored another goal and two points to win on a scoreline 4-12 to 1-11. We wish An Clochán Liath all the best in the rest of the competition.
Glenfin scorers : Karl McGlynn 1-0, Shaun Ward 0-5,Jason Morrow 0-2, Ciaran Brady 0-2, Daniel McGlynn 0-1, Ross Marley 0-1
Schools Football
Congratulations to St. Columba's College u19 team on winning the Markey Cup Ulster final last Tuesday in Cavan .Well done to all the players and management with special mention to the Glenfin trio Jack Long, Daniel Marley and Matthew Wootton . We wish them all the best in the All Ireland Semi Final on Tuesday 1st of March.
County Action
Well done to Aibhe Ward who was apart of the Donegal u14 girls who had wins over Tyrone and Derry last Saturday in the Festival of Football Blitz in Cookstown.
Well Done to Luke McGlynn and the Donegal u20s Squad making it two wins from two in the Leo Murphy Development League beating Roscommon last Saturday afternoon by 4 pts.
Hard luck to Jamie Lee McMahon ,Brenda Carr and the Donegal minor ladies who were beaten by a strong Tyrone team in Páirc Taobhóige last Saturday afternoon.
Review of the Decade – 2010-19
A decade in Red and White – CLG Ghleann Fhinne continued to flourish during the 2010's promoting Gaelic Games in the parish of Kilteevogue. The upgraded playing pitch was opened in 2010 and was acomplimented by upgraded training facilities later in the decade. The club was represented at all levels during the decade fielding 4 adult teams and fielding at all underage levels, boys and girls.
The club celebrated its 40th anniversary in 2015 and is looking forward to further developments on and off the field in decade ahead. The club enjoyed huge success on the playing fields winning the men's Intermediate Championship in 2018 and the Intermediate B Championship in 2017.The club also won county titles at U13, U14, U15, U16, U18 and U21 during the decade. The ladies won 3 Senior Championships in 2011, 2017 & 2018 and competed in 2 Ulster Finals. The ladies also won the 2018 All Ireland Gaeltacht title. Handball is again very popular within the club with underage members winning numerous County and Ulster titles.
The highlight of the decade has been the success of Frank McGlynn in the Donegal jersey where he has represented the club with great honour. Frank taking the Sam Maguire back to Pairc Taobhaoige will live long in the memory. During the decade Frank won an All-Ireland Senior medal, 5 Ulster Senior medals and received an All Star award, a marvelous achievement.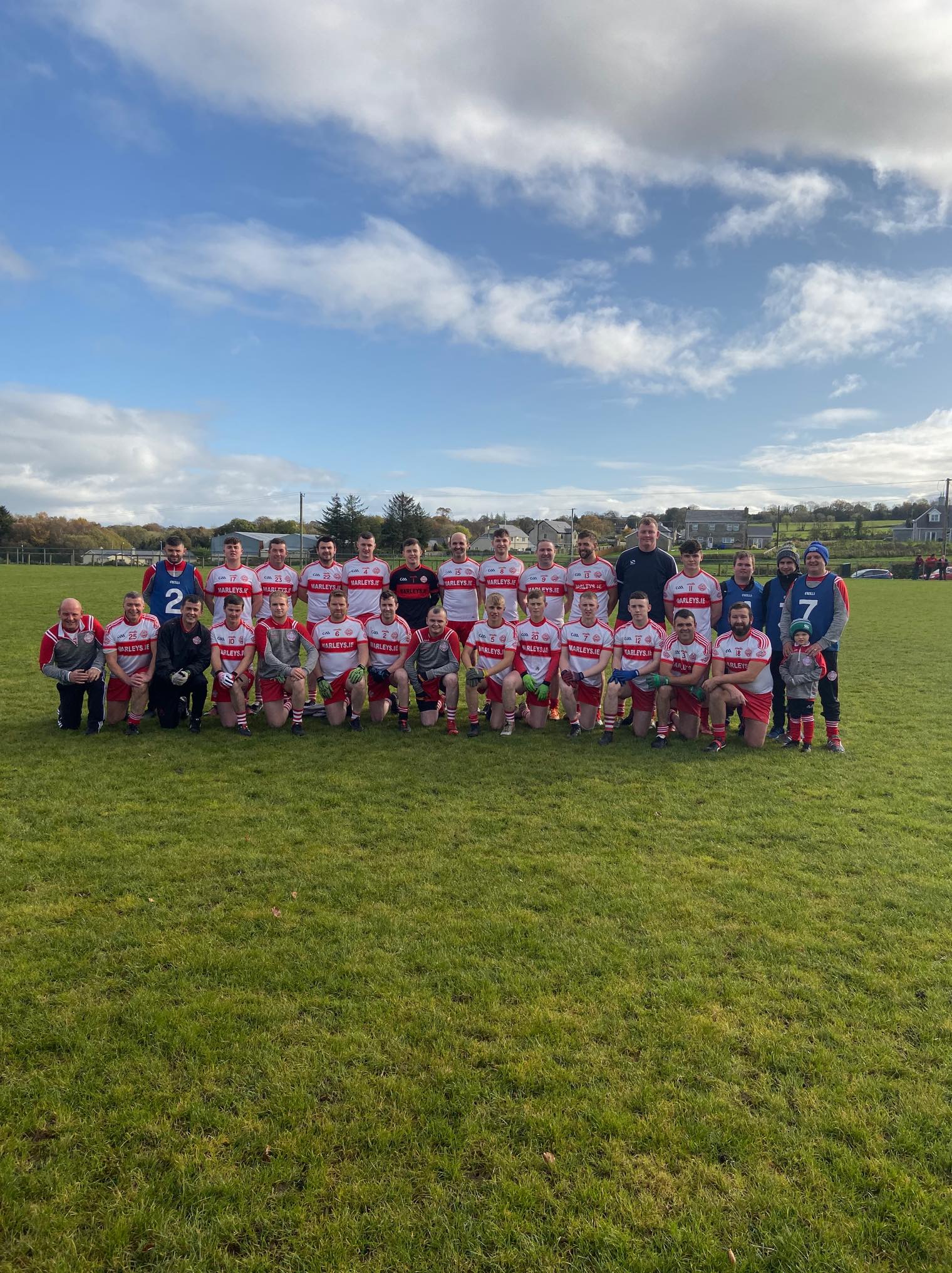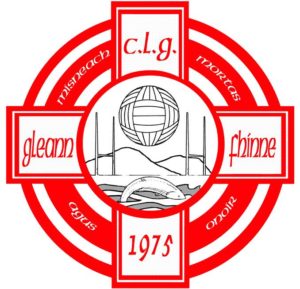 Ainm an Chlub: Gleann Fhinne
Dathanna an Chlub/Club Colours: Ban /Dearg
Alternative Colours: Dearg / Ban
Club Ground: Pairc Taobhoige
Gleann Fhinne – Senior Board
Oifigeach/Officer
Ainm/Name
Seoladh/Address
Fón/Telephone

Cathaoirleach
Padraig Ó'Dochartaigh
pdec.doherty@gmail.com
Garbh Abhann, An Clochán
086 3840049
Rúnaí
Jackie Ní Mhéara
secretary.glenfin.donegal@gaa.ie Baile na mBan, An Clochán
087 1222112
Cisteoir
Sean O'Cnaimhsi
An Bhinn Dubh, An Cloghán
087 2608539
Oifigeach Caidreamh Poiblí
Seamus Ward
SeamusWard61@gmail.com
087 2052481
Oifigeach Oiliúna
Pól Mac Fhloinn
pmcglynn71@gmail.com Tonn Dubh Mhic Tomas, An Clochán
086 8719166
Oifigeach Coimirce Leanaí
Prionsias Mac a Bhaird
Bolbfree, An Clochán
086 2098102
Oifigeach Slaínte agus Folláine
Liam O'Meara
Corlecky An Clochán
086 6605997
Oifigeach ScórOifigeach na Gaeilge
Patricia Ní Chonnchúr
Baile na mBán, An Clochán
087 2316219
Ball an Bhord Contae: 1
Padraig Ó'Dochartaigh
pdec.doherty@gmail.com
Garbh Abhann, An Clochán
086 3840049
Ball an Bhord Contae: 2
Jim Ó'Cuinn
Welshtown, Bealach Feich
087 9499195
Gleann Fhinne – Bord na nÓg
| Oifigeach/Officer | Ainm/Name | E-Seoladh nó Seoladh/Address | Fón/Telephone |
| --- | --- | --- | --- |
| Cathaoirleach | Pól Mac Fhloinn | Pmcglynn71@gmail.com | 086 8719166 |
| Rúnaí | Fainche Dorrian | fainchequinn@hotmail.com | 086 8496827 |
| Oifigeach Caidreamh Poiblí | Seamus Ward | Seamusward61@gmail.com | 087 2052481 |
| Toscairí an Bhoird Réigiúnaigh | | | |
| Faoi-8 | Frank Ward | Bolbfree, An Clochán | 086 2098102 |
| Faoi-10 | Joe McGlynn | | 086 8731038 |
| Faoi-12 | Hugh Foy | Corlecky An Clochán | 086 6605997 |
| Faoi 13 agus 14 | Pól Mac Fhloinn | Pmcglynn71@gmail.com | 086 8719166 |
| Faoi 16 | Ciaran Moy | | 086 3524736 |
| Faoi 18 | Tony Carlin | | 086 8759310 |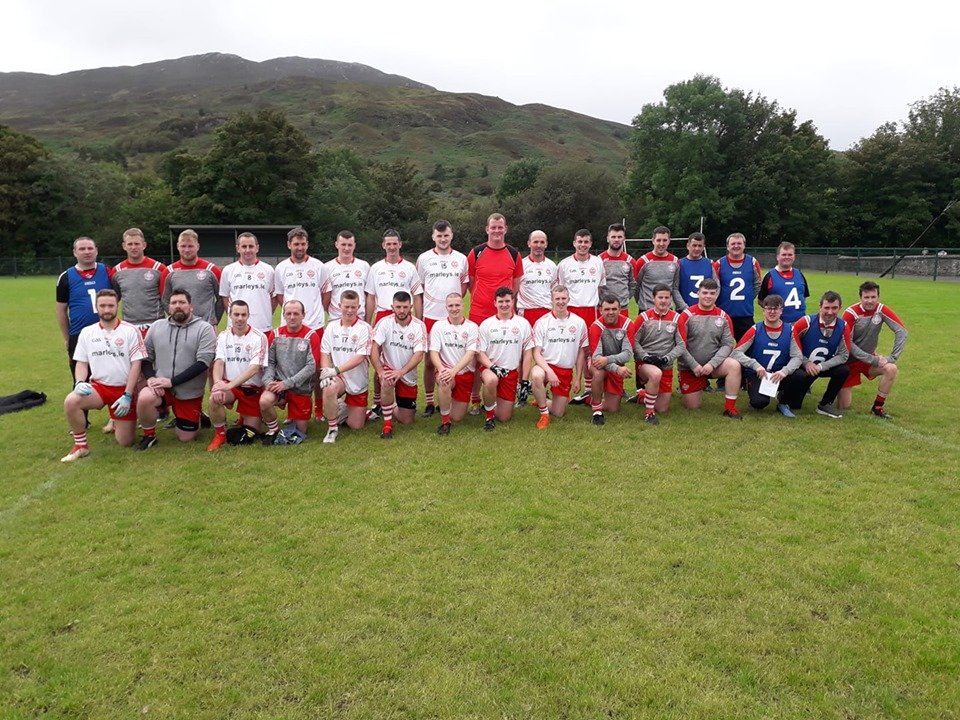 Review of the Year – 2019
2019 was a great year for our U15 boys team who won the Northern Board U15 Óg-Sport final and then went on to become 2019 County Óg-Sport Champions defeating Termon in the final. In Ulster, they went all the way to the Ulster final before eventually being defeated by a strong Lavey team from Derry. Our reserves had a good year also winning the Division 2 league, our third team won the Division 5 league championship and our ladies contested the county Gaeltacht and championship finals. Off the pitch the club is planning to extend the dressing room area and gym facilities. Plans are also at an advanced stage to provide more outdoor training and warm up areas.
Because of the high standards our ladies have set themselves over the last number of years 2019 was a quiet year on the trophy front. They contested the senior Gaeltacht and championship finals losing both to Termon. Karen Guthrie, Katy Herron,
Sinead McGinty and Anna Marie McGlynn were all part of the Donegal senior team that won the Ulster Championship which makes it 3 ulster championships in a row for these girls which is a great achivement.
Oue Senior team played in Division 2 of the league and in the Senior Championship after winning the Intermediate Championship in 2018. They had a mixed league winning 9 out of 18 games and finishing 5th. In the senior Championship they had a good run progressing out of a tough group into the quarter-finals. In the group the drew with Glenswilly, were beat by Milford and then beat Four Masters. In the quarter final they were beat by Naomh Conaill by 4 points in a game they could have won. Overall progress was made and with the introduction of young players into the senior panel the future looks good. They also competed in the senior Gaeltacht beating Cloughaneely away in the first round and then travelled to Termon where they lost by a point.
Our U21 team lost out to Realt na Mara in in the U21B championship after beating Convoy in Round 1. The 3rd team played in Division 5 of the league and in the senior C championship. Our Reserve team played in the Division 2 reserve league and in the senior B Championship. They won the league winning 14 out of 18 games. The made it to the Senior B championship semi-final where they were beaten by the eventual winners St Eunans. They also competed in the Junior Gaeltacht beating Kilcar in the first round but Na Rossa's first team beat them in the second round by 1-11 to 1-07.
U6 Training is ongoing within the Club. The U8's enjoyed a successful year, with a group of 25 participating in a number of Tournaments and winning the Patsy Furey Plate final. Our U12's competed in Division 1 this year where they found it tough going but in a lot of games we were narrowly beating. We also had two children Seaghan McCormick & Amy Dorrian who represented their club at county level and played at halftime during the all-Ireland final. Our U13 girls had qualified for a 3-way play-off at the time of print.  Our U13 boys played in Division 2, they reached the northern board semi-final only to be beaten by Gweedore who went on to win the northern title. We progressed to the 3rd /4th place play off and beat Fanad Gaels. In the County Quarter Final we beat Urris but just lost out to MacCumhaills in the County semi-final. Our U14 boys were competitive in Division 1 League and had a successful run in the Division 1B Championship winning the shield by beating Buncrana in the final.  Oran O'Connor, Jack Long, Ross Bradley and Conor McMenamin were all part of Eastern and County Development Squads. The U15 Boys had a great year – firstly winning the Northern Final before going on to become 2019 County Óg-Sport Champions defeating Termon in the final played in Dungloe on the August Bank Holiday weekend. In Ulster, our lads went all the way to the final before eventually being defeated by a strong Lavey team from Derry. Shaun Ward, Daniel Marley & Darragh Carroll made the County Development Squad. The U16 boys played in Division 2 and were unbeaten in the League before losing the Northern League Final to Red Hughes. In the championship, we won all our group games but were beaten by Naomh Columba in the Co. Semi Final.
The minor ladies started training back in June and played 4 games. They won two games, drew one game and lost one. They played Downings in the county semi-final but lost by a goal. Mary Martin, Katie Long and Danielle McGinley were all part of the minor county team this year. Katie Long and Danielle McGinley were also part of the U-17 development squad. Caoimhe McGlynn played for the U-16 County team. Brenda Carr and Jamie Lee Mc Mahon played for the U-15 County Team. Mary Martin was also chosen for the Ulster Training Academy this year.
2019 Roll of Honour:
Division 1B U14 Shield Champions;
U15 Óg-Sport Northern and County Champions
Division 2 Reserve League Champions
Division 5 League Champions