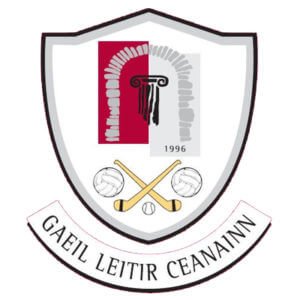 Ainm an Chlúb: Gaeil Leitir Ceanainn
Name of Club: Letterkenny Gaels
Dathanna an Chlúb/Club Colours: Maroon and White
Alternative Colours: White and Maroon
Club Ground: Páirc na nGael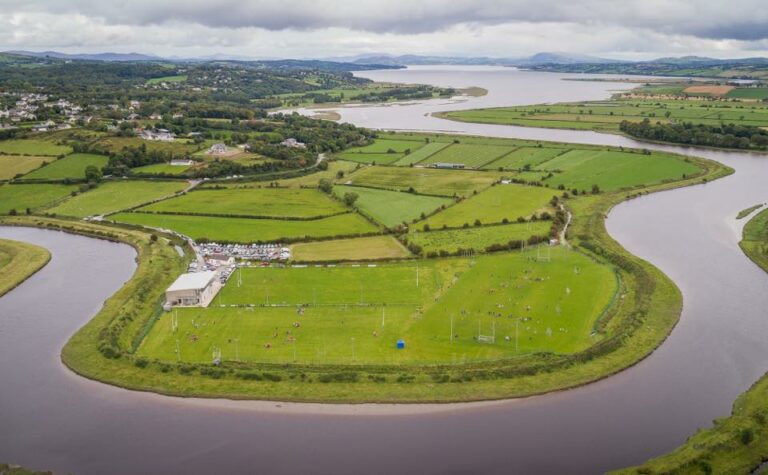 Letterkenny Gaels Latest Club Notes
Our 25th Anniversary sub-committee are delighted to announce that the club have taken delivery of the Clubs's 25th Anniversary publication. The book will be available in the coming weeks. To order a copy or for more information please contact subcommittee Secretary Jim McGlynn on (086) 227 1435 or Club PRO, Mark McFadden on (087) 2931458
Thanks to our club members, their families and friends and members from Comhaltas Leitir Ceanainn who joined us in association with Líonra Leitir Ceanainn at the Silver Tassie for our first session of the year last weekend.
Over 60 people attended and it was great to see so many new faces.
Our next session takes place on 13th March at the Silver Tassie.
The senior footballers got their 2022 season off to a victorious start when they defeated Na Rossa in the Ulster GAA Junior Football League last weekend. This Sunday the lads take on Stewartstown in Tyrone. The game is an away fixture with the throw in at 12 noon.
The senior ladies take on MacCumhaills this weekend in a challenge game in preparation for their upcoming season. Training continues at 7.45pm on Wednesday evenings and 10am on Sunday mornings.
Well done to Louise Doherty and Clodagh O'Connor who played for the county minors on Saturday past against Derry.
The adult hurlers get their season up and running on 6th March when they play Latton in the Ulster Hurling Development League.
Underage football training continues across the club with details below.
U-7, U-8, U-9 & girls; Sunday mornings at 11am at the Aura.
For other age groups and times please contact (087) 228 2386.
Indoor Hurling continues every Thursday at the Aura Letterkenny, from 6 to 7pm for all hurlers up to 11 years old. Hurls and helmets provided.
All new players – boys and girls are welcome to attend.
Bingo continues every Monday evening both indoors at the Arena 7 and online via Zoom. See A7 Facebook page for more details.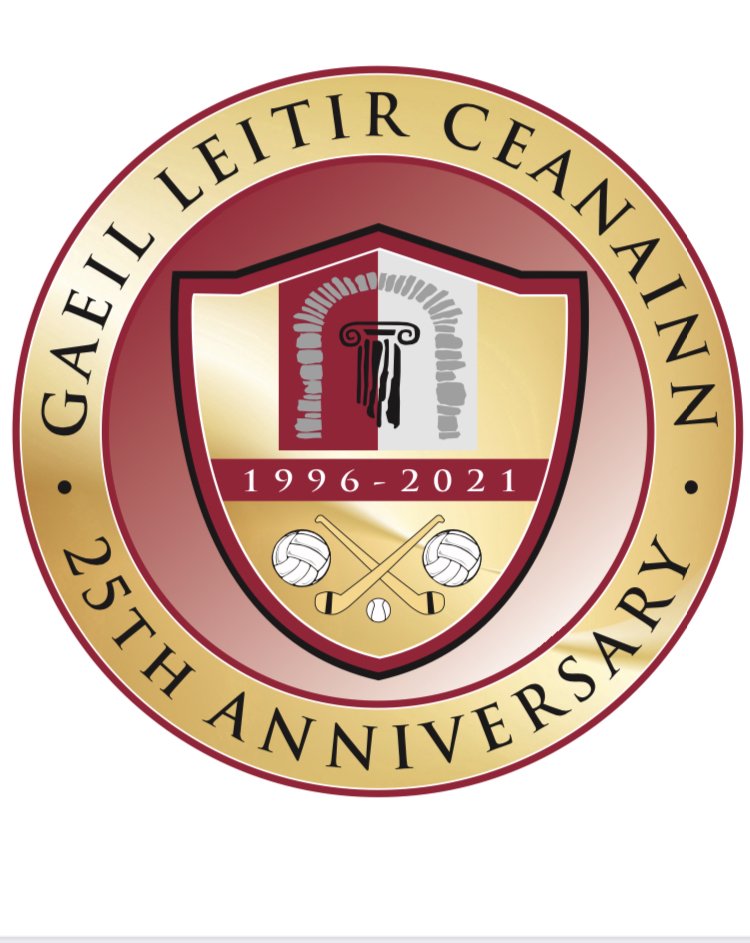 The Club Year 2019
2019 will go down as an historic year for our Club as the senior footballers reached the Junior A Football Championship final for the first time in the clubs history. Another milestone for the club this year was the addition of our first adult Hurling team to compete in the Junior Hurling league. We had success at Scór where our Léiriú group were successful at both Donegal and Ulster level. During the year we hosted the inaugural Fiona Doherty Memorial Trophy in memory of our esteemed club member.
2019 was the most successful year in the club's short history. Our seniors won Division 4 league and both adult teams reached the final of their respective championships. The league campaign consisted of fifteen wins and one defeat. Our only defeat was against fellow promoted Bun an Phobal. The seniors lost the final of the Junior A championship against Buncrana. Our reserves enjoyed a very competitive season in the Region 1 league reaching the final of the competition. The team's combination of youth and experience boded well in the Junior B championship but Urris won by a point in a high scoring game.
Enthusiasm for hurling enabled Letterkenny Gaels to enter a Junior A Hurling Team in League and Championship in 2019. This logical next step for the ongoing participation, development and promotion of Gaelic Games within the Club, builds on the long years of work done across all codes at Letterkenny Gaels, encouraged by support for hurling within the County.
From U-6 to minor the club is going from strength to strength for boys and girls. The underage academy continues to introduce and develop children in the skills of Gaelic football. Both boys and girls teams enjoyed tournaments and blitzes throughout the season with the U-8's taking part in a new 'Street League'. The U-12 boys participated in the Division 1 Go Games leagues and made good progress. 2019 was a relatively successful season for our U-14 boys who the boys qualified for the league knock out phase, losing out to eventual winners Killybegs. Both our U-16 and minor footballers fulfilled fixtures with the U-16 boys reaching a county final.
In Camogie the U-12s entered the Go Games league and had a fantastic turnout at the blitzes. Five U12 girls competed in the U12 Skills competition. We also fielded a team in the U13 league and had three entrants in the U14 Féile Skills Competition this year. In three U14 club members represented the club at county level in the U14 camogie squad, managed by Aideen Quinn, that finished runners up in the All-Ireland Blitz. One club member made the U16 County team that won the All-Ireland Progress to Success league and one was also on the U18 County Camogie team. We thank the Donegal County Camogie Board who provided us with twenty hurls and helmets for school coaching and all coaches, volunteers, players  and parents for their support.
Letterkenny Gaels have entered a team in the Donegal Junior League and Championship for the first time in 2019.  At underage, Gaels have participated in the U-8 and U-10 monthly hurling blitzes at the Centre of Excellence in Convoy. With focus on the developing skills and increasing exposure of the U12 up to U16 teams to match time, Gaels have had a busy year across all those age groups with notable highlights being the strong presence of Letterkenny Gaels hurlers in the County squads at U14, U15 and U20, and success in the U14.5 schools competition, Ulster Feile and 7-a-side competitions as well as final appearances in league and Championship. This focus continues with the Gaels participation in the U13 cross county competitions against teams from Derry, Armagh and Antrim, following on from success in that competition in 2018.
Bhí bliain iontach ag Gaeil Leitir Ceanainn maidir le Scór. Our young céilí dancers were County Champions as was Micheal Mac Suibhne in the aithriseoireacht or recitation section of Scór na nÓg. However it was our senior léiriú drama group that really hit the big time. With a short drama 'Packie McNamee' about two innocent Donegal lads heading to Dublin to watch their beloved County team in the All Ireland Final against Dublin the talented Gaels, Brian, Garry Sheila, Celine and Paul brought the house down. Their comedic timing was polished and the clever script brought victories at County and Ulster levels. The group went on to the All Ireland where they came second. Bhí muid uilig thar a bheith bródúil as an grúpa seo. It has been a great journey for the club and we look forward to more drama from this group! Bíonn seisiúin cheoil do theaghlaigh uair sa mhí ag Gaeil Leitir Ceanainn sa Silver Tassie. Bíonn sonraí ar fáil ar Facebook.
The huge strides being made at underage level shows no sign of slowing down. Michael O'Connor and Diarmaid Doherty took charge of the U-14 and U-16 teams, assisted by Eileen Tinney and Liz Porter. Our U-14s topped their group in Division Three and won a home semi-final against Kilcar. The U-16's had a much improved run of results compared to last season and finished joint fourth in Division 4. After an absence of several seasons, Gaels entered a Minor team in Division 5 this year with Anna Gallagher, James Frain and Michael O'Connor in charge. At the time of publication, the minors look set to qualify for a semi-final.
2019 Roll of Honour: Division Four Football Champions, Junior A and B Championship finalists, Scór Sinsear Donegal and Ulster Champions, U-14 Hurling Championship Shield winners.
Gaeil Leitir Ceannain – Senior Board
| | | | |
| --- | --- | --- | --- |
| Cathaoirleach | Danny Cahill | Chairperson.letterkennygaels.donegal@gaa.ie | 086 8180553 |
| Rúnaí | Declan Barrett | secretary.letterkennygaels.donegal@gaa.ie Fir View, Calhame L'kenny | 086 0751980 |
| Cisteoir | Stephen Gallagher | treasurer.letterkennygaels.donegal@gaa.ie Keenaghan, L'kenny | 086 0472581 |
| Oifigeach Caidreamh Poiblí | Mark McFadden | pro.letterkennygaels.donegal@gaa.ie Glebe Letterkenny | 087 2931458 |
| Oifigeach Oiliúna (Peil) Oifigeach Oiliúna (Iománaíocht) | TBC | | |
| Oifigeach Coimirce Leanaí | Angela McGinley | Childrensofficer.letterkennygaels.donegal@gaa.ie | 087 9322633 |
| Oifigeach Sláinte agus Folláine | TBC | | |
| Oifigeach Cultúr | Bairbre Cahill | bairbre.cahill@gmail.com | 089 4218215 |
| Ball an Bhord Contae(1) | Jim McGlynn | jimmcglynn7@gmail.com Camblestown Letterkenny | 086 227 1435 |
| Ball an Bhord Contae: 2 | Sean McBrearty | seanmcbrearty9@eircom.net Lisnenan Letterkenny | 085 2461101 |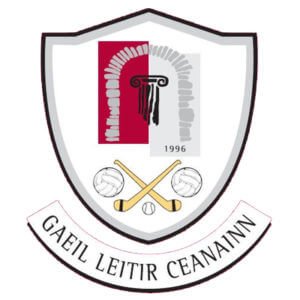 Letterkenny Gaels GAA Club Crest.
The main feature depicts the Arch from the Church at Aughaninshin with its keystone representing the strongest structural support for the building. The vertical lines on the column set on ancient Ohm stones symbolise a community whereas the horizontal cap lines symbolise a bonding and cohesiveness. 1996 is the year of formation of our Club. All of these symbols reflect the solid principles associated with our Club, our members and the wider community.
The Club was affiliated to Donegal GAA on 4th March 1996 and held its inaugural AGM on 10th March 1996. A 25th Anniversary Sub-Committee, appointed to coordinate this significant milestone in the Club's history, have launched a temporary 25 year Letterkenny Gaels Crest to commemorate this landmark.

Gaeil Leitir Ceanainn – 2021
Gaeil Leitir Ceanainn Ulster Champions, Leiriú 2019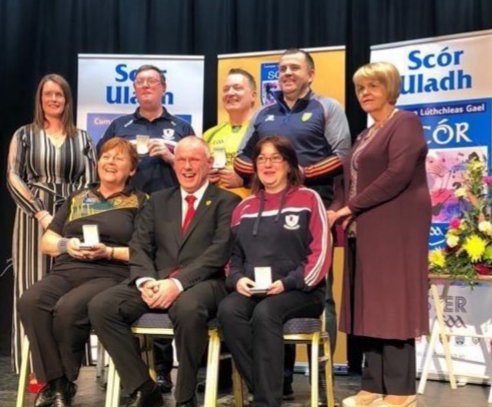 Gaeil Leitir Ceannain – Bord na nÓg
| | | | |
| --- | --- | --- | --- |
| Cathaoirleach | John McDermott | Johnmcdermot26@gmail.com | 086 8561768 |
| Rúnaí | Anthony McDaid | | 086 3895797 |
| Oifigeach Caidreamh Poiblí | Mark McFadden | Pro.letterkennygaels.donegal@gaa.ie | 087 2931458 |
| Toscairí an Bhoird Réigiúnaigh | Brian Sweeney | lkgaelsunderagefootball@gmail.com | 087 2282386 |
| Faoi-8 | Conal Kilfeather | | 087 8420659 |
| Faoi-10 | Kieth Gallagher | | 085 7085339 |
| Faoi-10 | Kevin McGarvey | | 087 6470996 |
| Faoi-12 agus -13 | John McGilloway | | 086 6034598 |
| Faoi-14 agus 15 Óg Sport | Brian Sweeney | lkgaelsunderagefootball@gmail.com | 087 2282386 |
| Faoi-16 agus 18 | Charlie Creevy | | 0044 7850 904785 |
Review of the Decade 2009 – 2019
CLG Gaeil Leitir Ceanainn
(by Jim McGlynn – Club Secretary)
I had hoped that by the time I started penning this reflection on the last ten years of our Club that we would be topping off our promotion back to Division 3 with victories in our first Junior A Football Championship Final and our third attempt to win the Junior B title however, it was not to be. Never the less, our Club has much to celebrate in terms of its continued development both on and off the field as I will outline below.
We started the year 2010 by progressing our plans with LRFC to develop Clubhouse facilities to complement our new Pitch, Páirc na nGael which hosted our first competitive action in 2008. The Building Contract commenced in September 2010. With the continued growth in our playing members, we had to implement a weekly schedule to manage activity on our main pitch and training field and plans were also put in place to lease an adjoining field which was converted to a car park to accommodate the welcome increased traffic.
On the field of play, our Under 14 Hurlers won the first Hurling County title for our Club.
The publication of our first Club website in 2009 afforded us another outlet to promote our Club at all levels and was well received and accessed by members.
Pride of place in 2011 had to go to our Under 21 Footballers who landed the County Under 21B title, a proud day for all involved. The seeds were also sowed with the introduction of Camogie and Ladies Football which widened our Club membership base. Several of our Minor and Under 21 players made their debuts for our Senior and Reserve teams and started to build their experience playing at adult level. Our Club was happy to lead out on the County Board's promotion of Alcohol and Substance Abuse Prevention (ASAP) within Clubs and a Club Children's Strategy, including a Child Protection Policy, was introduced and widely promoted.
2012 seen work on our new Clubhouse progressing well within available funding however, some work remained to be done to render the building fully functional and club members weren't found wanting in volunteering their various skills to assist with the remaining works as funding permitted. Discussions commenced with LRFC on a formal agreement between both clubs on the structured use of both the clubhouse and playing facilities having regard to each Club's playing seasons. On the playing fields, our teams continued to compete well and build their experiences for future challenges in their continued development. Pride of place in 2012 went to our County Senior footballers who reached the summit for the second time in our county's history by winning the Sam Maguire Cup and our members were to the fore in supporting them all along this historic journey. Their achievement was remarkable and was a source of great encouragement to all, especially our Under 21 footballers who competed in the A competition for the first time that year and provided the toughest opposition to eventual winners, Naomh Conaill losing out by a single point at the Q/F stage.
There was a great sense of excitement at the start of our 2013 playing season as the doors to our brand new clubhouse, including six dressing rooms, were opened to our members. A formal agreement was concluded with LRFC for the operation of all facilities which generally worked well and increased the cooperative approach between both clubs.
On the playing front, we continued to make strides at all levels and increased our winnings ratio over the course of the year which resulted in county titles in both Camogie and Hurling. The now standard mouth guard was first introduced in January 2013 for all minor grades and has proven to be a welcome safety feature in our games. This was extended to adult games in 2014. While our senior footballers continued to improve, pride of place went to our senior reserve footballers who reached the Junior B Championship Final, a first adult county final for our club, only to lose out to Naomh Ultan in the Final. The continued progress of our underage players resulted in several being selected to play at county minor and adult levels.
In 2013, the role of Club ASAP Officer was enhanced nationally for all clubs to the position of Club Health and Wellbeing Officer, supported by a County Health & Wellbeing Committee which offered many additional supports to Clubs for their members.
In late 2013, a formal recruitment process was put in place and resulted in the appointment of our senior, reserves, under 21 and minor team managements which included identified foundations and structures to properly support the demands and expectations necessary to progress the club at these levels. Success on the playing field followed quickly with our seniors winning Division 4 of the all-county League and gaining promotion to Division 3 in 2014 for the first time in our history, a very proud achievement for all involved.
Mindful of the need to have similar strong organisation and structures in place at underage levels, we reviewed the existing Bord na nÓg structure and engaged with the wider membership to draw up a revised structure incorporating four sub-committees for underage football, hurling Camogie and ladies football which were approved in late 2014 and have since been successfully implemented.
While every effort was made over the years to take part in the annual Scór competitions, things really started to take off in this important area of promotion of the Irish language and culture following the appointment of a Fo-Choiste Gaeilge agus Cultúir led by Bairbre Cahill at our 2015 AGM. Ably assisted and supported by parents, we started to witness and be entertained by the considerable talent that existed within our youth and adult membership.
Our members competed and entertained at county finals and grew in confidence from the experience with the potential to succeed at county and provincial levels.
Such was the commitment and determination of our members to see our new club room operational; several members put their hands in their pockets and donated interest free loans to fund the remaining works to render our club room operational. The commissioning of this facility in 2015 also afforded us opportunities to embark on new fundraising initiatives including, for the first time, the staging and hosting of comedy plays with the entire cast drawn initially from our youth and adult members supported by a production team. With the support of LRFC, we were able to display our traditional home baking skills and offer this traditional hospitality in their adjoining club room which was well received by our audiences. This first step into the area of amateur dramatics was very well received by our members and the wider community and this recipe for light-hearted entertainment has delivered repeated success to the present day. It has also demonstrated the meitheal approach long advocated within our club. 2015 also seen our underage football and camogie sub-committees draft visionary five year development plans which were approved and set out clear objectives, actions and outcomes for the future development of both codes from nursery right through underage. On the playing front, our seniors retained their status in Division 3 and were disappointed not to progress again in the championships. We finished the year when we were afforded the opportunity to host County Convention in December 2015.
Our PRO, Mark McFadden continued to lead our on the promotion of all our club activities on social media including Facebook and Twitter which became an integral part of our members' daily diet!
In April 2016, our main sponsors, Enda and Clare Nicholls gave our team, led by Charlie Cannon, the opportunity to take on the running of the weekly Bingo on Monday nights in Arena 7 and this has proven to be successful thanks to the dedicated cohort of club members, assisted by TY students, and the weekly and loyal support of our many bingo players in the wider community. 2016 seen our proposal to confine the Junior B Championship to the Reserve Teams of Junior Clubs and the introduction of a Senior C Championship for the third teams of senior clubs approved by County Committee.
Our senior footballers retained their status in League Division 3 and reached the semi-final of the Junior Championship only to lose by a single point to eventual winners, Downings.
Or reserves reached their second county final only to come up short on the day.
Our U-21s were the standard bearers in 2016 when a very young team, which included a good blend of minors, defied all the odds to reach the county final where they lost out gallantly to a stronger Killybegs team. Sheila Sweeney assumed a key responsibility as Club Children's Officer in 2016 and was to the fore in promoting compliance with the GAA Child Protection and Safeguarding and adherence to the Code of Behaviour. Sheila led out on a GAA audit of this whole area in 2017 which focussed on compliance with Garda Vetting, Child Protection awareness and coaching qualifications. In this regard, the role of Coaching has always been to the fore and our Coaching Officer, Sean McBrearty has actively promoted and worked hard to build the base of qualified coaches at all levels, sufficient to cater for our growing underage numbers.
In 2017, the number of players from nursery up to U-16 registered and active exceeded 300 for the first time with a 60/40 split between boys and girls. The entire club rallied to support a proposal from Brian Sweeney and we hosted a very successful U-10 tournament in August which has become an annual fixture on our calendar and has a waiting list of other clubs wishing to take part! Our young hurlers won an U-12 county title and our U-13s took part in and won a North West tournament which included teams from Derry. Our U-14s reached their first A Hurling final only to come up short on the day. 2017 was a challenging year for our senior footballers with an extraordinary number of player injuries and the long-term absence of key players impacted on what was a very competitive Division 3 League resulting in relegation. The team finished top of their group in the Junior A Championship however, the loss of several key players again presented to great a challenge and we lost out to eventual winners, Naomh Colmcille who went on to achieve glory in Ulster. Growing concerns were emerging at the number of failures of other clubs to field in the reserves league which didn't aid our chances in the championship where we bowed out at the semi-final stage. Our Players continued to get recognition at county level including Shay Doherty who played a forward role with the County Minors in 2017 and, unfortunately, came up short in the Ulster Minor Championship. Shane Graham was a member of the County U-21 Football squad and Diarmuid Cahill was a member of the 2017 Buncrana Cup squad. Cathair Doherty and Brian Diver also played for the County Minor Hurlers in 2017. Special mention goes to Brian Diver who won an Ulster Colleges All Star Award in 2017.We finished the year on a high when our all female ballad group won our first Scór county title.
In 2018, our U-14 Hurlers qualified for Féile na nGael and acquitted themselves very well.
A combination of several long-term injuries and mixed form meant that our senior footballers didn't gain promotion back to Division 3. We also came up short again in the Junior Championship and lost the semi-final to Red Hugh's who went on to win County and Ulster titles. Our reserves competed in a much reduced league with very little competitive football. In order to address the absence of regular reserve team football, we successfully campaigned at the annual County Regulations meeting to change the reserve league structure for 2019 to include the reserve teams of all Division 3 and four clubs together with the third teams of Division 1 and 2 clubs which would see a dramatic improvement in competitive games and a significant reduction in failures to field.
The fruits of our Fo-choiste Gaeilge agus Cultúir bore more fruit in 2018 with our club represented in six different categories of Scór na nÓg producing outright winners in Ceilí Dancing and Recitation.
The ongoing efforts of our Ladies Football sub-committee started to also bear fruit in 2018 when we fielded teams at U-13/14/16 and the year was highlighted by the selection of Clodagh O'Connor to play for the county U-14s where she was joined by Andrea Cutliffe.
Camogie continued to field in all age groups from U-8 to U-18 with several club members also being selected for the various county squads. Many of our players represented Woodland NS who won the 2018 large school competition, a great achievement against stiff opposition.
Attention switched in January 2019 to our adult entries in Scór Sinsir where we entered in four different categories and reached the county finals in two namely, recitation and drama with outright victory in the now famous drama piece masterminded by Brian Sweeney and his talented team who performed the Léiriú Stáitse entitled Packie McNamee, originally written by Fergus Cleary and adapted for the stage by Brian. The piece was described as
"a very clever piece with bags of humour and entertainment value!" so much so that our talented players went on to win the Ulster title and finished runners-up in the All Ireland Finals held in Castlebar in April 2019, a very proud day for our club.
As already mentioned, our senior football team management led by Sean McBrearty and John McDermott steered the team back to Division 3 losing only one game in the process and finally got past the semi-final hurdle in the Junior A Championship only to come up short against favourites, Buncrana. The experience will definitely stand to this talented group of players and we can look forward with optimism to finally achieving this county title. Our seniors were joined on the day by our reserves in the Junior B final which they agonisingly lost by the narrowest of margins to Urris. This group of players definitely benefitted from the increase in competitive games and hopefully the revised reserve league format will continue in 2020.
The sustained efforts of all ensured that we ended the decade with almost double the number of youth and adult members and plans are being put in place to further develop our facilities for players and supporters alike.
Fundraising and finance have always been a major challenge as our profile grew over the years and we were lucky to have the benefit of the expertise of John McDermott in the position of Treasurer to guide our club through this period and coordinate this vital area, not to mention all his other roles within our club.
During the ten years, our Club was fortunate to have the benefit of experienced Gaels as Cathaoirleach including James Frain, Dan Harnett, Charlie Cannon and Michael O'Connor.
The past ten years has also seen the sad passing of a few members who will be remembered for their commitment and dedication during their time with us.
We have certainly finished the decade in a much improved place with real confidence and optimism as to what the future will bring and we look forward to continuing to promote Gaelic games and culture for the benefit of all our members and the wider community.
Role of honour
Divisiion 1 u-13 Girls County Championship