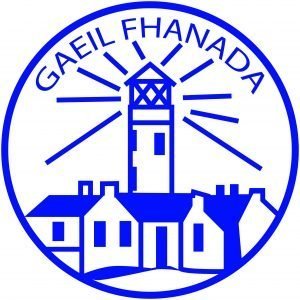 Ainm an Chlub: Gaeil Fhánada
Dathanna an Chlub/Club Colours: Gorm agus Bán
Alternative Colours: Glas agus Buí
Club Ground: Miah Shiels Park Portsalon

Miah Shiels Park, Portsalon, map courtesy of GAAPitchLocator.net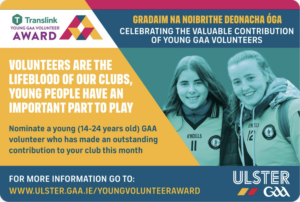 Lotto Results 27/08/2023
🎱 Numbers: 6, 10, 11, 18, 22
❌ No jackpot winner.
💶 €100 Winner: Paul Friel (Online Buyer)
🎰 This week's Jackpot: €4,350
Get your tickets now:
🔵 Online*: https://bit.ly/2vPgMv1
⚪️ Ballylar PO
🔵 Shannagh Shop
⚪️ Blaney's, Kerrykeel
🔵 'Your Stop' shop, Portsalon
⚪️ Clinton's Shop, Tamney
*Online sales close midnight Saturday each week.
Cluichí na Seachtaine
Déardaoin, 31ú Lúnasa
🔵 Cailíní Faoi 13
Gaeil Fhánada v Gaeil Leitir Ceanainn @ 6:00
Páirc Uí Shiadhail
Dé Domhnaigh, 3ú Meán Fómhair
🔵 Peil na mBan - Craobh Idirmheánach 'O'Reilly Sports
Gaeil Fhánada v Naomh Muire Íochtar na Rosann @ 10:30
Na Méilte
🔵 Craobh Idirmheánach 'Michael Murphy Sports' (Cluiche Tacaíochta)
Gaeil Fhánada v Na Dúnaibh @ 1:30
Páirc na nDúnaibh 
🔵 Craobh Idirmheánach 'Michael Murphy Sports' (Cluiche Sinsir)
Gaeil Fhánada v Na Dúnaibh @ 3:00
Páirc na nDúnaibh
Dé Máirt, 5ú Meán Fómhair
🔵 Cailíní Faoi 18
Gaeil Fhánada v Málainn @ 7:00
Páirc Uí Shiadhail
Away Championship trips to Downings and Naomh Muire
As we face into week 3 of championship action, our ladies, reserves and seniors will all take to the road on Sunday in what will be another bumper day of action for our teams. 
Sunday mornings journey for Gaeil Fhánada fans will take us west, but it's a road well travelled at this stage, as the ladies make their way to The Banks to face familiar opposition, Naomh Muire Íochtar na Rosann in their final group game with a 10:30 start time. 
Páirc na nDúnaibh will take centre stage on Sunday afternoon, as our reserves and seniors make the short trip across the Harry Blaney Bridge to face Downings. Both reserve teams have two points on the board thus far, and the throw in time will be at 1:30. At 3pm, the seniors will take centre stage against their Ros Goill counterparts, with both of those sides also sitting with two points after two games. 
The stakes are high for all our teams, and we'd really appreciate a strong Gaeil Fhánada support at both venues this weekend. 
Remember it's a 10:30 throw in time for the ladies on Sunday morning, and then at Páirc na nDúnaibh, the reserves go at 1:30, while the seniors take centre stage at 3pm. 
Ádh mór ar ár bhfoirne. 
Ladies secure comfortable victory over Milford
Our senior ladies made it two from two in their championship group on Sunday morning, as they comfortably defeated a depleted Milford outfit in Páirc Uí Shiadhail. 
Played in miserable conditions in Portsalon, a constant drizzle fell throughout the majority of proceedings. Fanad played away from the clubhouse end in the opening period, and the first few minutes saw the Milford defence snuff any early Fanad threat. Hannah Shiels opened the scoring in the fifth minute, before Caoimhe Walsh finished low into the corner two minutes later. Fanad had a great spell of scores from the 11th to the 15th minute, as Iseult Ní Mhathúna fired over and Miriam Carr also hit two points while Clare Friel put daylight between the sides as she found the back of the net. The scores continued from there as Caoimhe Walsh hit the net for her second goal while Shauna Howe, Caoimhe Walsh x2, Rachel Sweeney and Miriam Carr also added points to the Gaels tally. Caoimhe Barrett offered the main threat for the Milford side as they also registered a few scores, a goal from their full forward the highlight for them. 
The scores dried up for a time after the break, but Gaeil Fhánada found their range again and added further points in the second half from Miriam Carr, Hannah Shiels x2, Rachel Sweeney x2, Aoife Gibbons, Shauna Howe and Eiméar Gibbons. Caoimhe Walsh completed her hat-trick of goals during the second half, and also added a fourth, while Eiméar Gibbons also found the back of the net late on, to complete the Gaeil Fhánada scoring.
Killybegs defeated Naomh Muire by a single point in the other group match played on Sunday morning, which leaves it all to play for next Sunday. 
Gaeil Fhánada will travel to Naomh Muire while Milford will face off against Killybegs to decide which two teams will advance to the semi finals. 
Maith sibh a chailíní as an bhua! 
Rosheen Mc Ginley, Shauna Howe (0:02), Tori Gallagher, Iseult Ní Mhathúna (0:01), Niamh Mc Devitt, Maggie Friel, Eimear Gibbons (1:01), Aoife Gibbons (0:01), Jessica Coll, Miriam Carr (0:04), Hannah Shiels (0:03), Caoimhe Walsh (4:02), Maireád Coll. Subs used: Rachel Sweeney (0:03), Alannah Friel, Caitlin Heraghty, Clare Friel (1:00). Aisling Howe, Samantha Gallagher, Eibhlín Shiels, Méabh Mc Ateer.
Seniors prevail against Naomh Bríd
Gaeil Fhánada 0:10 Naomh Bríd 0:04
Gaeil Fhánada picked up their first victory in this year's championship on Sunday afternoon after overcoming a stubborn Naomh Bríd by six points in Portsalon. 
Gaeil Fhánada played towards the clubhouse in the opening period, and enjoyed whatever advantage the breeze provided, but a lot of the early running was done by the visiting side. They opened up the Gaels defence in the first minute, and Aaron Mc Grory finished the chance as he lobbed the ball over the bar. Oisín Shiels responded in kind a minute later before Naomh Bríd wing forward Darren Russell opened his account to edge the Trummon men ahead in the seventh minute. Naomh Bríd were looking dangerous on the break in the opening quarter and would've been disappointed to miss a few opportunities, a couple dropping short into Mark Mc Conigley's hands. Seamie Friel opened his account from play in the ninth minute, and he edged the Gaels a point ahead two minutes later from a placed ball. Fergal Friel doubled the lead moments later, Gaeil Fhánada making the most of a Naomh Bríd effort which dropped short before moving it down the field with Friel rising highest to punch over the bar from close range. The visitors were next to raise the white flag, and reduced the gap to one with Mc Grory's second point after 14 minutes. Unfortunately from a Gaeil Fhánada perspective, as Paddy Heraghty rushed to block a Thomas Gallagher shot a couple of minutes later, the players clashed which saw the Gaels full back having to hobble off with an injury. Liam Mc Grenaghan got the scoreboard moving again for the hosts as a slight drizzle began in the closing stages of the half. The final two scores before the half time whistle were evenly shared in injury time, Darren Russell for the visitors and another Mc Grenaghan free for the home side. Gaeil Fhánada 0:06 Naomh Bríd 0:04.
The weather took a turn for the worse during the break, with a stronger swirling breeze proving to be a challenge after the break. Scores proved to be elusive for both sides in the opening quarter hour, although Gaeil Fhánada did most of the running. Pauric Mc Daid pulled off a smart save low to his left to prevent a James Kerr shot, while the Gaels also registered several wides during that period. Two long Naomh Bríd deliveries towards Gearóid Gallagher threatened to cause bother, but they were well defended by the Gaels defence. Seamie Friel finally got the scoreboard moving again as he converted a free in the nineteenth minute, and a splendid James Kerr effort followed soon after, much to the relief of the home support. Naomh Bríd threw what they had at it, and were unlucky as they saw two pointed efforts from frees go wide, both with the help of the posts in the final ten minutes. Gaeil Fhánada did keep the scoreboard ticking during that period, adding two further points, efforts from play from Seamie Friel and Liam Mc Grenaghan to secure a six point win, and more importantly registering their first win this year's championship. All focus now moves to Saturday evenings derby match at Páirc na nDúnaibh with both Downings and Fanad now having a single victory from their two games played. 
Gaeil Fhánada: Mark Mc Conigley, Oisín Mc Fadden, Paddy Heraghty, Jimmy Coyle, Calum Mc Ateer, Oisín Shiels (0:01), Odhrán Shiels, Liam Mc Grenaghan (0:03), Paddy Carr, Brandon Mc Clafferty, Seamie Friel (0:04), Darren Mc Elwaine, James Kerr (0:01), Fergal Friel (0:01), Shaun Kerr. Eoghan Carr for Paddy Heraghty, Conor Heraghty for Fergal Friel. 
Cailíní Faoi 12
The u12 Girls were on home soil for their latest encounter, facing off against An Tearmann last week in Portsalon. The teams were quite evenly matched and played out a very entertaining game of football. The Fanad girls battled from start to finish and put in another solid performance. 
Thanks to Termon for travelling to Portsalon and well done to both teams on a good game of football. Maith sibh uilig!
Minor Girls come up short in Urris
The minor ladies travelled light to a wet and miserable Crampsey Park in Clonmany on Tuesday night and came out on the wrong side of the result against a strong home side, who also had the advantage of running a strong bench against a depleted Fanad outfit. 
The overhead clouds of "rain and midges" made for a very uncomfortable encounter but it was the Fanad ladies who were first off the mark from the throw in with a point from Rachael Friel. Urris were to respond immediately with two points of their own. Fanad enjoyed a good ten minute spell after that with points apiece from Meabh Sweenay and Erin Carlin, two from Emma Mc Grenaghan before Rachael Friel also added her second of the evening. The hosts replied in kind however, and pulled back level with a goal and a point in quick succession. 
Fanad got their only goal of the match as a run of excellent play down the middle between Iseult Ni Mhathuna and Emma Mc Grenaghan finished with a ball into the edge of the square, where it was picked up by Bláthnaid Mc Ateer who fired home from close range. Unfortunately, from a Gaeil Fhánada perspective, the home side would dominate the remainder of the half, finding the back of the net on a few occasions. Both teams had hit nine scores by the break but the Urris goals saw them with a decent lead at half time. Iorras 5:04 Gaeil Fhánada 1:08.
The second half continued to be an open fare of football, and the hosts continued to keep the scoreboard ticking. The Gaeil Fhánada girls continued to play good football, and converted some excellent scores during the second half as well, with Rachael Friel, Iseult Ní Mhathúna, Emma Mc Grenaghan, Bláthnaid Mc Ateer, Erin Carlin, Caitlin Heraghty and Jessica Coll all getting on the scoreboard, but the hosts held their cushion and ran out as winners. 
Well done to both sides on a flowing game of football, and credit to the Gaeil Fhánada side who battled until the end. 
Team: Orlaith Mc Grenaghan, Sarah Peoples, Olivia Friel, Caoimhe Kerr, Emma Mc Grenaghan (0:04), Caitlin Heraghty (0:01),  Jessica Coll (0:01), Iseult Ni Mhathuna (0:01), Rachael Friel (0:03), Grace Begley, Erin Carlin (0:02), Bláthnaid Mc Ateer (1:01), Meabh Sweeney (0:02).
Foireann Faoi 11
Our U11 side were looking smart in their new jersey's which got their first run out last Thursday evening when the side played Termon at Páirc Uí Shiadhail. 
Both sides contributed to a great game of football on the evening. 
The U11 coaches and team wish to convey their thanks to Hannah Shiels, who won the new kit when she won the Ulster GAA Young Volunteer of the Year Award in 2022. 
Maith sibh uilig!
Gaelic for Mothers and Others
Gaelic for Mothers and Others continues on Wednesday evenings at 7:30 in Páirc Uí Shiadhail, Portsalon.
Please note the earlier time this week.
Donegal GAA Photography Competition
Donegal GAA are currently running a Photography Competition in memory of Michael Jack O' Donnell. 
Please see our Facebook page for all details. 
200+ Peil na mBan Dún na nGall
Donegal LGFA have launched their new fundraiser, a €20 per month or €220 one off payment ticket. There will be monthly draws of cash prizes. 
If you would like to buy a ticket, please contact any member of our Ladies Board Committee. Full details can be found on our social media.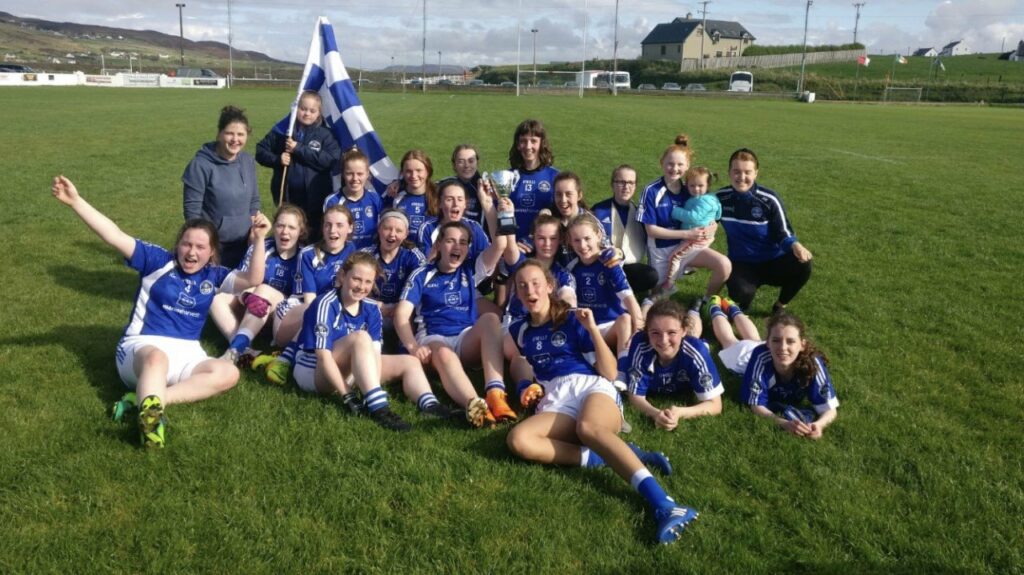 Review of the Decade – 2010-19
Our senior team has spent the decade plying their trade in Divisions 2 and 3 of the All County League. The last four years have been spent in Division 3, with promotion narrowly eluding us on a couple of occasions. We played in the Senior Championship in 2010 and 2012, with St. Michael's and Killybegs ending our interest on those occasions. We reached the Intermediate semi-finals three times, losing out to Cloich Cheann Fhaola in 2014, while Naomh Colmcille and St. Nauls ended our involvement after replays in 2015 and 2017 respectively. Our reserve team has been very competitive in recent years, securing the Division 3 League in 2013, before adding the Intermediate Reserve Championship the following year, defeating Cloich Cheann Fhaola in the final. Two further final appearances ensued without success in 2015 and 2016. They have been among the leading teams in Division 3 consistently in the last number of years and face Red Hughs in the final this coming weekend. Ó thaobh Comórtas Peile na Gaeltachta de, bhain muid an chomórtas soisireach Uile Éireann i bPort Láirge i 2013, agus an chomórtas contae dhá uair, i 2013 agus 2018.
We have won underage titles at most age groups over the past ten years, mostly at Division 2 level. Our most successful crop of players won the U13 Northern and County Championships in 2013, took part in Féile na nÓg in 2014, won Northern League titles at U16 and Minor level in 2016 and 2017, before winning a clean sweep at minor level in 2018.
Ladies football is back and to the fore within the club, with Junior B and Junior A titles in the bag since 2016. The ladies have also won a Division 3 Shield and a Junior County Gaeltacht title in that time and have achieved underage success at U13 (2018), U14 (2019), U16 (2019) and Minor (2018) levels.
One of the most exciting developments is the redevelopment of our grounds, Páirc Uí Shiadhail in Portsalon over the past number of years. We now boast one of the best pitches in the county, and it's a great source of pride for our hard-working members.
Beidh muid ag reáchtáil Comórtas Peile na Gaeltachta an chontae an bhliain seo chugainn, agus tá lúchair orainn fáilte a chur roimh na foirne éagsúla a bheas páirteach i mí Bealtaine.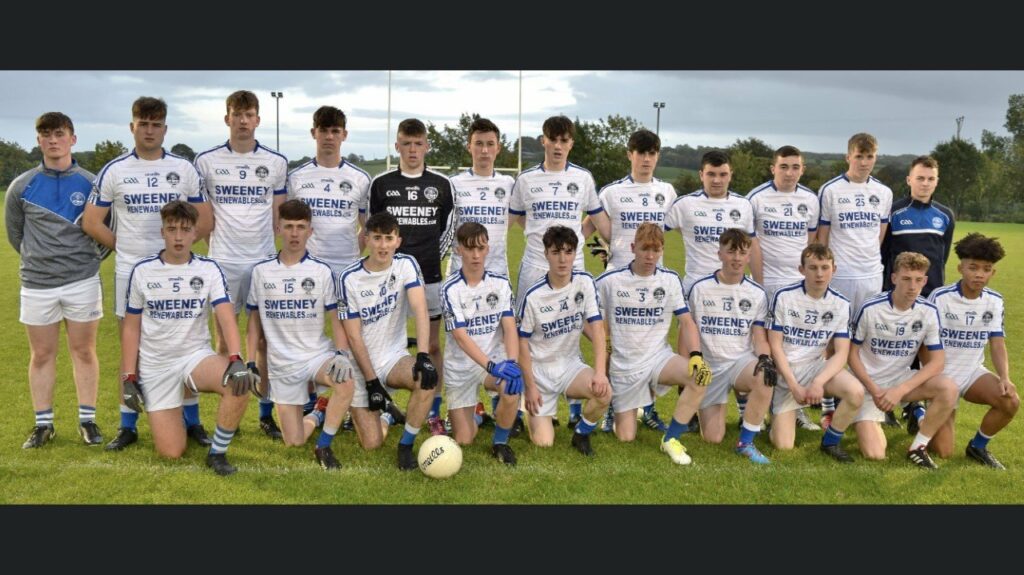 Gaeil Fhanáda – Senior Board
Oifigeach/Officer
Ainm/Name
E-mail Address
Fón/Telephone
Cathaoirleach
Brendan Mac a tSaoir
brendanmca@gmail.com
0863120346
Runaí
Fiona Ní Shiadhail
secretary.fanadgaels.donegal@gaa.ie Fanavolty, Kindrum, Fanad
074 9159670
085 1555645
Cisteoir
Padraig MacSuibhne
treasurer.fanadgaels.donegal@gaa.ie
0872277209
Oifigeach Caidreamh Poiblí
Micheál Ó Frighil
micheal89friel@yahoo.com
087 2993207
Oifigeach Oiliúna
Marc Ó Dorriadhín
Markdorrian93@yahoo.ie
086 2024312
Oifigeach Coimirce Leanaí
Nicola Ní Fhrighil
childrensofficer.fanadgaels.donegal@gaa.ie
086 8030320
Oifigeach Club Sláinte
 Eimear Gibbons
eimearmick97@hotmail.com
086 8765248
Oifigeach Oult
Micheál Ó Frighil
micheal89friel@yahoo.com
087 2993207
Ball an Bhord Contae 1
Marc Ó Dúrorriadhín
Markdorrian93@yahoo.ie
086 2024312
Ball an Bhord Contae 2
Sean Mac Conaglaigh
john.f.donegal@outlook.com
086-4021834
Gaeil Fhanáda 2021
Tráth na gCeist, 2019
Seán Ó Dorraidhín, Maghnus Mac Giolla Bháin, Micheál Mac Giolla Bháin agus Gearóid Pádraig Ó Siadhail.
Gaeil Fhánada – Division 2 u15 Shield Winners 2022
Oifigeach/Officer
Ainm/Name
E-mail Address
Fón/Telephone
Cathaoirleach
Margaretta McConigley
M_mcconigley@icloud.com
086 8744405
Runaí
Claire Duffy
cpmcauley@hotmail.com
087 0649397
Oifigeach Caidreamh Poiblí
Micheal Friel
Micheal89friel@yahoo.com
087 2993207
Regional Board Delegate
Aidan McAteer
mcateera@live.ie
087 7765540
Faoi 5
Meabh McAteer
Tori Gallagher, Emma Friel
mcateera@live.ie
087 7765540
Faoi 7
Jerome Doherty
Jeromedoherty@gmail.com
086 0661450
Faoi 9
Eoghan Walsh, John Carr
Eoghanwalsh559@gmail.com
086 4121597
Faoi 11
Tommy Kerr
Tkerr73@gmail.com
086 3923762
Faoi 13
Shaun McElwaine
086 3778780
Faoi 15
Michael Friel
Micheal89friel@yahoo.com
087 2993207
Faoi 17
MJimmy Coyle
085 1632887
GIRLS
Faoi 10
Maggie Friel
Clodagh McElwaine
Aoife Gibbons
087 699 8537
Faoi 12
Aidan McAteer
Martin Robinson
Emer Gibbons
mcateera@live.ie
087 7765540
Faoi 14
Sean Begley
Miriam Carr
Emma Friel
Sean.begley@mowi.com
087 9153480
Faoi 16
Hannah Shiels
Evylin Shiels
H10shiels@gmail.com
086 451 9177
Faoi 18
John McConigley
Tracey McBride
John.f.donegal@outlook.com
086 4021834
| 1ST TWELVE | | | |
| --- | --- | --- | --- |
| 1 Eoghan Carr | 4 Odhran Shiels | 7 Alan McAteer | 10 Seamus Friel |
| 2 Shaun Kerr | 5 Oisin Shiels | 8 Patrick Carr | 11 Matthew Gallagher |
| 3 Ryan McGonigle | 6 Mark McAteer | 9 Bernard McGettigan | 12 Darren McElwaine |
John Blaney – Valuing the Volunteer
Ulster SF Semi-final, June 8, 2019
Review of the Year – 2019
With the development of our playing facilities at Páirc Uí Shiadhail taking centre stage for several years, 2019 was all about development on the field for Gaeil Fhánada. The adaption of a new coaching strategy at the beginning of the year, coupled with the recruitment drive for new coaches was a significant and welcome development. The successful minor team of 2018 continued to make the step up to senior football, and the experience gained by the lads over the last couple of years will be of huge importance moving into 2020 with the aim of promotion to Division 2 firmly in their sights. The development of our facility continues to take shape, with the exciting plans of a spectator stand unveiled during the year and we look forward to its completion next year. The silverware in 2019 has come from the girls, with titles already in the bag at U14 and U16 level, with the U13's and Minors hoping to add to that in the weeks to come.
Playing in an extremely competitive Division 3, the lads remained in the promotion hunt until the final few weeks of the season. Our form on the road was much improved from 2018, but a couple of disappointing results at home saw our challenge for promotion fade. The integration of Eoin McGonigle, Jonny Gallagher and Shaun Kerr to the team on a regular basis was a huge positive and with the age profile of the team being as young as it has been in many years, there is much optimism for 2020. We were drawn with Naomh Colmcille, Naomh Coumba and Burt in the Intermediate Championship. A defeat at home at the hands of Naomh Colmcille and another on the road against Naomh Columba left us in a precarious position prior to the third game. A stirring final ten minutes against Burt secured the crucial victory that confirmed our Intermediate status for next year. Unfortunately, our U21 campaign was short lived, as the lads lost out in a cagey quarter final against Termon at the Burn Road. Both teams were managed by Aidan McAteer in 2019.
The reserve team, under the management of Bernard McGettigan, performed very well in the league, but it was also frustrating for the lads as quite a few teams failed to travel to Portsalon during the year. Nevertheless, they qualified for the Division 3 final, and are due to face off against Red Hughs this weekend. The championship campaign was also marred with similar problems and the lads made their exit at the hands of a strong Aodh Ruadh side at the quarter final stage. A word of thanks to all the players, to Aidan and Bernard and their management teams for their effort and commitment during the year.
It was a challenging year for the boy's teams, with silverware eluding us after a very successful 2018. The teams were led by a very committed and dedicated group of coaches that we're indebted to for their work throughout the year. The minors missed out on a place in the quarter-final after Dungloe prevailed in a winner takes all encounter. The highlight of the year was a brilliant championship victory on the road against Naomh Ultan. The U16 team had to call on quite a few U14 players as numbers are scarce at that level. The lads performed very well this year and with most of the players still underage next year, there's plenty to be positive about.
The U14 team performed well in the league campaign. A series of injuries, holidays and other commitments hampered the team's progress in the height of the summer, but there remains great potential within that group of lads. It was a similar story at U13 level, but the lads have great ability and will be looking to show that next year.
There were regular training sessions and blitzes for all our teams at U6, U8, U10 and U12 levels, with the highlight of the year being the parish league held in September and October. Well done to the huge number of coaches who helped at all age groups and to the players who improved and developed their skills throughout the year.
Bhain ár bhfoireann Tráth na gCeist dhá chomórtas i rith na bliana, an Comórtas Scór agus Tráth na gCeist Bórd an Chontae. Is iad Seán Ó Dorraidín, Maghnus Mac Giolla Bháin, Micheál Ó Frighil agus Micheál Mac Giolla Bháin baill an fhoireann.
Well done to our club referees Mark Dorrian and Siobhán Coyle. Mark refereed the County Intermediate final, while Siobhán was on the line for the All Ireland Ladies football final in September. Well done to Seamie 'Coshia' Friel who was a member of the Donegal Masters team who won the All Ireland in September.