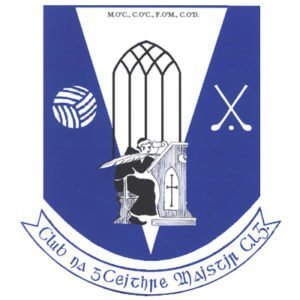 Ainm an Chlub: Na Ceithre Máistirí
Dathanna an Chlub/Club Colours: Gorm agus Bán / Blue and White
Alternative Colours: Bán agus Gorm / White and Blue
Club Ground: Tír Conaill Páirc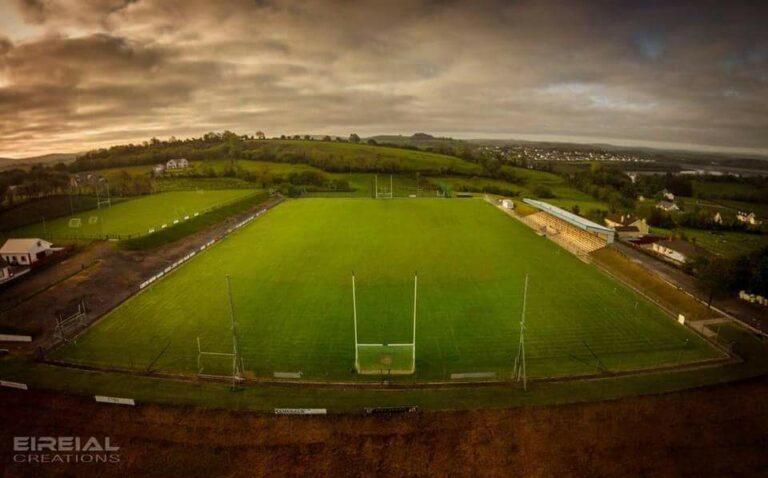 Four Masters G.A.A. Club is based in the parishes of Townawilly and Killymard, Donegal Town. Four Masters is one of the oldest and most successful clubs in County Donegal with it's origins dated back to 1905 when the club was first founded under the name "Ball Dearg Hurling and Football Club". We are a very progressive club with 23 teams competing in Hurling, Gaelic Football and Ladies Football.We strive to provide our members and children with the best facilities available.
Four Masters are the only Donegal representatives left in the Ulster GAA football leagues with Buncrana and Letterkenny Gaels both losing narrowly in the semi-finals last weekend. The Donegal sides play their semi-final this weekend in Ballinascreen following a convincing win against Kiltyclogher in their quarterfinal yesterday. Ulster GAA Football – Senior Club League …
Read More

→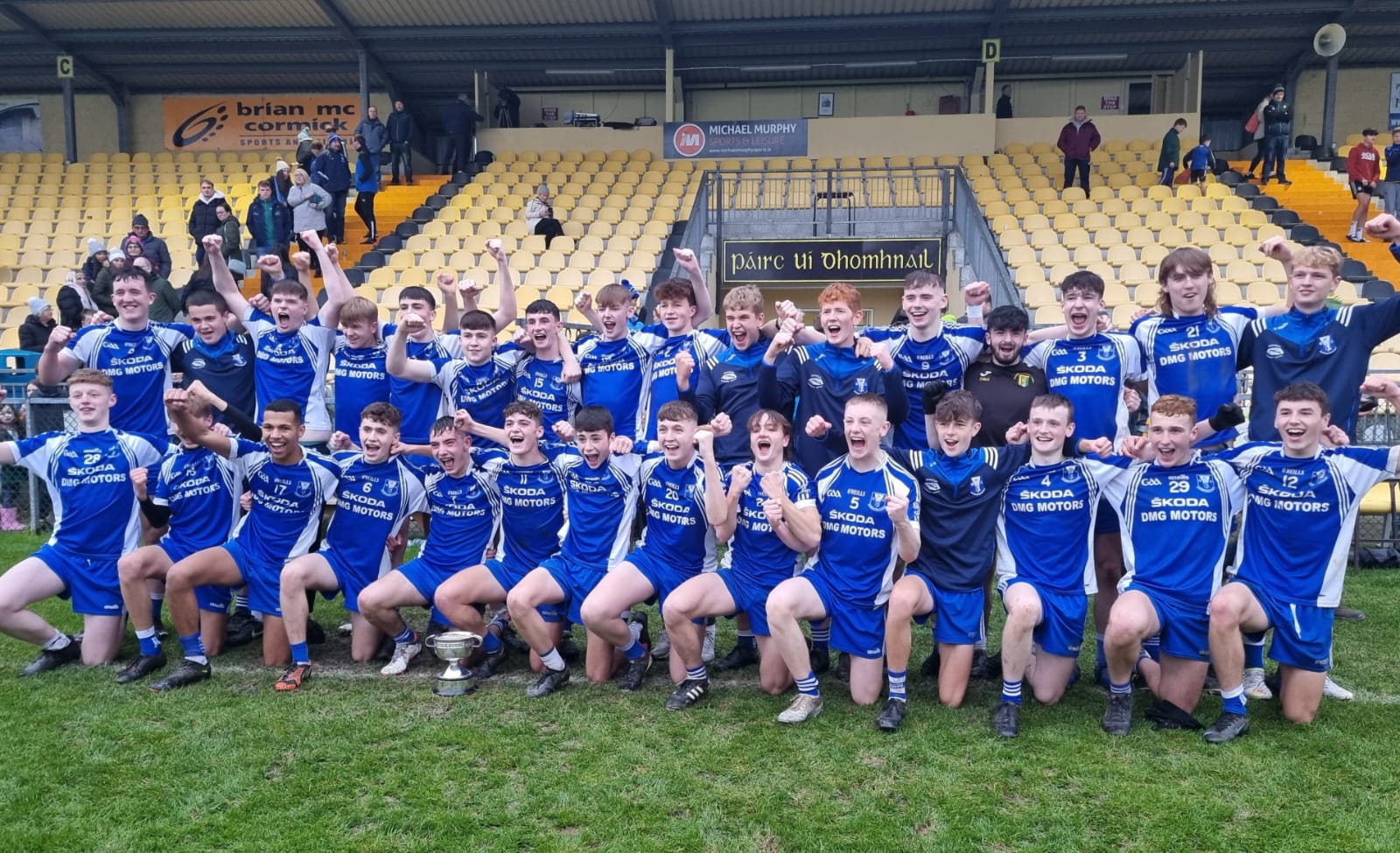 Four Masters - Division 1 Minor Champions 2022
Latest Club Notes – Four Masters
*GAA Season Ticket!*
Buy a GAA Season ticket and support your local Club!
Purchasing a "Club Plus" GAA Season Ticket will cover your 2022 membership to The Four Masters and on top of that your Club will benefit by gaining a reduction in its levy's to the county board. Your Ticket will get you into all county Allianz league games, first round of the championship but also gives you free admission to all club games including club championship. To buy yours, go to https://am.ticketmaster.com/gaaseasontickets/donegalfb22
*Super Bowl Fundraiser*
We have sold out the first 100 boxes for our Super Bowl fundraiser, and we are currently taking names for a second 100 boxes, if we have sufficient interest we will run another one.
This is how it works: There are 100 boxes for sale, each costing €50. There will be a total of €2,000 paid out in prize money; 1st quarter winner gets €250, half time winner gets €500, 3rd quarter winner gets €250, and full-time winner gets €1,000. If the games goes into overtime, it counts as the full time winner instead of the 4th quarter winner.
Contact Pauric Harvey (0860523905), Rory O'Donnell (087 887 2283), Charlie Martin (087 633 0996), or Katrina Shovlin (087 281 8364) if you are interested in taking a box.
*Club Membership* Club membership for 2022 can now be paid online at www.foireann.ie Deadline for membership is 15th February.
All players/coaches/manager/helpers must have a paid membership before a team can begin training. If any underage parents have queries on registration, please contact Ladies Board Registrars Mary Crawford (086 8207942) or Rachel Crawford (086 6082884) if related to girls football, and Bord na nÓg Registrar Michelle Mc Shane (086 0436806) if related to underage boys football, camogie or hurling. Thank you
*Club Lotto*
We have a Winner!!
Club Lotto weekly draw results from Monday 31st January:
This winner of the Club Lotto Jackpot of €1000 is Donal Dunnion, Townalaghan and New York who had the winning numbers 5, 11, 13 & 21. Congratulations!! Next weeks Lotto Jackpot will be €300
New members are always welcome, so play online before 4.00pm on Monday and be in with a chance of winning the €1000 jackpot. https://clubforce.com/…/gaa-four-masters-g-a-a-club…/
*Ireland Lights Up!*
We continue to open up our facilities on a Wednesday evening at 7pm for anyone who wants to get out for a walk, in a safe and well-lit place, meet a few friendly faces and walk at a pace that suits you. Suitable for Adults and children. Walk as little or as much as you want.
Club Review of the Year – 2019
Four Masters Under 14 boys football team created history in the club, becoming the first team to win an All Ireland title when they won the Féile Division 2 title at the Connacht Centre of Excellence in late June after a great weekend in Ballinasloe, Galway. Hosted brilliantly by Ballinasloe the boys beat St Michael's (Galway), Portarlington (Laois), Ballinasloe (Galway), Seneschalstown (Meath), Castlebar Mitchells (Mayo) and Claremorris (Mayo) on their way to the Féile title. The squad returned home to a packed Diamond during the Summer festival which added to the memories for all the boys and coaches.
At Senior level it was a disappointing year for the Club culminating in relegation to Division 3 for the first time in more than 30 years. While extremely disappointing some green shoots were in evidence with strong showings in big wins over Glenswilly and Malin in the Senior Championship, the latter ensuring the Club's place in the Senior Championship for 2020. The introduction of young players to the Senior team, a number making their league and championship debuts brings optimism for 2020 with a speedy return to Division 2 being the minimum goal.
The Reserve Team were competitive in Division 2 League and missed out on a Senior B Championship Quarter-Final on the head-to-head with Glenswilly having beaten Milford and drawn with Glenfin. Our Under 21's have continued the success of our underage teams with good wins over Milford and Kilcar but lost out in the County Division 1 Championship Semi-Final.
The Four Masters Ladies fielded teams in all age groups from Under 8 to Senior in 2019. The Senior Ladies teams played in Division 2 of the league and the Intermediate Championship.
2019 was a brilliant year within the underage boys football section of the club. Each team was very competitive across all competitions with all teams coming away with a county or a regional title in what goes down as one of the most successful years ever in the club.
Under 14 boys football team created history in the club, becoming the first team to win an All Ireland title. The Under 14's also won the Under 14 Division 1 County title against Mac Cumhaills to round off a memorable year for all involved. Our Under 14 Division 3 team also won the SRB title.
Minor boys defeated Cloughaneely in the County Division 2 Championship Final and await Naomh Muire in the Division 1 County league semi-final. Under 16 boys team won the SRB Division 1 league title against Aodh Ruadh before winning the County Division 1 League title against Buncrana. Under 12 boys teams both won the SRB Division 1 titles against Ardara in late June before both losing out in both county finals.
Under 13 boys won the SRB Division 1 title against Naomh Conaill before going on to defeat Cloughaneely in the County Division 1 Final. The club has now won three out of the last four Under 13 County Division 1 titles.
Under 11 boys teams lost out in five finals at blitzes and memorial tournaments, making good progress throughout the year. Under 10, Under 9, Under 8 and Under 7 boys teams won numerous Cups and Shields in 2019.
Our Girls also had a successful year with Minor, Under 16 and Under 14 teams reaching the County Semi-Final stages of their respective competitions. The Under 12 team topped their group and went on to compete in the Division 1 League with some exceptional victories along the way. Another highlight was the visit of the Under 10 girls to play in Croke Park, this proved a wonderful experience for the girls and a day to remember. The Under 8 and Under 10 girls went on to compete in the newly formed blitz structure for their age groups.
Highlight for Camogie this year was having six girls on the All-Ireland winning Donegal under-16 team with club coach Laurence Doherty also involved. Hurling has seen an increase in the number of boys getting involved and the club also took part in Ulster Tain Óg League at under-15 level.
2019 Roll of Honour:
Under 21 Football: Division 1 County Semi-Finalists.
Under 18 Boys: Division 2 County Champions & Division 1 League Semi-Finalists. (currently ongoing)
Under 18 Girls: County Semi-Finalists.
Under 16 Boys: Division 1 County League Champions & Southern Board Division 1 Champions.
Under 16 Girls: County Semi-Finalists.
Under 14 Boys: Division 2 All Ireland Féile Champions, Division 1A County Champions & Southern Board Division 3 Champions.
Under 14 Girls: County Semi-Finalists.
Under 13 Boys: Division 1 County Champions & Southern Board Division 1 Champions.
Under 12 Boys: Southern Board Division 1 Champions.
Under 12 Girls: a stand out year having topped their group and went on to compete in the Division 1 League with some exceptional victories along the way.
Under 11 Boys: teams lost out in five finals at several blitzes and memorial tournaments, making good progress throughout the year.
Under 10, Under 9, Under 8 and Under 7 Boys teams won numerous Cup and Shields in what has been a remarkable year for our boys' football teams.
Na Ceithre Máistrí – SENIOR BOARD - 2023
| Oifigeach/Officer | Ainm/Name | Seoladh/Address | Fón/Telephone |
| --- | --- | --- | --- |
| Cathaoirleach | Pauric Harvey | chairperson.fourmasters.donegal@gaa.ie | 086 0533905 |
| Rúnaí | Emer Leape | secretary.fourmasters.donegal@gaa.ie | 087 2070708 |
| Cisteoir | Katrina Shovlin | treasurer.fourmasters.donegal@gaa.ie | 087 2818364 |
| Oifigeach Caidreamh Poiblí | Maria Griffen | pro.fourmasters.donegal@gaa.ie | |
| Oifigeach Oiliúna | TBC | | |
| Oifigeach Coimirce Leanaí | Michael Kilcoyne | Childrensofficer.fourmasters.donegal@gaa.ie | 087 4544236 |
| Oifigeach Club Sláinte | Liam Hegarty | Liam.hegarty@centre.ie | 086 4075133 |
| Oifigeach Cultúr | Odhran McBride | omb1974@hotmail.com | 087-4079014 |
| Ball an Bhord Contae: 1 | Greg McGrory | greg.mcgroary@molsoncoors.com | 087 2506315 |
| Ball an Bhord Contae: 2 | Michael Kilcoyne | michaelkilcoyne@gmail.com | 087 4544236 |
Oifigeach/Officer
Ainm/Name
E-mail Address
Fón/Telephone
Cathaoirleach
Charlie Martin
charles.martin@welfare.ie
087 6330996
Runaí
Regina Doherty
fourmastersbordnanog@gmail.com
087 2978543
Oifigeach Caidreamh Poiblí
Damien Dunnion
damiendunnion@hotmail.com
087 6167108
Regional Board Delegates
Charlie Martin
Seamus McAnaw
charliemartin100@hotmail.com
mcanawseamus@gmail.com
087 6330996
085 1742434
Faoi 7 (if applicable)
Peadar Espey
contactpeadar@gmail.com
086 389 3513
Faoi 9
Emlyn Hughes
Emlynj.hughes@tusla.ie
087 967 7059
Faoi 11
Conor McDermott
conor_mcdermott@tjxeurope.com
087 2829183
Faoi 13 (Division 1)
Emmett Casssidy
Rory O'Donnell
ecasst2000@yahoo.co.uk
ruairi772001@yahoo.com
087 6777908
087 8872283
Faoi 13 (Division 2)

Ronan Mc Mullin

Matthew Erskine

ronanmcmullin3@gmail.com
087 697 5447

087 679 6026

Faoi 15 (Division 1)
Trevor James
trevor@rhatiganarchitects.ie
085 1323256
Faoi 15 (Division 2)
Conor McMonagle
conormcmonagle89@gmail.com
087 287 9703
Faoi 17 (Division 1 & 2)
Greg Doherty

Odie McBride

gregfdoherty@gmail.com
086 242 3565

087 407 9014
| 1st Twelve | | 2nd Fifteen | |
| --- | --- | --- | --- |
| 1 David Quinn | 7 Aaron McCrea | 1 Jamie Crawford | 9 Sean Meehan |
| 2 Sean O'Kennedy | 8 Martin Cassidy | 2 Aidan Mchugh | 10 Eoghan Corley |
| 3 Dylan Kennedy | 9 Darren Doherty | 3 Cathal Canavan | 11 Odhran quinn |
| 4 Leo McHugh | 10 Conor McMonagle | 4 Jason Duignan | 12 Darrragh Geary |
| 5 Richard O'Rourke | 11 Killian Faulkner | 5 Shay Travers | 13 Cian Hegarty |
| 6 Daire Quinn | 12 Brian Fagan | 6 Senan Quinn | 14 Patrick Reid |
| | | 7 Matthew McKenna | 15 Caolán Loughney |
| | | 8 Dillon Muldoon | |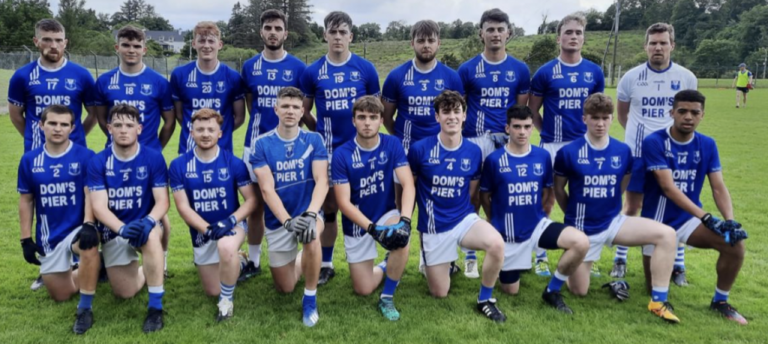 Four Masters Senior Footballers 2021
Club Review of the Decade 2010-19
The highlight certainly of the decade was Monday September 24th 2012 when three of our players, Karl Lacey, Paul Durcan and Barry Dunnion carried the Sam Maguire Cup into the Diamond in Donegal Town for only the second time in the history of Donegal GAA. It certainly was a golden year as Karl was named the 2012 Player of the Year with Karl and Paul also collecting GAA/GPA All-Star Awards for themselves.
2014 was also a special year for the club welcoming the Donegal Senior Footballers and the Anglo Celt Cup back to the Diamond with a 3rd Ulster Senior Football Championship in 4 years safely in the bag. That was a particularly a memorable day in Clones as the Minors lifted the Fr. Murray Cup and therefore for the first time in Donegal GAA history both the Fr. Murray and Anglo Celt Cups came to the Diamond on the same evening.
Further history was made on Sunday August 31st when our Minors and Seniors overcame Dublin in enthralling semi-finals and so both our teams graced Croke Park on All-Ireland Final Day. Unfortunately, results conspired to go against Donegal on the day but that does not take away from the tremendous enjoyment and sense of pride that the Minor and Senior footballers gave to the Donegal people at home and abroad. Again Karl Lacey and Paul Durcan were key players in that 2014 team.
Having picked up 4 x GAA/GPA All Star Awards in 2006, 2009, 2011 2012 along with his Player of the Year accolade in 2012, 3 x Ulster Senior Championships, 1 x All-Ireland Senior Championship and 1 x National Football League, Karl Lacey became the county's most decorated player, an incredible achievement for Karl on a personal level.
The Club was also very proud when Sean Dunnion was elected as County Chairman in December 2012 holding the highest position in Donegal GAA for a five year term 2013 – 2017.  Sean became only the second club member to hold the position following in the footsteps of the late Frank Muldoon who was County Chairman on two occasions 1956 – 1958 and 1969.
Finally, there was a big increase in playing numbers at underage and improvements made by our underage teams in all competitions, helped by the Coaching Academy being introduced by the Club. We also developed a new training pitch at Tir Conaill Park during the decade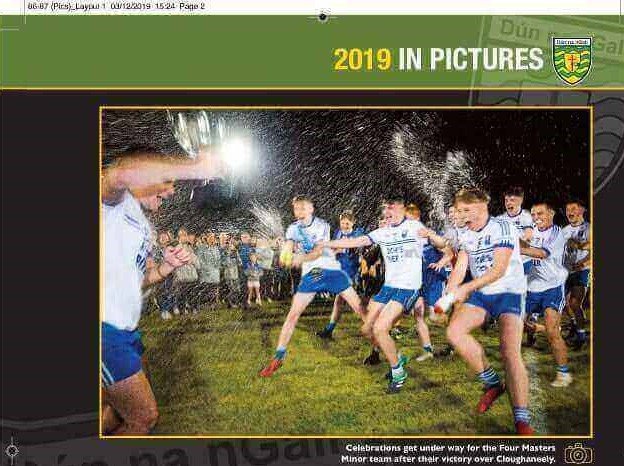 Four Masters – Minor League Champions 2019