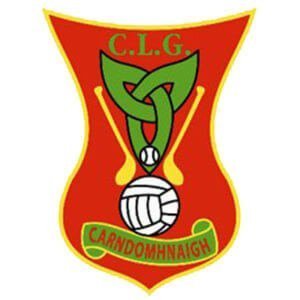 Ainm an Chlub: C.L.G. Carndomhnaigh
Dathanna an Chlub/Club Colours: Glas agus Dearg/Green and Red
Alternative Colours: Gorm agus Buí/Blue and Yellow
Club Ground: Pairc Ui Dhochartaigh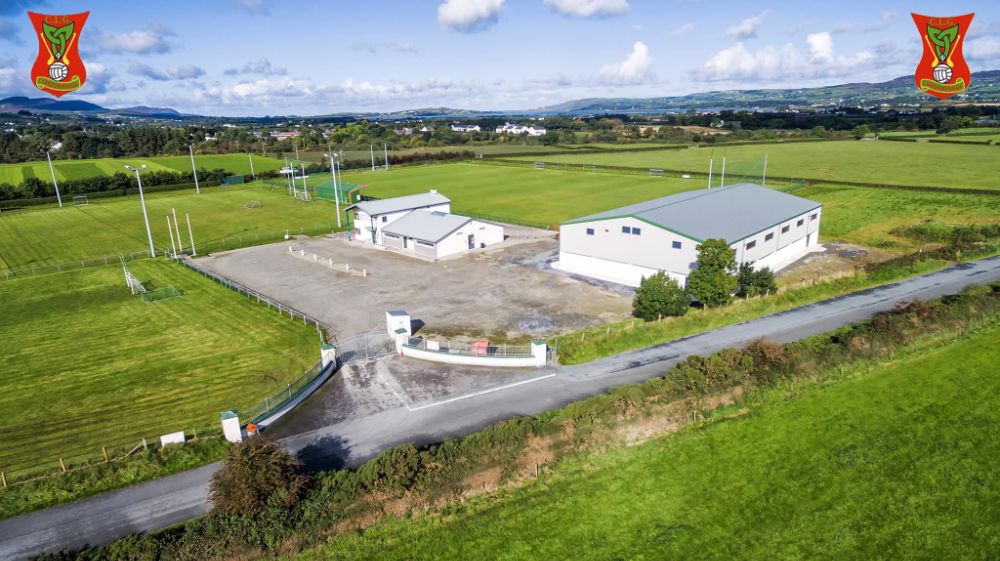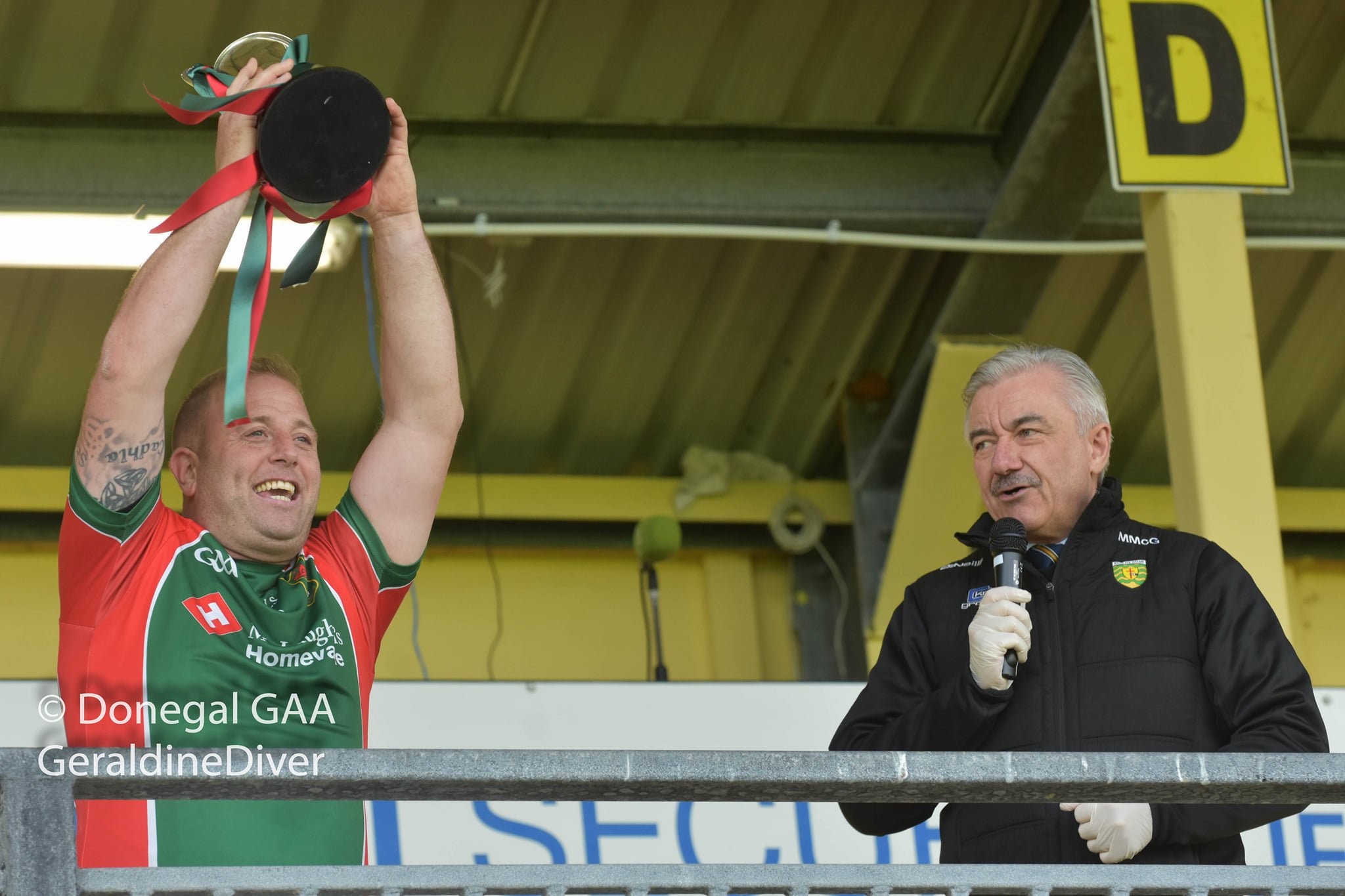 Latest Carndonagh Notes
Carn Gaa Notes 11/4
Lotto
Club Lotto
The winning numbers in the Club Lotto this week are 1-5-11-18-20
No jackpot winner. €30 – Mary Farren, 22 Pound Street, Carn
€15 – Charlie O'Donnell, Glebe, Carn
- Michael Doherty(B), Carrowreagh Rd, Carn
- Sheila Davenport, Tul na Rí, Carn
- Seamus Campbell, c/o Council Offices
Jackpot this week is €9,800 and the draw will take place in G&S on Wednesday, January 18th. It will be broadcast on our facebook page.
Many thanks to all who support our draw.
Entry to the lotto can be done by completing envelopes at Supervalu Carndonagh, Costcutters, Simpsons Supermarket, Simpsons Bar & Restaurant, So-Lo Stores, Neal Doherty Jewellers Home & Giftware, Kellys Service Station, Dohertys Newsagents, Valu-Clean & McLaughlin Quality Meats. Entry can also be done online at https://www.klubfunder.com/Clubs/Carndonagh_GAA_Club
We also offer the facility of setting up a prepaid lotto with Paul McDaid @ 086 3799426, 52 weeks for €80.
Get Our Kit On
Our online Club Shop with O'Neills is available for Club members to order club gear directly from O'Neills. Check out https://www.oneills.com/shop-by-team/gaa/ireland/clg-carndonagh.html to get what you need. You can also register with O'Neills to earn reward points for future purchases.
Club Notes
Any items for the notes or social media updates for the week should be forwarded to Annette at 087-6359936 or alternatively facebook private message to the club facebook site or send an email to the club email address pro.carndonagh.donegal@gaa.ie
Review of the Decade 2019
The major objective over the last few years within the club has been the building of our Sports Hall at Foden. This was a mammoth project which members undertook with focus and determination. As a result of a number of years of fundraising initiatives the club is now able provide a vital resource for club coaches. The final result is a much admired facility that has meant that winter training is possible for all codes and ages. The increase in underage participation and success is clear to be seen. The 2010s have seen a resurection of our Senior Ladies team with them winning the Junior League in their first year of competitive play in 2013 and then winning the Junior Champioship & Intermediate League in 2014. The ladies also went on to win the Intermediate Championship in 2016. We also seen the resurrection of our Senior Hurling team who won the Junior League during their first competitive year and made it to the Junior Championship Final. This senior team stemmed from a number of years of hard work by coaches taking players up through our underage structure. Our underage structure across all four codes is extremely busy with coaches putting in some great work and long hours. We are able to field teams in all four codes from U6's to Senior level. There is large amount of work been done on the Cultural aspects of the club as well which resulted in us winning the Non Gaeltacht Donegal club of the year and and also receiving the Sheosaimh Mhic Dhonncha bronze medal, both for the first time in the Clubs history.
CARNDONAGH – SENIOR BOARD
| Oifigeach/Officer | Ainm/Name | E-mail Address | Fón/Telephone |
| --- | --- | --- | --- |
| Cathaoirleach | Philip McLaughlin | chairperson.carndonagh.donegal@gaa.ie | 086 3099088 |
| Runaí | Michael Doherty | secretary.carndonagh.donegal@gaa.ie | 087 3174822 |
| Cisteoir | Helen Nolan | treasurer.carndonagh.donegal@gaa.ie | 087 6390500 |
| Oifigeach Caidreamh Poiblí | Christopher McDaid | pro.carndonagh.donegal@gaa.ie | 087 7947179 |
| Oifigeach Oiliúna | Micheal Mhic Lochlainn | michaelmclaughlin25@yahoo.com | 086 3861146 |
| Oifigeach Coimirce Leanaí | Mark Nolan | markfnolan@hotmail.com | 087 2378883 |
| Oifigeach Sláinte agus Folláine | Aideen Ni Lochlainn | aideenmclaughlin@gmail.com | 087 7589208 |
| Oifigeach Cultúr | Caroline Ui Lochlainn | carleymarieann@gmail.com | 086 1752082 |
| Ball an Bhord Contae 1 | Phillip McLaughlin | chairperson.carndonagh.donegal@gaa.ie | 086 3099088 |
| Ball an Bhord Contae 2 | Paddy McLaughlin | paddy.mclaughlin@gmail.com | 086 3777014 |
| Oifigeach/Officer | Ainm/Name | E-mail Address | Fón/Telephone |
| --- | --- | --- | --- |
| Cathaoirleach | JJ Lafferty | jjlaff@gmail.com | 086 6016893 |
| Runaí | Melissa Noone | secretary.carndonagh.minorboard@gmail.com | 087 7999551 |
| OCP | Christopher McDaid | pro.carndonagh.donegal@gaa.ie | 087 7947179 |
| Coaching Officers | Michael McLaughlin | michaelmclaughlin25@yahoo.com | 086 3861146 |
| U9 | Anthony Kelly | | |
| U11 | Michael O'Donnell | mickod11@hotmail.com | 087 0977229 |
| U13 | Kieran Canny | kcanny@yahoo.com | 087 9772491 |
| U15 | Christy Mcdaid | christymcdaid01@gmail.com | 087 7947179 |
| U17 | Michael Mclaughlin | michaelmclaughlin25@yahoo.com | 086 3861146 |
| Oifigeach/Officer | Ainm/Name | E-mail Address | Fón/Telephone |
| --- | --- | --- | --- |
| U7 and U9 | Nuala Lafferty | nualalafferty@donegaletb.ie | 086 3326945 |
| U11 and u15 | Cathal Dohety | cdoherty444@gmail.com | 086 8968996 |
| U13 | Ray Walsh | 1raywalsh@gmail.com | |
| U17 | Padraig Doherty | padraigdoherty@gmail.com | |
| Oifigeach/Officer | Ainm/Name | E-mail Address | Fón/Telephone |
| --- | --- | --- | --- |
| U8 | Mark Nolan | markfnolan@hotmail.com | 087 2378803 |
| U10 | Kieran Taylor | | |
| U12 | Caoimhe McWilliams | | |
| U14 | Fergal Doherty | | |
| U16 | Mark Nolan | markfnolan@hotmail.com | 087 2378803 |
| Minors | Ray Walsh | 1raywalsh@gmail.com | |
| | | | |
| --- | --- | --- | --- |
| 1 Darrach de Brún | 4 Antoin O'Dochartaigh | 7 Fergal O'Dochartaigh | 10 Cormac Ó'Maonghail |
| 2 Eoghan Ó'Ceallaigh | 5 Cathal O'Dochartaigh | 8 Pádraig O'Dochartaigh | 11 Donal Ó'Maonghail |
| 3 Ryan Ó'Ceallaigh | 6 Dónal O'Dochartaigh | 9 Conchubar Ó'Domhnaill | 12 Seamus Ó'Maonghail |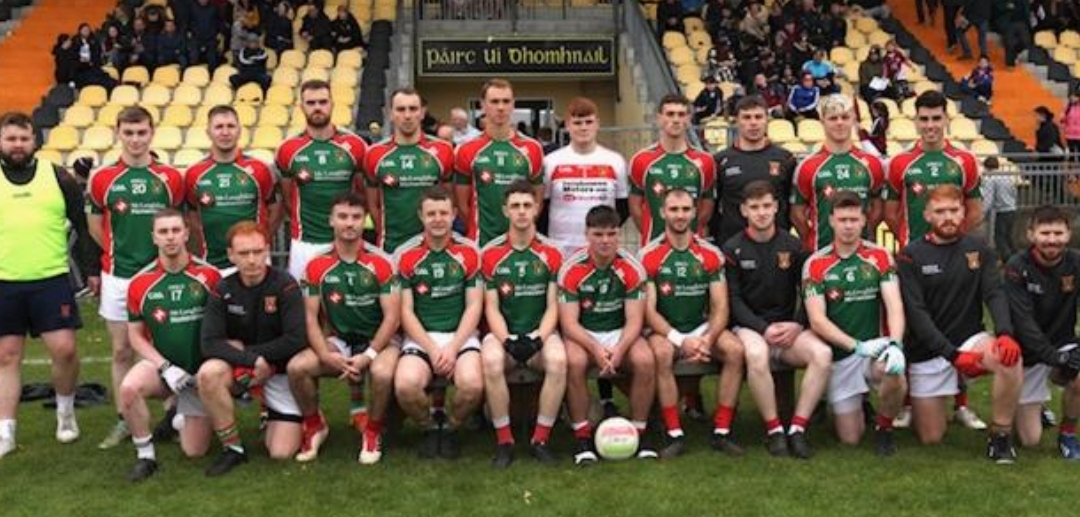 Carn Domhnach - Junior Football Finalists 2022
The Club Year 2019
At the adult level in the club this year our biggest success was fielding a Senior Hurling team again in the club and this team going on to win the league and getting to the county final. Club player Padraig Doherty was a member of the Donegal Senior Hurling squad. Our Senior ladies came out this year with a very young team and did very well to get to a Championship semi-final. Deirdre Foley and Treasa Doherty also played a very big part in the Donegal Senior Ladies team who won a 3rd consecutive Ulster title. Michael McLaughlin (M) was involved in the Donegal Masters who went on to win the All Ireland Final this year also. Conor O'Donnell was called up to the Donegal Senior panel but was extremely unlucky to get injured during the Super 8's. At an underage level the club was very successful with county success in football, hurling and camogie. Numbers at training keep growing week on week meaning our pitches and Sports Hall are very seldom unoccupied our our news Sports Hall helped the club win the Donegal Ground of the Year.
We had a very successful year in the cultural side of the club. We won the non-Gaeltacht Donegal club of the year and were presented with a Bronze medal in Croke Park in our first year participating in Fondúireacht Sheosaimh Mhic Dhonncha award scheme. This was a very proud night for the club and we are working very hard to earn our Silver medal.
Our Under 8 and Under 10 footballers played very well in their GO Games and enjoyed the blitzes that they took part in. There is very large numbers involved in these two particular groups which is great to see. The Under 12 boys had a very successful year coming away with the two Inishowen Division 1 Cups. A large portion of this group was also involved in the successful Under 11 group who won the Inishowen cup also. The Under 14 boys won their Inishowen & county titles. The Under 16 boys played some fantastic football and were so unlucy to lose both their Inishowen final and Division 1 County Shield final by just one point each time. The minor footballers had a disjointed season due to lack of games and long gaps between those games. Fantastic work from the boys though as they stuck together to win the County Division 3 Final.
The number of underage girls joining the club continues to rise. 2019 was a year where our ladies teams put in a massive effort fielding teams at u8, u9, u10, u11, u12, u13, U14, U16 and Minor level competing in county competitions. There was good representation of the club on County teams with Amy Porter, Imogen Diver, Ellie Long and Brónagh Butler featuring on the Under 14 squad and Lucia Doherty on the Under 16 squad. Amy Porter secured the County Under 14 Player of the Year award also.
This year has been of the most successful to date in the underage hurling within the club. Our U8/10 have competed well in All County Blitzes and in tournaments throughout Derry. Our Under 12 hurlers won the Division 3 league title. The Under 14 hurlers won the U14A league and qualified for the National Feile in Cork in June. After a great weekend of hurling the boys won the Division 9 shield, a first All Ireland Title for our club. Our Under 16 hurlers won the County B championship. We had a large number of players feeding on to the County teams-in Under 14 we had Brendan O'Carroll, Odhran O'Donnell, Ben McDaid, Ben Clarke, Danny Diver, Michael Noone, Davin McLaughlin, Philip Devlin, Daire Tully and Tiernan McLaughlin. Darragh McCormick went on to play with the Donegal Minor Hurlers.
It has been a busy year for camogie in CLG Carndomhnaigh currently fielding 8 teams. Our Under 16 team and Under 14 team won their league titles this year. The Under 13 team were County winners with the Under 14 team securing the Donegal Féile title. This group travelled to Cork to represent Donegal in Féile and had a great experience. Being the only Camogie Club in the North Inishowen area we enjoy the benefit of having players from the surrounding clubs of Urris, Muff, Malin and Moville playing for Carndonagh. This has been really beneficial for everyone fostering friendship and building strong relationships with our neighbouring clubs. Camogie is in a strong place at the moment within the club and thanks must go to all the coaches, parents and players down through the years who have shown great commitment, enthusiasm and love for the game of camogie. Our Camogie players were well represented at County level with Amy Porter, Laura McCrossan, Brónagh Butler, Aoife McCarron, Aoibhinn McLaughlin and Niamh Toland playing on the Donegal Under 14 team. We also had 9 Carn players feature on the County Under 16 team who won the Progress to Success All Ireland Final – Rhianna Gallagher, Mary Kate McCrossan, Brianna Tully, Blaíthin Toland, Niamh Diver Hall, Ciara O'Donnell, Erin McLaughlin, Sadhbh Mullan and Eimear O'Donnell.
2019 Roll of Honour
Senior Hurlers: League Winners and Championsip runners up
Under 16 Hurlers: County B Championship
Under 14 Hurlers: County A League winners, qualifying for Feile in Cork in June and going on to win the Division 9 Shield in Cork
Under 12 Hurlers: Division 3 League winners
Minor Boys: Division 3 Championship winners
Under 16 Boys: Inishowen A runners up & County Division 1 Shield runners up
U14 Footballers: Inishowen B winners & County Division 2 Championship winners
Under 12 Footballers: Maurice McMenamin Division 1 Cup Winnners, Gerry O'Neill Division 1 Cup winners.
Under 11 Footballers: Stranorlar Dental Surgery U11A Cup