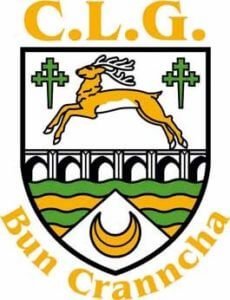 Ainm an Chlub: CLG Bun Cranncha
Dathanna an Chlub/Club Colours: Glas, Bán agus Ór
Alternative Colours: Dubh agus Dearg
Club Ground: Scarvey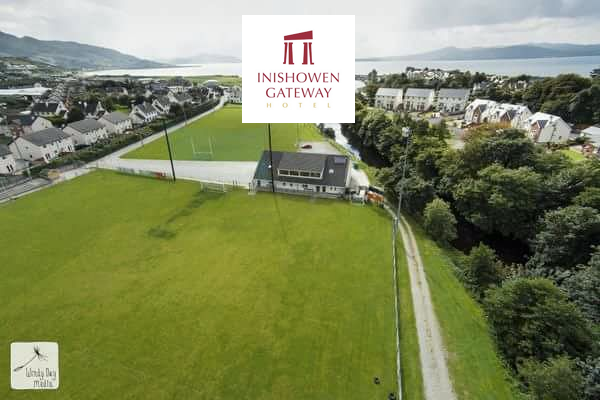 Buncrana GAA caters for the entire community offering boys and girls, young and old, the opportunity to participate in Gaelic Games and Culture.
The club has excellent facilities including; two floodlit pitches, an indoor gym, function room and viewing gallery.
The club is proud to serve Buncrana community, proud of our volunteers, proud of our coaches and proud of our players. They all work together to make the club what it is and are striving for the future generations of the club!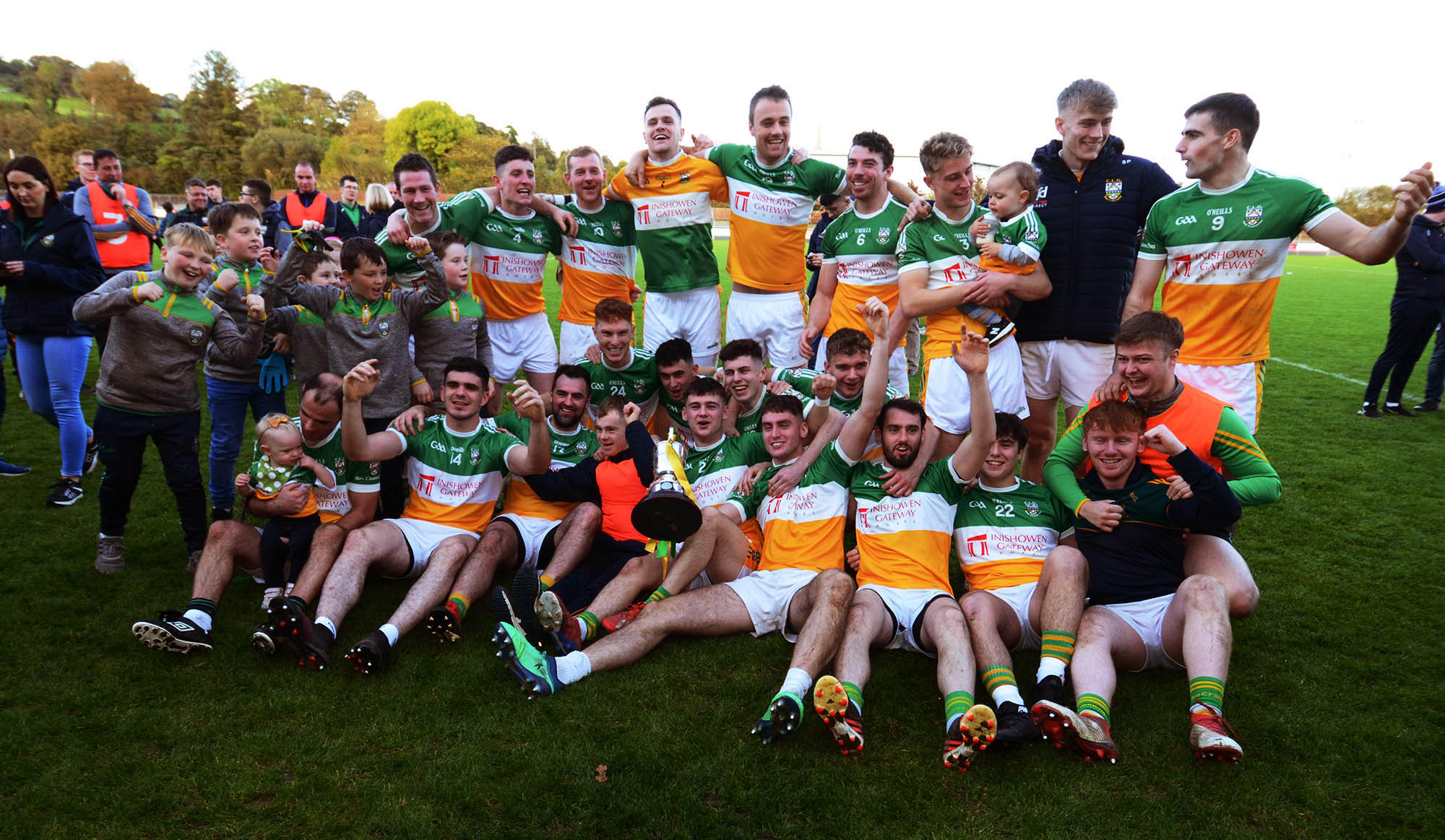 Happy days for the men from Buncrana, as they celebrate their victory
in O Donnell Park.
Club review of the decade 2010-19
In last 10 years, our senior men moved up and down between Divisions 2 and 3 and sadly have been relegated to Division 3 this year. Our last Intermediate championship win was in 2004, however this year, under Malachy McCann, we won the Junior Championship and are delighted to be playing Intermediate again in 2020. At underage, we won U15 Division 1 Óg Sport (2010), U16 Division 1 League (2011) and Minor Division 1 Championship (2013).
The last 10 years have been the most successful for underage Hurling, winning all underage A competitions on numerous occasions. In 2013, Bun Cranncha were the first Donegal club to win an Ulster U18B Championship, going on to win again in 2014.
Our senior ladies team formed in 2012 and have been going from strength to strength, culminating this year in the Intermediate Championship win.
Off pitch, our Novelty Act came 2nd in the All Ireland Scór na nÓg. The local flooding of 2017 saw our club at the forefront of organising an information day in Seomra Eamon to provide practical support and help for anybody affected.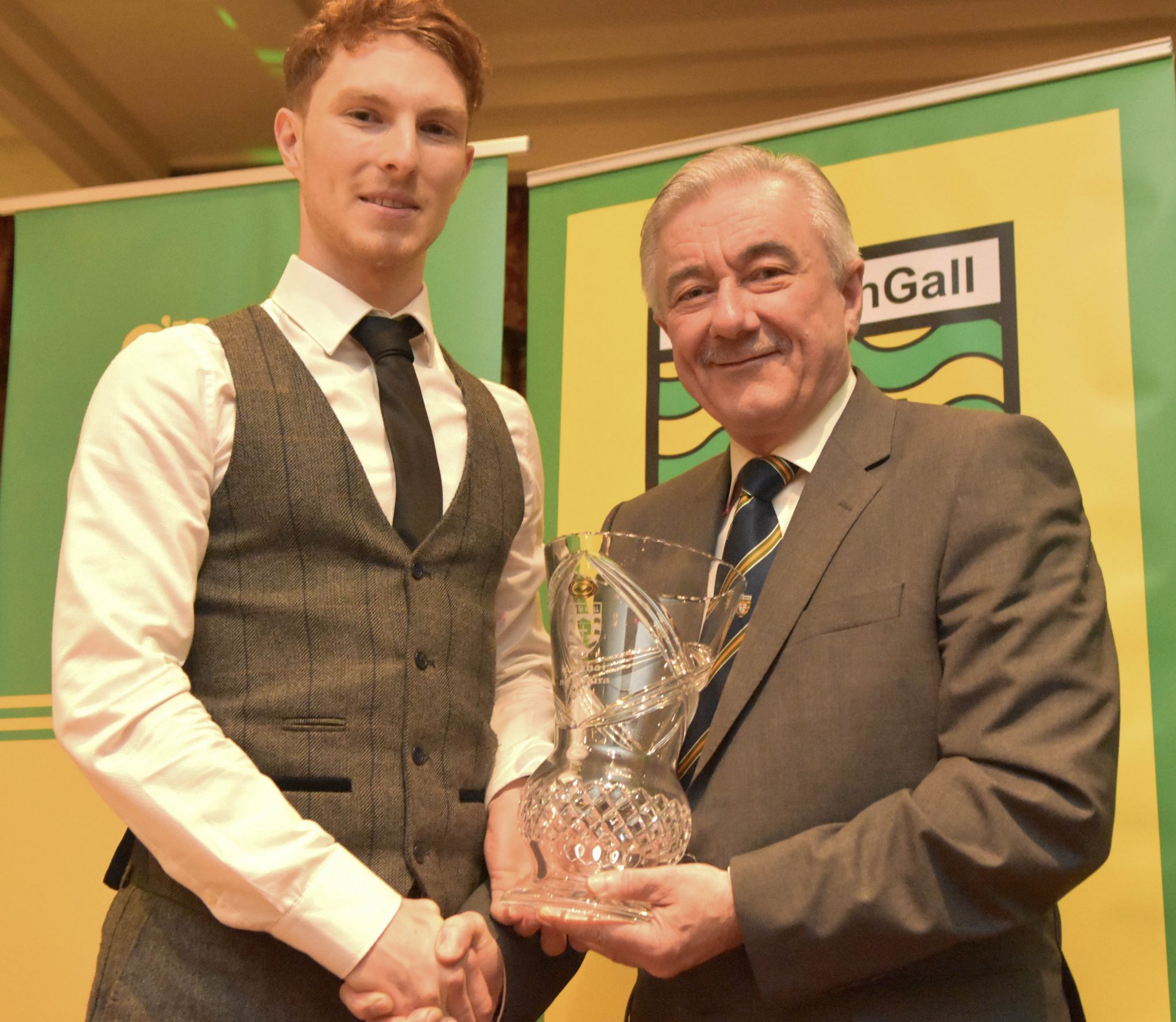 BUN CRANNCHA – SENIOR BOARD
| | | | |
| --- | --- | --- | --- |
| Cathaoirleach | David McConnell | davidmcconnell1974@gmail.com | 087 9392767 |
| Rúnaí | Michelle McKenna | secretary.buncrana.donegal@gaa.ie | 086 6076007 |
| Cisteoir | Adrian McMyler | adrianmcmyler@yahoo.ie | 086 7359993 |
| Oifigeach Caidreamh Poiblí | Gerard McLaughlin | pro.buncrana.donegal@gaa.ie | 087 7571157 |
| Oifigeach Oiliúna (Peil) | Aidan Mulholland | armagh80@gmail.com | 086 2762671 |
| Oifigeach Oiliúna (Iománaíocht) | Chris Walsh | chriswalsh9@gmail.com | 086 0515438 |
| Oifigeach Coimirce Leanaí | Nicola McDaid | nicolamconroy@gmail.com | 086 8249710 |
| Oifigeach Club Sláinte | Anne Marie McLaughlin | amandbrian@gmail.com | 087 4586099 |
| Oifigeach Cultúr | John McCarron | jgmccarron@gmail.com | 086 8066392 |
| Ball an Bhord Contae: 1 | Gary Duffy | gary@inishowen.ie | 086 0400040 |
| Ball an Bhord Contae: 2 | Fionnan Bradley | fionnanbradley@hotmail.com | 0861245348 |
in progress - BUN CRANNCHA – BORD NA NÓG
BUN CRANNCHA – BORD NA NÓG
Cathaoirleach

Jim Gillen

jgillen20@gmail.com

087 9933420

Rúnaí

Elaine Coyle

buncrana.bnosec@gmail.com

086 0811524

Coach Peil Búchaille

Stephen McGonigle

stephenpmcgonigle@yahoo.ie

086 0534477

Coach Cailíní

Danielle Loughrey

danielleloughrey@hotmail.com

087 9393232

Fundamentals

Jim Gillen

jgillen20@gmail.com

087 9933420

Faoi-8 Búchaille

David McConnell

davidmcconnell1974@gmail.com

087 9392767

Faoi-9, -10 Búchaille

Andy McLaughlin
Anthony Lavin (under 9)
andystranaclea@gmail.com
anthony@freedomhealth.ie
086 0813317
0044 7740100606

Faoi-12 Búchaille

Eunan O'Doherty

eunanodoherty@hotmail.com

087 1227750

Faoi-14 Búchaille

Marty Coyle

marcoyceilings@yahoo.co.uk

086 0811524

Faoi-16 Búchaille

Stephen McLafferty

stephenmclafferty@eircom.net

086 8589102

Faoi-18 Búchaille

Michael McLaughlin

michaeljmclaughlin01@gmail.com

083 8436152

Faoi-8 Cailíní

Michelle McKenna

aprilbird2001@yahoo.com

086 6076007

Faoi-10 Cailíní

Siobhán Kearney

siobhankearney2006@yahoo.co.uk

086 8551507

Faoi-11 Cailíní

Patrick Kearney

siobhankearney2006@yahoo.co.uk

086 8138481

Faoi-12 agus 14 Cailíní

Claire Doherty

clairedoherty94@hotmail.com

086 4023415

Faoi-16 Cailíní

Lauren Hegarty

laurenhegarty1996@gmail.com

086 7202041

Faoi-18 Cailíní

Danielle Loughrey

danielleloughrey@hotmail.com

087 9393232

Faoi-8 Iománaíocht

Siobhan Quinn

siobhanquinn@live.ie

087 1438887

Faoi-10 Iománaíocht

Chris Walsh

chriswalsh9@gmail.com

086 0515438

Faoi-12, 14, 16 Iománaíocht

Ronan McGrory

ronan.87@yahoo.com

087 1437431

Faoi-8 Iománaíocht

Tommy O'Neil

www.oneill@hotmail.com

086 3427356

Review of the Club Year – 2019
Buncrana won the Donegal Junior Championship and for the first time the club reached the Ulster Championship final but were defeated by Monaghan champions, Blackhill Emeralds. On the back of these two wonderful achievements CLG Bun Cranncha were awarded Donegal Junior Club of the Year. Manager of the Senior football team, and a stalwart of the club, Malachy McCann, was also honoured by CLG Dhún na nGall with a Lifetime Achievement award, while Jack O'Loughlin was chosen as Hurler of the Year.
The club achieved Healthy Club Status (1 of 84 in the Country and 4 in Donegal). We hope to attain silver status in the Joe MacDonagh Foundation, organising cíorcal comhra, ranganna gaeilge and encouraging the use of Irish within our club. Our Leaving Cert students were given the opportunity of grinds before their exams – this was a great success and will be offered next year again. The club strives to be a main part of our community by holding fundraisers throughout the year, culminating this year in a fantastic and well supported HB Fun Day.
Having won the Junior Buncrana is now back in Intermediate Championship . Sadly we were relegated to Division 3 for 2020. Buncrana had two players Darach O Connor and Caolan McGonagle represent the club on the County Senior team. Paul McGonigle and Ronan Doherty were members of the County backroom team.
It was finally our Senior Ladies' year when they became Intermediate Champions after previous final defeats in 2016 and 2018. Managed throughout the years by our renowned club chair, Lawrence Hegarty, this is a marvellous achievement for our ladies as they only formed in 2012. They have achieved senior status for 2020, playing in Division 1 and Senior Championship in 2020.
It was a great achievement for our young hurlers to reach the County Senior Championship Semi-Finals this year, beating Burt for the first time in the process. This is a very young team and, in the main, have come up through the ranks together. They are no longer making up numbers and, under the guidance of clubman, Tom Clare, are looking stronger. We, in the Club, believe they will be a force to reckon with in the coming years. We also had 5 of our seniors represent the club at County Hurling – Jack O Loughlin, Dylan Duffy, Paul Tourish, PJ Mc Carron and Aedan Stokes. Jack was honoured to be named as 2019 Hurler of the Year.
Our club is thriving in underage with fantastic numbers attending training in all codes. Several players represented the club at County level – Boys – Oisin Crawford (U16), Matthew Mulholland (Minor); Girls – Tara Rose Mahon, Ruby Canning, Nicole McDaid (U13), Bonnie McLaughlin (U15), Caitlin Doherty (U16) and Beth Doherty, Brianna Doherty (U17); Hurlers – Kevin O Rourke, Anthony Brosnan, Rory Scott, Eoghan Mac Domhnaill, Liam Mc Carron (U14), Shane Sarsfield, Fiachra Gill, Gary McLaughlin (U15), Caolan O Neill, Sean Doherty, Peter Grant, Ciaran Mc Laughlin (U16), Liam O Doherty, David Carey (U17). Due to the dedication of our coaches, we saw a significant increase in our numbers at Cúl Camp this year.
Off pitch, over 200 of our young members benefitted from talks given by Foróige on substance abuse, RNLI on water safety and GAA link to the Samaritans, Roisin Doherty, who advised on minding your mental health. Our U10 girls had a memorable trip to Croke Park where they played during the TG4 All Ireland Ladies' Final Day.
This year saw the club playing a positive role in promoting Irish language and culture within our club and the wider community. Irish language signs have been erected in our clubhouse and throughout our grounds. Off pitch, we have some very talented younger members. To showcase this talent, we will be holding an Oiche Céilí na nÓg in Seomra Eamon.
Younger members from the club took part in the annual St. Patrick's Day Parade in Buncrana, winning a community award this year again. The club will also be entering a GAA themed Christmas tree for the annual Christmas tree competition in the churches and chapels of our parish, Buncrana.
The Healthy Club team had another busy year, culminating in our club achieving Health Club Status. The team received approval, at committee level, to become a no smoking club and work is ongoing to establish this. The Healthy Club team are a core number of club members who are constantly working in the background to improve the overall health and wellbeing of all our members. We had over 20 members completed the Safetalk programme. A focus this year was made on improving healthy eating and it's showing at games etc where healthy options are provided.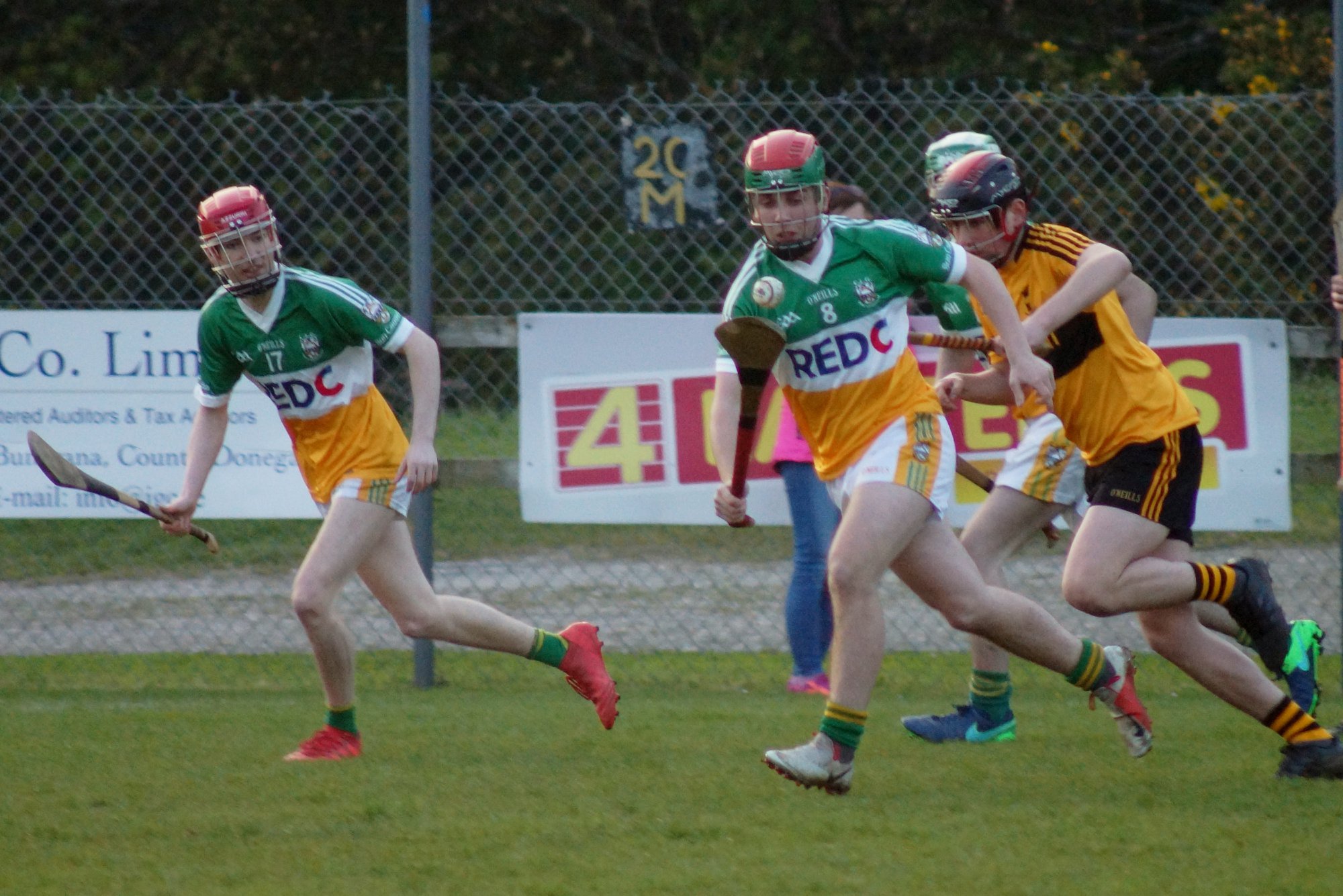 2019 Roll of Honour
Senior Men: Donegal Junior Champions
Minor Boys: Inishowen League Champions
Under 16 Boys: Inishowen League Champions
Under 13 Boys: Inishowen League Champions
U13 Hurlers: Division 4 Shield
Under 16 Girls: Donegal Champions
Senior Ladies: Intermediate Championship