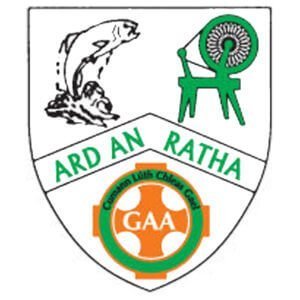 Ainm an Chlub: Ard An Rátha
Dathanna an Chlub/Club Colours: Glas agus Ór
Alternative Colours: Ór agus Glas
Club Ground: Pairc an Phiarsaigh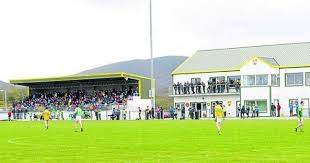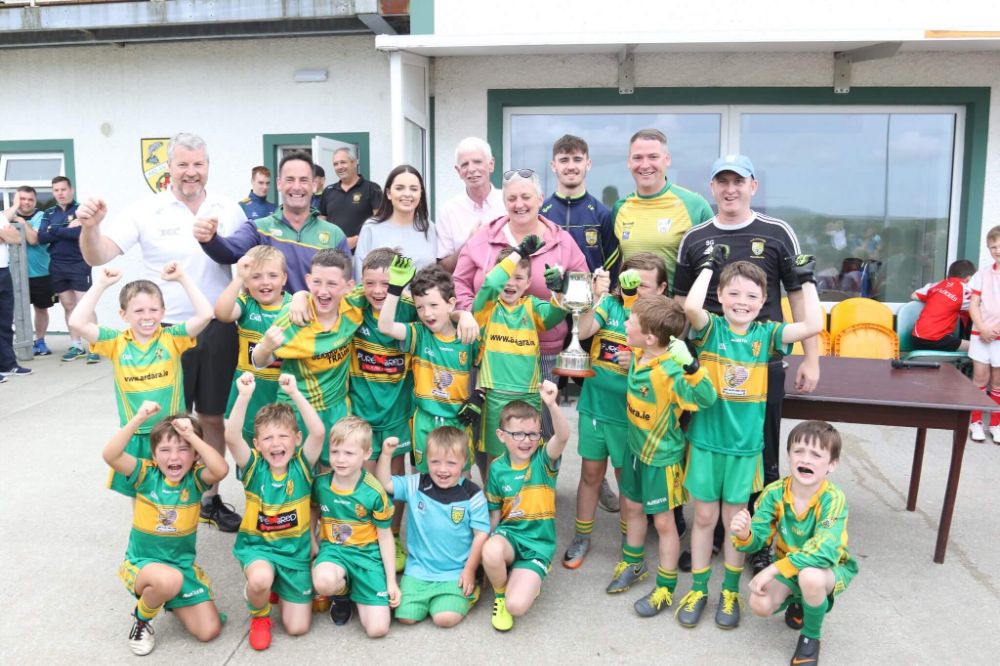 Review of the Decade 2010-19
Following a heady decade at the start of the new millennium which saw the Club win two senior championships in 2000 and 2004 in addition to three Senior Division 1 League Titles, the next decade saw a period of transition for the club, A huge effort was put into development which saw our new pitch, Clubhouse and stand developed into one of the top grounds in the county, Culminating with the hosting of Comórtas Peile na Gaeltachta for the first time in 2015 – a huge occasion for the Parish.
The club also picked up a Ulster Presidential award for coaching in 2013, the Donegal and Ulster Ground of the Year Award in 2015 and the Gold Club Maith award in 2012. On the playing fields, a County Minor Division 1 League title in 2011, The U14 Division 1 League in 2013, The Ladies Intermediate Championship win in 2015 were a few of the main highlights. Paddy McGrath also blazed a trail with the County Senior team becoming the third Ardara player to win a Celtic Cross as part of the Donegal Team in 2012 that won the All Ireland. Paddy, along with Conor Classon and Peter McNelis had also won Ulster U-21 medals in 2010 with the County team.
There was sadness also in the decade for the Club as Senior Player Tomas Maguire and former underage star Conal Gildea were killed in separate accidents, while in 2017 we lost our well known goalkeeping coach Pat Shovelin to illness at the tender age of 41. We are looking forward with anticipation to the next decade and in particular, to the year 2021 when we will celebrate the 100th anniversary of our foundation as a club.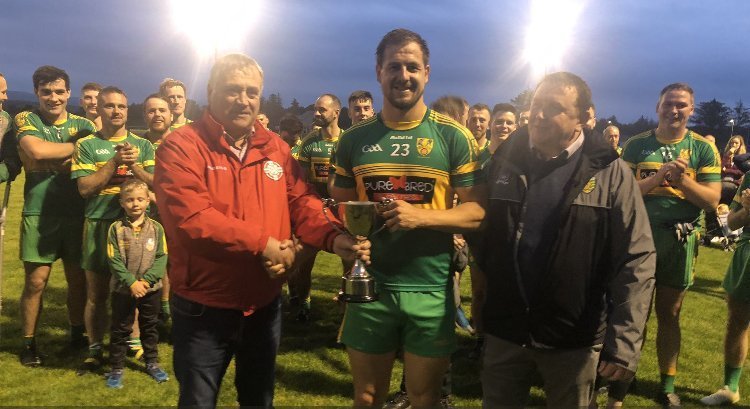 ARD AN RATHA – SENIOR BOARD
Oifigeach/Officer
Ainm/Name
E-mail Address
Fón/Telephone
Cathaoirleach
Sean Mac Conaill
john@jmac.ie
Eadar Gabhaill, Ard an Rátha
087 7620045
Runaí
Maire Ní Cheallaigh
secretary.ardanratha.donegal@gaa.ie
087 6878614
Cisteoir
Mabel Nic Aodha
Eibhlean Ni hEigheartaigh
Mabelmchugh@gmail.com
eileenhegarty62@gmail.com
086 6076911
087 3148097
Oifigeach Caidreamh Poiblí
Seoirse O'Dochartaigh
seoirse_doherty@yahoo.com
087 9547595
Oifigeach Oiliúna
Seamus Mac Aodha
jamesmchugh10@gmail.com
087 2222277
Oifigeach Coimirce Leanaí
Seamus Mac Briartaigh
jamesmcbrearty@eircom.net
087 9819685
Oifigeach Club Sláinte
TBC
-
-
Oifigeach Cultúr
Seoirse O Dochartaigh
seoirse_doherty@yahoo.com
087 9547595
Ball an Bhord Contae 1
Sean Mac Conaill
John@jmac.ie
087 7620045
Ball an Bhord Contae 2
Maire Ní Cheallaigh
Dromore Lower, Mountcharles
087 6878614
Cathaoirleach
Terence Molloy
molloyandgillespie@eircom.net
087 9839345
Rúnaí
Mairead Mulreany
secretaryardaraminorboard@gmail.com
087 6260907
Oifigeach Caidreamh Poiblí
Saoirse Doherty
Seoirse_dpherty@yahoo.com
087 9547595
Regional Board Delegates
Mairead Mulreany
Terence Molloy
secretaryardaraminorboard@gmail.com
087 6260907
Faoi 7
John McConnell
John@jmac.ie
087 7620045
Faoi 9
Pauric Brennan
Pauricbrennan1@hotmail.com
087 816 0734
Faoi 11
Shaun Whyte
Shaunwhyte76@gmail.com
087 289 0118
Faoi 13
Patrick Gallagher
Patrickgallagher239@gmail.com
087 265 4400
Faoi 14
Damian Diver
damiandiver@hotmail.com
087 948 1066
Faoi 15
Damian Diver
damiandiver@hotmail.com
087 948 1066
Faoi 17
Joe Doherty /Conor Gallagher
joeydoc@hotmail.com
conorgallagher88@gmail.com
087 986 1924
089 440 8653
| 1st Twelve | | | |
| --- | --- | --- | --- |
| 1 Padraig O'Gallachóir | 4 Padraig MacCraith | 7 Seán R O'Lúdhog | 10 Maitías MacSuibhne |
| 2 Seosamh O'Mallai | 5 CJ O'Lúdhog | 8 Caoimhín De Faóite | 11 Pol Breathnach |
| 3 Conúir O'Classín | 6 Robbie Adair | 9 Tomás O'Baoill | 12 Dary MacGúidhír |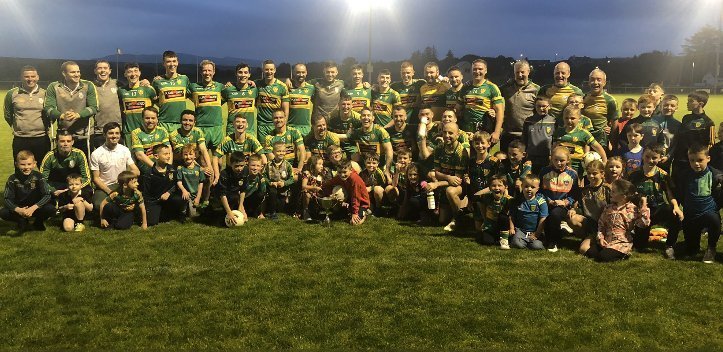 Club Year – 2019
2019 saw another year on an upward curve in the fortunes of CLG Ard an Ratha. The return of the Senior team to Division 1 after a 3 year absence, The Under-12 Boys winning the Club second Div 1 title in the grade and the first in any Division 1 grade since 2006, Our U-12, 13 and 14 girls competing at the top end in their competitions only a few of the highlights of what was a very busy and eventful year for the Club.
The seniors capturing the Division 2 League title, was always the target for 2019, and Adrian Brennan's team proved to be the best team in the Division, putting together a string of good displays and a consistency that saw them deserve a place back in the top flight. Unfortunately, a string of injuries to key players, saw them fall short in the 'Group of Death in the Championship eventually needing a brilliant comeback v Malin in the relegation play-off final in October to save our Senior Championship status for the year.
The club hosted two big charity events in 2019, the Owen McConnell Fund match which saw Ulster Champions Gaoth Dobhair play the Donegal u-20 team in January where a huge crowd turned out to support the fund for Owen – who has stage 4 cancer in the US. The second was the Pat Shovelin Memorial Match which saw some of the greats of the GAA come to Ardara on April 6th last to take on the Donegal 2012 team. It was a really memorable occasion with a hugely entertaining game between the two teams and was, in particular, a day to remember for Pat's extended family. The younger people who attended were able to mix with the likes of Michael Murphy and Conor McManus to name a few of the stars there on the day. A total of €16,200 was raised for local charities on the day. Congratulations also to our county star, Paddy McGrath on reaching the milestone of 100 games for Donegal back in March of this year.
Our "One Day" tournaments at U-8, 10 and 12 level which sees clubs from all over the county compete at the highest level against each other in a festival of football which all clubs now look forward to each year. The U-12 Boys under the management of former County and Club star Damian Diver and his team of coaches, were always fancied to compete at the high end of the competition this year and as a result of their hard work and commitment, they came out as County Champions at the County finals day in Buncrana, defeating Four Masters on a score of 4-10 to 0-6 in the final to spark great scenes of celebration at the clubs first title in the grade since 1999. Not to be out-done by the boys, our young girls teams under Martin Shovlin and his coaches, finished undefeated in Division 1 in the County, and reached the U-13 and 14 Division 1 finals only to go down to Dungloe and Fanad Gaels respectively. No doubt the girls will do their utmost to take that extra step in years to come. Other notable achievements by our Under-Age teams included the U-8s winning our own Tomas Maguire U-8 cup against all the top teams in the county and the Patsy Furey Memorial cup in Glenties, the U-10 boys winning the Michael Doherty Cup in Kilcar, while the Minor Boys won the Southern Division 2 league.
With the club only over a year away from its centenary in 2021, We look forward to going from strength to strength as we move into our second century.
2019 Roll of Honours
Seniors – Division 2 League Champions
U-8s – Thomas Maguire Cup, Patsy Furey Memorial Cup
U-10s – Michael Doherty Cup
U-12s – County Champions
Minors – SRB Division 2