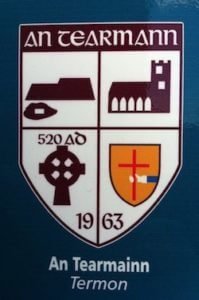 Ainm an Chlub: An Tearmann
Dathanna an Chlub/Club Colours: Maroon & White
Alternative Colours: White & Maroon
Club Ground: The Burn Roadssss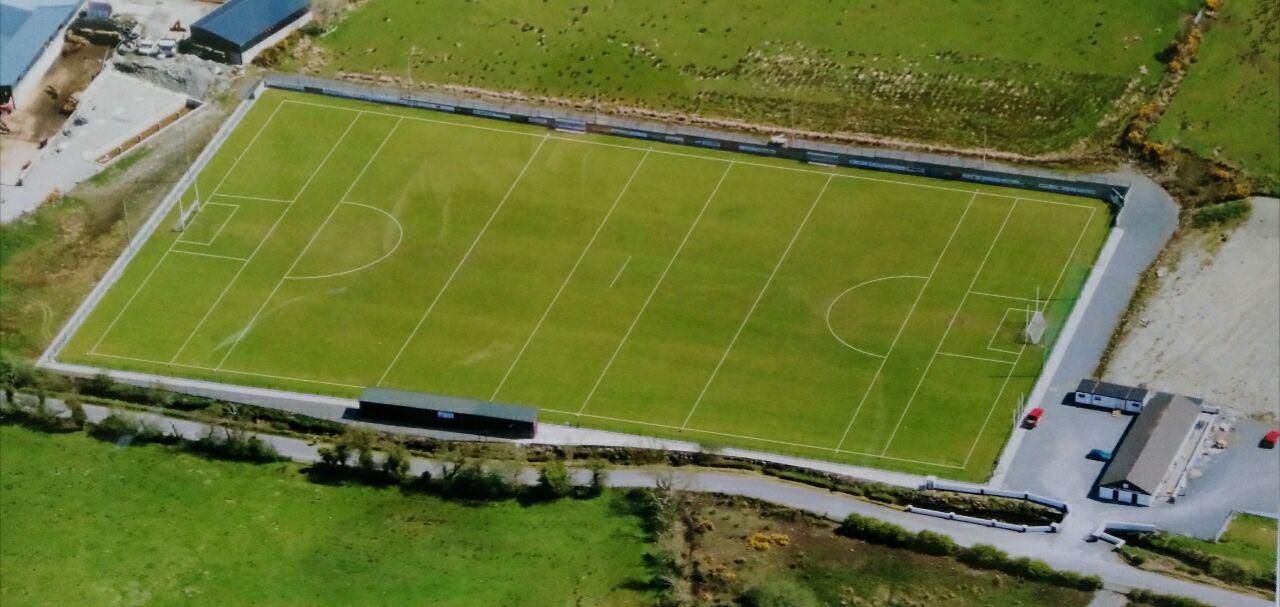 CLG An Tearmann was founded on November 24th, 1963.
TERMON Notes
Lotto Results 15/4/2022
No's drawn 1 5 10 17
Jackpot €2500 No winner
Match 3 three winners €30 each
Eoin Doherty (yearly)
Shane Callaghan (yearly)
Nancy Nelis (Mandy's)
Open Draw Winners €10 Each
Eileen Connolly Letterkenny (bingo)
Next week's Jackpot €2550
Thank you for supporting our weekly Lotto.
The weekly bingo continues each Friday night online, drive in and indoors at the Craoibhin,Termon.so what ever way you wish to play, we can accommodate. Check out the Termon bingo Facebook page for further details and be in with the chance of winning a free book.
The club were delighted to have renowned sports writer, coach and teacher, Stephen Poacher call in at the weekend and give our coaches some tips on coaching. Well done to the coaching officers for organising a very informative session.
The senior men were away to Kilcar on Saturday last, where the hosts took control of the game early on and the youthful Termon side found it difficult to claw their way back, with Kilcars Mark McHugh getting most of the scores. A fine penalty taken by Bobby McGettigan was the last kick of the ball for Termon,
Kilcar took the win on the day.
TERMON: Darragh Russell; Shane Callaghan, James McSharry, Caolan Gallagher; Oisin Cassidy, Evan Coleman, Kevin McDaid; Jack Alcorn, Kevin McGettigan; Patrick McDaid, Oisin Harkin, Rory McGrenra, Anthony Grant, Bobby McGettigan, Steve McElwaine. Subs: Cormac Gallagher and Steve McDaid for S McEwaine and C Gallagher (49); Conor Black and Ciaran Black for S Callaghan and K McDaid (51).
Next up is a home game against Cloughaneeley at home with a throw in time of 5pm.
There was no reserve game this weekend, it was called off at short notice. As with the senior men they also play Cloughaneeley next Saturday at home with a throw in time of 3pm. All support welcome.
No match for the thirds this week.
The U17's had a free week from competition this week, but enjoyed a challenge match with Letterkenny Gaels.
The U15 boys had a busy few days, firstly taking on a well drilled Glenswilly side, in the NRB division 1 league, the termon lads battled hard, but were unable to keep up with the visitors who took the win.
They then travelled to Carndonagh on Monday morning to take part in the all county Feile qualifiers. Termon were drawn against, Milford, Killybegs, Naomh Mhuire and Cloughaneeley in the semi final stages, thats where they unfortunately bowed out of the competition. A hard days playing, but did well to get to the semi final stages.
The u11 & 9's continues with their spring league games and are all doing very well.
The senior ladies travelled to "the banks" on Sunday morning to play Naomh muire in the 2nd game of the league & after a strong team performance came away with a good victory.
Team- Orla Corry, Jamie Leigh Murray, Lauren Gallagher, Niamh Friel, Maria Carr, Aine Boyle, Jenny Mc Gettigan, Aibhe Mc Daid. Jill Mc Gettigan, Chelsea Gorman, Sophie Curran, Ciara Mc Garvey, Laura Mc Garvey, Joycelen Diver, Ella Mc Gettigan.
Next up for the ladies is the return leg at home v Naomh Mhuire on Wednesday evening at 7pm.
All support welcome.
The junior ladies travelled to Glenswilly on Sunday morning last and well done to Brid Mcgettigan on her adult football debut and giving her absolute best, which was much appreciated by the team. Lauren Mullen Russell, Katherine Black, Aine devlin all making it on to the score card. Anna gallagher unbelievable work effort in mid field. And Ava Friel for her tireless and exceptional work , a young player leading the way. Katherine Black showing her class stepping in put for the placed balls, and Chloe Callaghan for going on and fighting until the end.
A fantastic display by the ladies, next is an away game next Sunday morning at 10.30am with the Letterkenny Gaels in Pairc na Gael, all support welcome.
The U16 girls battled hard against a very well drilled Naomh Conaill at the Burn road on Thursday evening last. A fantastic game that could have went either way at times. The visitors taking the win on the final whistle.
The u13 girls played Glenswilly on Monday evening, and played very well. Keep up the great work girls.
Fixtures for the week ahead will be on the social media pages throughout the week, with updates as they happen.
National draw tickets are on sale at the moment, members are asked to support this fundraiser, where the club gets to keep all money raised to help support our teams.
Club review of the decade 2010-19
The last 10 years have been the most successful decade in our club's history with our ladies club now established as one of the top Ladies Clubs in all of Ireland. Our senior men played their part in our club's success when they were victorious in the All Ireland Junior Gaeltacht final and Donegal Intermediate finals of 2012 but no doubt our Senior Ladies victory in the All Ireland Senior Football final takes center stage. That ladies victory was the first ever senior club All-Ireland title won by a Donegal club. The win over Mourneabbey of Cork on a scoreline of 3-12 to 1-13 was a truly historic day for our club. Geraldine McLaughlin top scored with 3-8, lifting player of the match and the Dolores Tyrell trophy as captain of the team. This was not simply a fluke as Francie Friel, Trevor Alcorn and Paul McDaid had put in four years of work with this team winning a first Ulster in 2010, drove them on to appear against old foes Donaghmoyne in 2012, 2013, 2014 and 2015. Although only coming out on top in Ulster on that first occasion and when they reached the holy grail, they did win senior league and county championship titles on each of those occasions.
Our Senior ladies players also experienced All-Ireland success with the county team as Geraldine Mclaughlin, Roisin Friel, Olive, Therese and Roisin McCafferty were part of the Intermediate All-Ireland winning county team. This was followed by success at senior inter county level with Emer Gallagher, Nicole McLaughlin, Bridget Gallagher, Evelyn McGinley and Shannon McLaughlin joining those previously noted in winning Ulster Senior Championship Medals with Donegal. One of the greatest mysteries of this decade is how Geraldine McLaughlin, nominated five times for an All-Star will be possible the greatest forward yet to receive that honour.
The senior men's team alternated between Division 1 and 2 of the All County League. We have been represented on the County Senior panel by Paddy McDaid, Michael Boyle, and Enda Mc Cormick, with Michael having the distinction of joining Tommy Ryan as an All-Ireland winner in 2012 and Enda winning an Ulster Minor medal in 2016. This year John Mc Cafferty (Jnr) represented us on the winning Donegal All Ireland Master team. On the coaching side Tommy Ryan, Francie Friel, Pual Doherty and Michael Boyle have been to the forefront with both club and county teams. In the past decade the club has developed a floodlit training ground and upgrade the Burn Road playing field.
On a sad note in the past 10 years the club has sadly said goodbye to numerous club members. We have lost Paddy Friel and Charles O'Donnell – two of our founding officers. We also mourned the loss of Essie McGrenra a long time club official in 2018 and we had the untimely and tragic death of playing member Andrew Duffy in 2012. In January this year we sadly experienced the death of our Chairman Danny O'Donnell better known as 'Danny O' to all and the turn out by GAA people from all over Ireland and indeed from Chicago where Danny had played a prominent role in the GAA for many years at Danny's wake and funeral, spoke volumes of the contribution he had made to the GAA at home and abroad. Danny took one last trip to The Burn Road before his funeral cortege entered Kilmacrennan flanked by a guard of honour of hundreds of club members, a memory that will remain with people for years to come. As it is not possible to name every individual family that suffered losses throughout the years, the club therefore would like to offer condolences to all club members who have experienced any sort of bereavement or difficulty.
AN TEARMANN – SENIOR BOARD - 2023
| Oifigeach/Officer | Ainm/Name | E-mail Address | Fón/Telephone |
| --- | --- | --- | --- |
| Cathaoirleach | Brian Trearty | briantrearty@hotmail.com | 086 3406167 |
| Runaí | Kieran Gallagher | secretary.termon.donegal@gaa.ie | 087 7556583 |
| Cisteoir | Stephen Sweeney | stephensweeney@hotmail.com | 087 241 9910 |
| Oifigeach Caidreamh Poiblí | Oisin Kelly | pro.termon.donegal@gaa.ie | 086 860 4873 |
| Oifigeach Oiliúna | Kevin McGettigan | kevinmcgettigan@hotmail.com | 087 6481991 |
| Oifigeach Coimirce Leanaí | Maeve Sweeney | maevegsweeney@hotmail.com | 086 8563386 |
| Oifigeach Club Sláinte | James Cassidy | jamescassidy@healthwisepharmacies.ie | 086 8166153 |
| Oifigeach Cultúr | Emer Gallagher | egallagherloreto@hotmail.com | 087 7665069 |
| Ball an Bhord Contae 1 | Brian Trearty | briantrearty@hotmail.com | 086 3406167 |
| Ball an Bhord Contae 2 | Kieran Gallagher | secretary.termon.donegal@gaa.ie | 087 7556583 |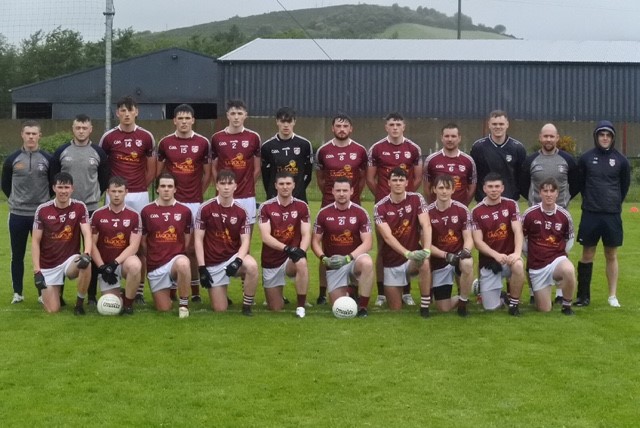 AN TEARMANN – BORD NA NÓG
Cathaoirleach
Dairean Gibson
dg.termon@gmail.com
087 2202073
Rúnaí
Linda Grant
-
-
Oifigeach Caidreamh Poiblí
Ellen Callaghan
ellencool@live.ie
086 3229519
Toscairí an Bhoird Réigiúnaigh
Edward Harkin
Dairean Gibson
Eddieharkin70@gmail.com
dg.termon@gmail.com
086 608 2512
087 2202073
Faoi-8
Dairean Gibson
dg.termon@gmail.com
087 2202073
Faoi-10
Jim Boner
jmboner@hotmail.com
087 8537291
Faoi-12
James Cassidy
gweedorepharmacy@gmail.com
086 8166153
Faoi-13
Paddy Gallagher
Paddygallagher513@gmail.com
086 3204824
Faoi-14
David Brady
David.brady@enet.ie
085 1305332
Faoi-15 Óg Sport
Paddy McMenamin
paddymcmenamin@live.ie
087 2175234
Faoi-16
Edward Harkin
Eddieharkin70@gmail.com
086 6082512
Faoi-18
Trevor Alcorn
alcorntrevor@yahoo.co.uk
086 8276284
Review of the Year 2019
2019 started of in the worst possible way with the sad and sudden passing of our Chairman Danny O Donnell. Since Danny's return from Chicago in 2010 he had made a huge contribution to our Club and his death sent shock waves through the GAA community in Termon, in Donegal and in Chicago where he had also made a huge contribution with his beloved Wolfe Tones and with Chicago GAA. His great love was for ladies football and it was only fitting that his nephew Sean and niece Maureen would have a major influence in the remarkable success our Ladies team earned on the pitch in 2019. Our Senior ladies winning the Donegal Championship for the first time in 4 years was the highlight of another very successful year. Our Minor boys won the Donegal Div 1 Championship after an epic battle with Gaoth Dobhair and are the first Termon team to win this competition – they also had an exciting campaign in Ulster making it all the way to the provincial final. The U21s qualified for the Donegal U21B Final.
All in all another successful year for our senior men with League Div 2 status secured with somewhat of a stuggle it has to be said and Senior Championship status secured for 2020. The league campaign started well but in a very competitive league a run of narrow defeats meant relegation was on the back of minds until a win over Glenfin late in the season secured Div 2 status. Senior Championship status was secured with a good win away to Malin. Thanks to Paddy McDaid and Francie Friel for their hard work with our Seniors in 2019.
Our senior Reserves had a great League campaign with an injection of youth boosting the team who had a strong top half finish in the league. This team won two Championship games before being eliminated by a strong St Eunans team in the Q/F's. Well done to Paddy McMenamin and Trevor Alcorn for the progress they made with our reserves this year. Our u21s defeated Cloughaneely, Fanad Gaels and Naomh Mhuire to reach the Donegal u21B Final which is yet to be played.
Our Senior Ladies saw great succes this year first winning the county Gaeltacht title under the guidance of manager Sean O'Donnell and Coach Nathan McElwaine. They followed this up by winning the Divsion 1 league title in August before lifting the Senior County Championship in September with no less than 22 of the panel winning a senior championship medal for the first time. They did not rest long as two home Ulster club games against Clann Eireann of Armagh and St. Macartans of Tyrone saw them face old foes Donaghmoyne in the Ulster club final in October, falling just short at the final hurdle, losing out by two points. The club is confident the succes and coaching from Nathan and Sean will see them back competeing for county honours again next year.
With record numbers registered at underage our coaches were busy at all age groups in 2019. Trevor Alcorn managed our Minor boys to the club's first Minor boys Div 1 Championship title with an amazing second half comeback in the final led by Captain Ryan McFadden. These boys represented Donegal superbly in the Ulster Minor tournament lsoing out in the final to … In the Division 1 Minor League …. Our U16 boys also competed in Div 1 and finished 5th in Donegal by winning the Shield final with a last gasp goal from Manus O Connell the defining score.
Our U14 boys finished 6th in Donegal after losing out in their Div 1 Shield final but will look back on a very successful season. The u13 boys also competed in the top Division and made it to the NRB final where they were beaten by Cloughaneely but again won many admirers with their performances. James Cassidy and Paddy Gallagher acoached our U12 boys who fielded 2 teams throughout their 2019 campaign. Liam Cunningham and Aidan McGrenra took our U11 boys for their end of season coaching which is really the start of their 2020 U12 preperations. Jim Boner led a great team of coaches with a great bunch of U9 and U10 boys who had a super year. Daireann Gibson led a team of hardworking coaches at U8 level with huge numbers attending the weekly coaching and games. Johnny McCafferty and Anthony McGrenra had the envieable task of entertaining our U6s and they did so from March to October with the children really enjoying their introduction to Gaelic football.
Adrian McGettigan and Nicole McLaughlin coached our u-14 ladies to Div 3 success, a first underage win for Termon in a number of years. The same managment team, with the addition of Shauna Kelly, followed that up with a win at U-13 Division 4 and go forward to represent Donegal in Feile at this level. Our u12 ladies had a wildy succesful year under the tutealage of Lucy O'Flynn and Shauna Kelly winning all bar one game during the season. Our u10's had an eventful year under Caroline Gallagher, taking part in the Gaelic4Girls initiative they have grown in confindence putting on fine preformances during Termon ladies Ulster club home games at half-time. Our u6-8 ladies under Lisa McCafferty and Hannah McSharry are a real succes story for the ladies club this year, creating a fun enviorment which has lead to huge numbers as 28 girls now playing at this level the future looks bright for the club. Our Minor girls were coached by Joanne Russell and Kieran Gallagher and our U16s girls had Geraldine McLaughlin and Roisin Friel in charge and both teams showed significant improvement and contributed several new players to our Senior Ladies team.
2019 Roll of Honour
Senior Ladies. Donegal Gaeltacht Champions, Donegal Div 1 Champions Donegal Senior Champions, Ulster Senior Championship finalists
U21 Men; Will play in the U21B Championship final in the coming weeks.
U18 / Minor boys; Donegal Div 1 Champions, still to play the Donegal Div 1 League Semi final and will be representing Donegal in the St Pauls Ulster Minor tournament in December.
U16 boys; Donegal Div 1 Shield winners
U14 boys. Donegal Div 1 Shield runners up
U14 girls, Div 3 winners
U13 boys NRB Div 1 runners up
U13 girls Div 4 winners