Six catch-up games were played in Marley Travel Division 2a over the last week. Glenswilly retained their 100% record and they already guaranteed promotion. They will play Naomh Columba in the Division 2 League final. The Glen club are promoted regardless of next week's results  – Buncrana can go level on points  but lost their head to head encounter at The Scarvey in Round 9. The club in third place enter a play-off against third from the bottom in Brian McCormick Division 1A, namely Gleann Fhinne after their win today in Kilcar. Victory for Buncrana and Termon put both in contention with Dungloe, who lost at the Burn Road, for third place. Buncrana are in pole position but play Glenswilly in their final game. Dungloe travel to Páirc na nGael to play already relegated Letterkenny Gaels and Termon are at The Banks.
Marley Travel Division 2 – Catch-up Results
Division 2A
Thur 13, Pearse Memorial Park, (Round 12), Ard an Ratha 1-6 Bun Cranncha 1-17
Sat Jul 15 Moyle Park, (Round 12), Milford 0-8 Naomh Brid 0-6
Wed Jul 12, Pairc Naomh Brid, (Round 8), Naomh Bríd 2-7 Gaeil Fhánadá 5-10
Wed Jul 12, Páirc Tirconnaill, (Round 11) Four Masters 0-10 Burt 0-8
Sat Jul 15, The Burn Road, (Round 7) An Tearmann 2-10 An Clochán Liath 1-7
Sun Jul 16, The Banks, (Round 9), Naomh Muire Íochtar na Rosann 0-12 Burt 2-6
At the bottom of the Division, Letterkenny Gaels and Naomh Bríd are already relegated. Either Burt or Red Hughs will contest the relegation play-off.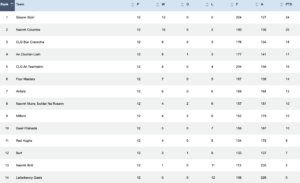 There are still catch-up games to be played, and/or point allocations to be confirmed by the CCC ,in Division 2B but with maximum points Termon have already ensured they have a berth in the League final.
Division 2B
Thu Jul 13, Pearse Memorial Park, (Round 12), Ard an Ratha 1-12 Bun Cranncha 3-8
Sat Jul 15, Páirc Naomh Columba, (Round 1) Gleann tSúilí 4-15 Ard an Ratha 0-9
Sun Jul 16, The Banks, (Round 9), Naomh Muire Íochtar na Rosann 0-6 Burt 1-4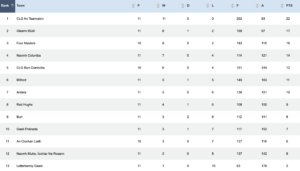 Next weekend's fixtures are:
Marley Travel Division 2 – Round 13 Fixtures
Division 2A
Sat jul 22, Páirc Tirconnaill, Four Masters v Naomh Columba, 7 pm
Sat jul 22, Páirc U Shiail, Fanad Gaels v Red Hughs, 7 pm
Sat jul 22, Páirc na nGael, Letterkenny Gaels v An Clochán Liath, 7 pm
Sat jul 22, Páirc Naomh Columba, Gleann tSúilí v bun Cranncha, 7 pm
Sat jul 22, Ná Meillte, Mullach Derg, Naomh Muire Íochtar na Rosann v An Tearmann, 7 pm
Sat jul 22, Moyle Park, Baile na nGalloglach v Ard an Ratha, 7 pm
Sat jul 22, Pairc Naomh Brid, Naomh Bríd v Burt, 7 pm
Division 2B
Sat jul 22, Páirc Tirconnaill, Four Masters v Naomh Columba
Sat jul 22, Páirc U Shiail, Fanad Gaels v Red Hughs
Sat jul 22, Páirc na nGael, Letterkenny Gaels v An Clochán Liath
Sat jul 22, Páirc Naomh Columba, Gleann tSúilí v bun Cranncha
Sat jul 22, Ná Meillte, Mullach Derg, Naomh Muire Íochtar na Rosann v An Tearmann
Sat jul 22, Moyle Park, Baile na nGalloglach v Ard an Ratha