Following a very promising start to their Allianz Hurling League campaign with victories over London and Sligo, Donegal's ambitions of a 2B league final have taken a hit with their loss to an still unbeaten Meath side Meath in Navan in Round 3 and a hefty defeat to Wicklow in O'Donnell Park last weekend. There is still a path to the final and potential promotion to Division 2A if they can defeat Tyrone in Letterkenny this Sunday and secure a second v third semi-final, a re-match with Wicklow who cannot overtake Meath having lost their head-to-head encounter. Currently, both Tyrone and Donegal sit on four league points and both sides will be striving to keep their hopes of further progress alive with a win this weekend.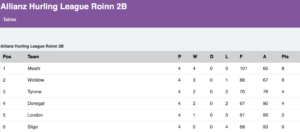 Throw-in against Tyrone on Sunday is 1 pm and Brian Keon will officiate. No cash will be taken at the gate and advance purchase of tickets is required. Tickets are priced at €10 for adults and €8 for students and OAPs and can be purchased at the link below:
https://am.ticketmaster.com/gaa/hudonegaldiv2b
Juveniles under 16 are free but must be accompanied by an adult.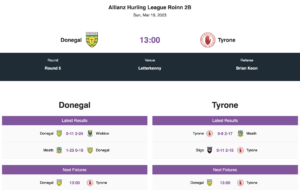 The other games in Roinn 2B see Meath travel to London and Sligo welcome Wicklow to the North West.

Donegal hurlers results to date in 2023 are as follows:
Allianz Hurling League – Roinn 2B
Sat Feb 4, Páirc Ui Dhomhnaill, Dún na nGall 1-16 Sligeach 0-15
Sat, Feb 11, McGovern Park, Ruislip, Londain 2-13 Dún na nGall 1-18
Sun Feb 19, Páirc Tailtean, Navan, An Mhi 1-23 Dún na nGall 0-16
Sun Mar 12, Páirc Ui Dhomhnaill, Dún na nGall 0-11 Cill Mhantáin 2-24
Sun

Mar 19, Páirc Ui Dhomhnaill, Dún na nGall v Tír Eoghain, 13:00
Sat/Sun Mar 25/26, Semi-final, 2nd Placed Team v 3rd Placed Team
Sat/Sun Mar 25/26, Relegation Playoff, 5th Placed Team v 6th  Placed Team
Sat/Sun Apr 1/2, Final, 1st Placed Team v Semi-final Winner
Conor McGurk Cup
Sat Jan 7, Quarterfinal, Donegal GAA Centre, Dún na nGall 3-31 Muineachán 0-8
Sat Jan 28, Semi-final, TBC, Aontroim v Dún na nGall, 13:00, Conceded by Antrim
Thurs March 2, Final, The Dub Arena, Belfast, Dún na nGall 5-29 University of Ulster 0-21
Comhghairdeas Dún na nGall – Historic first ever Conor McGurk Cup