The Michael Murphy Sports and Leisure Junior Championship finals get underway this afternoon in O'Donnell Park featuring Letterkenny Gaels, Carndonagh and Naomh Ultan.
Junior A Final 
Saturday, Oct 8th,  Páirc Uí Dhomhnaill, Carn Domhnach v Gaeil Leitir Ceanainn, 15:30, Stephen Doherty, STREAMING ON DONEGAL GAA TV
Junior B Final 
Saturday, Oct 8th,  Páirc Uí Dhomhnaill, Gaeil Leitir Ceanainn v Naomh Ultan, 13:30, John Ward, STREAMING ON DONEGAL GAA TV
Neither fixture is win on the day and a replay will be required in the event of a draw. Advance tickets are required for both finals and can be purchased at the link below early this week:
https://www.universe.com/users/donegal-gaa-KXG5TP
The Junior B game will be streamed with coverage beginning at 1:20 – and the stream will continue on to cover the A final with interviews from Ciaran O'Donnell. The same stream ticket – €6 from the link below – covers both matches.
https://www.247.tv/gaa/donegal
A soft copy of the Match Programme has also been uploaded to this website and can be viewed or downloaded at:
https://donegalgaa.ie/wp-content/uploads/2022/10/GAA-Junior-Final-Oct-2022.pdf
The programme was completed over a week ago so there are likely to be changes to the first 15 for the teams but for those following the Donegal GAA TV stream, the squad numbers will be unchanged.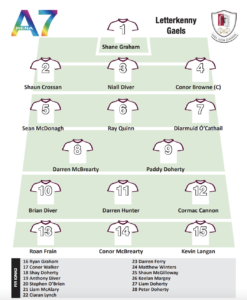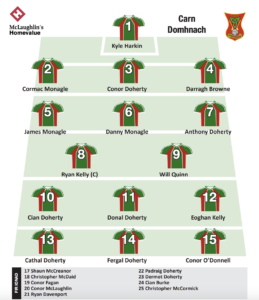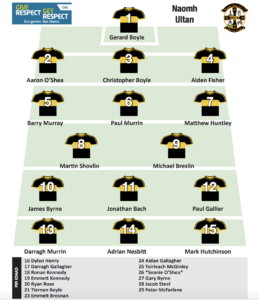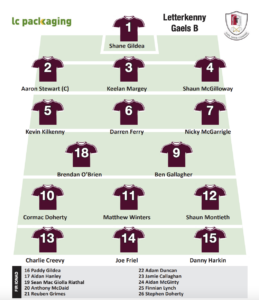 For the second year in succession Letterkenny Gaels will compete in both the A and B Junior finals. It's been an eventful few years for them as they compete in their third A final in succession and won promotion to Division 2 for the first time last year and consolidated their position there in 2022. Carn, promoted from Division 4 last year, did not set the world on fire with their league form but have really come good in the championship. They will undoubtedly go into this game as underdogs but their only championship defeat was to today's opponents and that was where the Gael's had home advantage.
Both Junior B semi-finals were cracking games and both decided in extra time. Naomh Ultan were the surprise packet accounting for last yea's beaten finalists, and probably the 2022 favourites Naomh Padraig , Leifear. An imtriguing game is in prospect.